Зарко на јапонската пол-позиција, Маркез и Роси потфрлија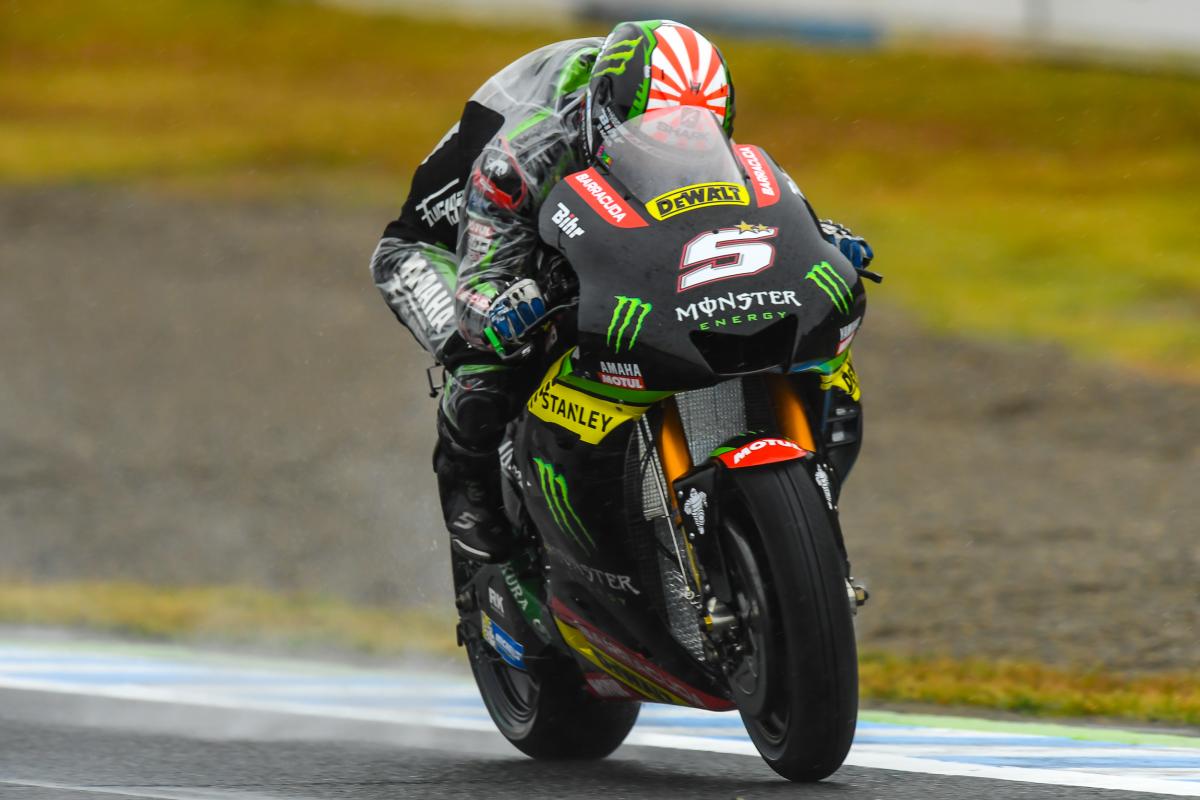 Возачот на Тех 3 Јамаха тимот, Јохан Зарко стигна до изненадувачка пол-позиција на квалификациите на дожд во Мотеги за Јапонското ГП, откако Марк Маркез и Валентино Роси направија грешка во изборот на гуми.
Откако постави најдобро време на дожд досега на четвртиот тренинг, лидерот во генерален пласман Маркез беше фаворит за пол-позицијата, но тој направи тактичка грешка избирајќи мазни гуми при второто излегување, кога патеката не беше доволно исушена, слично како Валентино Роси, и двајцата не успеаја да ги подобрат своите времиња.
Ова го искористи Французинот Зарко, кој постави време од 1:53.469 во последните минути од квалификациите за пол-позиција пред уште едно изненадување, Данило Петручи во Прамак Дукати и Маркез на третото место. По него следува Алеш Еспархаро, Дани Педроза, Бредли Смит и Пол Еспархаро, додека главниот ривал на Маркез за титулата, возачот на Дукати, Андреа Довициозо беше само деветти. Валентино Роси беше на 12. место, додека неговиот колега од Јамаха, Маверик Вињалес ќе стартува како 14. откако не ги мина првите квалификации.
What a performance from Johann Zarco!

The rookie qualifies on pole for the #JapaneseGP. pic.twitter.com/ckPrl0opu6

— BT Sport MotoGP (@btsportmotogp) October 14, 2017
©Makfax.com.mk Доколку преземете содржина од оваа страница, во целост сте се согласиле со нејзините Услови за користење.

Бизнисменот Минчо Јорданов треба да сведочи дали бил уценет со пари во шпионската афера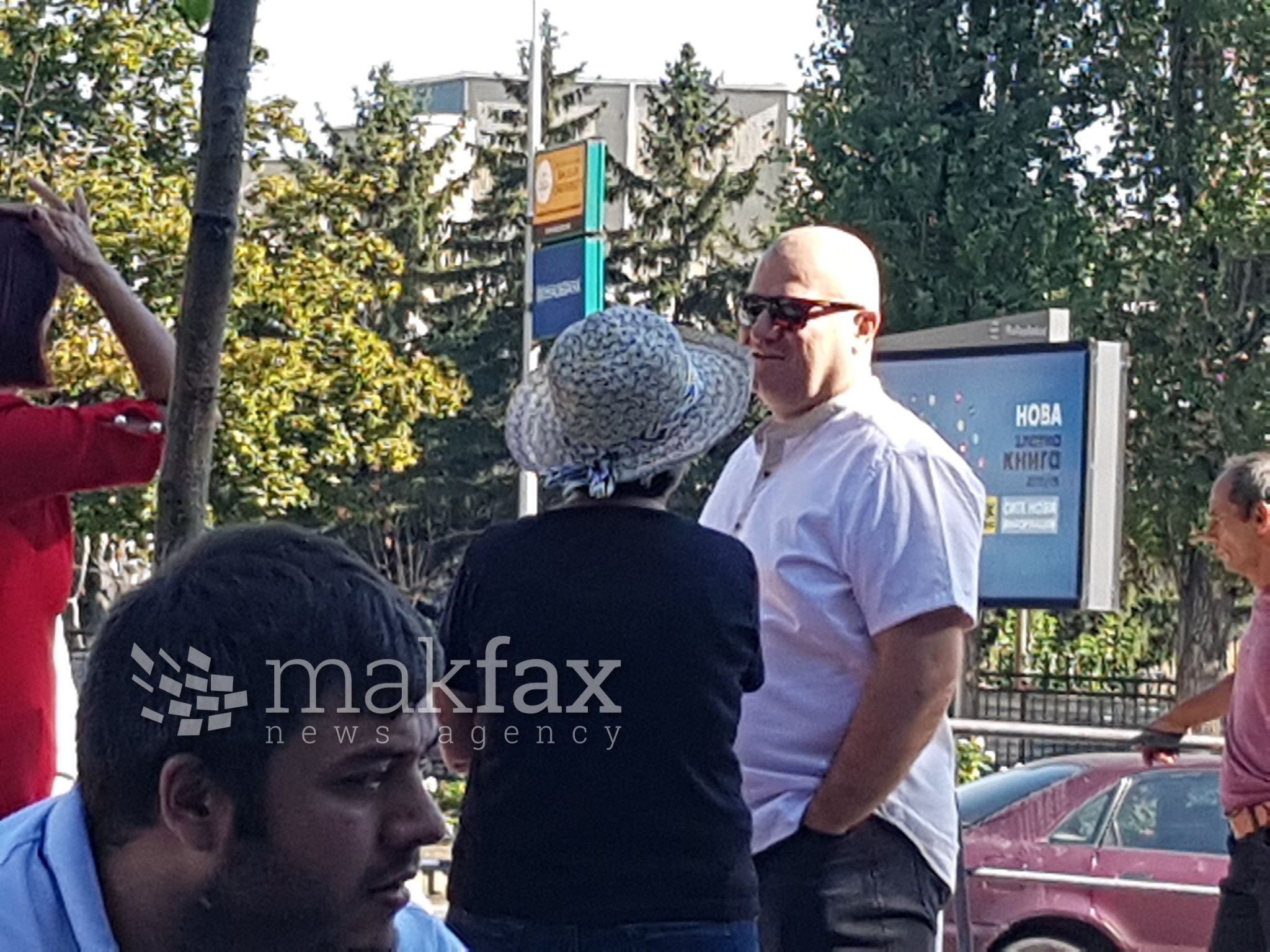 Бизнисменот Минчо Јорданов утрово во кривичниот суд е повикан да сведочи во предметот што го презеде специјалното јавно обвинителство под кодно име "Шпион".
Обвинетите Миќо Наскоски, Зоран Божиновски и Марјан Маџовски, како што рече на минатото рочиште обвинителката Елизабета Јосифовска, со цел да се стекнат со противправна имотна корист, му се заканиле на бизнисменот Минчо Јорданов дека ќе објават податоци за наводна криминална приватизација и откуп на акциите во АД "Бетон" и на други негови фирми. Во намерата не успеале, а Јорданов не ги исплатил парите.
"Обвинетиот Александар Диневски прибавувал податоци со степен на државна тајна, а потоа ги доставувал или директно на странските разузнавачки служби или му ги давал на обвинетиот Марјан Ефремов, кој ја формирал групата за уцени, изнуди и шпионажа и ја координирал од 2009 до 2013 година, регрутирајќи нови членови во мрежата. Со обвинетиот Мирослав Зафировски од УБК прибирале податоци за луѓе од ЦИА присутни во Македонија и за штаб на ЦИА во Ирак. Тие прибирале и податоци за организациската поставеност на УБК", рече Јосифовска за "Шпион", кое СЈО врз база на нови прислушувани разговори го презеде од Обвинителството за гонење организиран криминал и корупција.
Ефремов, според обвинението, групата за изнуда и тргување со тајни информации од безбедносните служби на Македонија ја направил во 2009 година и, како што тврди обвинителството, тој е мозокот на целата операција. Информациите им ги продавале на Кост Н. од грчката разузнавачка служба, Петар Н. и Јуриј Н. од унгарската и на други лица од странски разузнавачки служби.
Секој од обвинетите, зависно од тоа во која институција работел, снимал службени документи, кои потоа им ги продавал на грчката, руската, унгарската и српската разузнавачка служба. Обвинети во овој случај се и тогашниот шеф на Кабинетот на претседателот на Собранието, Трајко Вељаноски, генералот Горан Стојков, Миќо Насковски, Ѓорѓи Хаџимицев, Цветан Дамјановски (заедно со други нивни колеги од МВР, УБК, АР и Военото разузнавање, кои дел се веќе осудени) и Зоран Божиновски, кој во групата имал улога ако уценуваните не дадат пари, тој да ги објавува, како што вели обвинителката, во порталот "Буревесник" или во други медиуми во кои работел. Божиновски е обвинет за злосторничко здружување, шпионажа и уцена.
Обвинетите не се чувствуваат виновни, а тврдат и дека целиот процес е монтиран. Во предметот првично беа опфатени 19 лица, од кои неколкумина ја одлежаа затворската казна. Предметот го суди судијата Владимир Туфегџиќ. На конференциска врска треба да сведочи и Драган Даравелски, кој, според обвинението, исто така бил уценуван од обвинетите.