(ФОТО) (ВИДЕО) Двајца полицајци и една жена загинаа во немирите во Вирџинија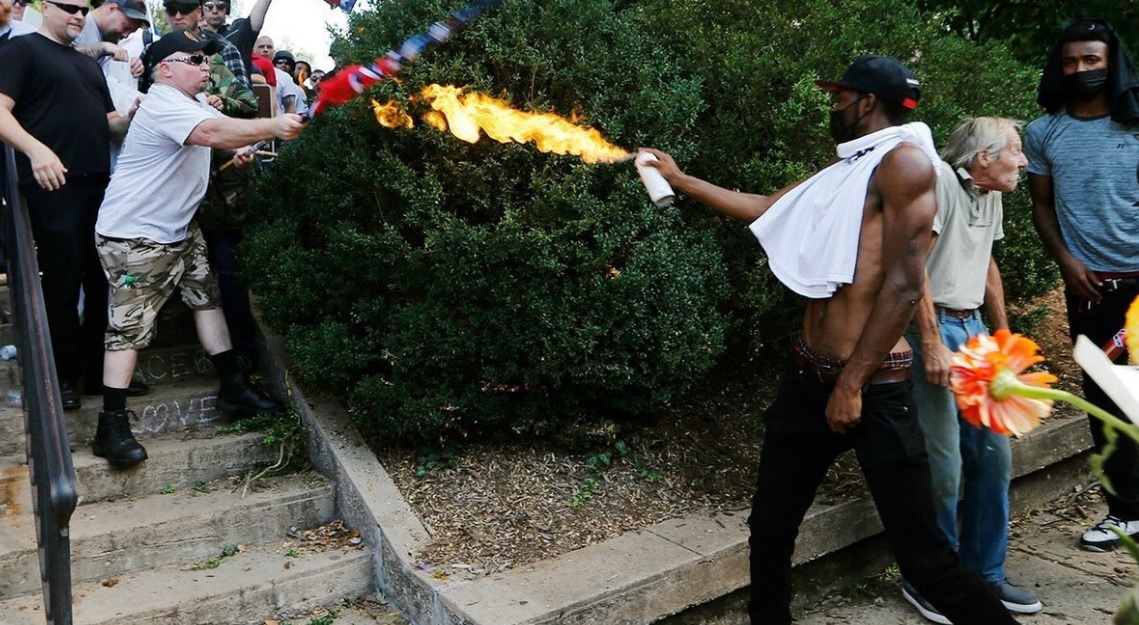 Во немирите што настанаа поради собирот на екстремните десничари во американската сојузна држава Вирџинија загинаа три лица, а повеќе се повредени.
Една учесничка на контрамитинг, на возраст од 32 години, настрадала кога автомобил со голема брзина влетал во толпа, а двајца полицајци загинале кога се урнал хеликоптерот во кој биле, во текот на надгледување на собирот.
Возачот на автомобилот, Џејмс Фелдс (20) е уапсен и обвинет за убиство, нанесување повреди и бегство.
Nazism, white supremacy, swastikas, Hitler… Looking at the Facebook profile of accused #Charlottesville car killer https://t.co/TUdrq7MbjS pic.twitter.com/yYr0lC0psP

— Andrew Stroehlein (@astroehlein) August 13, 2017
Американскиот министер за правда Џеф Сешнс ја осудил расната нетолеранција и омраза по насилството во Шарлотсвил и навел дека насилството "удира во срцето на американското право и правда".
Најголем дел од повредените се учесници на контрамитингот кои протестирале против собирот на радикалната десница.
Politicians call for Charlottesville violence to be deemed terrorism. https://t.co/sJmuK2EQsw pic.twitter.com/2EGz2VJipd

— ABC News (@ABC) August 13, 2017
Властите во Вирџинија претходно прогласија вонредна состојба за да можат согласно закон да распоредат дополнителни безбедносни сили.
#MostWatched Video: 20-year-old James Fields charged with second-degree murder for plowing his car into crowd in #Charlottesville in US pic.twitter.com/6QyCHH3Mn1

— CGTN (@CGTNOfficial) August 13, 2017
Десничарите, меѓу кои имало и претставници на групи блиски на расистичката организација Кју Клукс Клан (ККК) и неноацистити се собрале во знак на протест поради најавите за отстранување на споменикот на конфедералниот генерал Роберт Едвард ли (1807-1870) во градскиот парк во Шарлотсвил. Тој е познат по тоа што бил против укинување на ропството.
©Makfax.com.mk Доколку преземете содржина од оваа страница, во целост сте се согласиле со нејзините Услови за користење.

СРАМОТА! – Вечер на раскажување квир-приказни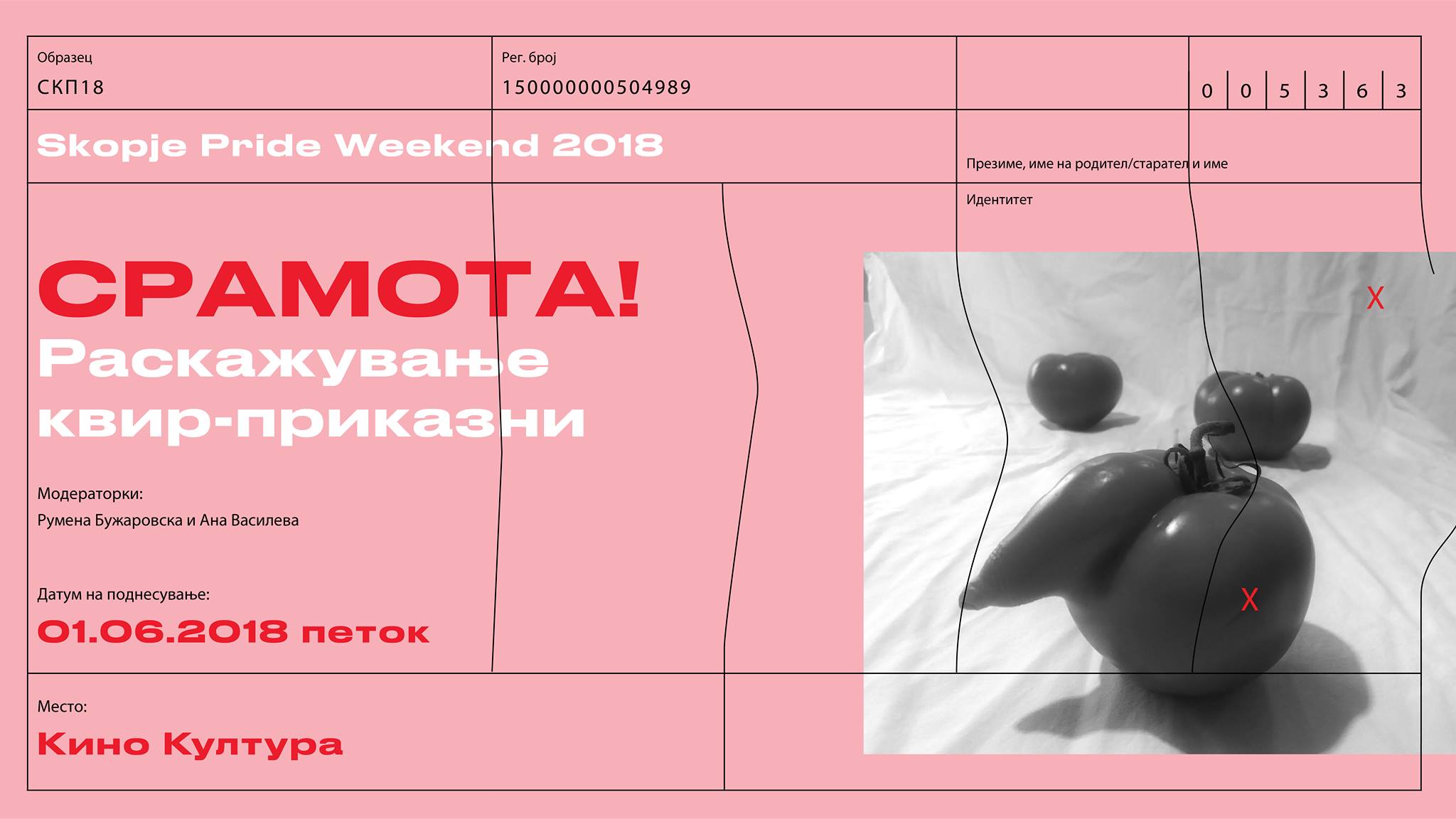 И годинава во Скопје по 6 пат се одржува "Викендот на гордоста Скопје 2018" – СРАМОТА! – Вечер на раскажување квир-приказни.  Настанот ќе започне во Кино Култура, петок, 01.06, од 21 часот.
"Неколкумина раскажувачи од јавната културна, политичка и општествена сфера раскажуваат кратки приказни за телесниот, родовиот и сексуалниот срам кој ја обележал нивната општествена ненормативност – оттаму, "квир" како она што излегува од рамките на прифатливиот општествен код. Со овие јавно изговорени приказни, срамот се превртува и трансформира, исмејаниот станува исмејувачот – срамот се враќа назад кон оние кои занесени
во својата арогантност и привилегија, претпоставуваат дека го имаат правото да бидат родова, сексуална и морална полиција, и да понижуваат. Со овие приказни, од срамот за нашите желби, задоволства, однесувања, движења и размислувања градиме наративи на отпор. Нашиот срам станува нашето задоволство и среќа. Наместо сведнатата глава и преплавувачкото црвенило, пркосиме. Наместо неподносливото гушење навнатре во себе, експлодираме од смеа", пишува во поканата.
Овогодишни раскажувачи ќе бидат: Артан Садику, Никола Гелевски, Ивана Драгшиќ, Кирил Поп Христов – Кили, Маја Марковска и Лејла Каламујиќ. Модераторки се Румена Бужаровска и Ана Василева.
Викендот на гордоста Скопје 2018 се одржува во организација на Коалицијата МАРГИНИ и ЛГБТИ Центарот за поддршка при Хелсиншкиот комитет на РМ. Целта на серијата настани во рамки на Викендот на гордоста е да креираат простор за, и да промовираат, ненормативни форми на светоградење, односно релации, афекти, идентитетски позиции, телесни стилови и сензибилитети кои во рамки на хетеронормативното, националистичко и неолиберално капиталистичко опкружување се означени како настрани, изопачени, неуспешни, патолошки, чудни итн.  Носечката идеја позади Викендот на гордоста 2018 е НАСТРАНО. ПОЛИТИЧКО. и ќе се оддржува од 7-10 јуни.
Скопскиот викенд на гордоста 2018 е реализиран со поддршка на Heinrich-Böll-Stiftung, Фондација Отворено општество – Македонија, Министерство за култура, Европската унија и Civica Mobilitas.