(Видео) Заев и Тевдовски: ЕБОР е наш стратешки економски партнер за создавање одржлива пазарна економија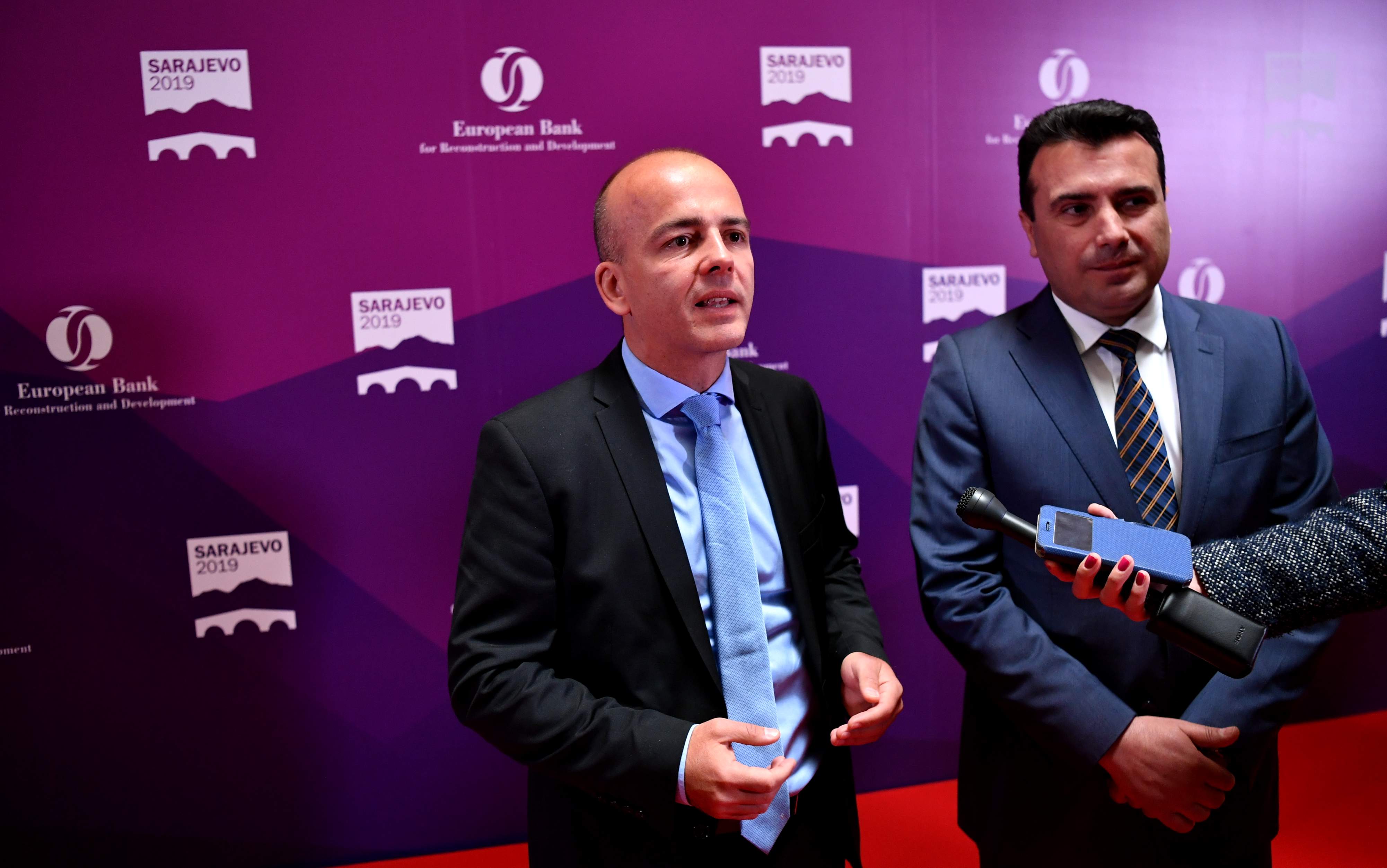 Главни теми на кои се разговараше се регионалната поврзаност, зголемување на конкурентноста и капацитетите на нашите компании, зголемување на соработката на целиот регион, дигитализацијата, патната инфраструктура и енергетската инфраструктура, сето она што живот значи и во нашата земја, рече премиерот Заев, кој заедно со министерот за финансии, Драган Тевдовски, учествува на Генералното собрание на ЕБОР во рамките на годишните средби на Европската банка за обнова и развој, кое се одржува во Сараево.
"Европската банка за обнова и развој е инвеститор од 1,9 милијарди евра во нашата земја, која имплементира над 150 проекти што го дефинираат севкупниот развој на нашата земја, затоа е многу важно да ги искористиме сите можности што значат и пренесување знаење, позитивни искуства за реализација на одредени проекти, а истовремено да охрабриме и побрзи процедури во делот на ЕБРД, подобри пракси и на крајот позабрзан раст и развој на нашата земја", рече премиерот Заев.
Тој додаде дека ЕБОР претставува исклучително важен стратешки економски партнер на Република Северна Македонија со години во спроведување на реформите, во создавањето одржлива пазарна економија и во приближувањето на земјата кон ЕУ.
"Сето тоа што се случува во Република Северна Македонија по сите политички договори, дефинитивно ја става земјата во позиција да ги максимизира своите ефекти за да го забрза својот раст и развој, да ја намалиме невработеноста, да ги зголемиме платите на граѓаните, а ЕБРД може да одигра значајна улога. Нашиот фокус е да ги мотивираме да пласираат повеќе пари кај малите и средните претпријатија поради тоа што развојот на земјата го гледаме токму преку тоа. Верувам дека тоа ќе се случува во периодот што претстои пред нас, во реализацијата на големите капитални инвестиции, како што се патната инфраструктура, третата фаза од железничката пруга, продолжување на проектите, како што се гасификација, енергетска поврзаност, нови енергетски извори, и многу други проекти важни за граѓаните и за севкупниот раст и развој на економијата на Северна Македонија", нагласи премиерот Заев.
Министерот Тевдовски најави дека во јуни на бордот на директори на ЕБОР треба да се одобри новата стратегија за соработка со Република Северна Македонија 2019-2024 година. Во новата стратегија има повеќе проекти, кои треба да поддржат три приоритети.
"Првиот приоритет е поддршка на конкурентноста. Преку овие проекти треба: да се подобрат деловните вештини, да се подобри пристапот до работни места за млади, жени и население што живее во недоволно покриени подрачја, како и да се подобри конкурентноста на приватниот сектор. Вториот приоритет е јакнење на регионалната интеграција и поддршка на приближувањето кон ЕУ. Преку овие проекти треба да се подобри поврзувањето преку вложување во транспортна и енергетска инфраструктура, дигитализација и усогласување на деловните практики. Третиот приоритет е насочување кон зелената економија, односно одржлива енергија и поголема ефикасност при управување со ресурсите", истакна Тевдовски и додаде дека реализацијата на сите овие проекти ќе придонесе и за праведен и одржлив економски раст и ќе придонесат за подобар живот на граѓаните.
©Makfax.com.mk Доколку преземете содржина од оваа страница, во целост сте се согласиле со нејзините Услови за користење.

Кинескиот амбасадор: Со дигиталната технологија ќе се оствари нова иднина на глобалната економија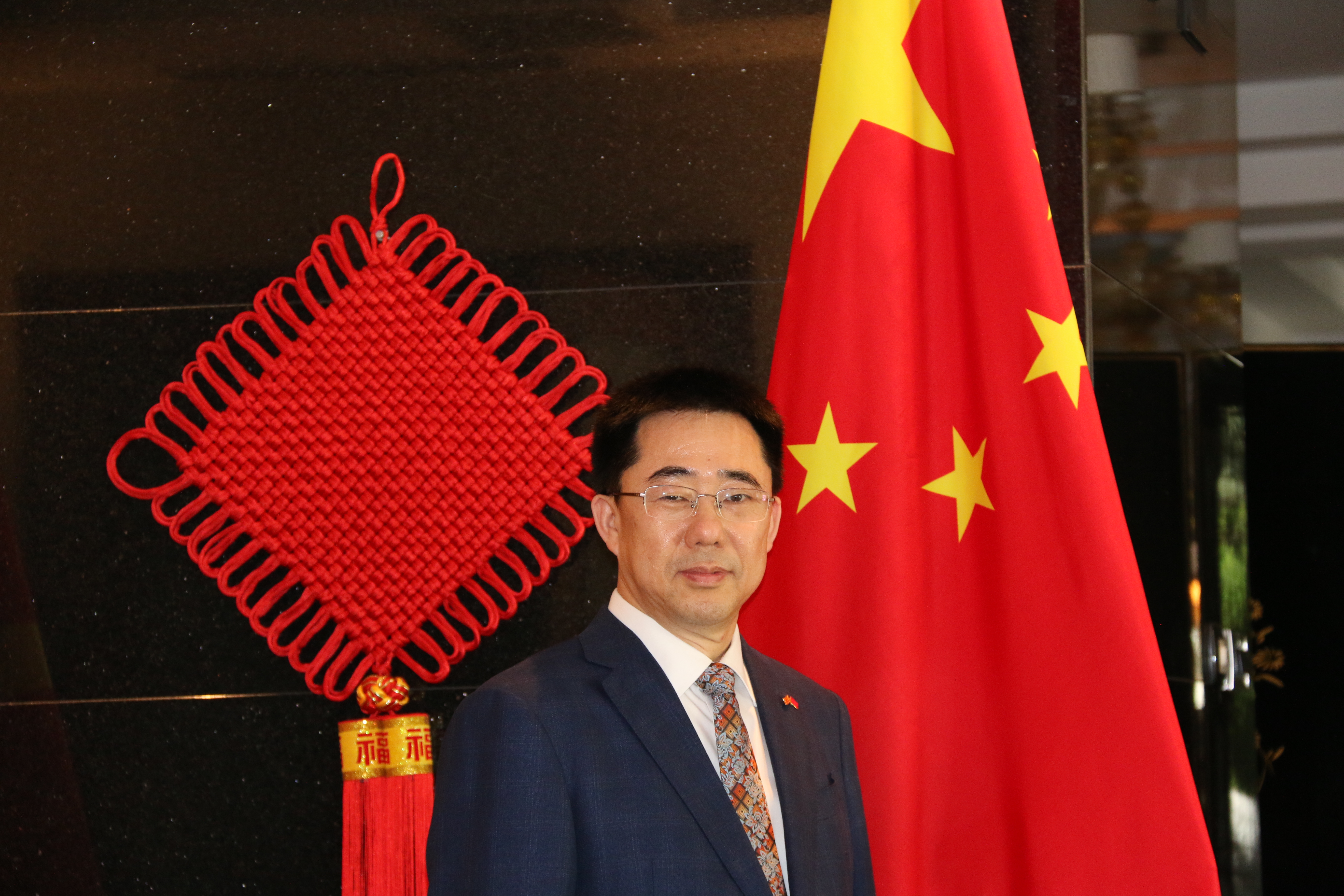 Ширењето на пандемијата од Ковид-19 има големо влијание врз светот. Истовремено, развојот на дигитализацијата привлече големото внимание заради неговите уникатни предности, и дури станува нов тренд на глобализацијата, пишува во статија кинескиот амбасадор, Џанг Ѕуо.
Во прилог го пренесуваме првиот дел од неговата статија за ефектите од коронавирусот и дигитализацијата.
Познато е дека Кина ѝ придава големо значење на дигитализацијата. Уште во 2015 година, по Втората светска Интернет-конфереција, претседателот Ши Џинпинг предложи изградба на дигитална Кина и на Општата заедница на судбината во сајбер-просторот. Во 2017 година, тој даде уште една иницијатива за изградба на Дигитален Пат на свилата на Меѓународниот самит на Форумот за соработка во рамките на " Еден појас и еден пат". Идејата на Кина е промовирање на развојот на дигитализацијата, со цел да допринесе за поголема корист на луѓето од сите земји во светот, за општата борба против пандемијата, за нормализација на општествениот живот, за обновувањето на економијата и за создавање на уште поубава иднина.
Дигитализираната борба против пандемијата промовира технички иновации и допринесува за формирањето на синергична соработка
На годишниот саем на Светскиот економски форум 2017, претседателот Ши Џинпинг одржа говор, во кој истакна дека "мора да создаваме нов начин на економски раст, да ги користиме можностите од новиот круг на индустриската револуција и од дигиталната економија". Тој потенцира дека истовремено со создавањето на нова индустрија, нов тип бизнис и нов модел на раст, мора да се придава внимание на остварување на нови работни места. Кина од сопствената практика од дигиталната борба против пандемијата докажува дека во текот на наредните неколку години, ќе настапи клучниот момент на изградба на синергичната соработка во целиот свет.
Развојот на дигиталната технологија одбележува постојан напредок
Во мај 2017 година на Меѓународниот форум за меѓународна соработка, организиран во рамките на "Еден пат и еден појас", претседателот Ши Џинпинг рече "Ние мора да ја зајакнеме соработката во дигиталната економија, вештачката интелигенција, нанотехнологијата, квантните компјутери и сл.", со цел водење на развојот на дигитална технологија, донесувајќи револуционерни промени. Во оваа сфера, Кина изработи национална стратегија за датацентар со податоци, акционен план "Интернет +" и "План за развој на вештачка интелигенција".
Со подеднаква важност и основно место е и технологијата на блок-синџир, Блокчејн (Blockchain). Во моментов, 4 градови, како Шенжен, Шионган, Ченгду и Суджоу, пробуваат да ја користат технологијата на блок-синџир, Блокчејн (Blockchain) во дневните операции на банките. Државата исто ја вклучи употребата на блок-синџир, Блокчејн (Blockchain) како инфраструктура, со цел промовирање на комбинацијата меѓу технологијата на блок-синџир, Блокчејн (Blockchain) со економскиот и социјалниот развој. Во 2019 година употребата на 5G технологијата и официјално влезе во комерцијална фаза, на пример, мерење на инфрацрвена температура, робот за испорака, робот за чистење итн. Сите овие пронајдоци беа активно користени во различни сценарија во превенцијата и контролата на пандемијата. 5G технологијата ги "поврзува" сите фактори на производството и ги претвори во стимул за дигиталните промени на разните индустрии. Напредокот во технологијата за вештачката интелигенција и препознавањето на говор ги обврзуваат се повеќе индустриските ланци, разни информаци, проток на капитали, продукти, луѓе, транспорт во едно, и допринесуваат за високостепена и ефикасна соработка, која го прави производството уште поквалитетно, совпаѓањето помеѓу понудата и побарувачката уште поточно, а исто така и индустриската поделба станува се попрецизна.
Во текот на спречувањето и контролата на епидемијата на Ковид-19, и обновувањето на производствениот и општествениот поредок, Кина ги зголеми напорите за снабдување на суровини за лекови, неопходности, и производи за превенција на епидемии за меѓународниот пазар, со цел зајакнување на капацитетот на глобалното надминување на епидемијата и за закрепнување на економијата.
Популаризацијата и употребата на дигиталната технологија е многу привлечна
Во честитката до Светската конференција за вештачка интелигенција во 2018 година, претседателот Ши Џинпинг истакна дека "Кина е подготвена да спроведе размена и соработка со други земји во размена на технологии, споделење на податоци и пазари со апликации и др. со цел споделување на можностите на развојот на дигиталната економија". Се предвидува, дека Кина е исправена пред огромен модел на употребата на дигиталната технологија, особено ќе биде оформена индустријална матрица со технологијата 5G. Со сигурност, ќе се појавуваат голем број на нови индустрии, нови бизниси и нови модели на економскиот развој, и ќе се реализираат во сферите на индустријата, транспортот, енергетиката и туризмот.
На пример, сателитскиот систем за навигација Беи Доу на Кина има исклучителна улога во борбата против Ковид-19. Капацитетот на системот Беи Доу во прецизното мапирање и позиционирање на сложените географски локации, ја обезбеди брзата изградба на двете болници Хуо Шеншан и Леи Шеншан. Во однос на непречениот превоз на ресурсите, со помошта на системот Беи Доу, Министерството за транспорт обезбеди услуги за пребарување на дозволените патеки за време на избувнувањето на епидемијата бидејки во возилата се постави опрема која може да се вклучи во системот Беи Доу на својата локација. Во пронаоѓањето на пациентите и сомнителните лица во заразата од Ковид-19, базирајќи се на разни интернет апликации, системот Беи Доу им помага на медицинските персонали да ги лоцираат и да ги следат лицата преку директни контакти. Широката употреба на дигиталната технологија во антивирусната борба ја подобрува економската ефикасност и ја забрзува трансформацијата на економската структура.
2.  Дигиталната технологија е врз основа на меѓусебно разбирање и заедничка корист, и ќе допринесе за стабилизирање на глобалниот синџир на вредностите.
На Втора светска Интернет-конференција, оддржана во 2015 година, претседателот Ши Џинпинг предложи дека "мора да се промовира отворена соработка и да им се овозможи на повеќе земји и луѓе да го користат експресниот воз на информатичкото доба и да ги споделат плодовите од развојот на Интернетот". Дигиталната економија станува клуч за формирање и проширување на синџирот на вредности, кој е од глобална корист. Како резултат на ова, забрзувањето на дигитализацијата и интелигентното создавање на глобален ланец на вредности, може да ја поттикне економската интеграција и политичката меѓусебна доверба помеѓу разни земји, и да го промовира единствениот синџир на вредности, да има пораст во мрежата на вредностите.
Потрошувачкиот пазар на дигиталните продукти продолжува да се шири и расте
Во август 2018 година, претседателот Ши Џинпинг испрати честитка до првиот Саем на паметна Кина (Smart China Expo), нагласувајќи дека "Кина е подготвена активно да учествува во меѓународната соработка на дигиталната економија, да работи со други земји во промовирање на здрав развој и во отворање на нов простор на дигиталната економија".
Дигиталните ресурси се главниот двигател на развојот на дигиталната економија и имаат сè поголема и важна улога во промовирање на потрошувачкиот пазар. До крајот на март 2020 година, бројот на онлајн купувачи во Кина достигна 710 милиони, што претставува 100 милиони повеќе во споредба со крајот на 2018 година. Обемот на онлајн трансакции достигна 10,63 трилиони јуани, 16,5% раст споредено со истиот период од претходната година. Кина во текот на седум последователни години стана најголем дигитален потрошувачки пазар во светот. Меѓу нив, продажната малопродажба на физички производи достигна 8,52 трилиони јуани, што претставува зголемување од 19,5% за истиот период од минатата година и претставува 20,7% од вкупната малопродажба на производите за широка потрошувачка. Консумирањето преку Интернет игра активна улога во проширувањето на домашната побарувачка во 2019 година во Кина.
Во моментов се појавуваат нови начини на е-трговија во Кина. Врз основа на социјалните мрежи, корисниците може да ги продаваат производите преку директен контакт, што сериозно влијае на потенцијалните потрошувачки желби. Годишниот обем на трансакциите за социјална е-трговија се зголеми за повеќе од 60% од 2019 година, далеку повеќе од севкупната стапка на раст на обичната интернет-малопродажба. Како резултат на ова, каналите за продажба на електронската трговија и логистичките услуги се повеќе стануваат достапни во сите градови, особено во малите, изолирани области, а исто така и во руралните области. Благодарение на појавата на нов тип е-трговија, инфраструктурата за купување преку Интернет и мрежите за снабдувањето на стоките се подобруваат континуирано, услугите за плаќање со мобилни телефони многу им олеснуваат на потрошувачите, и водат кон користење на нови потрошувачки сценарија, вклучително угостителство преку Интернет, организирање патувања преку Интернет, Интернет-домаќинство и слично, а границата на дигиталната потрошувачка се шири се повеќе.
Дигиталната трговија поттикнува преобликувањето на глобалните синџири на вредности
Во 2015 година, претседателот Ши Џинпинг истакна на Втората светска Интернет-конференција, "Ние сме подготвени да ја зајакнеме соработката со земјите за промовирање на инвестициите и развојот на трговијата ширум светот и да го промовираме развојот на глобалната дигитална економија преку развој на прекугранична е-трговија и изградба на зона за демонстрација на економија на информации". Притоа водејќи го светот и големите мултинационални компании да ја преземат дигиталната економија како главна насока во идниот развој.
Кина е отворена да учествува во глобалната поделба на синџирот на вредности на високо ниво. Во 2019 година, вкупната вредност на увозот на малопродажба и извозот на стоки преку платформата за управување со прекугранична е-трговија достигна 186,21 милијарди јуани, што претставува зголемување од 38,3%.
Политиките и моделите за извоз континуирано се подобруваат, а обемот на тест-зоната за прекугранична е-трговија исто така е дополнително проширен. Од 2015 година, Кина воспостави 59 прекугранични тест-зони за е-трговија, и планира до април 2020 година да бидат 105. Објавувани се нови политики за извоз, за да се намалат оперативните трошоци во целата процедура. На пример, во 2019 година, Државниот совет воведе политика "без фактура и без данок", за да ја олесни наплатата на верификација на данок на доходите. Освен тоа, воведен и нов модел за обезбедување на еднократна онлајн царинска декларација, царинење и порамнување на девизи, повраток на данок и други услуги. Како важна компонента на дигиталната економија, прекуграничната е-трговија брзо се развива и игра важна улога во стабилизирањето на синџирот на снабдување.
3. Дигиталната борба против пандемијата придонесе за појава на нов тип на индустрија и на формирање на кооперативен индустриски ланец
Во честитката на Четвртата светска Интернет-конференција од 2017 година, претседателот Ши Џинпинг истакна дека "Развојот на дигиталната економија на Кина ќе влезе во брза лента. Кина се надева дека со своите напори ќе им помага на сите земји во светот да го фатат брзиот воз на развојот на Интернетот и на дигиталната економија." Кина вложи свои напори за дигиталната трансформација на светската економија, особено преку дигиталната технологија да помага во борбата против епидемијата и продолжување на производството и општествениот поредок. Може да се каже, дека Кина ја обезбедува стабилноста на глобалниот индустриски ланец и синџирот на снабдување.
Се појавуваат нови модели на бизнис во дигиталната економија
За време на неговата инспекциска турнеја во провинција Џеџјан на 1 април 2020 година, претседателот Ши Џинпинг истакна дека треба да се сфатат изгледите на нови стратешки индустрии, како што се дигиталната економија, индустријата за заштита на животот и здравјето, индустријата со нови материјали и други, мора напорно да ги промовираат технолошките иновации, да се најдат нови точки на раст и да ги претворат во нов стимул за развојот."
Кина го забрзува формирањето на дигиталната економија, предводена и поддржана главно од иновации. Во 2019 година, обемот на дигиталната економија достигна 31,3 трилиони јуани, рангирајќи ја меѓу највисоките во светот, што претставува 34,8% од бруто домашниот производ (БДП). Дигиталната потрошувачка продолжува да расте, до крајот на 2019 година, потрошувачката преку Интернет ја надмина цифрата од 10 трилиони јуани, рангирајќи се на прво место во светот во текот на седум последователни години. Како резултат на тоа, сé повеќе нови модели и нови формати на бизнис учествуваат во пазарната конкуренција.
Развојот на дигиталната економија во Кина произлегува од успешната практика во областа на информатичката технологија. Уште во 2000 година, тогашниот гувернер на провинцијата Фуџијан, Ши Џинпинг го предложи концептот за изградба на "дигитален Фуџијан" и го постави како цел за развојот "дигитализација, вмрежување и интелигенција" на провинцијата. А кога тој работеше во друга провинција Џеџијанг исто направи одлука да изгради "дигитален Џеџијанг" . Во септември 2016 година, Кина, како претседател на Г-20, ја наведе за прв пат "дигиталната економија" во планот за развој на Г20. Документот "Иницијатива за развој и соработка на дигиталната економија Г20" потпишан од државните лидери во време на Самитот на Г20 во градот Ханг Џоу, е првиот светски документ за дигитална економија. Соочувајќи се со невиден удар од пандемијата врз економијата на целиот свет, дигиталната економија ќе станува "забрзувач" и "засилувач" за промовирање на глобалната економска реформа, реформа во ефикасноста и реформа на моќта.
Се појави дигиталниот формат на бизнис иновации
Претседателот Ши Џинпинг посочи на специјалниот состанок за дигиталната економија на Самитот на Г20 во Осака во 2019 година, дека "Ние мора да создадеме фер, праведен и недискриминаторски пазарен амбиент, не смееме да ја затвориме вратата на развојот, и не можеме вештачки да се мешаме на пазарот". Се појавуваат дигитална платформа, дигитален маркетинг, дигитални трансакции и дигиталната логистика, глобалното влијание од дигиталните претпријатија се зголемува секој ден, несомнено играат сè поголема важна улога во промовирањето на индустриската надградба и глобалниот развој.
Според "Извештајот за дигитална економија 2019" од Обединетите нации, на компаниите за дигитална платформа на Кина и на САД им припаѓаат 90% од вредноста на 70 најголеми дигитални платформи во светот, вклучително седум "супер платформи", како кинески Алибаба и Тенсент. Овие седум платформи зафаќаат две третини од вкупната пазарна вредност на глобалната дигитална економија.
До декември 2019 година, вкупниот број на кинески котирани Интернет-компании, во Кина и во странство, изнесува 135, што претставува зголемување од 12,5% во споредба на крајот на 2018 година. Еднорог-компании( Unicorn enterprise) има 187, со 74 повеќе во споредба со крајот на 2018 година, растот е 65.5%.
Платформа економијата го даде стимулот за дигиталниот развој на индустријата. Од страна на побарувачката, платформа-компаниите одиграа важна улога во промовирањето на иновацијата во бизнис моделот, во зајакнувањето на трговците и во дигитализација на потрошувачката. Од страната на снабдувањето, платформа-компаниите го оптимизираа снабдувањето на производите со помош на прецизни податоци и го подобруваат дигитализираното ниво на синџирот на снабдување. Како резултат на тоа, се реализираат реформи во начинот на снабдувањето, а се подобрува и ефикасноста на производството.
…Продолжува…
TAPPING DIGITAL TECHNOLOGY IN FIGHTING COVID-19 AND RESUMING BUSINESS TO OPEN UP A NEW FUTURE FOR RECOVERY OF WORLD ECONOMY
The COVID-19 pandemic has a severe impact on the world. However, development of digitalization has attracted much attention due to its unique advantages. It is even becoming a new trend in globalization. China attaches great importance to digitalization. President Xi Jinping proposed to promote building Digital China and jointly build community with a shared future in cyberspace at the Second World Internet Conference in 2015. At the Second Belt and Road Forum for International Cooperation in 2017, he proposed building a Digital Silk Road to better benefit peoples around the world by advancing digitalization. It carries special significance now applying digital technology in fighting COVID-19 and resuming business, in order to open up a new future for the world to overcome the epidemic and promote economic recovery.
I. Tapping digital technologies in fighting epidemic and resuming business will usher in technological breakthroughs and create a collaborative symbiotic innovation chain
In his keynote speech at the opening session of the World Economic Forum 2017 in Davos, President Xi Jinping pointed out, "We should develop new growth models and seize opportunities presented by the new round of industrial revolution and digital economy. And when cultivating new industries and new business models, we should create new jobs". It provides important guidance for creating a collaborative and symbiotic digital innovation chain. The practice of tapping digital technologies in fighting epidemic and resuming business has proved the next few years will be a critical period for creating a collaborative symbiotic innovation chain.
Leading digital technologies continue to see innovative break-through. In May 2017, at the Second Belt and Road Forum for International Cooperation, President Xi Jinping stated "we need to achieve innovation-driven development and deepen cooperation in frontier areas such as smart manufacturing and digital economy". To continuously bring revolutionary changes in cutting-edge digital technology, China formulates and implements national strategy on big data, "Internet Plus" action plan, "New Generation Artificial Intelligence Development Plan" and etc.
Blockchain is highly valued as one of the core technologies. At present, the People's Bank of China's digital currency is being piloted in Shenzhen, Xiong'an, Chengdu, and Suzhou. The state will incorporate infrastructure related to blockchain into new infrastructure construction, and accelerate the integrated development of blockchain technology and society as well as economy. The 5G technology has entered the commercial use. In 2019, China officially opened 5G business. 5G+infrared temperature measurement, 5G+delivery robots, 5G+cleaning robots have been active in various scenarios during China's epidemic prevention and control. 5G is binding all production factors to provide impetus for digital change in diffent industries.
In terms of artificial intelligence technology, core technologies like voice AI make constant break-through. The new generation of Internet, artificial intelligence, and digital technologies have shifted from connection and empowerment to the integration and reconstruction of industrial chains, promoting the integration of people flow, logistics, capital flow, and information flow. Their efficient collaboration makes production more refined, supply and demand matching more precise, and industry division more pinpointed. In fighting Covid-19 and accelerating resumption of production, China deploys an innovation chain around industry chain, lays out the industry chain around the innovation chain to step up its efforts to supply pharmaceutical raw materials, necessities and PPE to the international market for fighting epidemic and pepping up economic recovery.
The popularization of digital technology is eye-catching. In his congratulatory letter to the 2018 World Artificial Intelligence Conference, Xi Jinping emphasized that "China is ready to work with other countries to cooperate in technology exchanging, data sharing, application markets and other areas and share opportunities for the development of the digital economy". China is embracing an eruption of digital technology application. In particular, a huge 5G industry application matrix is taking shape. A number of new industries, new forms of business and new models are thriving. The "basic application Plus" model is rapidly replicating in industry, transportation, energy, and tourism. For example, China Beidou Compass Satellite Navigation system acted as a trans-disciplinary pioneer in scientific and technological anti-epidemic. In terms of digital mapping, Beidou positioning equipment has ensured high-precision positioning and accurate mapping in complex worksites, and saved precious time for rapid construction of Huoshenshan Hospital and Leishenshan Hospital.
In terms of unimpeded transportation to facilitate logistics, the Ministry of Transport recommends the best routes and driving-track information service during the outbreak, through the vehicle-mounted Beidou terminal connected to the National Freight Vehicle Public Supervision and Service Platform.
In terms of locating patients, combining Beidou Navigation, the Internet, mobile communication networks, big data, cloud computing and etc, "Beidou +" information products can accurately retrace and publish the trajectory of the infected, providing critical data support for community-level prevention and control. Digital technology is now widely used in epidemic prevention and control and resumption of production, which improves economic efficiency and accelerates economic structure transformation. It will surely become an important driving force for the global response to economic recession.
II. When tapping digital technologies in fighting epidemic and resuming business, we insist on inclusiveness and mutual benefit, and building a mutually beneficial and win-win value chain.
In 2015, President Xi Jinping emphasized at the Second World Internet Conference that "we should promote openness and cooperation so that more countries and people will ride on the fast train of the information era and share the benefits of Internet development". The digital economy is becoming the key to a global, mutually beneficial and win-win value chain integration. It is accelerating the digitization and intelligent construction of the global value chain, which can foster the economic integration and political mutual trust of countries, and promote single value chains to converge into a value network.
Digital consumption continues to expand and grow. In August 2018, at the first China International Smart Industry Exposition, President Xi Jinping stressed in his congratulatory message, "China stands ready to actively participate in the international cooperation of the digital economy, work with other countries to promote the healthy development of the digital economy, and cultivate new kinetic energy and open up new space for world economic growth."
Digital resources are the main driver of digital economy, and have played an increasingly important role in promoting the vigorous development of the consumer market. As of March 2020, the number of online shopping users in China has reached 710 million, an increase of 100 million from the end of 2018. The transaction volume reached 10.63 trillion RMB (1.37 trillion EUR), an increase of 16.5% year-on-year. China has been the top digital consumer market for past seven consecutive years. Among them, the online retail sales of physical goods reached 8.52 trillion RMB (1.1 trillion EUR), an increase of 19.5% year-on-year, accounting for 20.7% of the total retail sales of social consumer goods. Online consumption in 2019 has played an active role in expanding domestic demand.
The new e-commerce model represented by social media and live broadcasting has been innovatively developed to release potential domestic consumption. The annual social e-commerce transaction volume increased by over 60% year-on-year. E-commerce platforms and logistics services are expanding into new markets, propelling continuous improvement of online shopping infrastructure and commodity supply in small cities and rural areas. Mobile payment services are driving emergence of new online and offline consumption scenarios. Online catering, travel agency, housekeeping platform boom, expanding the horizon of digital consumption.
Digital commerce is reshaping global value chains. In 2015, as President Xi Jinping emphasized at the Second World Internet Conference, "we are ready to step up cooperation with all countries. Through the development of cross-border e-commerce and the building of information economy demonstration zones, we will be able to spur the growth of worldwide investment and trade, and promote global development of digital economy".
Channeling countries and large multinational corporations to take the digital economy as the main direction of future development, China is highly open to participate in the global value chain and division of labor. In 2019, the total value of imports and exports of retail goods through the Customs Cross-border E-commerce Management Platform reached 186.21 billion RMB (24 billion EUR), an increase of 38.3%.
Policies and export models have been continuously optimized. The Cross-border E-commerce Comprehensive Pilot Zones have been further increased. China set up the first Cross-border E-commerce Comprehensive Pilot Zone in 2015 and reached 59 pilot zones after three enlargements. In April 2020, its number increased to 105 with 46 additional zones. Operating costs have been reduced for cross-border export thanks to continuous improvement of export policies and models.
In 2019, the State Council promulgated the "tax-free with no invoice required" policy, making corporate income tax verification and collection more convenient. Later last year, new model of e-commerce bonded export was launched in Hangzhou Comprehensive Pilot Zone. By this model, online customs declaration, customs clearance, foreign exchange settlement, tax refund and other services are provided one-stop. Cross-border e-commerce as an important component of digital commerce is developing rapidly. Digital commerce has played an important role in stabilizing the supply chain in fighting against epidemics.
III. Tapping digital technologies in fighting epidemic and resuming business reinvents business model, creating an open and cooperative industrial chain
In his congratulatory message to the Fourth World Internet Conference in 2017, President Xi Jinping pointed out that "China's digital economy will enter a fast lane. China hopes to promote all countries to take express train of the internet and digital economy together". China has made positive contributions to transforming the world economy to a digital one. Especially through tapping digital technologies in fighting epidemic and resuming business, China helps to maintain the stability of global industrial chain and supply chain.
New forms and models of digital economy are emerging. During his visit to Zhejiang Province on April 1, 2020, President Xi Jinping emphasized the need to "pay close attention to the layout of strategic emerging industries and future industries such as digital economy, life and health, new materials, vigorously promote technological innovation, and strive to expand new growth points and form new development momentum".
Chinese digital economy led and supported mainly by innovation is taking shape at accelerated pace. In 2019, size of digital economy of China reached 31.3 trillion RMB (4 trillion EUR), ranking among the highest in the world, accounting for 34.8% of GDP. Digital consumption continues to grow. In 2019, online consumption exceeded the 10 trillion RMB (1.28 trillion EUR) mark, ranking first in the world for seven consecutive years, which prompts more new models and new forms of business model to participate in market competition at a faster rate.
The construction of China's digital economy stems from the pioneering exploration and successful practice in the field of information technology. Back to 2000, the then Governor of Fujian Province, Mr. Xi Jinping, proposed the concept of building a "digital Fujian" with a clear goal of "digitalization, networking, and smartness". During his work in Zhejiang Province, one of major decisions made by Mr. Xi is to build "Digital Zhejiang" .
In September 2016, China, as host of G20, listed "digital economy" as an important issue in the G20 's blueprint for innovation and growth for the first time.The"G20 Digital Economy Development and Cooperation Initiative" adopted by G20 at Hangzhou Summit is the world's first digital economy policy document jointly signed by leaders of many countries. Facing the unprecedented impact of the Covid-19 on countries and the world economy, digital economy is becoming an "accelerator" and "amplifier" to promote global economic reform, efficiency reform and dynamics reform.
The innovative forms by digital businesses have sprung up. President Xi Jinping pointed out at Leaders' Special Event on Digital Economy during the G20 Osaka Summit in 2019, "we want to create a fair, just and non-discriminatory market environment. We could not develop with closed doors, let alone interfere with the market artificially".
Digital platforms, digital marketing, digital transactions, and digital logistics have emerged in large numbers. And the global influence of digital companies has increased. They are playing an increasingly important role in promoting industrial upgrade and leading global development. According to the UN "Digital Economy Report 2019", digital platform companies owned by China and the United States account for 90% of the market value of the world's 70 largest digital platforms. Among them, seven super platforms including Alibaba and Tencent, account for two thirds of the total market value of the global digital economy. As of December 2019, the total number of Chinese Internet companies listed both at home and abroad was 135, an increase of 12.5% from the end of 2018; the total number of unicorn IT companies was 187, an increase of 74, i.e. 65.5% from the end of 2018.
The platform economy continues to empower the digital development of the industry. On the demand side, platform companies have played an important role in promoting business model innovation, empowering businesses, brand growth and digitizing consumption. On the supply side, platform companies provide key support for promoting the commodities supply-side reform, improving manufacturing efficiency, and promoting industrial transformation and upgrade through data-driven optimization of commodity supply and improvement of the level of supply chain digitization.
…To continue…