Three-language plaque affixed to "Warrior on a Horse" statue destroyed overnight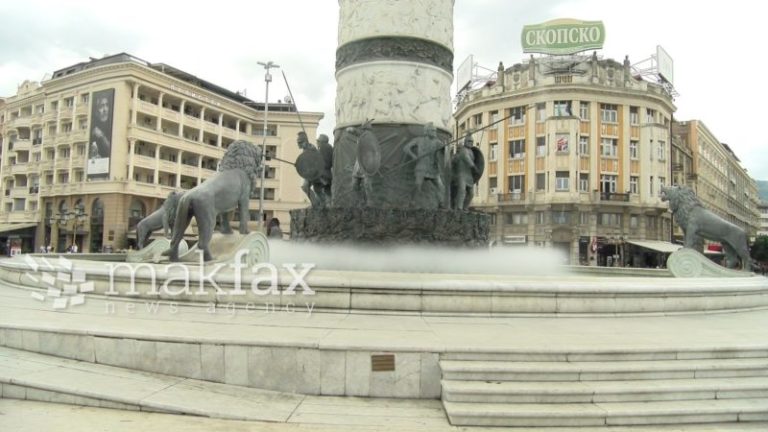 The new three-language plate that has been attached to the "Warrior on a Horse" statue in downtown Skopje was destroyed last night, just hours after it was affixed to the monument.
On Thursday afternoon the statue embarked with a cooper plate accompanying it giving a description of the giant warrior: "Alexander the Great belongs to the ancient Hellenic history and world cultural heritage".
The incident had reportedly happened on Thursday evening.
The plaque, giving a description in Macedonian, Albanian and English, reads "In honor of Alexander the Great, a historical figure belonging to ancient Hellenic history and civilization and to the world cultural and historical heritage. Here he is presented as warrior on a horse. "
Setting a new plaque was an obligation in line with the Prespa Agreement, which put an end to perennial dispute between Greece and the renamed North Macedonia.
New plaque were attached yesterday to three monuments – Warrior on a Horse, Olympia, and Philip II. They plaques were affixed to or below the fence of marble fountains surrounding the monuments.
The giant statue bearing an uncanny resemblance to the warrior king Alexander the Great – although, officially, no one called it that thus far – was erected in the heart of Skopje in 2011. Seated upon his favourite steed, the classical hero surveys the capital from the vantage point of Plostad Makedonija, Skopje's central square. At 22 metres, or eight storeys high, the statue dwarfs its surroundings.
Tusk: North Macedonia has done everything that was expected for EU to launch entry talks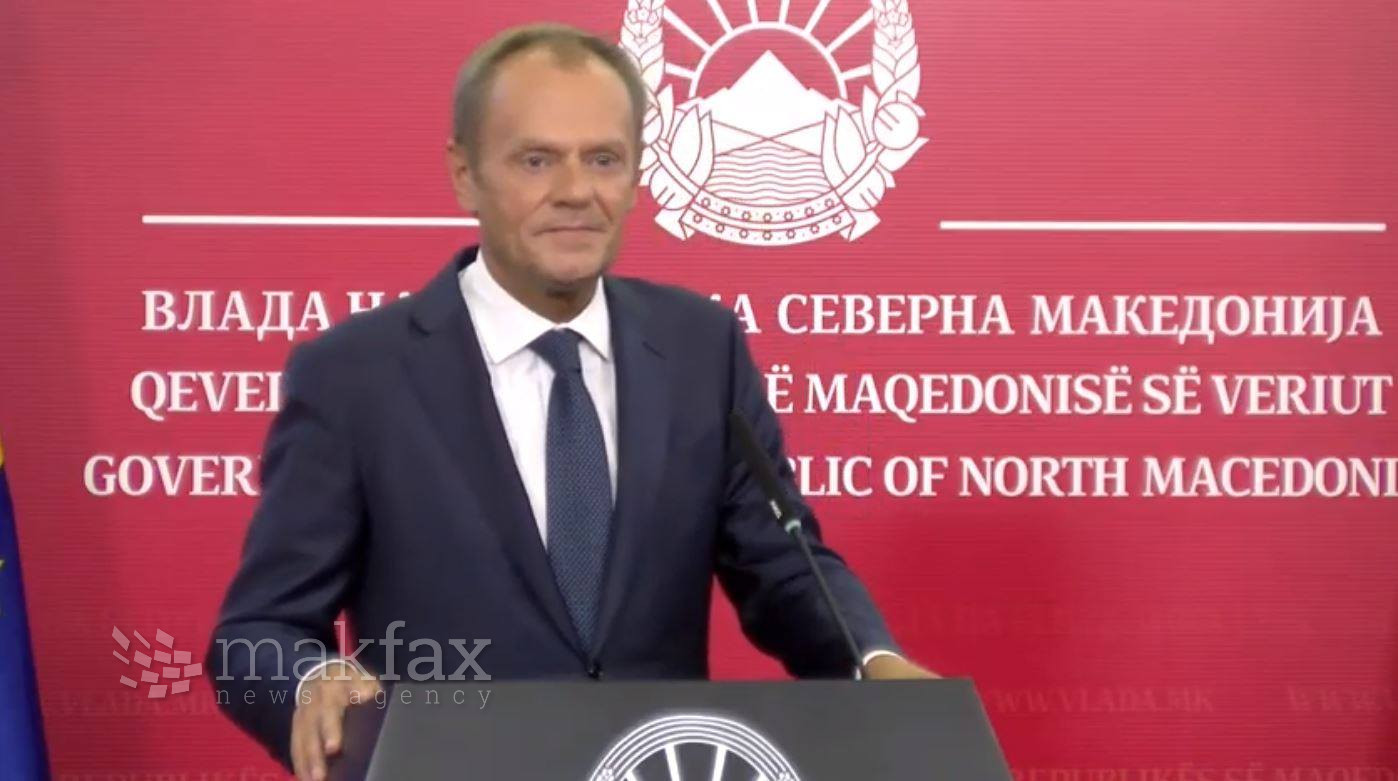 President of European Council Donald Tusk, after his meeting with Prime Minister Zoran Zaev, praised North Macedonia's efforts over the past years as remarkable.
"Your country's efforts over the past years have been remarkable. Together we have withstood one of the biggest migration crises that Europe has faced since the Second World War. It was for all of us a very difficult and demanding test of responsibility and effectiveness of action. Your country passed this test better than many EU Member States. You have also found a solution to the dramatic political crisis in your country. A solution based on democratic principles, decency and common sense. And through your Friendship Treaty with Bulgaria and the Prespa Agreement with Greece, you have become champions of political rationalism and political maturity in your region. These achievements are truly impressive, internationally recognised and should not be wasted by the EU," Tusk said.
"When the EU leaders met in June, three months ago, they committed to deliver a "clear and substantive" decision – in October – on whether to open accession talks with you and your neighbour, Albania".
"I expressed my personal views clearly back in June: your country, within the last two years, has done everything that was expected of you for the EU to be able to launch the negotiations in line with the European Commission's recommendation. That continues to be my strong conviction. Your country has done everything," EU Council president said after his meeting with the prime minister.
"That is also why I came to North Macedonia today. I wish to make it crystal clear: there is no doubt in Brussels about your political commitment to the rule of law and to fighting corruption. Of course, anybody can at anytime and anywhere do more, especially when it comes to implementation. But we know very well that your government is determined and consistent in this, also as regards the continuation of the work of the Special Prosecutor's Office.
"Finally, allow me one metaphor. The EU accession process resembles a marathon more than a 100 metres sprint. And as a dedicated runner, I know what I am talking about. To reach the finish line, continued strength, endurance and focus is needed. And sometimes, I should also say, patience. I have no doubt that North Macedonia possesses more than enough of all these qualities. And everyone should appreciate it."
Skopje is the best possible place where I would like to appeal to the leaders of the European Union: Now you do your share. Because North Macedonia has already done its share," Tusk told a press conference.
Pendarovski meets with Tusk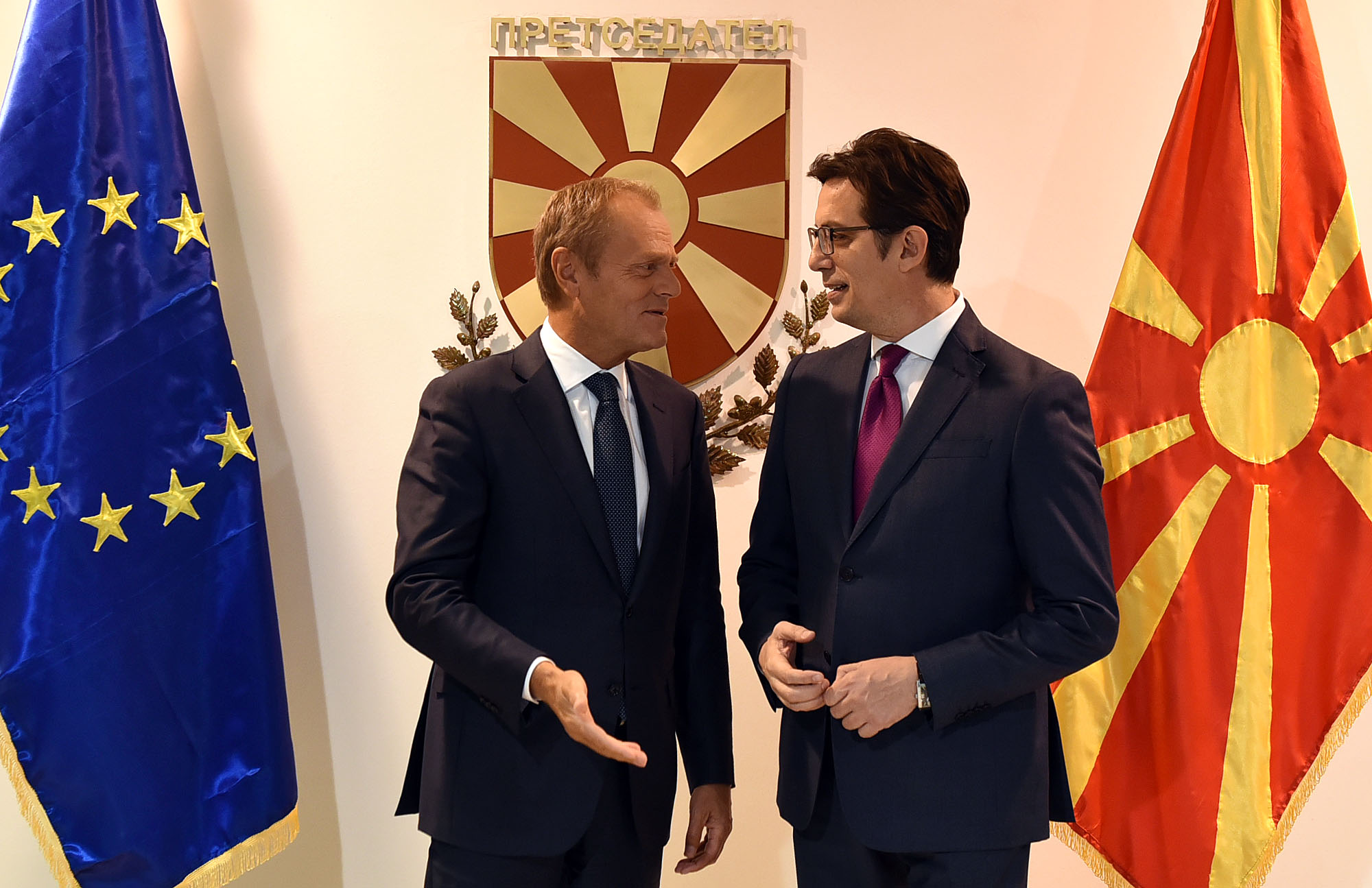 North Macedonia's President Stevo Pendarovski today met with the visiting President of European Council, Donald Tusk.
The two discussed the recent political developments in North Macedonia and the Western Balkan region, including the country's EU membership aspirations.
"President Pendarovski stressed that over the past two years, North Macedonia had to make tough decisions on much sensitive issues, including the Prespa Accord with Greece and also the Friendship, Good Neighborhood and Cooperation Agreement with Bulgaria. Furthermore, the country pursued a comprehensive reform agenda in key areas, thus confirming its commitment to the EU integration process," President Pendarovski's cabinet says in a statement.
President Pendarovski expressed his expectation that the European Council in October will praise the country's efforts and verify the 10th consecutive recommendation of the European Commission by setting a date for start of accession negotiations with North Macedonia.
Enver Maliqi named Mexico's honorary consul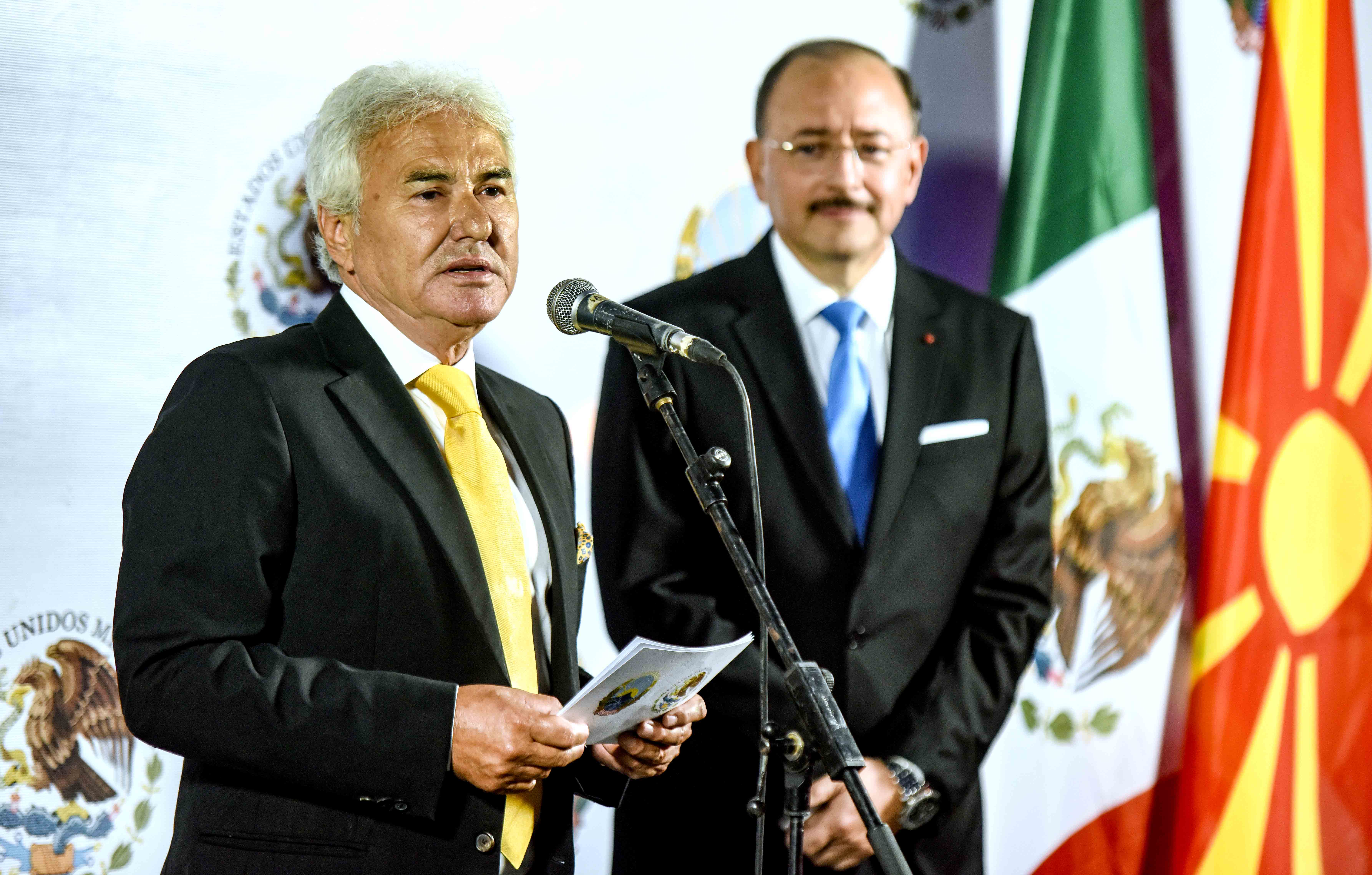 Mexico has opened an Honorary Consulate in Skopje, with Enver Maliqi named an Honorary Consul.
The honorary consulate will work on promotion of cooperation between the two countries and laso initiate joint activities in several areas. The Ambassador of the United Mexican States, H.E. Marco Antonio Garcia Blanco, led the opening ceremony of the diplomatic mission.
"The opening of the honorary consulate is a step forward in the bilateral ties between Mexico and North Macedonia. On 4 October, the two countries will mark the 18th anniversary of diplomatic relations," Ambassador Garcia Blanco said
"Relations between the two countries have been friendly so far, and from now on cooperation and joint activities will deepen in the interest of both nations. With the support of Enver Maliqi as Honorary Consul, I am confident of furthering the cooperation and strengthening the bilateral relations," he added.
"Although geographically distant, our countries share many things in common. Respect for tradition, strong temperament and the struggle for human rights and dignity unite us. The Mexican and Macedonian experience is an excellent basis for co-operation and greater exchange of ideas that will strengthen relations between the two nations, Maliqi said at the opening ceremony.
The honorary consulate is located at "Park Residence" compound in Skopje, working hours from 8 am to 4 pm.