Makedonija blokira: Traitors! Macedonian name not for sale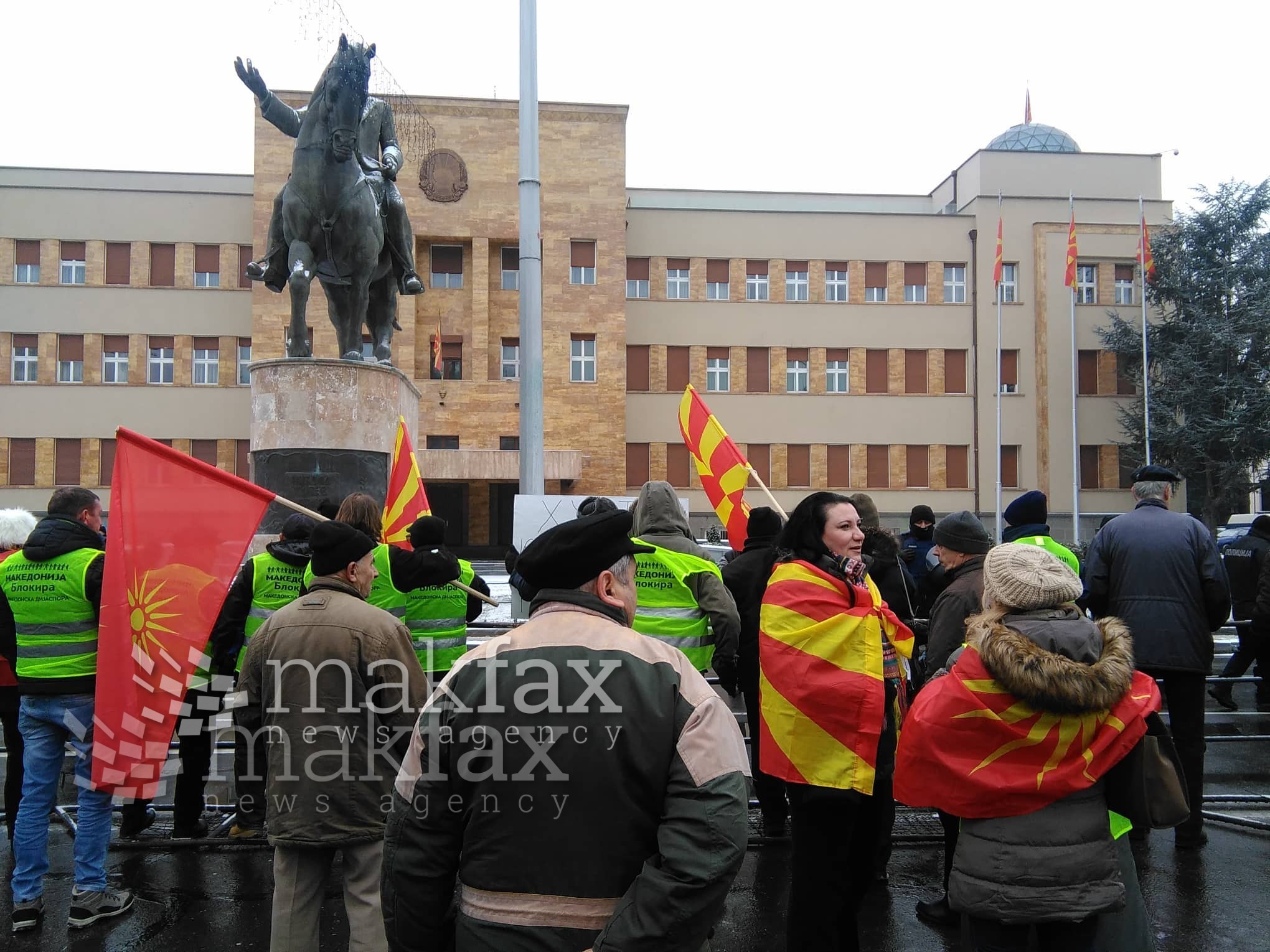 Dozens of protesters gathered outside parliament in Macedonian capital chanting "Traitors", "Mercenaries"…"Macedonia, Macedonia" at a rally to protest a possible change to the country's name.
The protesters, organized by the group Makedonija blokira, massed in front of parliament building in Skopje's main square on Wednesday as lawmakers are expected to vote on set of amendments to change the Constitution to comply with a demand by Greece.
Protesters called on Members of Parliament and President Gjorge Ivanov to join the rally and oppose the change to the country's name. The protesters also urged the head of state to declare martial law.
"All Macedonians from across the world, the Diaspora took to the street today. The others who are not here today will no longer be deemed as Macedonians. Those who support constitutional changes are not Macedonians and they will be recorded in history as traitors. I call on MPs to join us", Dragan Ugrinovski, member of "Makedonija blokora" group, told the crowd.
He called on riot police to let a group of three enter the parliament session to pass the MPs a message not to vote.
"Police should not defend these traitors, the 120 people who are inside the parliament should get out and support us. Let's not allow anyone change our country's name that has existed for centuries".
La Verita: Katica Janeva serves as lightning-diverter for all judges and politicians involved in extortion ring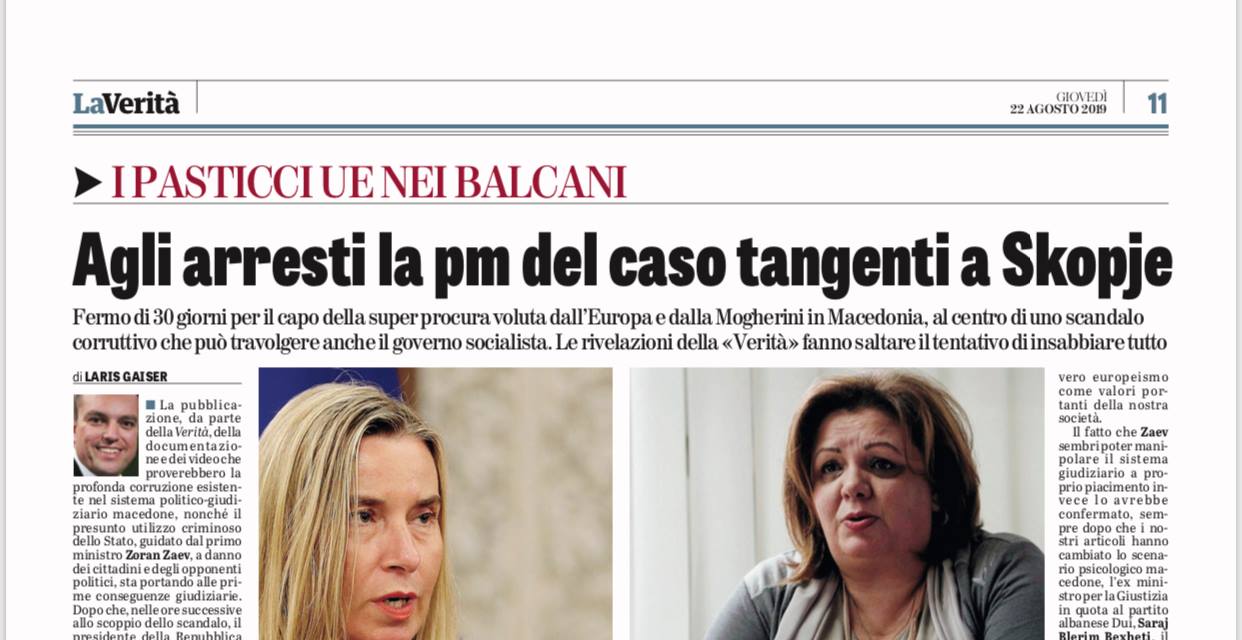 Italian newspaper La Verita hints additional evidence it claims will confirm that Macedonian authorities were directly supervising the extortion activities. The evidence will be shared as soon as security of sources is provided.
"By then, it seems that Katica Janeva is doomed to serve as lightening arrester
[diverter]
to protect all those, judges and politicians, involved in a scandalous extortion system and misgovernance during Zaev's tenure," La Verita said on Thursday, a day after special prosecutor Janeva was detained amid a widening investigation into high-profile extortion ring.
"It is now clear that the recordings we had shared online were not taken seriously by organized crime prosecutors led by Vilma Ruskovska, the woman who accidently was Zoran Zaev's pick for next special prosecutor to replace Katica Janeva".
"The almighty man tried to discredit our work always committed to truth, searching for the truth, accusing us of sabotaging Macedonia's path to the EU and NATO. But his accusations turned futile," says journalist Laris Gaiser, the author of the column in La Verita newspaper.
Katica Janeva remanded for 30 days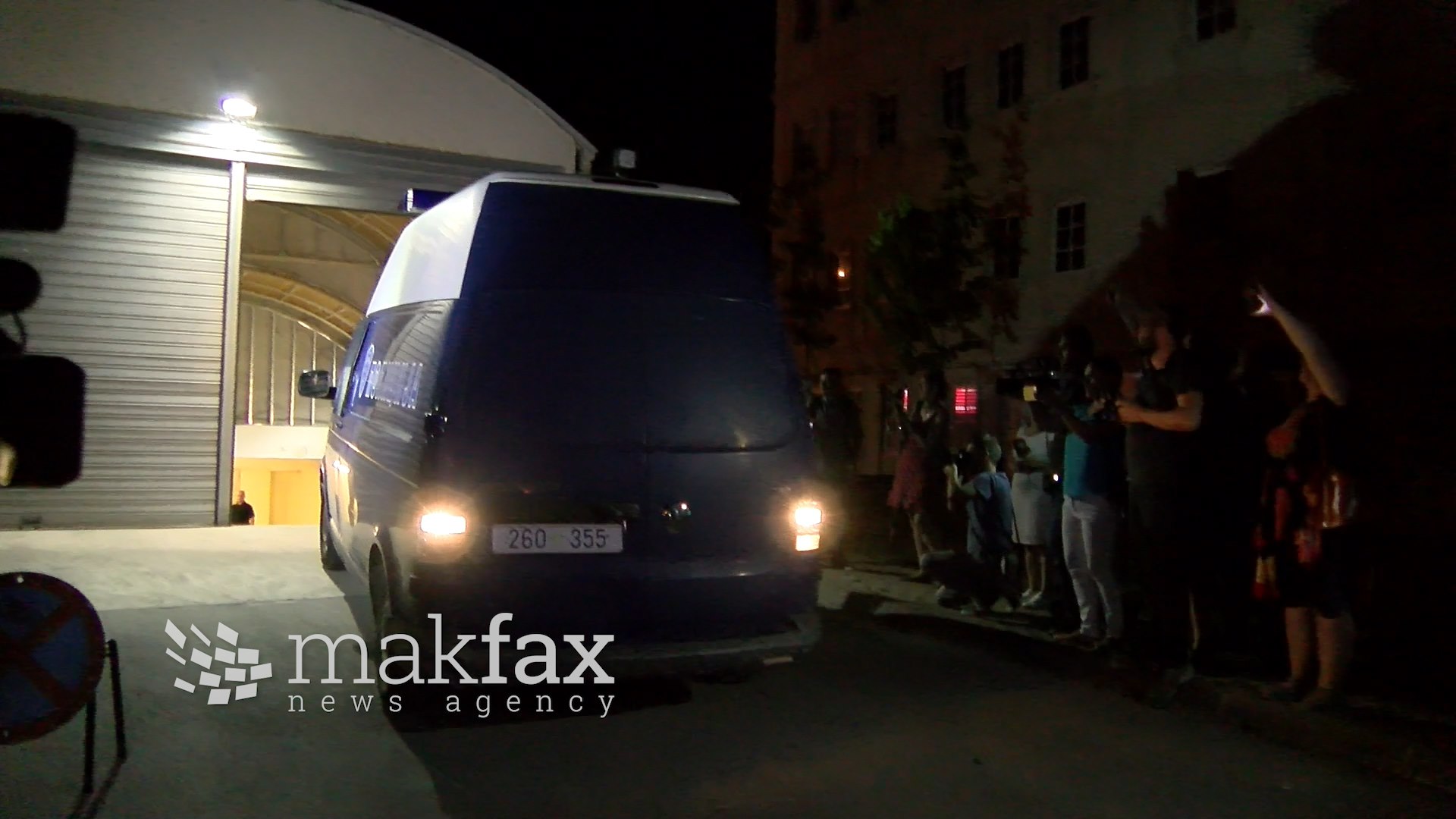 Special prosecutor Katica Janeva was on Wednesday afternoon remanded to 30 days in prison by a Skopje court pending her substantive trial.
The suspect, who is charged with few counts related to abuse of office authorizations, was yesterday brought before the court to answer to the charges.
Examining magistrate in pre-trial investigation ordered a 30-day detention in connection with 'Racket" case, a high-profile corruption scandal. She was named a third suspect in the case.
Janeva may appeal the ruling to the criminal court's trial chamber.
The public attorney's office investigating and prosecuting organized crime and corruption asked the court to remand Janeva.
She is accused of abusing her authorizations and influencing a more favorable treatment of a local business owner Orce Kamcev, suspect in "Imperija" case.
The other two suspects in the case, Bojan Jovanovski and Zoran Milevski were placed in pre-trial detention in July.
Ruskovska: I won't seek detention for Janeva without sufficient evidence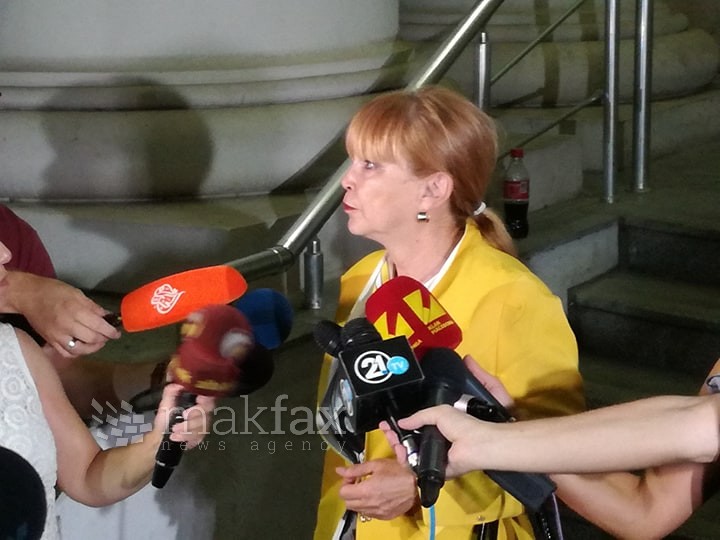 Few hours after a court in Skopje ordered a 30-day detention of SJO chief Katica Janeva, prosecutor Vilma Ruskovska said she didn't ask the court to remand Janeva in custody because she didn't have enough evidence to charge her.
The outgoing head of the Special Prosecutor's Office (SJO) initially was not a suspect in the high-profile extortion case, codenamed 'Racket' as there were no evidence indicating involvement, Ruskovska said. "If I had enough evidence that someone committed offence, they would have been taken in police custody," she added.
"I didn't ask the court to remand Janeva in custody. I deemed that my colleague should be given a chance to express her point of view, and that's the reason I did not seek detention. The case is very much exposed in public. I just wanted to hear what she has to say as a witness. I would not require detention without sufficient evidence," Ruskovska said after Janeva was brought to court for questioning by examining magistrate, a pre-trial investigation judge.
On Wednesday, police raided Janeva's home and detained her as part of widening investigation into high-profile extortion ring. The authorities sought detention of the special prosecutor and head of SJO after she was named as a suspect in a high-profile corruption scandal.
Prosecutor Katica Janeva was formally accused Wednesday of abusing her authority and gaining substantial benefit in form of property. She had allegedly dropped corruption charges against a local businessman in exchange for payment.
Janeva denied any wrongdoing.
Janeva's office – the Special Prosecutor's Office or SJO – was set up 2015 as part of a crackdown on organized crime and corruption. SJO's task is to investigate and prosecute criminal offences related to and arising from content of the illegally intercepted communication.