Tusk: North Macedonia has done everything that was expected for EU to launch entry talks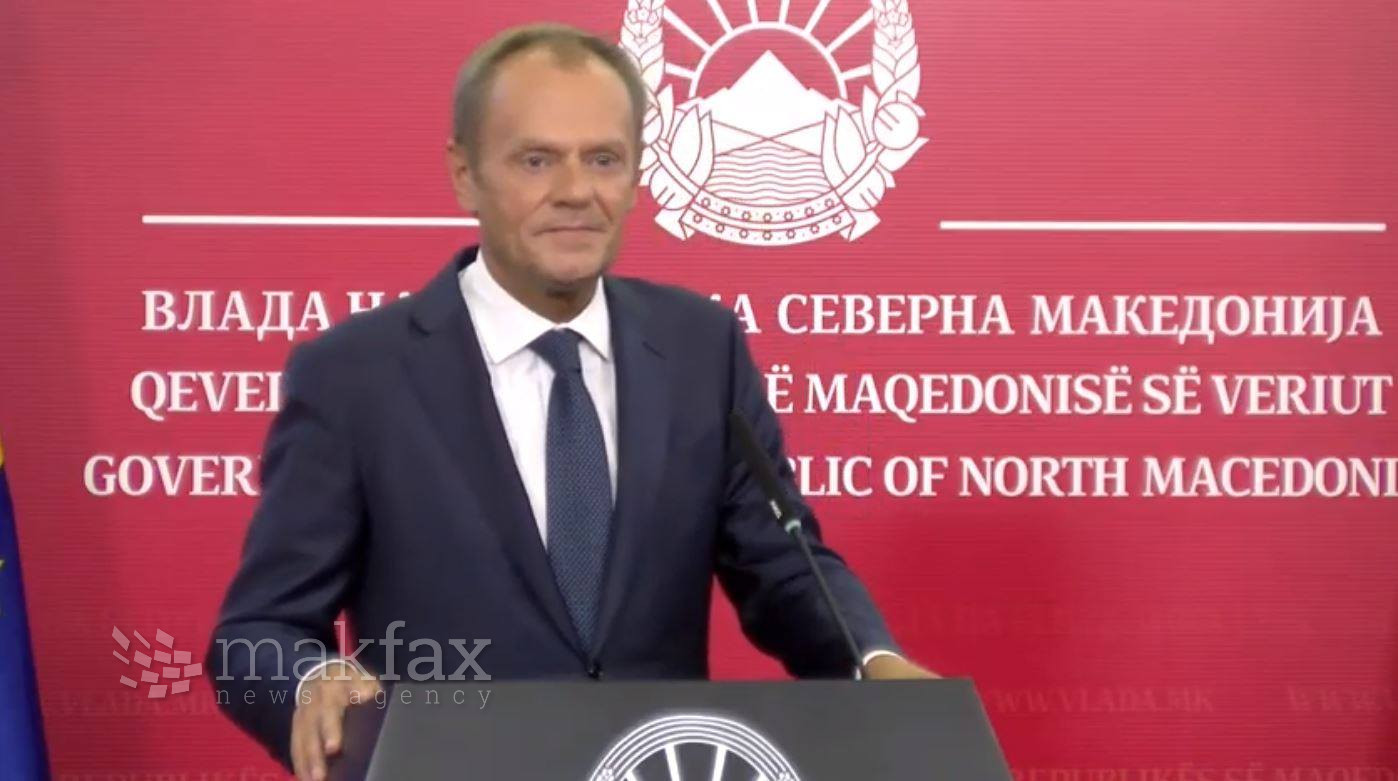 President of European Council Donald Tusk, after his meeting with Prime Minister Zoran Zaev, praised North Macedonia's efforts over the past years as remarkable.
"Your country's efforts over the past years have been remarkable. Together we have withstood one of the biggest migration crises that Europe has faced since the Second World War. It was for all of us a very difficult and demanding test of responsibility and effectiveness of action. Your country passed this test better than many EU Member States. You have also found a solution to the dramatic political crisis in your country. A solution based on democratic principles, decency and common sense. And through your Friendship Treaty with Bulgaria and the Prespa Agreement with Greece, you have become champions of political rationalism and political maturity in your region. These achievements are truly impressive, internationally recognised and should not be wasted by the EU," Tusk said.
"When the EU leaders met in June, three months ago, they committed to deliver a "clear and substantive" decision – in October – on whether to open accession talks with you and your neighbour, Albania".
"I expressed my personal views clearly back in June: your country, within the last two years, has done everything that was expected of you for the EU to be able to launch the negotiations in line with the European Commission's recommendation. That continues to be my strong conviction. Your country has done everything," EU Council president said after his meeting with the prime minister.
"That is also why I came to North Macedonia today. I wish to make it crystal clear: there is no doubt in Brussels about your political commitment to the rule of law and to fighting corruption. Of course, anybody can at anytime and anywhere do more, especially when it comes to implementation. But we know very well that your government is determined and consistent in this, also as regards the continuation of the work of the Special Prosecutor's Office.
"Finally, allow me one metaphor. The EU accession process resembles a marathon more than a 100 metres sprint. And as a dedicated runner, I know what I am talking about. To reach the finish line, continued strength, endurance and focus is needed. And sometimes, I should also say, patience. I have no doubt that North Macedonia possesses more than enough of all these qualities. And everyone should appreciate it."
Skopje is the best possible place where I would like to appeal to the leaders of the European Union: Now you do your share. Because North Macedonia has already done its share," Tusk told a press conference.
Tusk to MEPs: EU's failure to open entry talks with North Macedonia, Albania a big mistake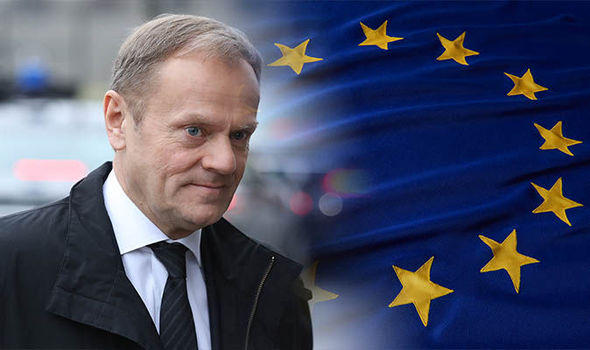 European Council President Donald Tusk, in a report to the European Parliament on European Council meeting on 17 and 18 October, said it was a big mistake not to set a date for opening of accession negotiations with North Macedonia and Albania.
"The leaders held a difficult debate on enlargement. Following the clear recommendation by the Commission, an overwhelming majority of member states wanted to open accession talks with North Macedonia and Albania. Despite this, the required unanimity was not possible last week," Tusk said in his address to the European Parliament.
"In my opinion, this was a mistake, which I have said to the leaders and I was a bit more direct then. Now I can only hope that the leaders draw the right conclusions, when they discuss the accession process before the Zagreb summit in May 2020."
"Together with President-elect von der Leyen, the leaders also discussed the future of the European Union, in terms of its strategic agenda, the future EU budget and the incoming Commission's priorities. We are determined that the EU leads the way in fighting the climate crisis. A socially just transition to a green economy is not only a necessity, but it is an opportunity to improve our environment, while creating jobs, Tusk told the MEPs.
Earlier, EU Council President Tusk has called the blocking of EU membership talks with North Macedonia and Albania "a mistake".
Tusk, speaking at a press conference after the EU summit, said "a few members are not ready" to allow North Macedonia and Albania to become members. "This is why we didn't manage to reach a positive decision. Personally I think it was a mistake," Tusk told a news conference last week.
SDSM: Mickoski afraid of snap polls in December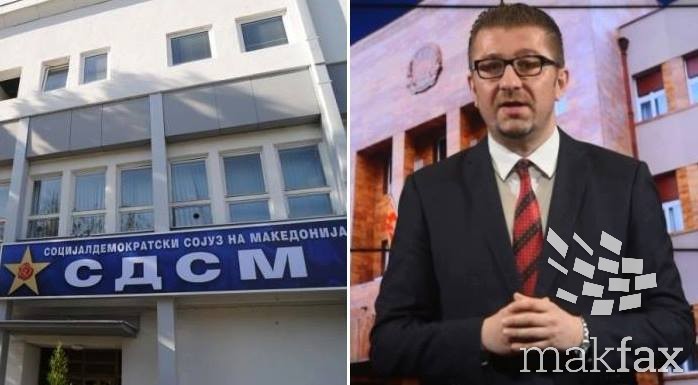 Mickoski is afraid and that's why he evaded snap general election in December, the Social Democrats said on Tuesday, adding that the voters will punish him with another election defeat.
In a press release, the ruling SDSM reiterated that VMRO-DPMNE had remained dedicated against the integration into the NATO and EU, against reforms and progress of the country.
"Hristijan Mickoski and VMRO-DPMNE were the only ones to rejoice and applaud the historic mistake of the EU because they want to bring the country back to isolation and uncertainty. With no vision, with no agenda, and no goal, VMRO-DPMNE is heading towards a crushing debacle in the early parliamentary elections."
"That's why VMRO-DPMNE and Mickoski got frightened and evaded fast-track snap polls in December. Mickoski's coalition aims to reinstate the former regime, the crime and isolation of the country," SDSM said.
SDSM: Mickoski can't stop bragging about landslide victory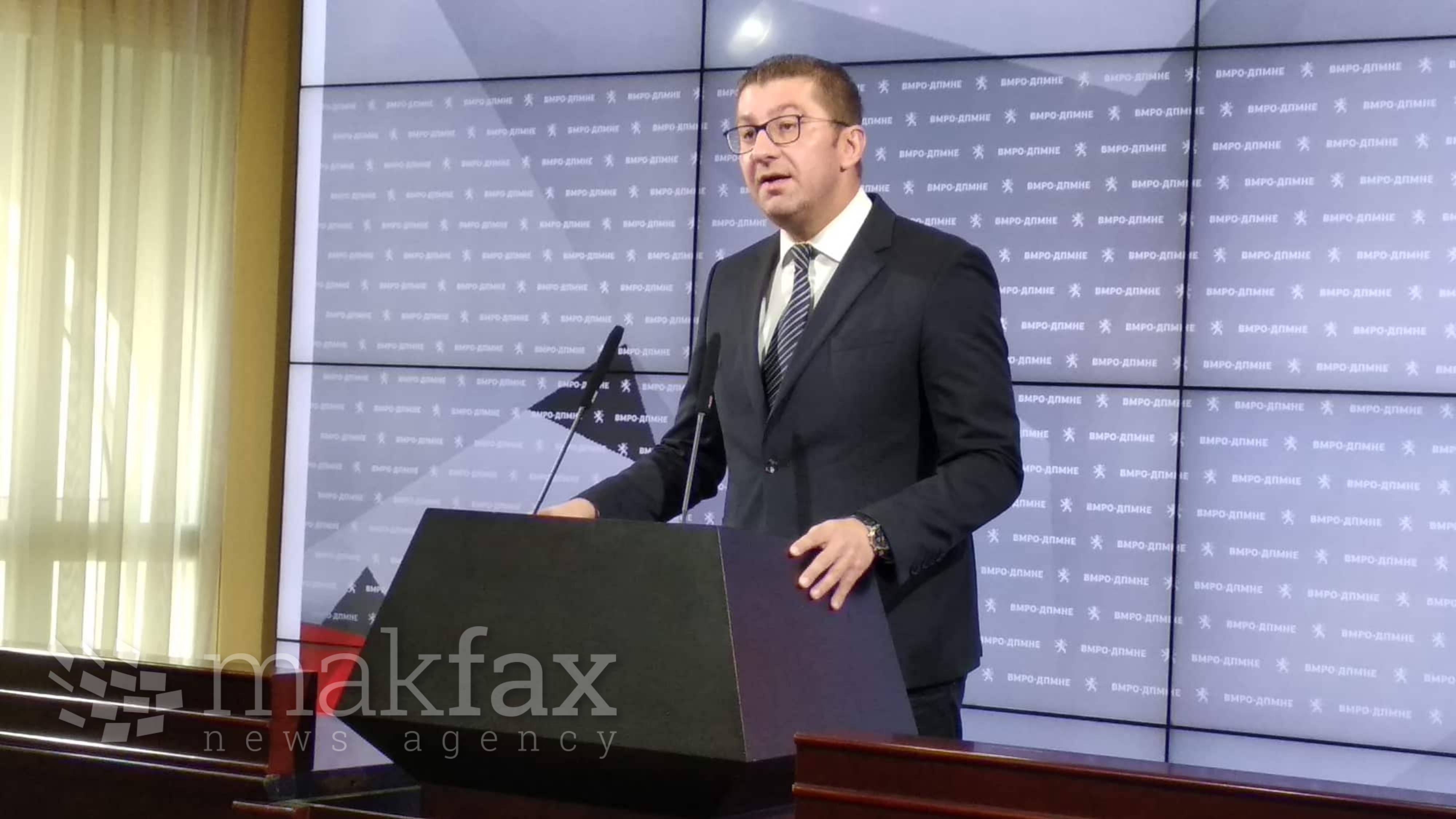 Hristijan Mickoski's coalition only changes its name, however, nothing essentially changes. It is a coalition for reinstatement of the regime, crime and isolation, the ruling Social Democrats said in a press release Tuesday.
"Mickoski and VMRO-DPMNE can't offer anything but blockades and destruction. They were the only ones working against the EU and NATO, the only ones rejoicing over the historic mistake made in Brussels last week," SDSM said.
"Fearing about the likely defeat in the April 12 elections, Mickoski brags to the people about alleged opinion polls and alleged advantage, but in reality, all relevant surveys show strong approval for SDSM-led coalition."
The party says the SDSM-led coalition approval ratings are climbing regardless of election timing.
"Mickoski used to brag about an alleged landslide victory in the previous elections but the citizens had defeated his destructive matrix. He suffered a defeat in the referendum, the presidential elections and runoff in Ohrid and Novo Selo. And he is facing a crushing defeat on April 12," the ruling party said.