VMRO-DPMNE: SDSM afraid of fair and democratic elections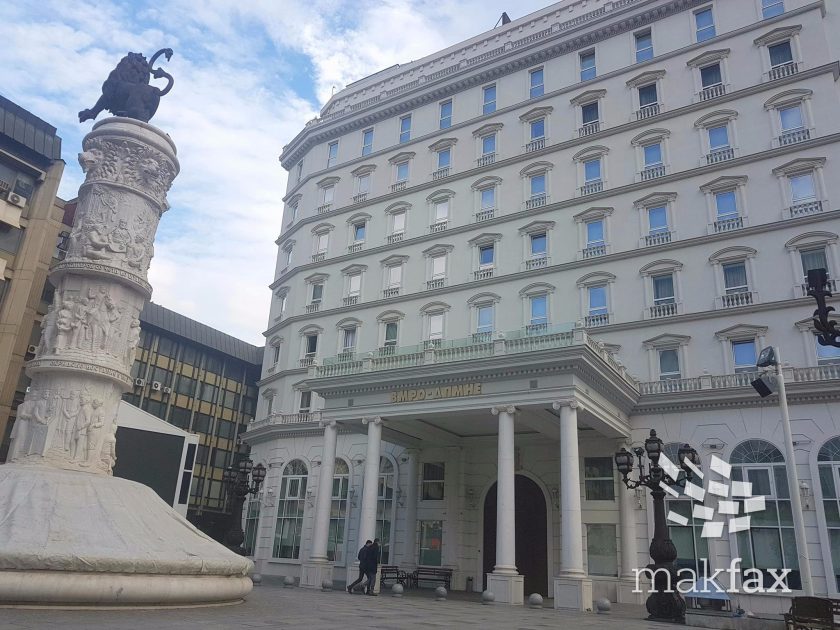 The Social Democrats had disrupted Macedonia's reputation worldwide and in the dispute with Greece. Furthermore, their wrongdoing, corruption, theft and abuse of public funds, incapacity… brought the country back to the criminal transition instead of bring it closer to European standards, the opposition VMRO-DPMNE party said in a press release.
"SDSM is afraid of fair and democratic elections. SDSM is afraid of effective fight against crime and corruption. SDSM is fraid of professional and independent institutions".
"There must be accountability for the referendum fraud and for all crimes of the SDSM-led government. Macedonia is facing a new political crisis as a result of Zaev's and SDSM's incapacity.
Accepting VMRO-DPMNE's demands is the only way out of crisis," the opposition party said.
"If SDSM really wants early elections, it is necessary to set up the so-called Przino government, similar to the one formed prior to 2016 elections. There must be responsibility for the crimes committed by the authorities. The second demand is to set up a new SJO (Special Prosecutor's Office) whose members will be nominated by the opposition. The second demand is formation of inquiry committee with the parliament with a task to address the referendum-related irregularities to ensure that they don't re-occur in the next elections".
"The second option is that Zaev and SDSM immediately quit the capitulation deal with Greece and then call early elections," VMRO-DPNE said in a press release.
North Macedonia, Bulgaria vow to strengthen regional cooperation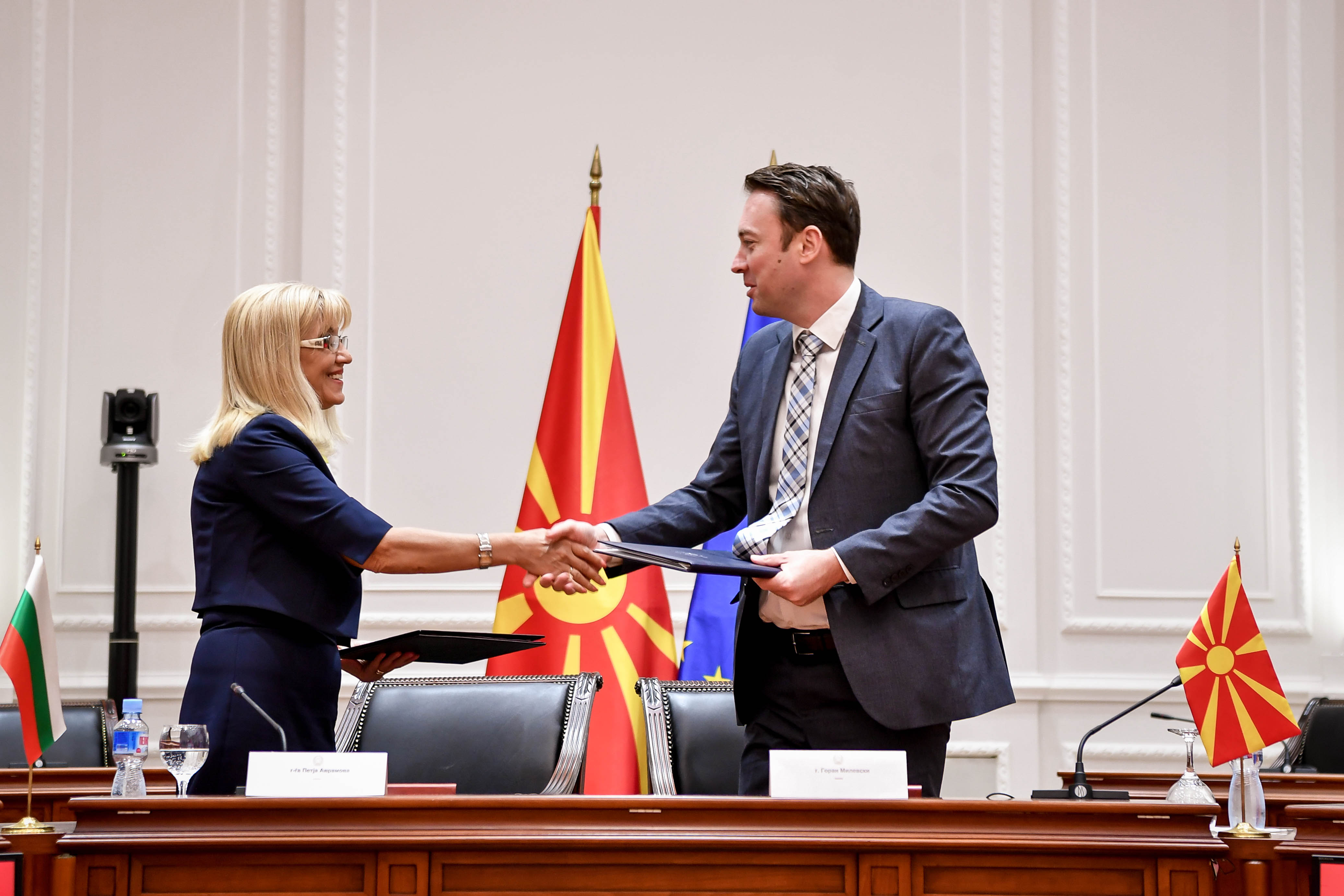 North Macedonia's Minister of Local Government Goran Milevski and Bulgarian Minister of Regional Development and Public Works Petya Avramova have signed a Memorandum of Cooperation between the two ministries.
The Memo was signed in Skopje on Tuesday.
Ilevski hailed the event, noting that signing of the memorandum is a result of implementation of Good Neighborly Relations, Friendship and Cooperation Agreement the two countries had signed. The Agreement envisages cooperation in fields spanning EU and Euro-Atlantic integration, sharing experience, know-how and good practices. The Agreement encourages the stakeholders, both the government officials and local authorities in both countries to boost cooperation.
"In the spirit of good neighborly and friendly relations between the two countries, in the spirit of European values and regional co-operation, North Macedonia's Ministry of Local Government and Bulgaria's Ministry of Regional Development will establish institutional co-operation to strengthen capacities and improve functionality in areas spanning regional development, cross-border cooperation and local governance," Minister Milevski said.
Minister Avramova hailed the two countries' cooperation in many important areas, and the memorandum is a confirmation of the excellent cooperation.
Janeva, accompanied by lawyer, testifies before prosecutor Ruskovska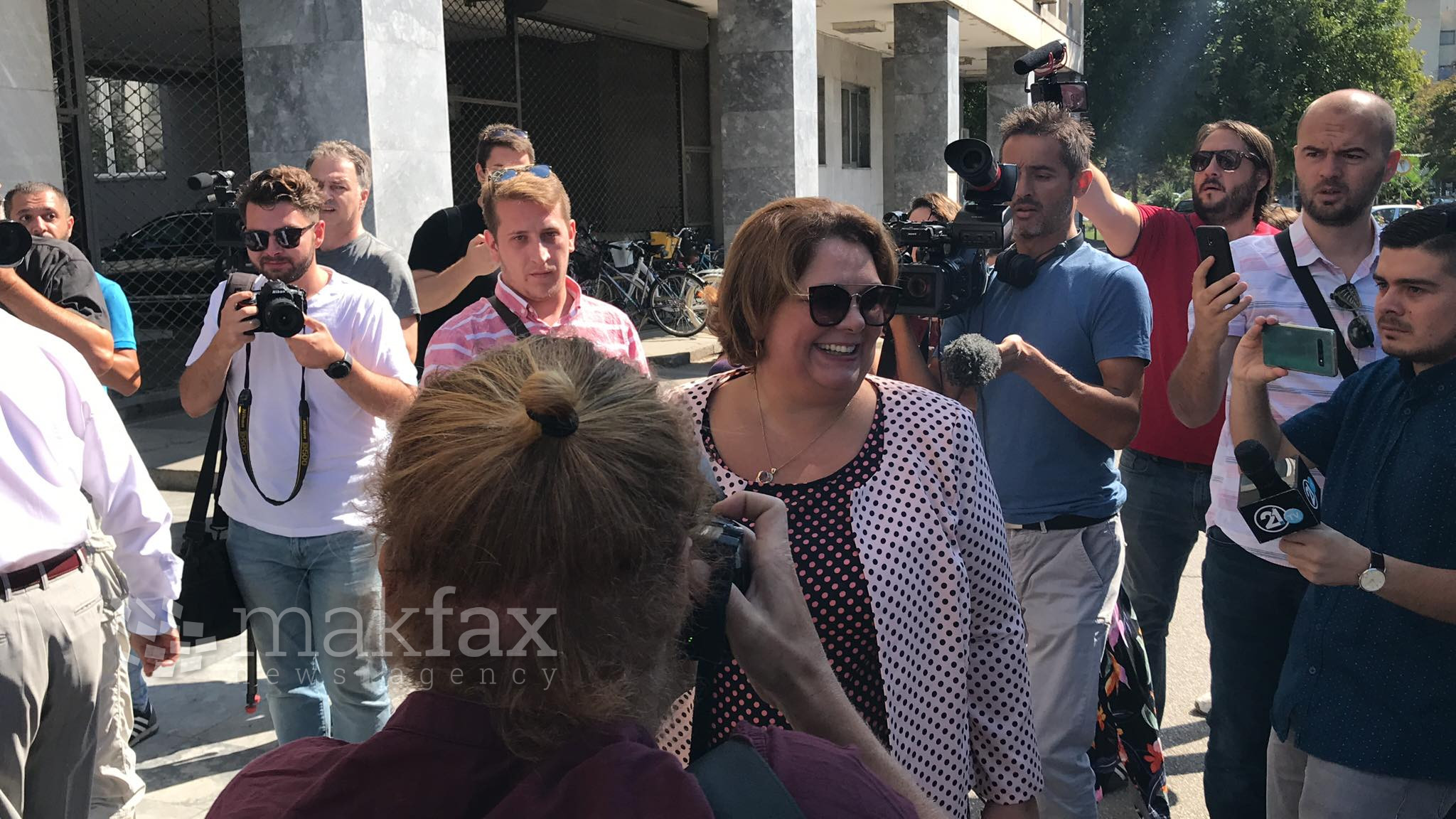 Katica Janeva, the outgoing head of Special Prosecutor's Office, appeared today at the Public Attorney Office accompanied by a lawyer, Stevan Pavleski. She refused to answer questions from reporters gathered outside the building.
Janeva was subpoenaed by organized crime and corruption prosecutors to testify in connection with 'Racket' case.
"As far as my testimony is concerned, I hope it could help the investigation," Janeva said before entering the building Tuesday. "I am still a special public prosecutor," Janeva told reporters, adding that SJO prosecutors are fully authorized to represent cases on court.
She expects that cases run by SJO be completed by autumn.
The special public prosecutor was late for the questioning today.
The questioning comes a month after the launch of investigation into Racket case. Bojan Jovanovski also known as Boki 13 and Zoran Milevski alias Zoki KIcheec are suspected of running extortion racket. Jovanovski and Milevski have been arrested for allegedly seeking a bribe in return for special prosecutors dropping a case.
The two are believed to have conspired with a third party to convince business owner Orce Kamcev pay bribe. Kamcev had been told that prosecutors would drop charges against him in return for kickbacks. The two allegedly approached Kamcev and demanded that he pays an amount and he will be cleared of charges.
At the start of the probe, public prosecutor Ruskovska hinted at the possibility for expanding the probe into 'Racket' case.
Among special prosecutors who have testified thus far were Lile Stefanova and Elizabeta Josifovska, who, in her capacity as Janeva's deputy, signed an order for release of Kamcev from police custody.
Vasilevska: Dimitrov turns his back on Zaev's sinking ship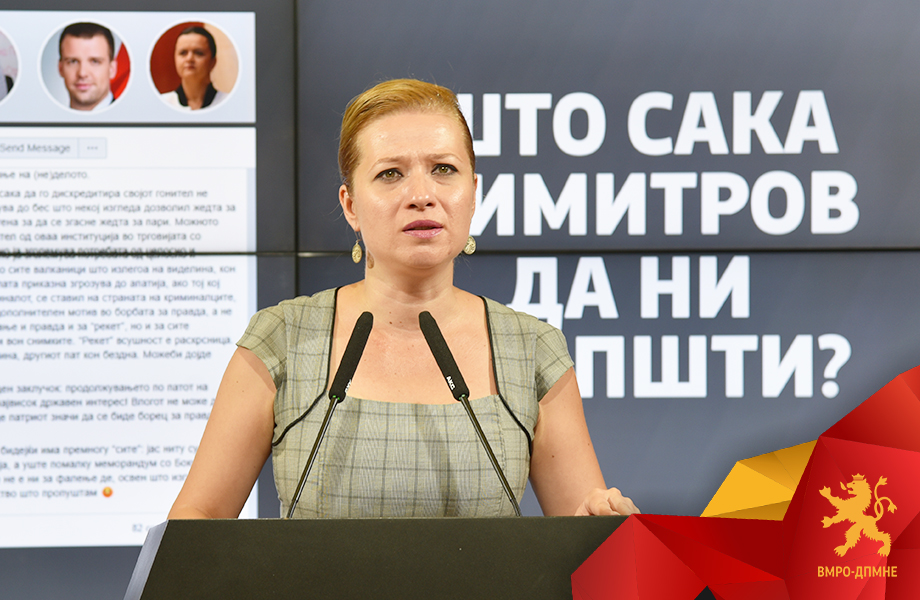 "Panic rises in the government's cabinet and certain officials are likely to abandon the sinking ship. And the abandonment does not happen within the SJO only, but also in the PM's cabinet," Ivanka Vasilevska, member of VMRO-DPMNE's executive committee, told a press conference Monday.
Vasilevska mentioned Foreign Minister Nikola Dimitrov who she claims is about to turn his back on Prime Minister Zoran Zaev in the wake of a large-scale extortion racketeering scandal.
A sinking ship will suck Dimitrov down with it. He won't go down with the ship, she added.
"Namely, Dimitrov wrote on his Facebook page: 'To be clear, because there are too many all, I have never had a meeting or photo, and even less a memorandum with Boki 13," Vasilevska quoted Dimitrov's post on Facebook.
She went on: "Given that Zoran Zaev held meetings, appeared on photos together with Boki13, it is obvious that Dimitrov is turning his back on those in the sinking ship. He is abandoning Zoran Zaev, Radmila Sekerinska, Kostadin Kostadinov, Stefan Bogoev – all those who took photos and signed memos with Boki 13 – the main suspect in racketeering affair".