Moscow No Longer Among World's 100 Most Expensive Cities for Foreigners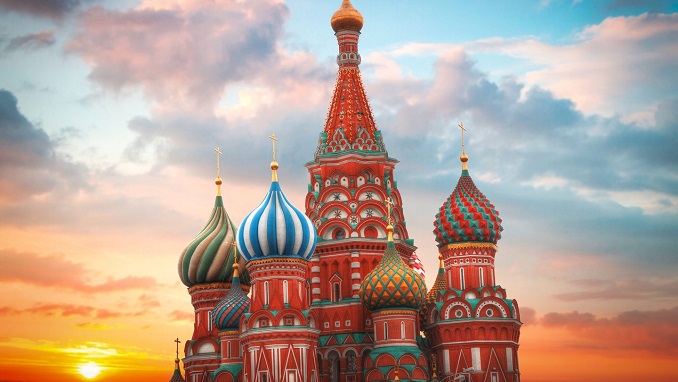 The depreciating ruble, the drop in oil prices and continuing anti-Russian sanctions have caused Moscow to drop out of the list of top-100 most expensive cities in the world for foreigners, says the new Cost of Living Index report by international consultancy ECA International.
According to the report, cited by Channel 5, Moscow dropped 66 places to hit 120, while St. Petersburg exhibited a similar trend, falling by 31 spots and landing in 172th place.
A weaker euro resulted in EU cities becoming less expensive for foreigners working there – overall, Europe only takes up 19% of the rating, while the United States demonstrated the opposite tendency. A stronger dollar saw 25 U.S. cities being ranked in the top-100, while only ten made it into the list last year.
This time, Ashgabat, the capital of Turkmenistan, was placed first in the list of cities most expensive for foreigners to live in, managing to surpass two Swiss cities, namely Zurich (2) and Geneva (3) that are traditionally ranked very high. They are followed by Hong Kong in the 4rd place, Basel (Switzerland) comes 5th, Bern (Switzerland) placed 6th, Tokyo (Japan) – 7, Seoul (South Korea) – 8, Tel Aviv (Israel) – 9, while Shanghai (China) closes out the top-10.
The Venezuelan capital, Caracas, suffered the most impressive drop, coming from being the leader of the rating last year to falling to the 238th spot because of the inflation that reaches $1.3 million on a year-on-year basis.
Overall, the research compared market baskets of 482 cities all over the world. Tehran occupies the very last place, because of U.S. sanctions imposed on Iran.
UK Piracy Will Not Be Left Unanswered – Iranian Leader on Oil Tanker Seizure
Iran's Supreme Leader Ayatollah Ali Khamenei has warned that Tehran will respond in kind to a recent seizure of an Iranian tanker by UK Marines in Gibraltar.
"Evil Britain commits piracy and steals our ship […] and gives it a legal appearance. Iran and those who believe in our system will not leave such evil deeds unanswered", Khamenei said during a meeting with Friday prayer leaders from across Iran on Tuesday.
Separately, Khamenei explained Tehran's drive to reduce its commitments under the 2015 nuclear deal, also known as the Joint Comprehensive Plan of Action (JCPOA). The Islamic Republic announced that it would not stick to some of its JCPOA obligations on 8 May, exactly a year after the US unilaterally pulled out of the Iran deal.
"According to our foreign minister, Europe made 11 commitments, none of which they abided by. We abided by our commitments and even beyond them. Now that we've begun to reduce our commitments, they oppose it. How insolent! You didn't abide by your commitments!" Khamenei pointed out.
He spoke after Iran's Foreign Minister Mohammad Javad Zarif tweeted last week that the seizure of an Iranian oil tanker is tantamount to "piracy" and "sets a dangerous precedent".
"Iran is neither a member of the EU nor subject to any European oil embargo. Last I checked, EU was against extraterritoriality. UK's unlawful seizure of a tanker with Iranian oil on behalf of #B_Team is piracy, pure and simple […] and must end now", Zarif emphasised.
The remarks followed Iranian cleric Kazem Sedighi pledging that Britain will soon be "slapped in the face" for its capture of an Iranian tanker.
Iranian Foreign Ministry spokesman Abbas Mousavi earlier said that Tehran is urging Britain to release the Iranian oil tanker immediately.
"This is a dangerous game and has consequences … the legal pretexts for the capture are not valid … the release of the tanker is in all countries' interest … Foreign powers should leave the region because Iran and other regional countries are capable of securing the regional security", Mousavi adder.
On 4 July, port and law enforcement agencies of the British overseas territory of Gibraltar, aided by the UK Royal Marines, seized the Iranian supertanker Grace 1, claiming that the vessel was transferring crude oil to Syria from Iran in violation of EU sanctions.
Iranian Deputy Foreign Minister Abbas Araqchi, for his part, pointed out that "contrary to what the British authorities are claiming, the tanker was not headed for Syria" and that a Syrian port mentioned by the UK as the tanker's destination would not be able to accommodate the vessel.
A supertanker with a 300,000-tonne carrying capacity, the Grace 1 includes Indian, Pakistani, and Ukrainian nationals among its 28 crew members who reportedly remain aboard the vessel and are being interviewed as witnesses by British authorities.
No Need to Take EU Steps Against Ankara Over Cyprus Issue Too Seriously – Turkish FM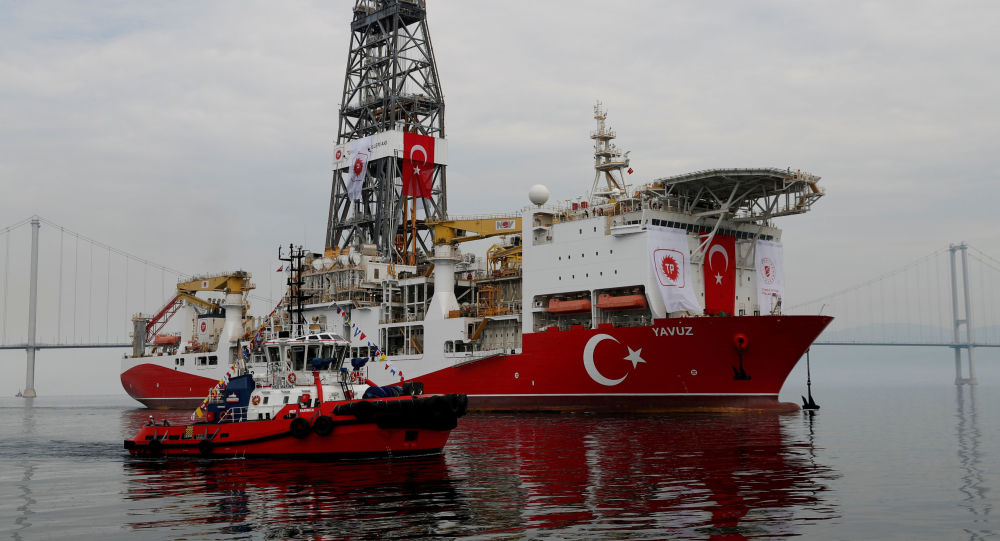 Turkish Foreign Minister Mevlut Cavusoglu said Tuesday that there was no need to take EU steps against Ankara over the drilling in Cyprus' exclusive economic zone.
In the most recent development of the case, Northern Cypriot authorities filed a proposal to the Greek Cypriot government calling for cooperation on the extraction of natural gas off the coasts of Cyprus.
The proposal was made several days after the European Commission and the EU diplomatic service, in their turn, proposed several possible measures on Turkey's drilling off Cyprus coast to EU leaders.
Two Turkish drillships, Yavuz and Fatih, are currently anchored off the coast of Cyprus in order to drill for oil and gas. Cyprus and Greece see it as a provocation, and the European Union has called on Turkey to end the drilling. Ankara, meanwhile, believes it has a right to drill for regional natural resources.
The row over hydrocarbons between the Republic of Cyprus and Turkey intensified in 2011 when the first gas deposits were discovered off the coast of the island.
Cyprus has been divided since 1974 after Turkish troops entered the island under the claim of protecting Cypriot Turks from the Greek community. Nearly a decade later, the Turkish Republic of Northern Cyprus was declared with only Turkey recognising it.
Merkel Sitting Again For 2nd Time Since Latest Shaking Episode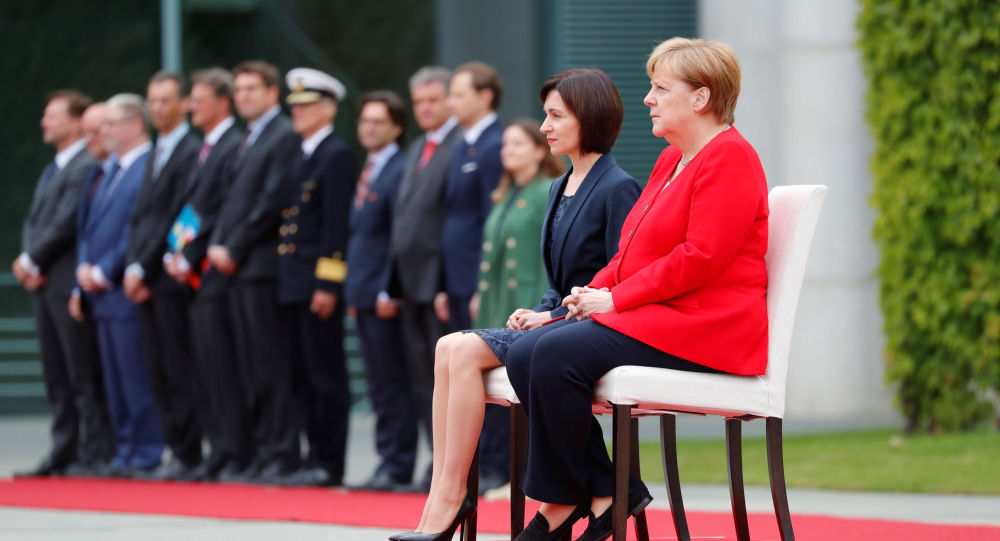 German Chancellor Angela Merkel has once again broken the protocol by sitting during the national anthem as she received new Moldovan Prime Minister Maia Sandu on Tuesday.
Germany's chancellor has suffered several public trembling episodes for the last month. The first episode occurred in mid-June, when she could be seen shivering next to Ukrainian President Volodymyr Zelenskyy, was explained by her team as dehydration on a hot day.
A week later, the senior official was captured on a video, shaking at a meeting with German President Frank-Walter Steinmeier.
Last week, Merkel suffered a new bout of tremors at a meeting with Finnish Prime Minister Antti Rinne in Berlin.
During the latest incident, the German chancellor and Danish Prime Minister Mette Frederiksen broke the protocol by sitting during the national anthem. According to media reports, Merkel was the one to ask for the change.