Куклената пртстава "Месечиново" утре на сцената во кино "Фросина"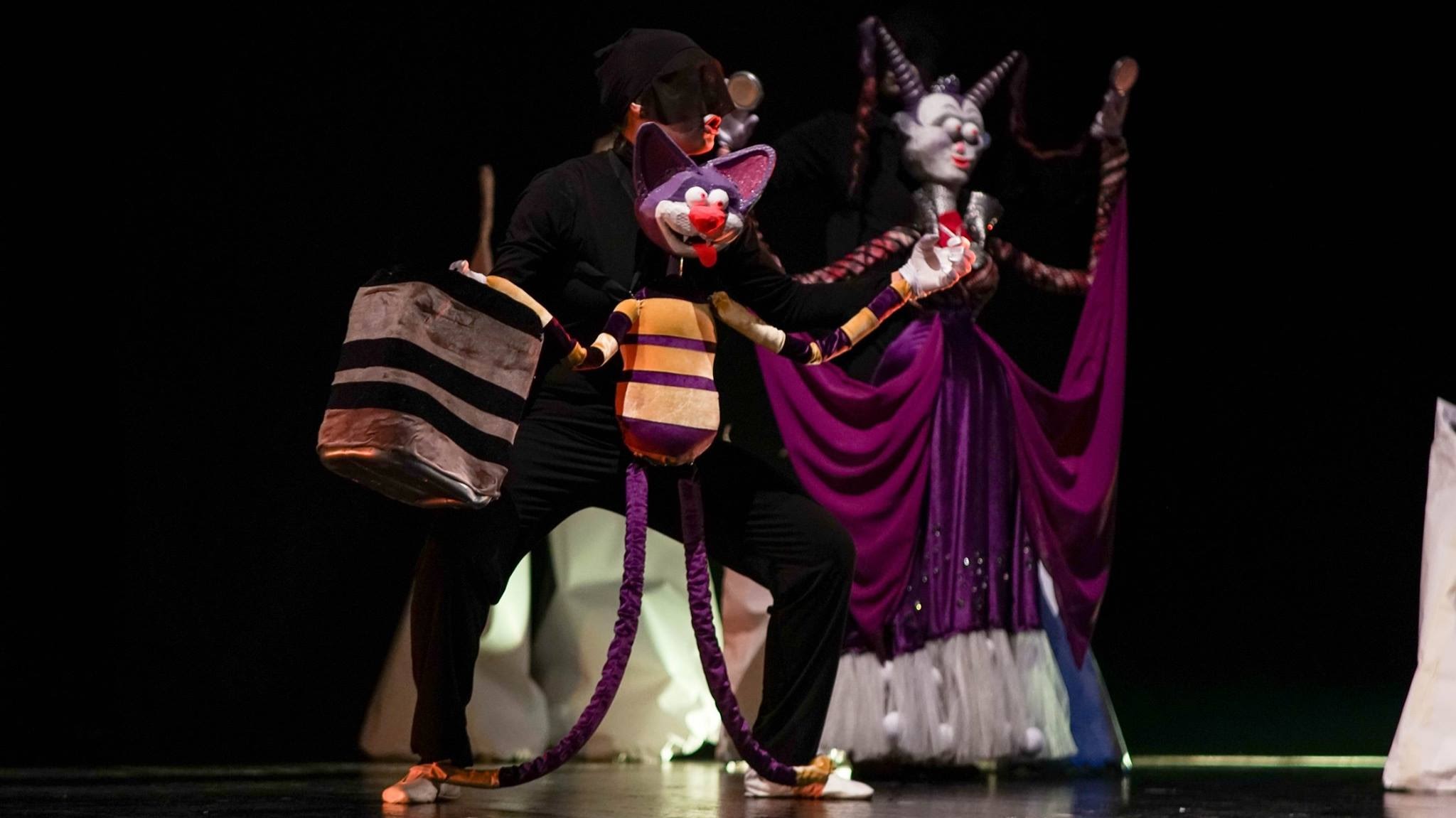 Утре во 19:15 часот на сцената на кино "Фросина" во Младинскиот културен центар во Скопје ќе се одржи првата реприза на куклената театарска претстава "Месечиново" по текст, режија и во изведба на Колектив Ветерница.
"Месечиново" е претстава од друѓе за луѓе која обединува куклен, физички и театар на сенки.
Улогите ги толкуваат Марија Бејкова, Ивана Нелковска, Билјана Митева, Билјана Димитрова и Милош Стојановиќ. Куклите ги изработи Бруно Толиќ. Kостимографија е на Рената Димчов, а сценографијата на Велимир Жерновски. На реквизитата работеше Сања Симоска додека пак изборот на музика е на Ѓорѓи Јаневски. Дизајнот на промотивниот материјал е на Ангела Маневска, а анимација е од Вања Шереметкоски.
Цената на билетот е 150 денари. Резервации на тел. 02 311 52 25 или [email protected]
©Makfax.com.mk Доколку преземете содржина од оваа страница, во целост сте се согласиле со нејзините Услови за користење.

ИФФК "Браќа Манаки" награден од ИМАГО – течат подготовките за 40. јубилејно издание на фестивалот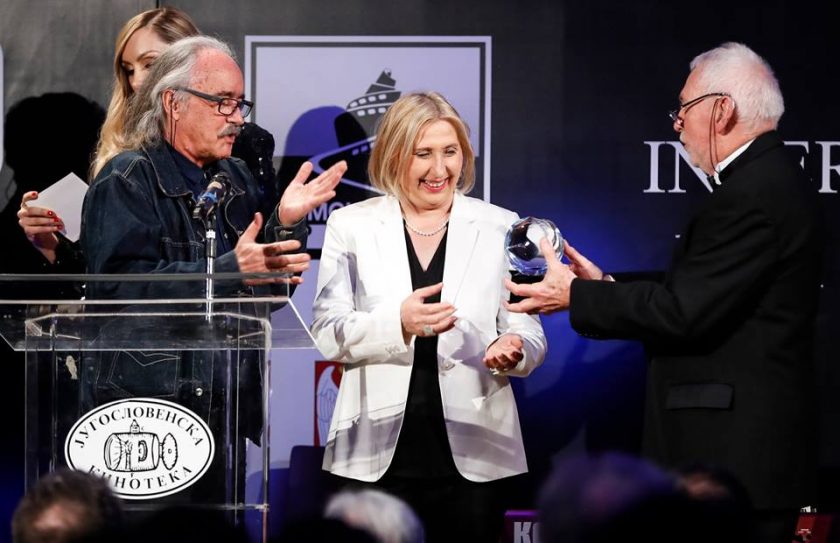 Интернационалниот фестивал на филмска камера "Браќа Манаки" се подготвува за 40. јубилеј и ќе биде поразличен и побогат со програми. Ќе се одржува од 14 до 21 септември, поместен е една недела порано за да не се совпадне со фестивалот во Сан Себастијан, така што ќе може да го посетат поголем број европски филмски критичари.
"Покрај 14-те секции, ќе имаме и нешто ново. Ќе се обидеме малку повеќе да ја потсетиме нашата публика со најдобрите македонски, но и европски филмови кои можеби сме ги пропуштиле на времето. Ќе се обидеме да отвориме и два нови простора за прикажување, а тоа ќе зависи и од средствата што ќе ги добиеме, и доста економски и штедливо да донесеме што поголема и подобра програма#, рече директорката на фестивалот, Гена Теодосиевска, на прес-конференција.
Преку mедија-дескот во земјава, "Браќа Манаки" оваа година ќе соработува со два европски фестивала – Фестивалот на краток и анимиран филм од Барселона и со програма од неколку филмови за деца од фестивалот во Копенхаген. Македонски филмови и автори, пак, се избрани во претпрограмата на Short Waves Festival во Познањ, Полска. Овој месец таму, во рамки на македонска вечер на Random Home Cinema, пред најголем дел студентска публика биле прикажани пет кратки филма во селекција на Слаѓан Пенев и Марија Апчевска: "Малина" на Анастасија Лазаровска; "Кружно патување на монахот" на Жарко Иванов; "Награда" на Лидија Мојсовска; They come from the center of the world на Дина Дума и "Човекот со чудна навика да ме удира со чадор по главата" од Вардан Тозија.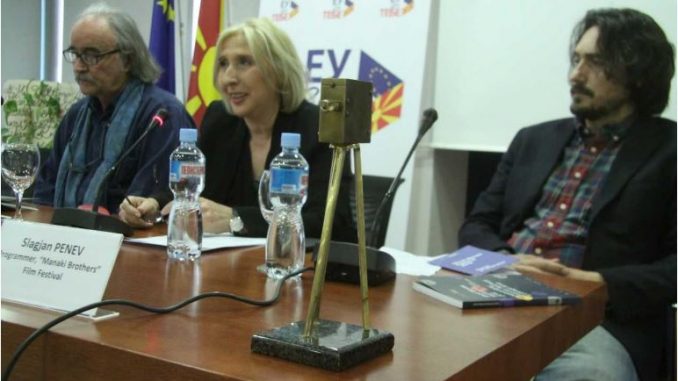 Поводот за денешната прес-конференција на ИФФК беше наградата што нашиот фестивал ја доби од Меѓународната федерација на кинематографери – ИМАГО за исклучителен придонес во промоцијата на филмската уметност. "Браќа Манаки" беше единствена институција која ја доби наградата, а ја прими од почесниот претседател на ИМАГО, Најџел Волтерс.
Директорката Теодосиевска и уметничкиот директор Благоја Куновски-Доре ги споделија впечатоците од примањето на наградата минатата сабота кога, како што рекоа, и покрај протестите во Белград, била полна салата на Југословенската кинотека каде што беше второто издание на биеналното доделување на меѓународните награди на ИМАГО, по првото во Хелсинки пред две години.
Истакнаа дека доделувањето на наградата бил извонредно значаен настан за "Браќа Манаки" и за македонската култура и потврда за четиридецениската посветеност на најстариот фестивал во светот посветен на кинематограферите.
"Ова за нас е Оскар", рече Куновски и додаде дека значајноста е во тежината на инститuцијата што ја доделува наградата затоа што, рече тој, ИМАГО не ги дели кинематограферите и ги вреднува исто без разлика од кое место на планетата се тие, за разлика од Американската академија каде попривилегирани се англоамериканските. "ИМАГО ги коригира гафовите на Американската академија што ги доделува Оскарите", додаде Куновски.
На настанот биле во друштво со познати филмски професионалци, а меѓу добитниците на награда од ИМАГО бил и кинематограферот оскаровец Роџер Дикинс, кој лани ја доби "Златната камера 300" за животно дело.