Меѓународен симопзиум за Плевнеш во Париз
По повод излегувањето на книгата "Избрани драми" од Јордан Плевнеш, со предговор на Жак Лакариер, едно од врвните имиња на француската литература и извадоци од светскиот печат , од познатиот издавач Le Temps des Cerises,во големиот аудиториум на Институтот за ориентални јазици и цивилизации, INALCO Paris –Cite-Sorbonne, денеска ќе се одржи меѓународен симпозиум посветен на делото на Плевнеш, "Јордан Плевнеш – обединител на културите".
На симпозиумот ќе земат учество триесетина професори и истражувачи на делото на Плевнеш од повеќе европски и светски универзитети. Уводни излагања за делото на Плевнеш и неговата појава во македонскиот и францускиот културен простор ќе поднесат Жорж Бани, професор од Сорбона и член на Европската академија на науките, уметностите и книжевностите, и Влада Урошевиќ, член на МАНУ и Академијата "Маларме".
Меѓу значајните имиња што ќе учествуваат на симпозиумот се: Карен Малпед, критичака на "Њујорк тајмс", Хеди Бурауи од Универзитетот "Јорк" од Торонто, Канада, Весна Цидилко од Универзитетот "Хумболт" од Берлин, Терумо Јамазаки од Универзитетот од Токио, како и професори од универзитети од Русија, Кина, Чешка, Словачка, Полска, Хрватска, Романија, Унгарија итн., кои ќе ги опишат референците на интернационалнито ехо на поетските, драмските и романескните остварувања на Плевнеш, играни и прикажувани на повеќе од 30 светски јазици.
Најмногубројни на симпозиумот се француските познавачи на делото на Плевнеш, предводени од професорката Фроса Пејоска-Бушро, која воедно ќе биде модератот на настанот. Нивното потесно поле на интерес ќе биде т.н. балканска трилогија – "Гробница за Борис Давидович" од Данило Киш, "Казна за Малвина" од Мирко Ковач и "Среќата е нова идеја во Европа" од Ј. Плевнеш, играна во повеќе од 120 театри во целата Франција.
Од Македонија свои излагања на симпозиумот ќе поднесат Маја Јакимовска-Тошиќ, директор на Институтот за македонска литература при УКИМ, и Соња Стојменска-Елзесер, претседател на Друштвото на писателите на Македонија.
За време на симпозиумот ќе бидат прикажани извадоци од документарните филмови на Плевнеш посветтени на Никола Бувие, Питер Брук, Клод Лелуш, Ив Бонфуа, Пјер Беарне, Алберт Кан, инсерти од "Портрет на Плевнеш во театарот 'Молиер'", од Жак Лакариер, како и извадоци од француско-македонскиот долгометражен филм "Тајната книга", посветен на првата интелектуална револуција во Европа, во режија на Владо Цветановски, за кој пред присутните ќе се обрати Жан-Клод Кариер, главен протагонист во филмот и сценарист на Луис Буњуел и Милош Форман.
©Makfax.com.mk Доколку преземете содржина од оваа страница, во целост сте се согласиле со нејзините Услови за користење.

ИФФК "Браќа Манаки" награден од ИМАГО – течат подготовките за 40. јубилејно издание на фестивалот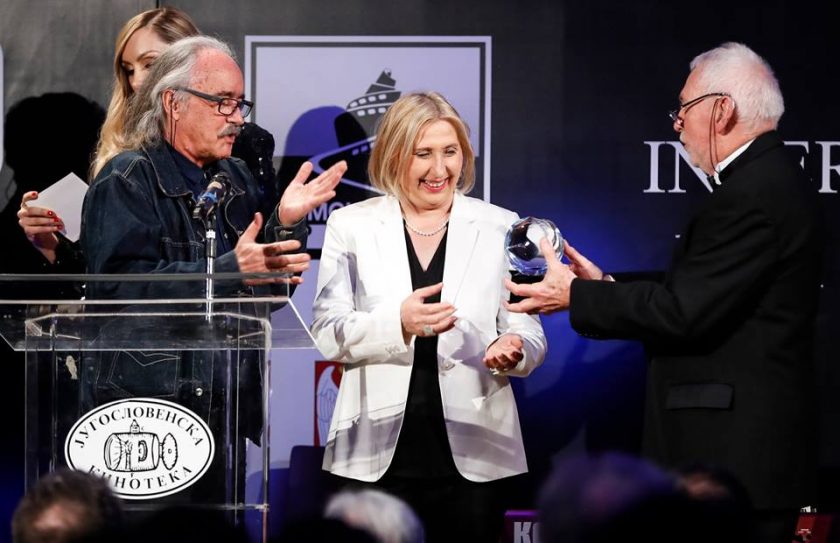 Интернационалниот фестивал на филмска камера "Браќа Манаки" се подготвува за 40. јубилеј и ќе биде поразличен и побогат со програми. Ќе се одржува од 14 до 21 септември, поместен е една недела порано за да не се совпадне со фестивалот во Сан Себастијан, така што ќе може да го посетат поголем број европски филмски критичари.
"Покрај 14-те секции, ќе имаме и нешто ново. Ќе се обидеме малку повеќе да ја потсетиме нашата публика со најдобрите македонски, но и европски филмови кои можеби сме ги пропуштиле на времето. Ќе се обидеме да отвориме и два нови простора за прикажување, а тоа ќе зависи и од средствата што ќе ги добиеме, и доста економски и штедливо да донесеме што поголема и подобра програма#, рече директорката на фестивалот, Гена Теодосиевска, на прес-конференција.
Преку mедија-дескот во земјава, "Браќа Манаки" оваа година ќе соработува со два европски фестивала – Фестивалот на краток и анимиран филм од Барселона и со програма од неколку филмови за деца од фестивалот во Копенхаген. Македонски филмови и автори, пак, се избрани во претпрограмата на Short Waves Festival во Познањ, Полска. Овој месец таму, во рамки на македонска вечер на Random Home Cinema, пред најголем дел студентска публика биле прикажани пет кратки филма во селекција на Слаѓан Пенев и Марија Апчевска: "Малина" на Анастасија Лазаровска; "Кружно патување на монахот" на Жарко Иванов; "Награда" на Лидија Мојсовска; They come from the center of the world на Дина Дума и "Човекот со чудна навика да ме удира со чадор по главата" од Вардан Тозија.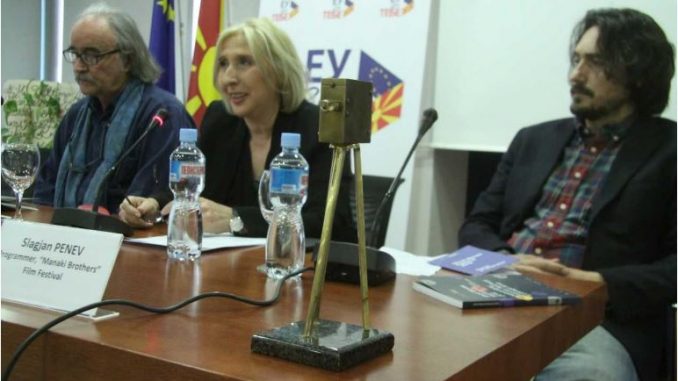 Поводот за денешната прес-конференција на ИФФК беше наградата што нашиот фестивал ја доби од Меѓународната федерација на кинематографери – ИМАГО за исклучителен придонес во промоцијата на филмската уметност. "Браќа Манаки" беше единствена институција која ја доби наградата, а ја прими од почесниот претседател на ИМАГО, Најџел Волтерс.
Директорката Теодосиевска и уметничкиот директор Благоја Куновски-Доре ги споделија впечатоците од примањето на наградата минатата сабота кога, како што рекоа, и покрај протестите во Белград, била полна салата на Југословенската кинотека каде што беше второто издание на биеналното доделување на меѓународните награди на ИМАГО, по првото во Хелсинки пред две години.
Истакнаа дека доделувањето на наградата бил извонредно значаен настан за "Браќа Манаки" и за македонската култура и потврда за четиридецениската посветеност на најстариот фестивал во светот посветен на кинематограферите.
"Ова за нас е Оскар", рече Куновски и додаде дека значајноста е во тежината на инститuцијата што ја доделува наградата затоа што, рече тој, ИМАГО не ги дели кинематограферите и ги вреднува исто без разлика од кое место на планетата се тие, за разлика од Американската академија каде попривилегирани се англоамериканските. "ИМАГО ги коригира гафовите на Американската академија што ги доделува Оскарите", додаде Куновски.
На настанот биле во друштво со познати филмски професионалци, а меѓу добитниците на награда од ИМАГО бил и кинематограферот оскаровец Роџер Дикинс, кој лани ја доби "Златната камера 300" за животно дело.