Почна неделата на италијанскиот филм во Кинотека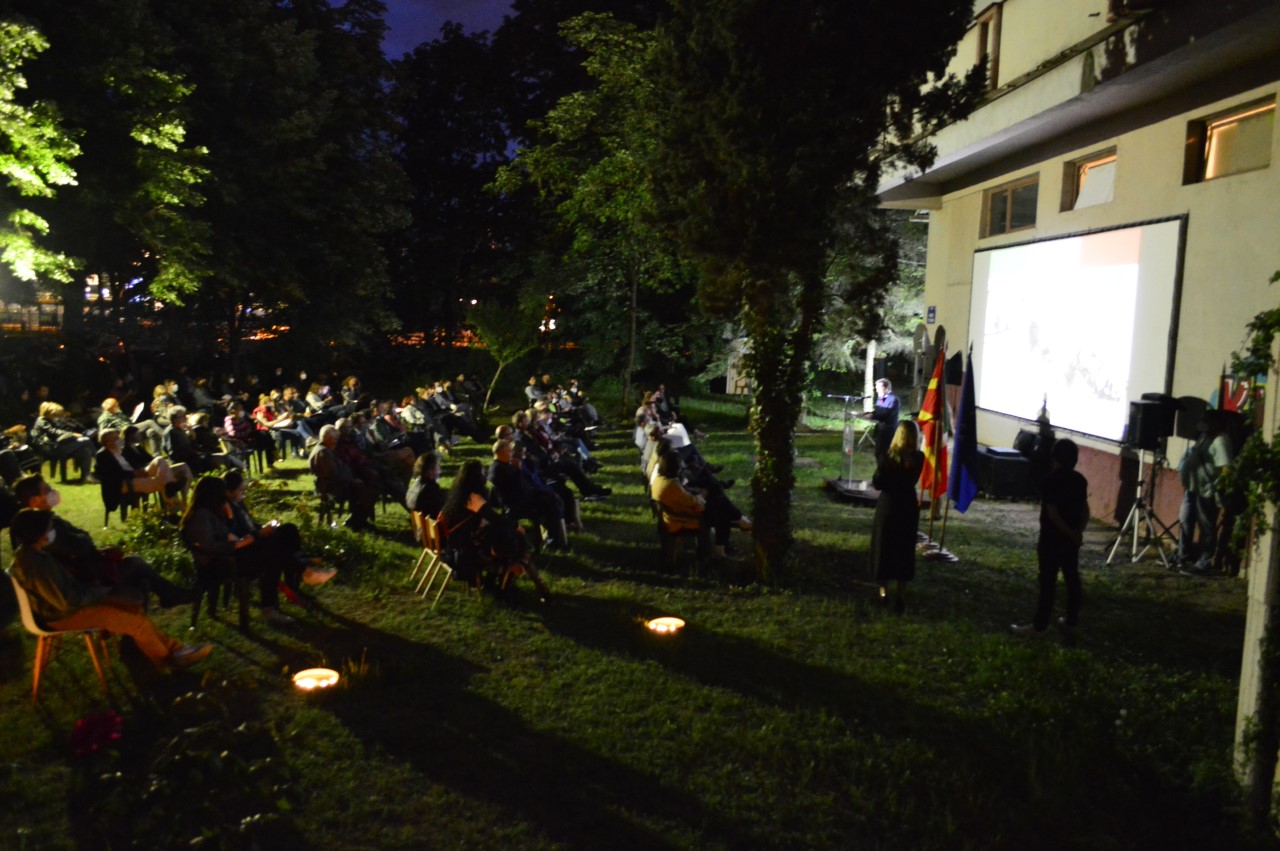 Со проекција на "Леб и чоколадо" (Pane e cioccolata / Bread and Chocolate) на Франко Брусати, вчера на сцената на летното кино "Мирно лето" започна Неделата на италијанскиот филм.
Настанот чијашто годишна тематика е емиграцијата по 21. пат се одржува во светот, а во Македонија со проекција на тематски избрани филмови во Скопје и Битола.
На присутните во полниот аудиториум на летното кино на Кинотеката им се обрати професорот Марко Пешетели, селекторот на програмата на годинешната Недела на италијанскиот филм. Заблагодарувајќи им се на домаќините на манифестацијата, директорот на Кинотеката, Владимир Ангелов, и вработените за соработката и поддршката, Пешетели го претстави тематскиот избор на филмовите со разни гледишта на емиграцијата.
"Повеќето од нив се комедии како вечерашниот филм со Нино Манфреди, многу познат актер, чија стогодишнина од раѓањето го одбележавме годинава", посочи меѓу другото професорот Пешетели.
Амбасадорот на Италија, Андреа Силвестри, поздравувајќи ги присутните на македонски јазик, говореше за идејата која ја одржува манифестацијата во светот и кај нас.
Говорејќи за феноменот на миграцијата, кој им е добро познат на Италијанците, но и на Македонците, амбасадорот Силвестри посочи дека денес надвор од Италија живејат околу 60 милиони луѓе со италијански корени.
Амбасадорот ја соопшти и специјалната објава на отворањето на Неделата на италијанскиот филм: одликувањето на директорот на Кинотеката Владимир Ангелов со значка и плакета на Витешкиот ред Ѕвезда на Италија (Cavaliere Dell'Ordine della Stella di Italia / Knight of the Order of the Star of Italy). Одликувањето го доделува италијанскиот претседател Серџо Матарела (Sergio Mattarella), по препорака на министерот за надворешни работи на Италија, за особени заслуги во промовирањето на италијанската култура и кинематографија во Македонија.
"Микеланџело Антониони рекол дека филм што може да се објасни со зборови не е вистински филм. Јас овој филм што ми се случува навистина не можам да го објаснам и затоа ќе се заблагодарам на сите што ме поддржувале, а некои од нив и се жртвувале во мојата 26-годишна кариера во Кинотеката. Ќе се заблагодарам на моето семејство, сопругата и децата, родителите, кои секако се жртвуваа… моето пошироко семејство, пријателите, колегите… секако, благодарност до италијанската амбасада, особено Одделението за култура со кои одамна соработуваме на врвно стручно и професионално ниво. Секако на Италија која како држава постојано ми ги држи отворени очите, а љубопитноста за филмската уметност непроменлива, и тоа преку двата фестивала што често ги посетувам – оној во Болоња на новореставрирани филмови и фестивалот на неми филмови во Порденоне", рече Ангелов.
До крајот на програмата ќе имаме можност да го видиме и ДА ВИ СЕ ПРЕТСТАВАМ? РОКО ПАПАЛЕО (Permette? Rocco Papaleo / My name is Rocco Papaleo, 1971) на Еторе Скола (Ettore Scola), со Марчело Мастројани (Marcello Mastroianni) во насловната улога; реалистичната драма САКО И ВАНЦЕТИ (Sacco e Vanzetti) на Џулијано Монталдо (Giuliano Montaldo); наградуваниот НОВИОТ СВЕТ (Nuovomondo / Golden Door, 2006) на Емануеле Криалезе (Emanuele Crialese; социјалната комедија УБАВ, ЧЕСЕН ЕМИГРАНТ ВО АВСТРАЛИЈА БИ СЕ ОЖЕНИЛ СО ЧЕСНА СОГРАЃАНКА (Bello, onesto, emigrato in Australia sposerebbe compaesana illibata / A Girl in Australia, 1971) на Луиџи Ѕампа (Luigi Zampa), со Алберто Сорди, Клаудија Кардинале и Рикардо Гароне (Alberto Sordi, Claudia Cardinale, Riccardo Garrone) во главните улоги; современата комедија ТРОБОЈКАТА ОДИ НА ГЛАСАЊЕ (Bianco, rosso e Verdone) на Карло Вердоне (Carlo Verdone); како и еден од најгледаните филмови во Италија последнава деценија, ДОБРЕДОЈДОВТЕ НА ЈУГ (Benvenuti al sud / Welcome to the South) на Лука Минеиро (Luca Miniero), кој се занимава со тн. "внатрешна емиграција", односно вечниот судир меѓу италијанскиот Север и Југ.
Насловите на филмовите што се вечерта на програмата во 20:00 ч ќе бидат репризирани следниот ден во 18:00 ч.
Во овој период на променлива временска состојба, Кинотеката го задржува правото да ја промени локацијата на било која од филмските проекции, со цел истите да бидат одржани, а не одложени до некоја метеоролошки поповолна прилика.
Во случај на дожд, некои од проекциите наместо во дворот и летното кино "Мирно лето" на Кинотеката, ќе се одржат на затворено, во киносалата на Кинотеката.
Билетарницата ќе биде отворена секој ден од 19 часот и проекциите се бесплатни и започнуваат во 20:00 часот.
Проекциите се одвиваат со целосно почитување на препораките за заштита од Ковид-19.
©Makfax.com.mk Доколку преземете содржина од оваа страница, во целост сте се согласиле со нејзините Услови за користење.

МНТ со претставата "Кец на десетка" ќе гостува во рамките на манифестацијата "Струмица – град на културата"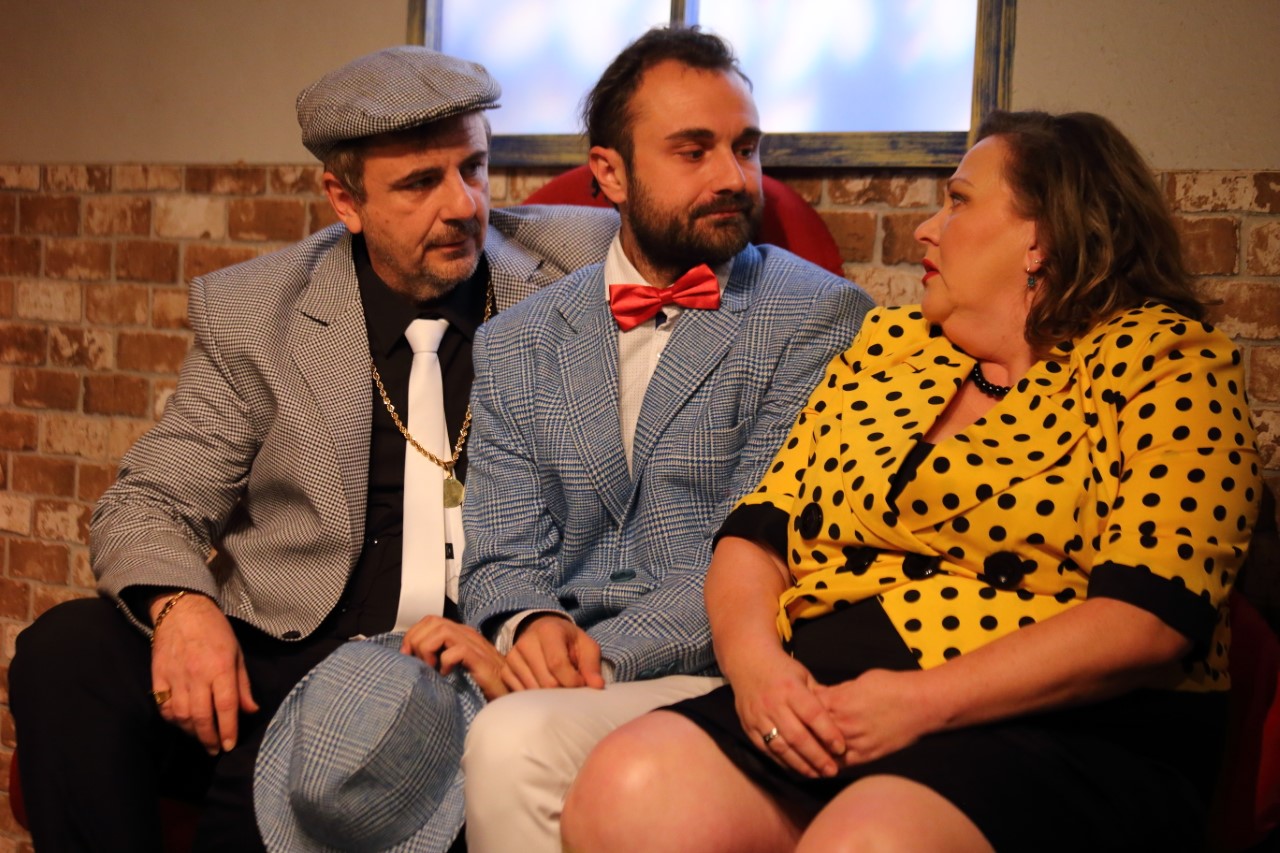 Претставата "Кец на десетка" по текст на Митко Бојаџиски, во режија на Драган Спасов-Дац и Јордан Симонов, а во продукција на Македонскиот народен театар ќе гостува во рамките на манифестацијата  "Струмица – град на културата" за 2021 година.
Изведбата на претставата е закажана за 12 јуни со почеток во 20 часот и ќе биде одиграна на сцената во Домот на културата "Антон Панов", Струмица.
Претставата е комедија со спонтан хумор кој брзо ја освојува публиката. Текстот има едноставна мисија да ја воведе публиката во хумористичното дејство на претставата кое се одвива во едно сосема нормално семејство што ќе се собере за да го запознае идниот зет, при што ситуациите и околностите ги наведуваат ликовите во поинаква насока.
Во претставата играат: Александар Микиќ, Тања Кочовска, Софиа Насевска-Трифуновска и Ивица Димитријевиќ.