Тимот на "Медена земја" на настан пред "оскарите" во друштво со големите холивудски ѕвезди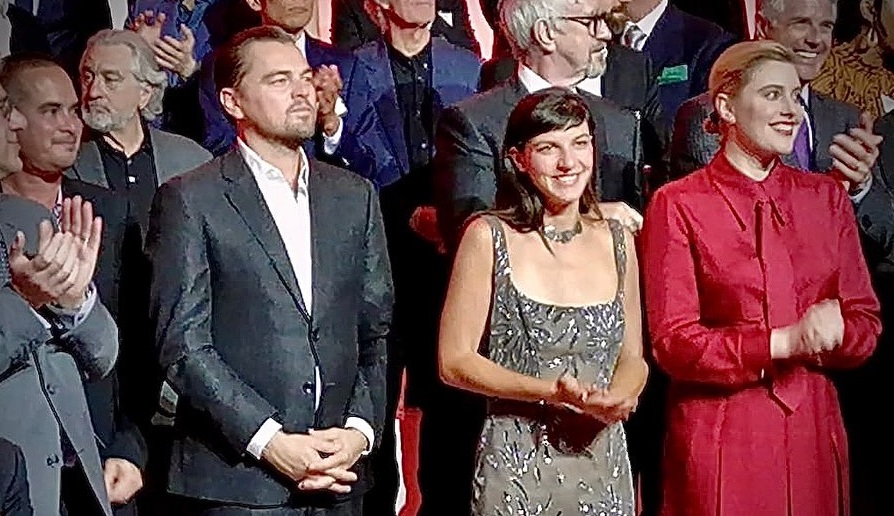 Тимот на "Медена земја" беше дел од настан во театарот "Долби" во Холивуд организиран од американската Академија за филмски уметности и науки во пресрет на доделувањето на "оскарите" што ќе се одржи на 9 февруари.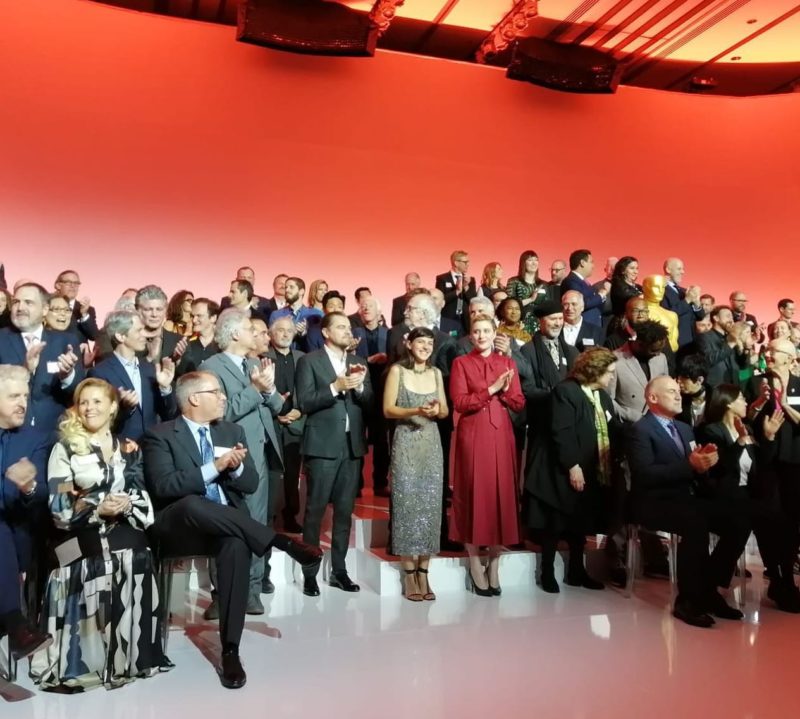 Режисерката Тамара Котевска на "Фејсбук" објави заедничка фотографија со познати холивудски ѕвезди, меѓу кои и Леонардо ди Каприо.
"Да биде јасно. Јас не стоев до него. Тој стоеше до мене. Имам две номинации оваа година", се пошегува Котевска за фотографиите на кои стои до Ди Каприо.
That sexy Oscar Nominees Class Photo will be released momentarily but in the meantime here's video of them all gathered just after taking it.

See if you can spot Tarantino in his bowling shirt#OscarsLunch pic.twitter.com/hhr9ieHYeE

— Kevin Polowy (@djkevlar) January 27, 2020
На официјалните профили на Академијата на социјалните мрежи е објавена и групна фотографија од сите номинарини за Оскар оваа година, меѓу кои и Ал Пачино, Бред Пит, Роберт де Ниро, Шарлиз Терон, Квентин Тарантино…
Meet this year's class of Oscar nominees! #OscarsLunch pic.twitter.com/rXqgNUOYMM

— The Academy (@TheAcademy) January 27, 2020
"Медена земја" има две номинации за Оскар – за најдобар документарен филм и за најдобар странски филм. Филмот е во режија на Љубомир Стефанов и Тамара Котевска, во продукција на Атанас Георгиев, кој е и монтажер. Кинематографијата е на Фејми Даут и Самир Љума, кои ја освоија наградата за најдобра кинематографија за документарен филм на 34 доделување на ASC (The American Society of Cinematographers) наградите.
Меѓу петте номинирани за најдобар документарец се и "Американска фабрика", "Пештерата", "Доба на демократија" и "За Сама".За најдобар странски филм, покрај "Медена земја", номинирани се и "Корпус кристи" од Полска, "Клетници" од Франција, "Болка и слава" од Шпанија и "Паразит" од Јужна Кореја.
Првпат во историјата на "оскарите" се случува документарен филм да биде номиниран во две категории.
©Makfax.com.mk Доколку преземете содржина од оваа страница, во целост сте се согласиле со нејзините Услови за користење.

"Шрапнел" на Игор Анѓелков нова книга од "Или-Или"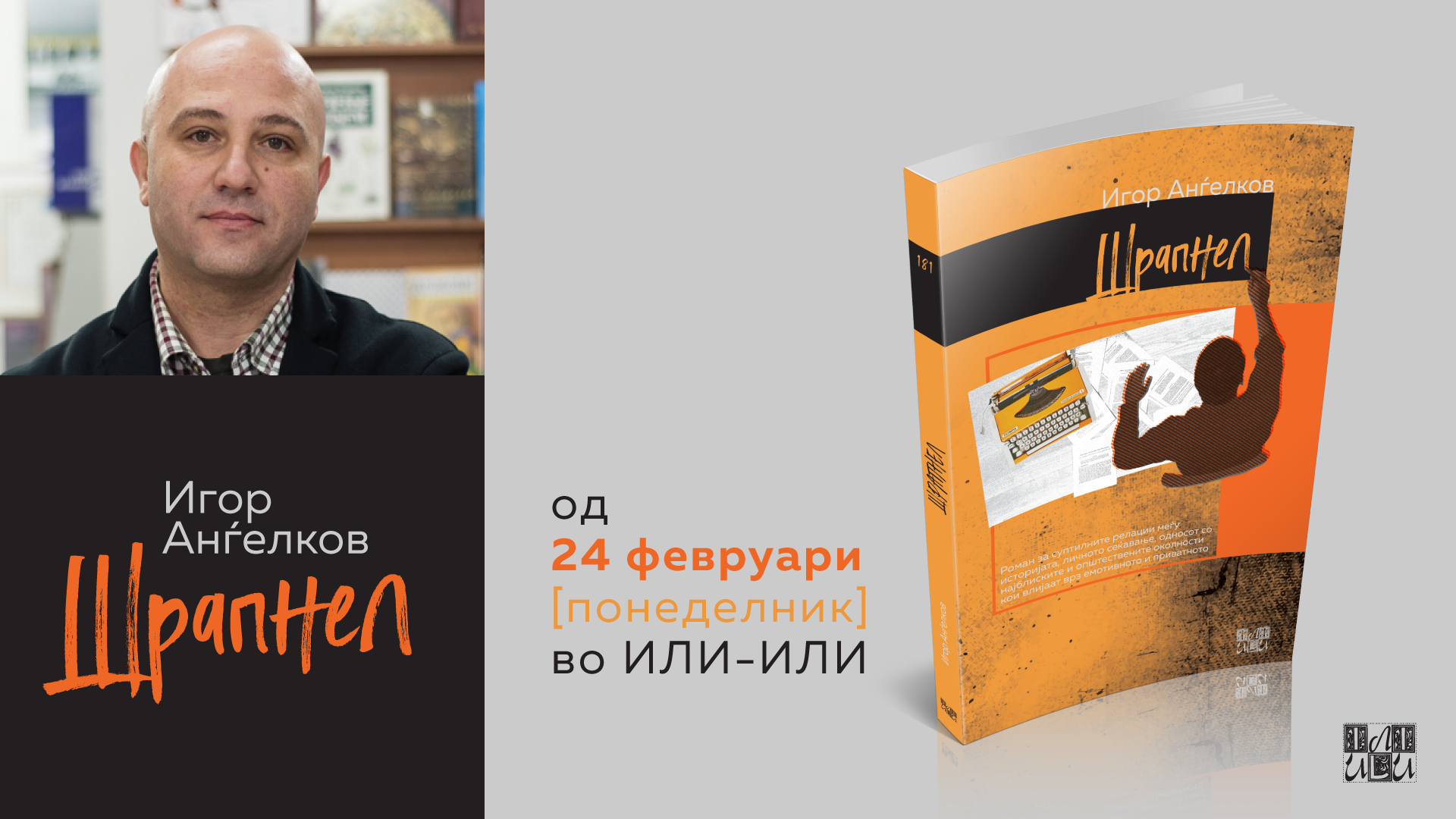 В понеделник, на 24 февруари, од печат ќе излезе новиот роман "Шрапнел" од Игор Анѓелков. Седум години по "Фото синтеза", во неговиот трет роман Анѓелков низ неколку наративни линии ги преиспитува суптилните релации меѓу историјата, личното сеќавање, односот со најблиските и општествените околности кои влијаат врз емотивното и приватното.
"Шрапнел" е 181 издание во популарната едиција "ПРОаЗА" на издавачката куќа ИЛИ-ИЛИ, за чиј дизајн на корицата се погрижи Марија Смилевска. Во понеделник книгата по промотивна цена ќе може да се купи во ИЛИ-ИЛИ, а веќе од следниот ден и во другите книжарници во Скопје и низ државава.
Игор Анѓелков (1974) дипломирал на Интердисциплинарните студии по новинарство, а магистрирал на мастер студиите по "Медиуми и комуникации" на Правниот факултет при Универзитетот "Св. Кирил и Методиј" во Скопје. Со години наназад активно е присутен во периодиката со низа критички осврти и рецензии од областа на филмот, музиката, книжевноста… Неговите текстови можат да се прочитаат на www.herojnaedenden.mk. Официјалното книжевно деби го имаше во 2006 година со збирката раскази "Кротки приказни", a потоа следеа и романите "Крај-пат" (2010) и "Фото синтеза" (2013), кој беше финалист за "Рациновото признание". Анѓелков зад себе има и две дела од областа на филмската есеистика: "Филм.мкд" (2015), за која ја доби Државната награда за публицистика "Мито Хаџивасилев Јасмин", и "Филмски град" (2018). "Шрапнел" е негов трет роман.