Вархеји: Вакцина за Западен Балкан кога ќе почне дистрибуцијата во ЕУ
Вицепремимерот задолжен за европски прашања, Никола Димитров, утрово учествуваше на состанокот со еврокомесарот за проширување, Оливер Вархеји, на кој со колегите од регионот разменија информации за состојбата и подготвеноста за набавка на вакцините против Ковид-19, како и за плановите за реализација на вакцинација на приоритетните групи.
Еврокомесарот Вархеји информираше дека Европската комисија прави напори вакцините против Ковид-19 да пристигнат во земјите од Западниот Балкан паралелно со нивната дистрибуција во земјите членки на ЕУ. Тој укажа дека за специфичните потреби на секоја од земјите во регионот ќе биде обезбедена и соодветна финансиска поддршка од страна на Унијата.
"Во период кога набавувањето на вакцината претставува врвен приоритет, ваквата иницијатива на Европската Унија е од исклучителна важност. Фактот што овие вакцини ќе бидат првите кои Северна Македонија ќе ги има на располагање е јасен сигнал дека Западниот Балкан е неизоставен дел од политиките на солидарност на Унијата, во моментите кога тоа е најпотребно", истакна Димитров.
Тој кажа дека активно се работи на Планот за вакцинација базиран на препораките на ЕУ којшто врз основа на повеќе критериуми ќе ги дефинира приоритетните групи.
"Се финализира анализата на приоритетните групи и се проценува бројот на пациенти кои ќе бидат првично вакцинирани. Овој план ќе биде споделен и со еврокомесарот Вархеји во наредните денови", рече Димитров.
Вархеји на "Твитер" објави дека се работи на тоа да се осигура дека вакцините против Ковид-19 ќе бидат достапни за Западен Балкан на време, кога ќе започне дистрибуцијата во ЕУ.
Good coordination call with #WesternBalkans foreign&Europe ministers on latest in #COVID19 crisis. We are working to ensure that #COVID19 vaccines will be made available to the #WesternBalkans in a timely way, as they start to be deployed in the #EU. 1/2 pic.twitter.com/jpoVxLk3WE

— Oliver Varhelyi (@OliverVarhelyi) December 18, 2020
Тој вели дека за таа цел се издвојуваат средства и се координираат активностите.
"Во пандемијата ние стоиме покрај Западен Балкан, чија иднина е во ЕУ", рече Вархеји.
Тој додава дека ЕУ ќе им помогне на своите соседи, но и пошироко, заедно да ја победат пандемијата.
©Makfax.com.mk Доколку преземете содржина од оваа страница, во целост сте се согласиле со нејзините Услови за користење.

(Видео) Мицкоски по средбата со Орбан: Добивме недвосмислена поддршка од унгарските пријатели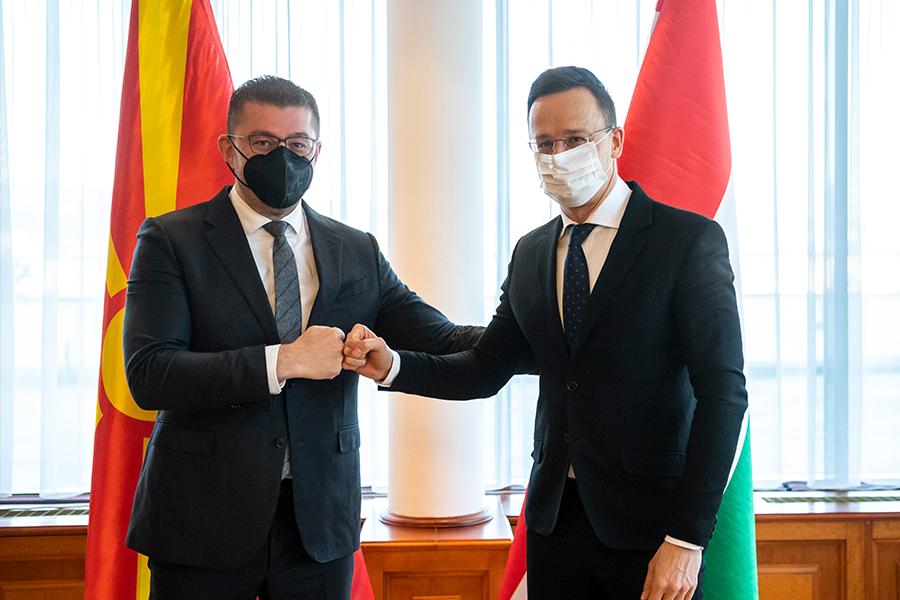 Лидерот на ВМРО-ДПМНЕ, Христијан Мицкоски, кој заедно со потпретседателот на партијата, Александар Николоски, е во Будимпешта на средба со унгарскиот премиер, Виктор Орбан, и министерот за надворешни работи, Петер Сијарто, изјави дека добиле недвосмислена поддршка за евроинтегративниот процес на Македонија.
"Утрото го почнавме со работен појадок кај министерот за надворешни работи, господинот Петер Сијарто, а денот го продолживме на еден работен состанок со претседателот на владата и големиот пријател на Македонија, господинот Виктор Орбан. Разговаравме за актуелната политичка и економска ситуација во Македонија, ги пренесоа нивните искуства во справувањето со ковид-пандемијата, која иста така се чувствува и овде во Унгарија.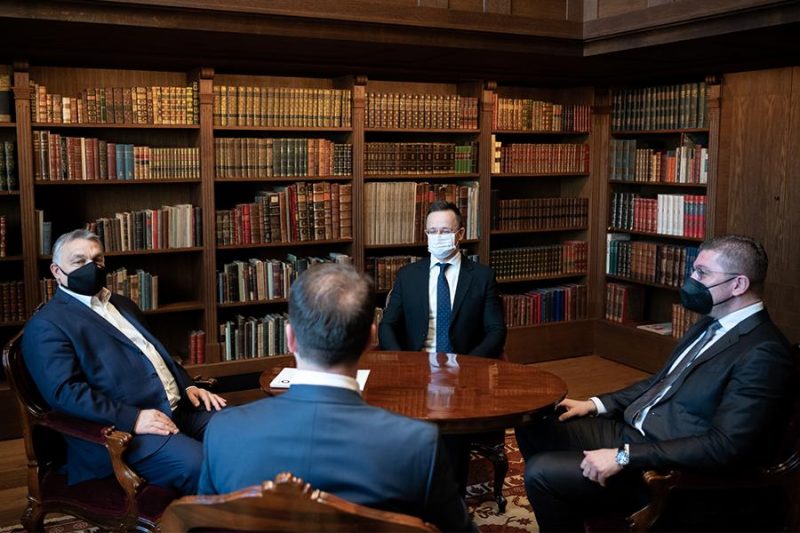 Истовремено, зборувавме за блокираниот пат на Македонија во рамките на Европската Унија и нашите домаќини го споделија своето искуство како течеа преговорите кога Унгарија практично стануваше членка на Европската Унија.
Од страна на домаќините уште еднаш беше реафирмирана недвосмислената поддршка за Македонија, за македонскиот народ, за граѓаните на Македонија и недвосмислената поддршка во евроинтегративниот процес да Македонија еден ден да биде членка на Европската Унија.
Да напоменам дека еврокомесарот за проширување, господинот Оливер Вархељи, потекнува токму од нашата сестринска партија Фидеш. Ги продолживме разговорите за внатрешните случувања во рамките на ЕНП (Европската народна партија), се согласивме и го поздравивме изборот на новиот претседател на нашата сестринска партија ЦДУ во Германија и очекуваме плодна заедничка работа помеѓу сестринските партии на ВМРО-ДПМНЕ – Фидеш и ЦДУ", истакна Мицкоски.