Како Груевски го стопи срцето на Орбан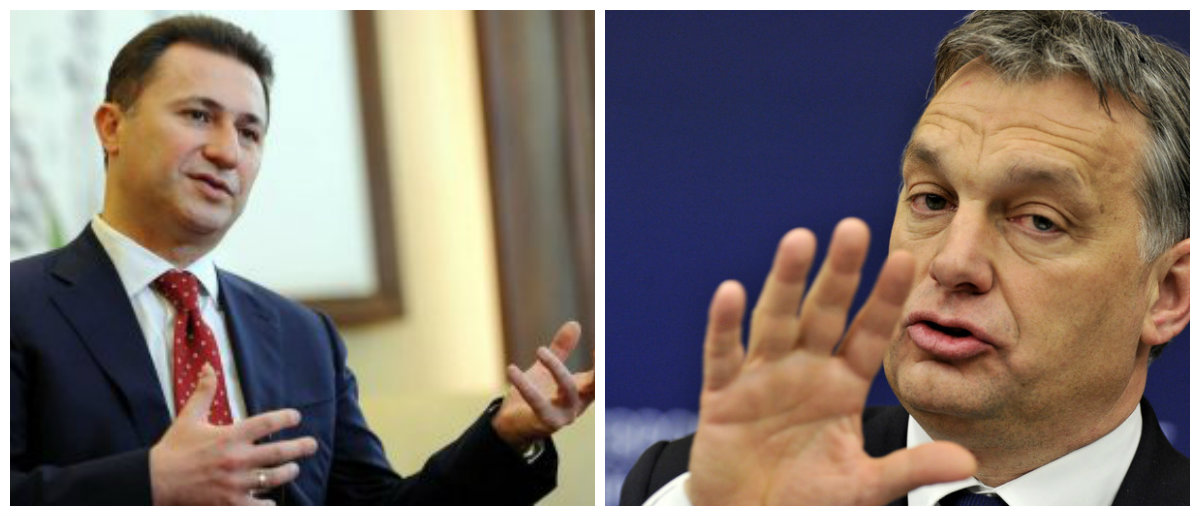 "Орбан одби 70 проценти од барањата за азил на луѓе кои бегаат од војна, сиромаштија и угнетување. Но, има нешто во овој поранешен автократ, осуденик за корупција што можеби ќе го стопи срцето на Орбан".
Со оваа објава на Твитер, истражувачкиот новинар Обри Волфорд од Меѓународниот проект за известување за организиран криминал и корупција (OCCRP) со две реченици ја долови реалноста – дека е голема веројатноста блискоста меѓу Никола Груевски и Виктор Орбан да го направи бившиот премиер, осуден на две години затвор, слободен граѓанин во Будимпешта.
Orban's Hungary rejects over 70% of asylum claims from people fleeing war, poverty and oppression.

But there's something about this former autocrat and corruption convict that just might melt Orban's heart… https://t.co/7u66dqsWVi

— Aubrey Belford (@AubreyBelford) November 13, 2018
Оваа блискост датира многу одамна, што впрочем се гледаше и во владеењето на двајцата премиери, кои носеа слични одлуки, делеа исти ставови, остваруваа редовни средби. Она што најмногу ги врзува е национализмот и нивната тенденција да владеат со секој сегмент од општеството, вклучувајќи ги и медиумите.
Оваа тенденција во Македонија продолжи и откако ВМРО-ДПМНЕ ја загуби власта, па во земјава почна да се слева унгарски капитал во македонски медиуми, кои се блиски до сега опозициската партија. Па така, во многу краток период, две фирми со унгарски капитал, "Таргет медиа" и "Адинамик медиа", ги купија веб-порталите Нетпрес, Република, Курир и телевизија Алфа. Истражувањето на БИРН покажа дека двете лица кои се јавуваат како сопственици на овие фирми, Петар Шатц и Агнеш Адамик, своите кариери во медиумите ги граделе токму за време на владеењето на Орбан, ги поддржуваат неговите политики, а медиумскиот бизнис го шират во повеќе држави во регионот, меѓу кои и во Македонија.
Познат како "малиот Путин" во срцето на Европа, 55-годишниот Орбан беше првиот премиер на држава од Европската Унија кој почна да ги преиспитува западните вредности, да го поттикнува национализмот и сѐ поотворено да се угледува на Русија.
Кратко време откако дојде на функцијата, во 2010 година, Орбан ја оствари својата прва официјална посета на Никола Груевски во мај 2011 година и го пофали неговиот домаќин за својата работа. Две години подоцна, Орбан го прими орденот "8 Септември", највисокото признание од македонското Собрание за исклучителни придонеси во афирмацијата на Македонија во меѓународните односи.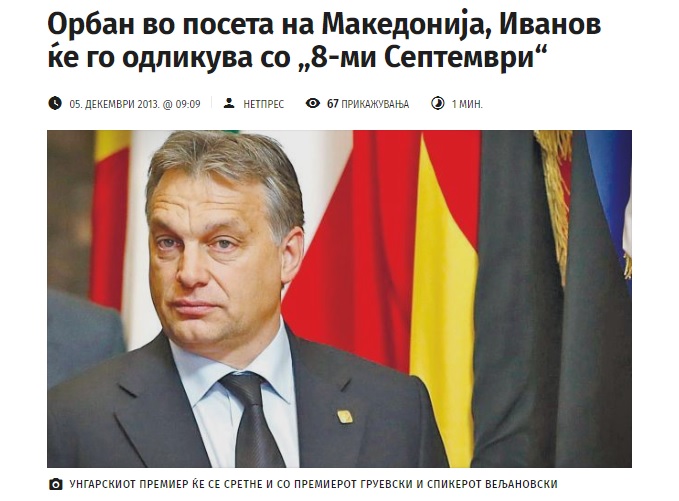 Ова се случи токму во периодот кога Македонија се соочуваше со гласни критики од меѓународната заедница за проблемите што ги создаде Груевски во демократските процеси, владеењето на правото, слободата на медиумите.
Џорџ Сорос им беше заедничкиот непријател на Орбан и Груевски. На предвремените избори во декември 2016 година, за време на техничката влада воспоставена преку Пржинскиот договор, Орбан дојде во Скопје да го поддржи Груевски на партискиот митинг.
Веднаш по изборите, ВМРО-ДПМНЕ и нејзините поддржувачи ја почнаа кампањата против Сорос и јавно повика на "десороизација" на државата. Кратко време подоцна почна и иницијативата "Стоп за операција Сорос", во која учествуваа и новинари кои работеа во медиуми блиски до ВМРО-ДПМНЕ, а беа и гости на големиот собир во Будимпешта, каде што беше формирана иницијалната "Стоп операција Сорос".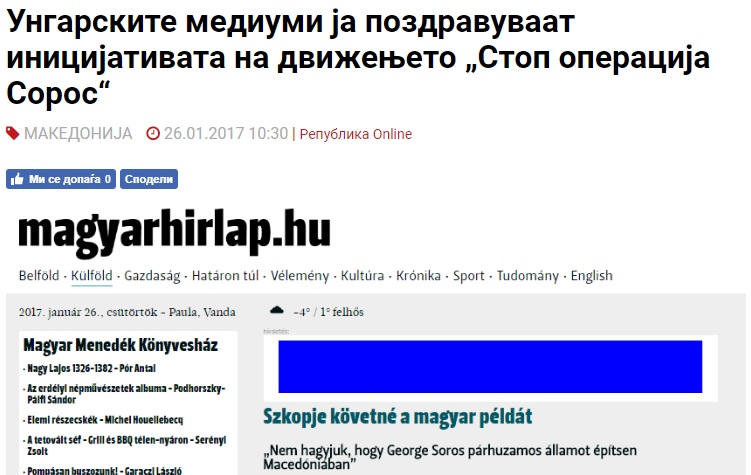 "Унгарија е пример што треба да се следи, таа е првата земја која ја призна заканата од Фондацијата 'Сорос', особено неговото барање за отворање на границите", пишуваа дел македонски медиуми.
Неколку месеци откако СДСМ ја презеде власта во мај 2017 година, Виктор Орбан дојде во Охрид за да му даде поддршка на Груевски и на ВМРО-ДПМНЕ.
Орбан тогаш и јавно му се заблагодари на Груевски за "спречување на мигрантите да дојдат во Унгарија". Односот кон бегалците и бегалската криза впрочем беше уште една допирна точка меѓу Орбан и Груевски.
Двајцата политичари разговараа околу три часа, по што Орбан, со приватен авион се врати во Унгарија.
Дел медиуми тврдат дека токму на оваа средба Орбан му дал ветување на Груевски дека може да се засолни во Унгарија доколку во Македонија му се заканува затвор, а унгарските медиуми веднаш по средбата информирале дека Груевски навистина добил такво ветување.
Партиите на Груевски и Орбан, ВМРО-ДПМНЕ и Фидес, се сестрински конзервативни партии и членки на Европската народна партија.
Сега, откако Груевски избега на унгарска територија, настапува тестот за Орбан, кој се движи на тенка линија меѓу движечките европски политики и пркосот што тој го има кон Брисел.
©Makfax.com.mk Доколку преземете содржина од оваа страница, во целост сте се согласиле со нејзините Услови за користење.

Груевски: Барањето на криминалната и рекетарска Влада за моја екстрадиција е одбиено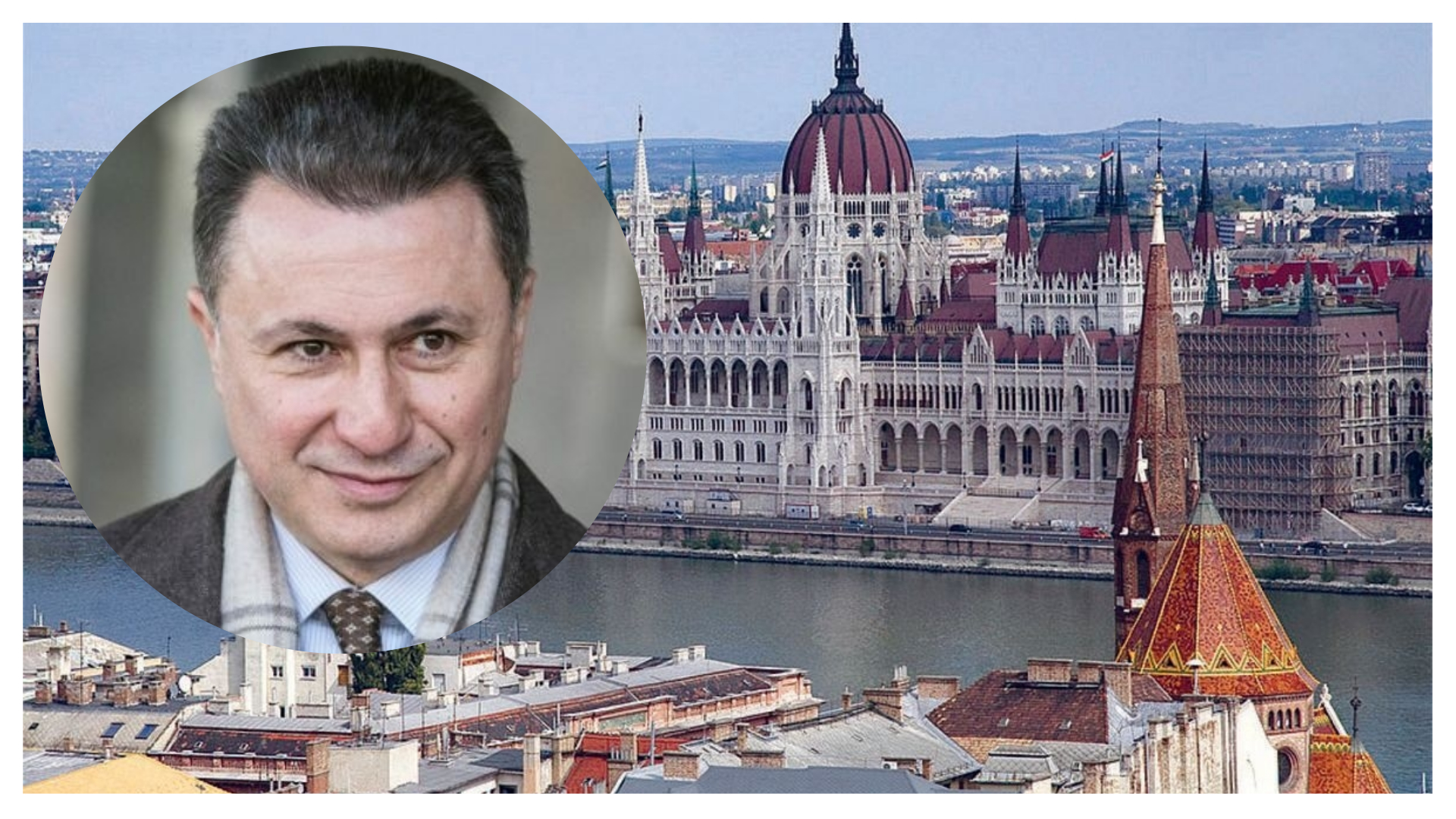 Поранешниот премиер Никола Груевски, кој доби азил во Унгарија, се огласи на социјалните мрежи по судското рочиште пред тамошниот суд, кој одби негова екстрадиција во земјата.
"Спроведена е стандардна процедура на институциите во Унгарија откако криминалната и рекетарска Влада во Македонија поднесе барање за екстрадиција", напиша Груевски.
Тој го повтори ставот на судот, кој одби да го екстрадира во Македонија, каде што треба да ја издржи двегодишната затворска казна за случајот "Тенк" на СЈО.
Министерството за правда побара и негова екстрадиција бидејќи е еден од осомничените организатори за упадот во Собранието на 27 април.
"Денеска, спроведена е стандардна процедура на институциите во Унгарија откако криминалната и рекетарска влада во Македонија поднесе барање за екстрадиција. Судот го разгледа барањето за екстрадиција и одлучи да не го прифати", гласи објавата на експремиерот.