(Видео) Аеродромот во Глазгов делумно евакуиран поради сомнителен пакет
Летот на KLM Royal Dutch Airlines, кој пристигнал од Амстердам околу 10 часот утринава, бил изолиран на пистата како реакција на загриженоста поради сомнително парче багаж, е објавено на веб-страницата "Глазгов лајв" повикувајќи се на соопштение од аеродромот.
Патниците биле евакуирани од дел од аеродромот во Глазгов по извештаите за сомнителниот пакет, јавуваат локалните медиуми, а продолжува истрагата за да се утврди содржната на пакетот, посочи портпаролот на аеродромот.
GLASGOW AIPORT LATEST: Major emergency response dealing with 'ongoing incident'. Fire service environmental protection unit on standby along with ambulance incident trucks. @BBCScotlandNews pic.twitter.com/ZCiT7PnOkb

— Connor Gillies (@ConnorGillies) October 4, 2019
Според извештаите што ја цитираат сообраќајната полиција, затворен е и излезниот пат М8 што води кон транспортниот центар. Полициски, противпожарни и спасувачки служби, како и амбулантни возила, веднаш пристигнале на местото на настанот.
©Makfax.com.mk Доколку преземете содржина од оваа страница, во целост сте се согласиле со нејзините Услови за користење.

Џеф Безос веќе не е најбогатиот човек на светот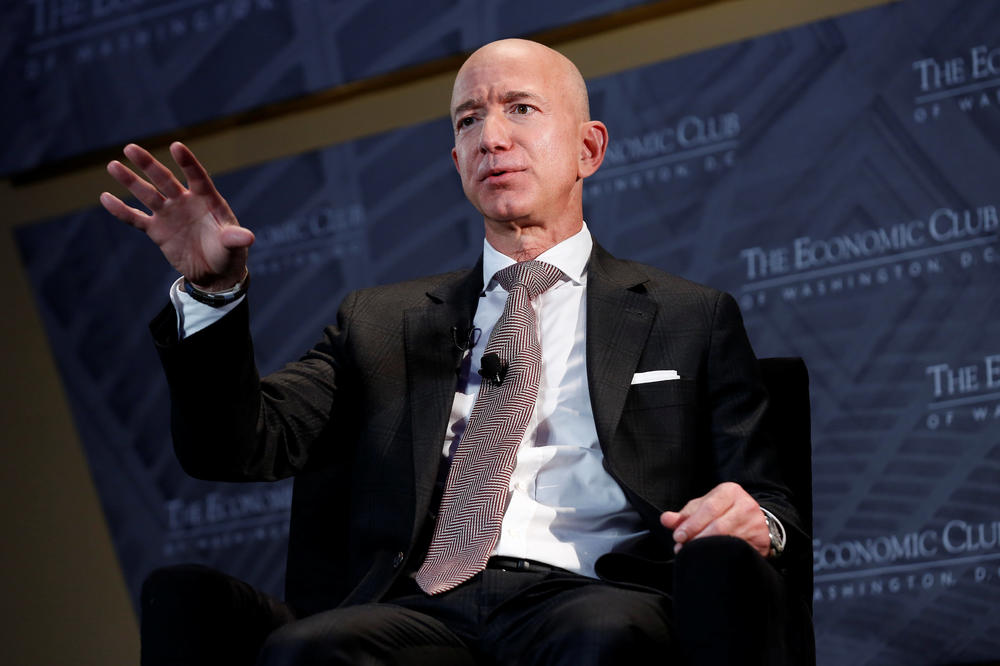 По пријавувањето на деловните резултати во вториот квартал, акциите на "Амазон" паднаа за 7,6 проценти, па Џеф Безос, како најголем акционер, загуби најмногу – 13,9 милијарди долари. Сега, францускиот тајкун Бернар Арно повторно се искачи на тронот на најбогатите.
И покрај фактот дека акциите на конгломератот на Арно, ЛВМХ, исто така, паднаа за 1,4 проценти, најбогатиот Европеец е посиромашен за "само" 2,9 милијарди долари, па оваа недела ја затвори со проценето лично богатство од 192,9 милијарди долари.
Арно и Безос се вртеа на прво место во мај и јуни, но основачот на "Амазон" седеше на престолот во последните 50 дена.
Французинот го зголеми своето богатство за повеќе од 100 милијарди долари во текот на минатата пандемиска година, но неговиот конгломерат стагнираше со деловни резултати оваа година, особено од почетокот на летото.
Арно поседува 47 проценти од акциите на компанија која ги обединува брендовите како "Луј Витон", "Моет & Чандон", "Кристијан Диор", "Тифани и Ко" под еден покрив.
Иако акциите на "Амазон" загубија вредност, компанијата не забележа лоши резултати. Само не толку добро како што се надеваа акционерите.
Американскиот гигант пријави 113 милијарди приходи, што претставува зголемување од 27 проценти во однос на истиот период минатата година, како и 7,8 милијарди нето добивка.
Сепак, "Амазон" предвидува дека приходите во третиот квартал ќе бидат помеѓу 106 и 112 милијарди, што е под претходните очекувања од 119 милијарди долари.
Падот на акциите на "Амазон" влијаеше и врз богатството на поранешната сопруга на Безос, Мекензи Скот, која доби акции во компанијата по разводот. Таа загуби 4,6 милијарди, па сега нејзиното лично богатство се проценува на 56 милијарди долари.