(Видео) Активист на Сандерс: Во Америка ни треба гулаг и гилотина за богатите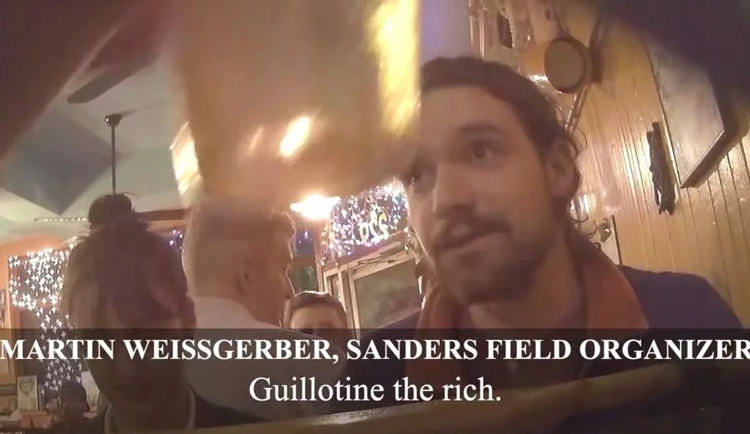 Припадник на предизборниот штаб на американскиот кандидат за претседател, Берни Сандерс, снимен е како признава дека сака вооружена револуција по која богатите би ги пратил на гилотина, а републиканците во логори за едукација и превоспитување, пишува хрватски "Индекс" повикувајќи се на американските медиуми.
Мартин Вајсгербер, кој наводно е платен теренски организатор за кампањата на Сандерс во Јужна Каролина, бил тајно снимен во разговор со десничарски активист кој очигледно лажно му се претставил како левичар и симпатизер на Сандерс.
BREAKING: 2ND PAID STAFFER PRAISES GULAGS

South Carolina @BernieSanders Field Organizer @martinthemanic: "I'll straight up get armed…I'm ready for the "f**king revolution"; "Guillotine the rich"; 'send Republicans to re-education camps'

FULL RELEASE 12:00PM#Expose2020 pic.twitter.com/tUCeKEY6aM

— James O'Keefe (@JamesOKeefeIII) January 21, 2020
Кога ја стекнал неговата доверба, активистот на "Проект Веритас" на средба во ресторан извлекол од Вајсгербер прилично неверојатни признанија за некој што работи во изборен штаб на еден од водечките кандидати за претседател на САД.
"Отсекогаш сум кажувал, знаете, јас сум комунист", рекол отворено Вајсгербер дистанцирајќи се на овој начин од Сандерс, кој се декларира како демократски социјалист, пренесува "Индекс.хр".
"Подготвен сум да фрлам тули и да се борам", додал тој алудирајќи на добро познатата тактика за вадење камења од плочниците и нивно фрлање кон полицијата во насилните протести во целиот свет.
Воедно, објаснил дека е во контакт со радикални левичарски групи од целата земја за да организираат масовни протести како оние на "Жолтите елеци" во Франција (иако француските "жолти елеци" идеолошки се разликуваат од левицата) доколку Сандерс изгуби и Доналд Трамп добие уште еден мандат.
"Едноставно, ќе земам оружје во раката. Сакам да научам како да пукам и би одел на обука. Јас сум подготвен. Подготвен сум за е***а револуција, братко", истакнал активистот на Сандерс.
"Богатите на гилотина", рекол тој во дел од разговорот, а потоа застанал во одбрана на Советскиот Сојуз и неговиот озлогласен гулаг, систем на работни логори, во кои меѓу 1930 и 1953 година биле затворени околу 18 милиони луѓе, од кои меѓу 1,5 и 1,7 милион умреле поради нехумани услови и тешка принудна работа.
"Гулагот е основан како систем за превоспитување… Дали си слушнал за Беломорскиот Канал? Луѓе доаѓале од Америка да работат на каналот, за советски проект, за комунистички проект. Тоа е прекрасна работа", го изразил своето восхитување овој млад американски комунист.
Станува збор за проект за изградба на канал во чест на Сталин, во кој според историските податоци умреле меѓу 12 и 25 илјади принудни работници од гулагот.
Вајсгербер додал и дека во САД денеска има повеќе затвореници отколку во Русија во најжестоките времиња на гулагот и дека Советскот Сојуз своевремено бил најпрогресивно место за женските права.
©Makfax.com.mk Доколку преземете содржина од оваа страница, во целост сте се согласиле со нејзините Услови за користење.

СЗО: Дневниот број на смртни случаи од Ковид-19 во Европа е 40% поголем од минатата недела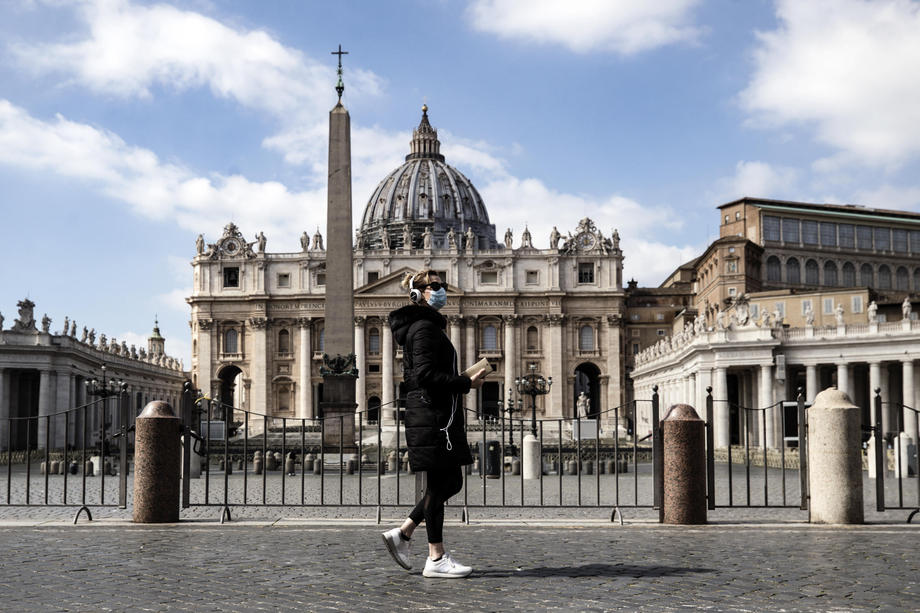 Дневниот број на смртни случаи од Ковид-19 во Европа е 40% поголем од минатата недела, соопшти Светската здравствена организација (СЗО).
Портпаролката на СЗО, д-р Маргарет Харис, за Би-би-си изјави дека најголем број нови случаи се регистрирани во Франција, Шпанија, Велика Британија, Холандија и Русија.
Во последните 24 часа во Русија 320 лица починаа од компликации поврзани со Ковид-19, што е најголем дневен број на смртни случаи во таа земја од почетокот на пандемијата. Досега во Русија починале 26.589 лица од коронавирус.
Русија е четврта земја во светот по бројот на заболени, по САД, Индија и Бразил.
Дневниот број на смртни случаи нагло се зголеми и во Италија. Во последните 24 часа починаа 221 лице. Бројот на починати расте и во Австрија, а денес бројот на жртви во таа земја надмина 1.000.
Харис рече дека има интензивно и алармантно зголемување на бројот на заболени и смртни случаи низ целиот европски регион.
"Болниците во некои земји брзо се полнат, и покрај подоброто управување со болничките капацитети", предупреди таа.
Таа исто така го коментираше воведувањето на построги мерки во европските земји и рече дека резултатите ќе ги видиме дури по две недели.
"Бројот на нови случаи треба да се намали, но тоа нема да се случи преку ноќ", рече портпаролката на СЗО.
Харис вели дека добрата вест е дека болниците сега имаат многу подобро разбирање за тоа што се случува.
"Добрата вест е дека болниците сега имаат многу подобро разбирање за тоа што се случува. Друга добра работа, во извесна смисла, е тоа што голем број на нови случаи се млади луѓе, со помала веројатност да имаат тешки симптоми. Но, тоа не е гаранција", рече таа.
"Овие два фактора сугерираат на тоа дека можеби нема да бидеме сведоци на такво огромно зголемување на стапката на смртност како што беше случајот во април", додаде таа.