(Видео) Америка планира забрзано протерување на мигрантите од Хаити
Соединетите Американски Држави планираат да го забрзаат протерувањето на мигрантите од Хаити со организирање летови за да ги вратат во нивната земја, соопштија официјалните лица.
Бројни агенти на службата за имиграција пристигнаа во пограничниот град во Тексас, каде што се собраа илјадници Хаиќани, откако одеднаш преминаа од Мексико во САД.
Службата за внатрешна безбедност објави дека во петокот преместила околу две илјади мигранти кои се собрале под и во близина на мостот во пограничниот град Дел Рио и на други локации, со цел да ги обработи нивните податоци и потенцијално да бидат протерани од САД, јавија американските гласила.
Исто така, беше објавено дека до понеделник наутро во Дел Рио ќе пристигнат околу 400 агенти и полицајци.
Thousands of migrants seeking asylum waded through the water of the Rio Grande this week along the U.S. Mexico border as they awaited processing. The massive surge in migration, primarily from Haiti, has overwhelmed the authorities and caused significant delays in processing. pic.twitter.com/nYqQR0n5kb

— CBS News (@CBSNews) September 17, 2021
Многу Хаиќани дојдоа во САД од Мексико преку брана на реката.
Американските власти реагираа брзо на ненадејното пристигнување на Хаиќаните во Дел Рио, град со околу 35.000 жители, во релативно оддалечениот дел од границата, каде што нема капацитет да држат толку многу луѓе.
Американски службеник изјавил дека бројот на летови ќе зависи од оперативниот капацитет на Хаити и подготвеноста да ги прифати авионите. Тој додаде дека е постигнат напредок во преговорите со властите на Хаити.
Официјалниот претставник додаде дека САД најверојатно ќе испраќаат пет до осум авиони дневно, почнувајќи од недела, а друг неименуван службеник додаде дека не очекуваат повеќе од два лета дневно, додавајќи дека сите мигранти ќе бидат тестирани за "Ковид-19".
Проценките за бројот на мигранти варираат, но шерифот на округот Вал Верде, Франк Мартинез, изјави дека во Дел Рио пристигнале околу 13.700 луѓе.
Мигрантите поставија шатори и изградија импровизирани засолништа од трска.
Планот за летање зависи од тоа како ќе реагираат Хаиќаните, бидејќи постои можност тие да одлучат да не се согласат да се вратат и да ризикуваат да бидат вратени во сиромашна, политички нестабилна земја или да се вратат во Мексико.
Децата без придружба се ослободени од забрзаниот процес на протерување мигранти.
Хаиќаните доаѓаат во САД во голем број веќе неколку години, и многумина ја напуштија својата земја од Карибите по катастрофалниот земјотрес во 2010 година.
Откако ги загубија работните места што ги добија за време на Летните олимписки игри во Рио де Жeнеиро, многумина тргнаа на опасно патување пеш, со автобус и со автомобил до границата со САД.
©Makfax.com.mk Доколку преземете содржина од оваа страница, во целост сте се согласиле со нејзините Услови за користење.

Ние сме против централизација на власта во ЕУ, порача полскиот премиер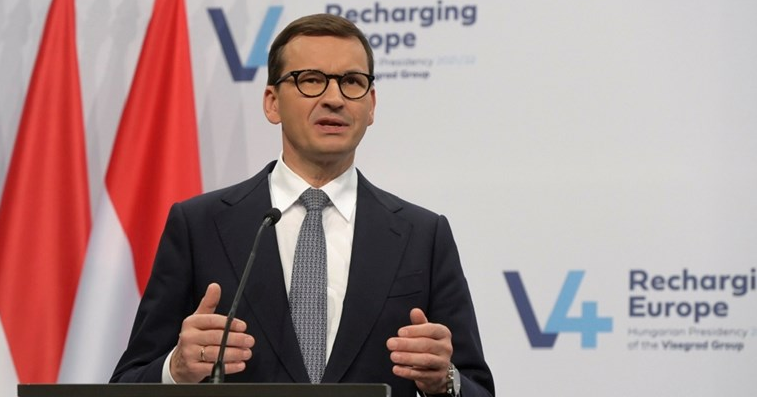 Полска е лојална членка на Европската Унија, но се противи на прекумерната централизација на моќта, порача денеска премиерот на Полска, Матеуш Моравјецки, во писмо до европските лидери.
Брисел долго предупредува дека реформите воведени од полската десничарска влада ја поткопуваат независноста на судството, но конфликтот ескалира овој месец кога Уставниот суд на Полска го оспори клучното начело на интеграција во ЕУ пресудувајќи дека некои од европските норми се некомпатибилни со уставот на државата.
Во екот на продлабочениот спор за владеење на правото се појавија шпекулации и за можен полегзит, но Моравјецки ги уверува европските партнери дека неговата влада нема намера да го следи британскиот пример и да ја изведе Полска надвор од ЕУ.
"Би сакал да ве уверам дека Полска останува лојална членка на Европската Унија", напиша тој во писмото објавено денеска на владината веб-страница.
Сепак, тој предупреди на опасни појави што ја загрозуваат иднината на Унијата.
"Мислам на постепената трансформација на Унијата во ентитет што би престанал да биде сојуз на слободни, еднакви и суверени држави за да стане организам со вентрална администрација на институции лишени од демократска контрола", наведува Моравјецки.
Во меѓувреме, со потег што сигурно дополнително ќе ги зголеми тензиите, министерот за правда на Полска, Збигњев Зијобро, денеска ја повика владата да преземе законски мерки против Германија поради, како што рече, системот на политички избор на судии во најголемата нација на ЕУ.
Зијобро е креатор на реформата на полското правосудство и лидер на малцинските конзервативни коалициски партнери во владата на Моравјецки и често се жали на наводно нееднаков третман на ЕУ кон Полска.