(Видео) Демонстрантите во Портланд оставиле порака "Убиј го претседателот" на зградата на полицискиот синдикат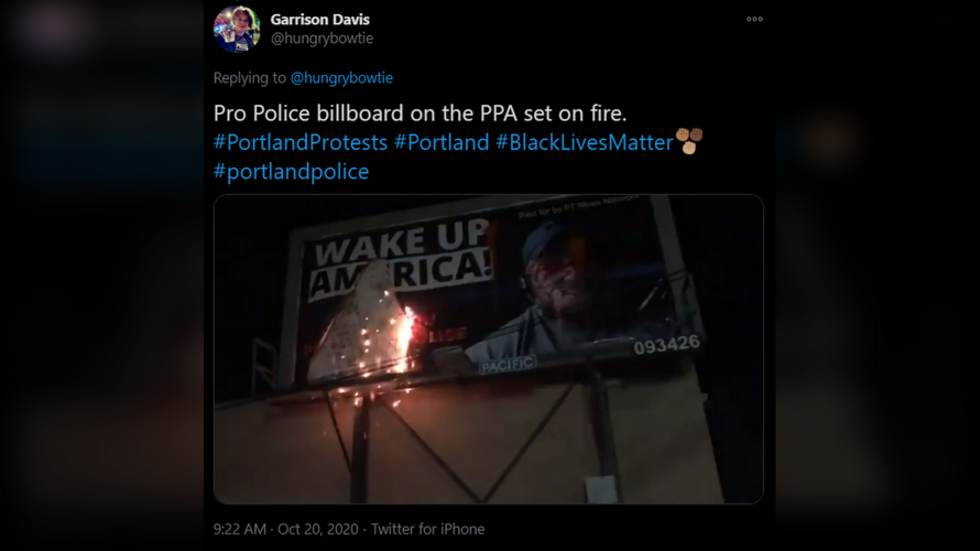 Демонстрантите во Портланд ја вандализираа канцеларијата на локалниот синдикат на полицијата и запалија билборд со кој се изразува поддршка за полицијата во услови на немири во градот во Орегон, кои траат со месеци, пренесува РТ.
Демонстрантите маршираа кон зградата на Полициската асоцијација на Портланд (ППА) во понеделникот вечерта извикувајќи "Нема правда, нема мир". Зградата, која беше заштитена со штици откако беше нападната во повеќе немири на претходните демонстрации, беше ичкртана со графити. Пораките испишани со спреј на дрвените плочи вклучуваат: "Изгори го ова", "Полицајците се убијци" и "Убиј го претседателот".
Protesters arrive at the Portland Police Union building (the PPA). It's Monday Oct 19th. #PortlandProtests #Portland #BlackLivesMatter #PortlandPolice pic.twitter.com/a6ekvjPjab

— Garrison Davis (@hungrybowtie) October 20, 2020
Тогаш толпата го сврте вниманието кон блискиот билборд кој изразува поддршка за локалната полиција. Демонстрантите  го испрскале билбордот со боја пред да го запалат. Билбордот, на кој пишуваше: "Разбуди се Америка! Ти благодарам, полициското биро во Портланд", беше платен од локалниот медиум "ПТ њуз".
Полицијата пристигнала на местото на настанот и ги предупредила демонстрантите да не палат оган и да стојат настрана од улицата, заканувајќи им се со апсење.
Portland protest day 127 pic.twitter.com/QVTTsPRF6M

— Sergio Olmos (@MrOlmos) October 20, 2020
На почетокот на овој месец демонстрантите соборија статуи на Теодор Рузвелт и Абрахам Линколн како дел од протестот за Денот на бесот на домородните луѓе. Тие ги искршија и прозорците на локалните бизниси. Полицијата го прогласи собирот за незаконски и изврши неколку апсења.
They just lit @PTNewsnetwork's billboard on fire right outside the Portland Police Association building after vandalizing it further. #Portlandprotests pic.twitter.com/6N4TQzjTOV

— Kitty Shackleford (@KittyLists) October 20, 2020
Портланд го тресеа повеќемесечни речиси континуирани ноќни протести од кои многу преминаа во насилство и вандализам. Бројни бизниси, владини канцеларии и градски знаменитости беа нападнати по смртта на Џорџ Флојд во рацете на полицијата во Минеаполис во мај.
©Makfax.com.mk Доколку преземете содржина од оваа страница, во целост сте се согласиле со нејзините Услови за користење.

"Дејли бист": Трамп му дал одврзани раце на Помпео да врши притисок врз Иран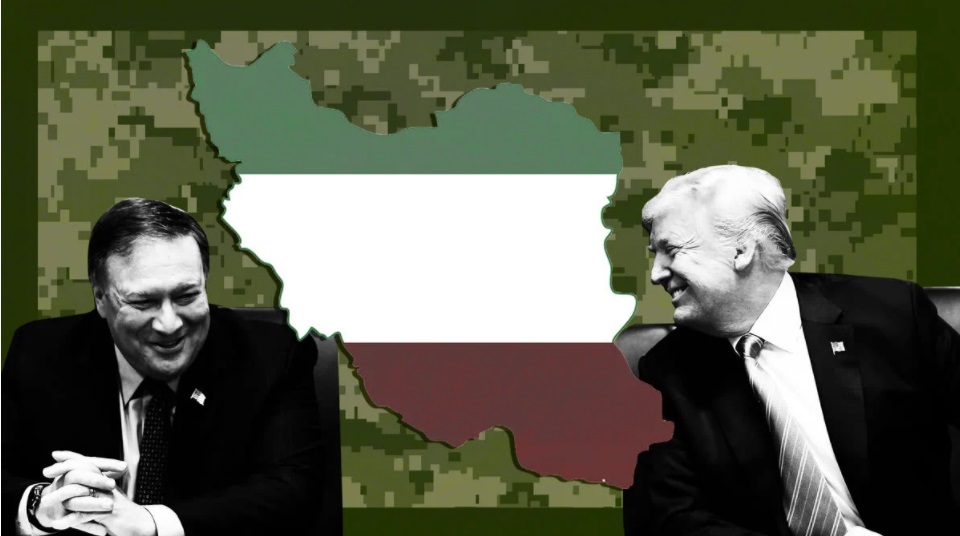 Американските медиуми објавија дека претседателот на САД, Доналд Трамп, му дал зелено светло на шефот на Стејт департментот, Мајк Помпео, дека може да врши притисок врз Иран колку што сака, само без да предизвика Трета светска војна, пишува американскиот портал "Дејли бест" (DailyBeast), повикувајќи се на високи американски официјални претставници чии идентитети не се откриени.
Трамп им дал одврзани раце на Помпео, останатите дипломати, како и на своите советници, во контекст на вршењето притисок врз Иран.
Во текстот се наведува дека Трамп во последните недели е фокусиран особено на резултатите од претседателските избори и дека посветува големо внимание на надворешнополитичките прашања. Прашањето за Иран, како што се наведува, во потполност му го препуштил на Помпео.
Американските официјални претставници на кои се повикува авторот на текстот и наведува дека сведочеле на разговорите на Трамп и Помпео, порачаа дека Трамп дал овластување на американскиот државен секретар да врши притисок врз Иран колку сака, но со тоа да не предизвика Трета светска војна.
Тоа ѝ остава на располагање низа опции на администрацијата во заминување – меѓу нив, задушувачки режим на санкции и молк поради атентатот врз ирански државјани.
Исто така, се наведува дека е можно да постоела соработка меѓу израелските и американските разузнавачки служби во врска со атентатот на иранскиот научник Мухсин Фахризаде. Фахризаде, кој беше клучна фигура на иранската нуклеарна програма, во петокот го убија неидентификувани вооружени напаѓачи на периферијата на Техеран, главниот град на Иран.
Иранските официјални претставници го обвинија за убиството Израел, чиј премиер Бенјамин Нетанјаху пред две години одржа презентација за иранската нуклеарна програма и изјави дека треба да се запамети името на Фахризаде.
Се очекува администрацијата на Трамп, пред предавањето на Белата куќа на победникот на американските претседателски избори, Џо Бајден, кое е планирано за 20 јануари, да воведе нови економски санкции на Иран и да преземе чекори кои ќе ја доведат иранската економија во тешка ситуација.
Поединци вклучени во изработката на политиката на администрација на Трамп во Иран, веруваат дека кампањата за максимален притисок ќе ја ограничи можноста на Бајден да се врати на вистинскиот пат со Техеран затоа што некои од санкциите е тешко да се отстранат, особено оние фокусирани на човековите права и тероризмот.
Поединци запознати со размислувањето на тимот на Бајден велат дека избраниот претседател има јасна стратегија за справување со Иран и со санкциите по јануари. Тој план во голема мера зависи од желбата на Бајден да се врати во Заедничкиот сеопфатен план за акција (ЈЦПОА), нуклеарниот договор за кој се договараше за време на администрацијата на Обама ако Иран се согласи да го почитува.
"Ако Иран ја загризе мамката, што очигледно е намерата зад атентатот врз Фарихзаде, тогаш тоа веројатно го оневозможува враќањето во ЈЦПОА и дипломатијата. Ако Иран не ја загризе мамката … Не знам дали тоа навистина ги менува изборите со кои се соочува тимот на Бајден или Иран во јануари ", вели Џерет Блан, поранешен координатор за иранска нуклеарна имплементација во Стејт департментот на Обама .
Било какви преговори меѓу администрацијата на Бајден и Иран би вклучувале разговори за укинување на некои санкции, но тие санкции најверојатно ќе бидат укинати само ако и кога Техеран ќе се придржува до договорот.
"Иран вели дека е подготвен да се врати во согласност со ЈЦПОА и да повлече некои од донесените одлуки. И САД велат дека ќе укинат некои од санкциите. Нема законска пречка за нивно менување. Многу од нив беа наметнати од политички причини ", рече поранешен висок функционер на администрацијата на Обама.
"Најверојатно, тоа ќе биде пристап во два чекори за Бајден – враќање назад и потоа можеби повторно преговарање за поинаков, подобар договор".