(Видео) Демонстрантите од  Портланд ја соборија статуата на Томас Џеферсон, авторот на Декларацијата за независност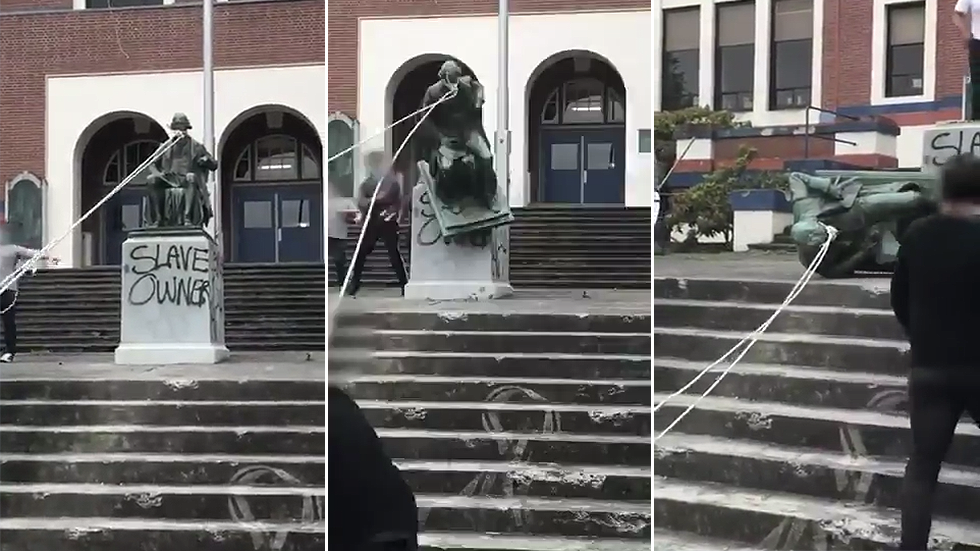 Група демонстранти во Портланд ја срушија статуата на Томас Џеферсон пред училиште што го носи неговото име, разгорувајќи го огнот на растечката културна поделеност во САД, додека активистите таргетираат обележја кои се сметаат за расистички, пренесува РТ.
Околу 1.000 луѓе се собраа во средното училиште "Џеферсон" во Портланд, Орегон, во неделата за да слушаат говори пред да заминат на маршот на "Блек лајвс медр" низ градот. Подоцна во вечерните часови, толпата се врати во училиштето и се фокусираше на статуата на третиот американски претседател и главен автор на Декларацијата за независност.
Tough time for slave owners 🤷‍♂️ pic.twitter.com/m0lUWuYqVc

— PDX Resistance ✊ (@Pdx_resistance) June 15, 2020
Две јажиња беа врзани околу вратот на статуата, додека групата се обидуваше да го повлече Џеферсон од пиедесталот што веќе беше испишан со графити "сопственик на робови".
"Си го враќаме овој град. Едно по едно училиште. Една расистичка статуа по една", рече еден од говорниците.
Видеата покажуваат дека групата ги влечела јажињата, на крајот туркајќи ја статуата на бетонските скалила пред училиштето. Толпата навивала, додека еден човек вооружен со секира неколкупати ја удрил бронзената статуа. Слични прослави имаше и на Твитер.
Viewer video shows the moment the Thomas Jefferson statue was toppled over in Portland. #Portland #pdx #breakingnews @fox12oregon pic.twitter.com/Upnt7i1AQx

— Bonnie Silkman KPTV (@BonnieSilkman) June 15, 2020
Иако Џеферсон беше сопственик на робови, тој е почитуван заради застапувањето за верска толеранција и индивидуална слобода – вредности кои станаа основни принципи на САД. За многумина, чинот на вандализам е незамислив.
Еден згрозен набљудувач ги обвини демонстрантите дека извршиле варварски чин против историјата и побара акција од гувернерот на Орегон, Кејт Браун. Други тврдат дека вандалите и демонстрантите им прават лоша услуга на "легитимните" протести против расизмот.
A group removed the Thomas Jefferson statue at Jefferson High School earlier tonight.

Protesters marched back to Jefferson High School later in the night and a speaker addressed the crowd: "We're taking this city back. One school at a time. One racist statue at a time." pic.twitter.com/iOBUgUyW4S

— Jamie Goldberg (@Jamiebgoldberg) June 15, 2020
Во саботата демонстрантите во Портланд урнаа две статуи на пионерите кои се доселиле во Орегон. Не е јасно кој бил нивниот мотив, но локалните медиуми соопштија дека обележјата биле таргетирани во минатото заради наводното славење на "освојувањето на белците".
©Makfax.com.mk Доколку преземете содржина од оваа страница, во целост сте се согласиле со нејзините Услови за користење.

Во Словенија 21 новозаболен, најголем дневен раст од средината на април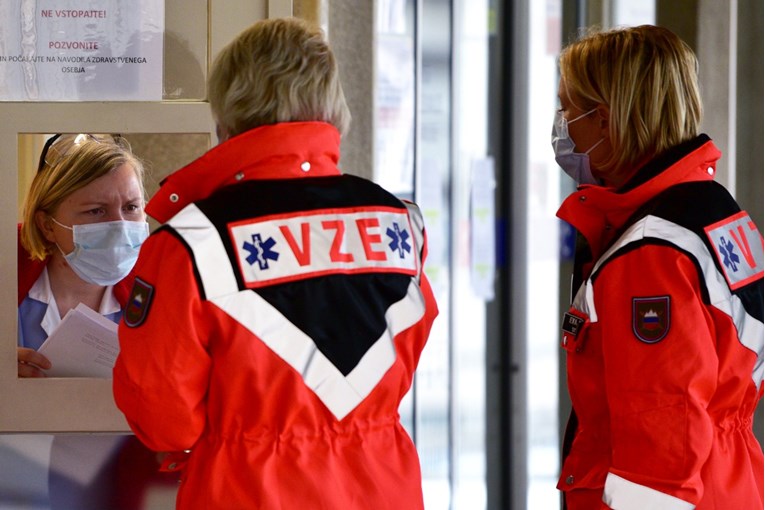 Во Словенија во последните 24 часа се тестирани за коронавирус 1.198 лица, а потврдени се 21 нов случај на инфекција, осум повеќе од претходниот ден, потврди словенечката влада во четвртокот.
Ова е најголем број нови дневни инфекции од 16 април кога имаше 36 позитивни тестови.
Во моментов, 9 пациенти се хоспитализирани во Словенија поради "Ковид-19", што е за еден повеќе од претходниот ден, но на ниту еден од нив не им треба интензивно лекување.
Вкупниот број на потврдени инфекции од почетокот на епидемијата со најновите податоци е зголемен на 1634, додека бројот на починатите меѓу заразените сè уште останува на 111 бидејќи немаше нови смртни случаи меѓу заразените.
Бројот на активни инфекции на 100.000 жители во Словенија во моментов е 5,9, а според критериумите на словенечките епидемиолози, епидемиолошки безбедна земја е онаа во која нема повеќе од десет нови инфекции на 100 000 жители во период од 14 дена. Затоа сегашниот тренд на зголемување на бројот на дневни инфекции е опасен бидејќи, доколку продолжи, Словенија би можела да го премине прагот на пропишана епидемиолошка безбедност за помалку од две недели, јавуваат словенечките медиуми.
Медиумите наведуваат дека медицинските експерти проценуваат дека повторно треба да се прогласи епидемија во Словенија доколку бројот на нови инфекции се зголеми на 30 на ден, но дека нема да има повторно затворање на економијата и социјалниот живот затоа што животот мора да продолжи во нова нормалност.