(Видео) Ердоган гради ѕид за да спречи голем бран на бегалци од Авганистан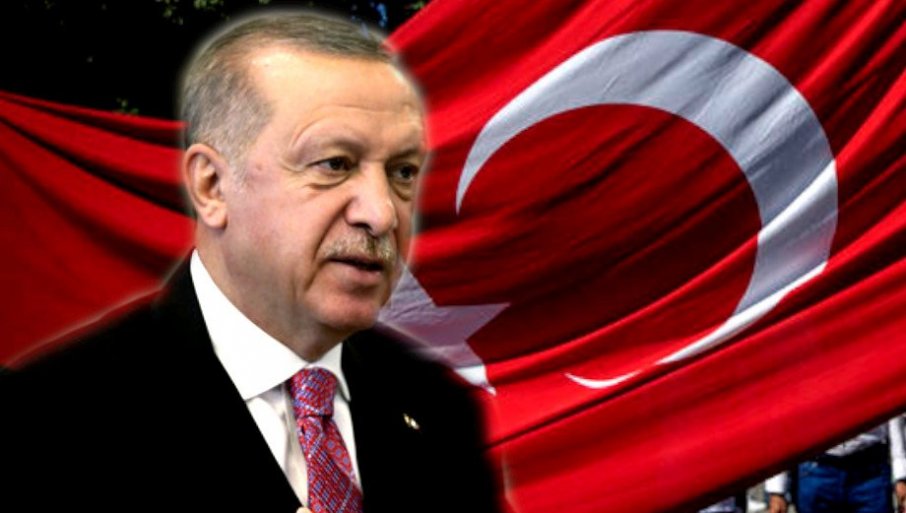 Турција почна да гради огромен ѕид на границата со Иран за да го спречи приливот на авганистански бегалци кои бегаат од талибанскиот режим, пренесуваат светските агенции.
Според најновиот извештај на Би-би-си, турските власти издале наредба за изградба на ѕид на границата со Иран со цел да се спречи голем бран бегалци, но и евентуална инвазија на инфилтрирани Талибанци меѓу нив.
VIDEO: Turkey is building a wall along its border with Iran to prevent a new influx of refugees, mainly from Afghanistan as the Taliban take over the country.

For now, a 5km section is under construction but Turkey is aiming to build a 295km-long wall on its Iranian border pic.twitter.com/YJAZgUOEGa

— AFP News Agency (@AFP) August 17, 2021
Засега, според извештаите на агенциите, пет километри од границата се веќе во фаза на работа и со тешка механизација, а граничниот појас на кој се гради тој ѕид е долг 295 километри.
Откако меѓународните трупи предводени од САД се повлекоа од Авганистан, Талибанците ја окупираа целата земја за помалку од еден месец, а последниот што падна беше главниот град Кабул, од каде пристигнаа драматични слики на луѓе кои умираат обидувајќи се да побегнат од земјата.
Според агенциите, десетици илјади луѓе очајно бараат начин да ја напуштат земјата. Претпоставката е дека реките бегалци ќе течат кон Иран, а потоа и кон Турција.
©Makfax.com.mk Доколку преземете содржина од оваа страница, во целост сте се согласиле со нејзините Услови за користење.

Кој ќе ја наследи Меркел: Изборите се неизвесни, постизборните сојузи се уште понеизвесни
Околу 60,4 милиони Германци в недела, 26 септември на федералните избори, имаат можност да одлучат за идниот состав на парламентот, и индиректно за идниот канцелар, што ќе ја наследи Ангела Меркел. Федералната изборна комисија ја одобри кандидатурата на вкупно 54 партии, но 47 ќе излезат на гласање. Се натпреваруваат 6.211 кандидати, меѓу кои 2.024 жени.
Сепак, огромното мнозинство партии речиси и да нема шанси да го преминат изборниот праг и да влезат во идниот парламент, пишува "Еурактив".
Се очекува главната борба да ја водат конзервативните демохристијани (ЦДУ и ЦСУ) и социјалдемократите (СПД), кои во моментов заедно формираат голема црно-црвена коалиција и опозициските Зелени. Тие три партии се единствените кои, надевајќи се на победа, официјално ги предложија своите кандидати за канцелар.
Покрај нив, во Бундестагот најверојатно ќе бидат вклучени и партии кои и во моментов имаат пратеници – либералите (ФДП), крајно десничарската Алтернатива за Германија (АфД) и Левичарската партија.
Аналитичарите ѝ даваат одредени шанси и на партијата Слободни избирачи, која фигурира како мала партија, иако има пратеници во парламентите на неколку германски федерални провинции, а во Баварија учествува и во провинциската влада.
Сестринските партии Христијанско-демократска унија (ЦДУ) и Баварската Христијанско-социјална унија (ЦСУ) го предложија како кандидат за канцелар, премиерот на најнаселената провинција Северна Рајна-Вестфалија, Армин Лашет, социјалдемократите се одлучија за досегашниот заменик-канцелар и министер за финансии Олаф Шолц, а трет кандидат е претседателката на партијата на Зелените, Аналена Бербок.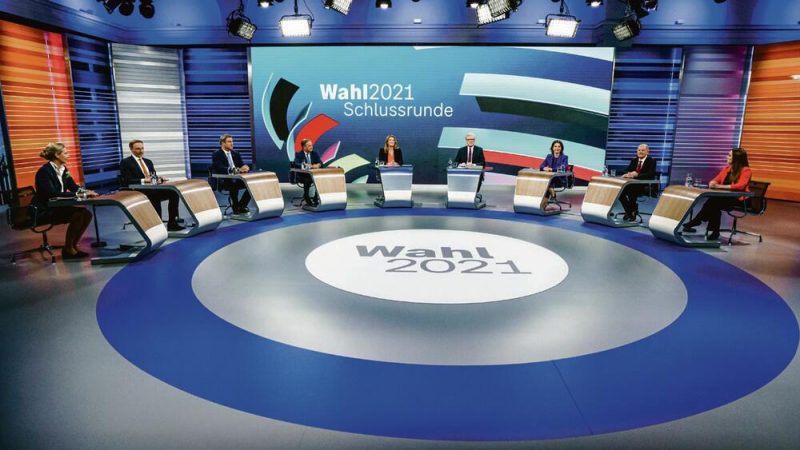 Анкетите спроведени за време на изборната кампања даваат предност на СПД. Така, според најновото истражување на институтот за анкети "Кантар", социјалдемократите имаат поддршка од 25 проценти од гласачите, Демохристијаните со 21 проценти и Зелените со 16 отсто.
Според анкетата која беше објавена на 23 септември, Алтернатива за Германија (АфД) има 11 проценти, Левица 7 проценти, додека Либералите (ФДП) 11 проценти.
Во последните недели, СПД во повеќе анкети се најде пред демохристијаните.
Социјалдемократите успеаја да го подобрат својот не многу висок рејтинг долги години, главно благодарение на Олаф Шолц, кој беше прогласен за победник на сите три телевизиски соочувања од тројцата кандидати.
Според резултатите од анкетите, ЦДУ и СПД би можеле да претендираат за функцијата канцелар, но не и Зелените.
За неизвесноста на изборите придонесува и фактот што на претходните анкети, голем број граѓани, значително повеќе отколку пред изборите во 2017 година, рекоа дека се неодлучни или дека нема да гласаат.
Во анкетата на "YouGov" на 23 септември, на прашањето "дали ја донесовте конечната одлука за тоа како ќе гласате на парламентарните избори", 74 проценти од граѓаните одговориле потврдно. 15 проценти од испитаниците се' уште не одлучиле кога ќе гласаат, 9 проценти не одговориле, додека 1 процент од испитаниците се изјасниле дека не знаат.
Сепак, и гласачите кои знаат за кого да гласаат, не знаат со сигурност што ќе се случи со нивниот глас, бидејќи за формирање парламентарно мнозинство ќе биде потребно создавање на постизборни партиски сојузи, а постојат неколку можни сценарија за коалиција, па можни се изненадувања.
Бројот на можни коалиции е голем. За поддржувачите на Шолц или Лашет, работата е јасна – секој глас за социјалдемократите или демохристијаните го носи нивниот кандидат на чекор до позицијата канцелар.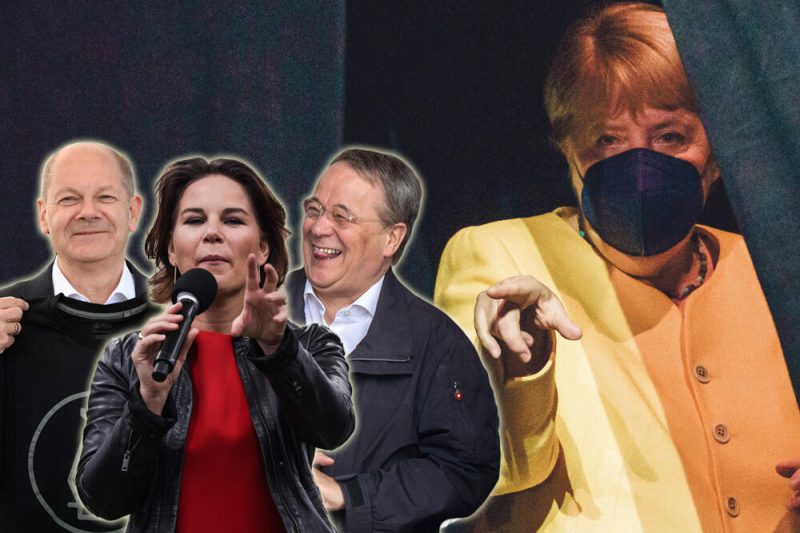 Останува прашањето во каков сојуз би можеле да владеат Шолц или Лашет и до кој степен гласачите на Зелените или ФДП можат да бидат сигурни на која страна нивните партии ќе се свртат.
Доколку повторно не се формира големата црно-црвена коалиција на ЦДУ и СПД, што двете партии во моментов ја отфрлаат, постојат три коалиции чие формирање е најверојатно за аналитичарите.
Првата е таканаречената "семафор" коалиција на СПД, Зелените и либералите, во која главна пречка е што либералите сепак преферираат да дојдат на власт со идеолошки поблиските демохристијани.
Коалицијата за која многумина сметаат дека има најголема шанса Армин Лашет да го донесе до функцијата канцелар, е сојуз со Зелените и либералите. За оваа коалиција, која го носи прекарот "Јамајка" поради боите црно-зелено-жолта, најголема препрека е јазот што постои меѓу демохристијаните и Зелените во однос на буџетската и финансиската политика.
Најпосле, во предвид доаѓа и црвено-зелено-црвената коалиција на СПД, Зелените и левичарската Левичарска партија, но најголемата пречка за тоа е сериозна разлика во гледиштето за германската надворешна политика, бидејќи Левица, која за многумина во Германија е екстремна левица, бара завршување на сите германски воени мисии во странство и распуштање на НАТО.
Олаф Шолц во неколку наврати нагласи дека секое учество во влада чиј столб би биле социјалдемократите, подразбира посветеност на вредностите на НАТО и ЕУ.