(Видео) Индонезиската морнaрица бара начин да ги извади остатоците на подморницата и телата на морнарите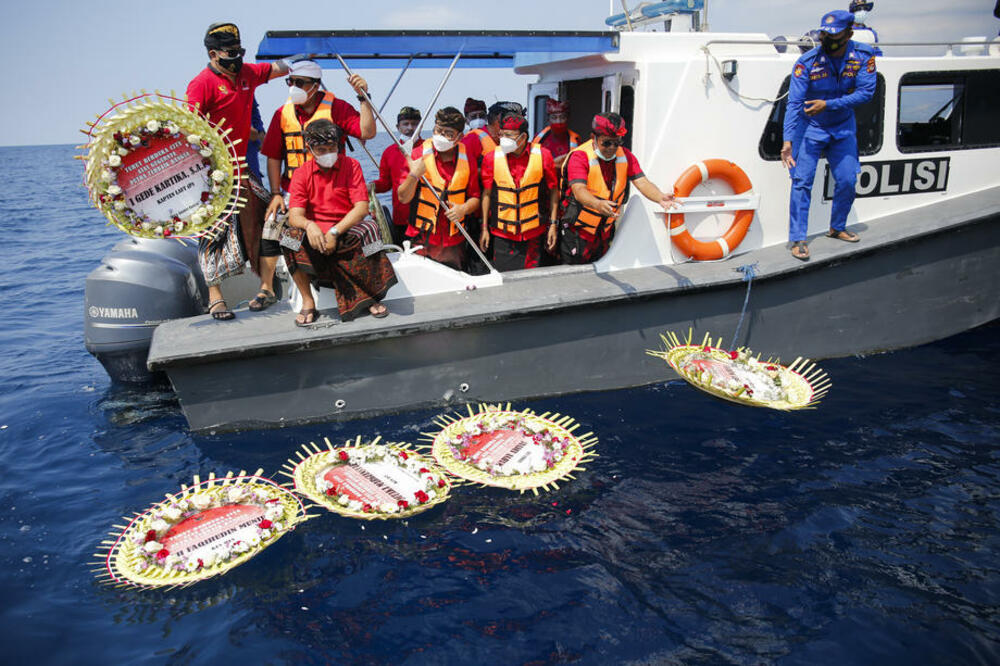 Денес, индонезиската морнарица се обидува да открие како може да ги отстрани остатоците од подморницата од дното на Балиското Море и телата на 53 морнари, кои настрадаа.
Подморницата "КРИ Нангала-402" од германско производство, откриена вчера на морското дно, се скршила најмалку на три дела, и тоа четири дена по изгубениот контакт со неа додека се подготвуваше за вежба за торпедо, објави "Ројтерс".
SUNKEN INDONESIA SUBMARINE: Underwater images from Singapore's submarine rescue vessel, the MV Swift Rescue, show wreckage from the sunken KRI Nanggala-402. Rescuers found the submarine broken into at least 3 parts in the Bali Sea. pic.twitter.com/cTIGaXlhnb

— Ericssen (@EricssenWen) April 25, 2021
Роднините се собраа на брегот на морето на Бали за да им оддадат почит на морнарите што загинаа и ги повикаа властите да ги извадат нивните тела.
Indonesia's military chief Marshal Hadi Tjahjanto confirmed that the missing submarine KRI Nanggala-402 was found broken into at least three parts and all crew members on board the sunken vessel died https://t.co/2Ngp3MZCPL pic.twitter.com/3KT7YxeyUE

— Reuters (@Reuters) April 25, 2021
Експертите велат дека подигнувањето на подморницата на површината од длабоката вода ќе бара посебна опрема за спасување.
Портпаролот на индонезиската морнарица, Џулиус Виџојоно, изјави дека за операцијата за извлекувањеа сè уште се разговара со експерти и меѓународни тела.
Индонезискиот претседател, Јоко Видодо, им изрази сочувство на роднините и вети дека државата ќе го финансира образованието на децата на загинатите морнари.
©Makfax.com.mk Доколку преземете содржина од оваа страница, во целост сте се согласиле со нејзините Услови за користење.

Лидерите на Западен Балкан со заедничка декларација: Итен почеток на преговорите со Скопје и Тирана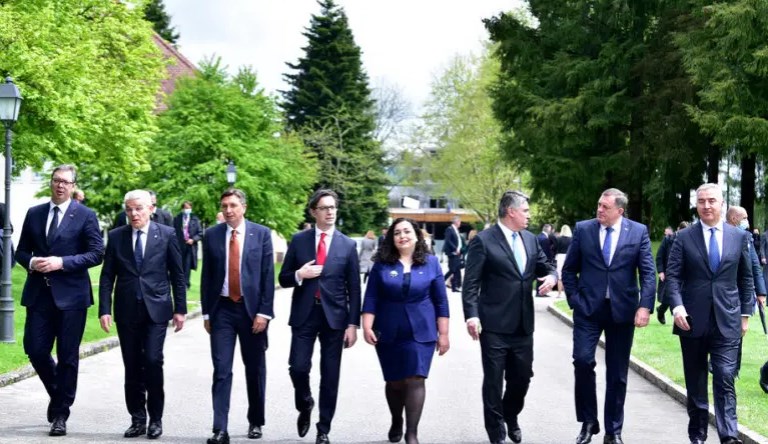 Декларацијата усвоена од лидерите на Процесот "Брдо – Бриони" на самитот укажува на важноста од брзото проширување на ЕУ за целиот регион на Западен Балкан, а не за одделни земји.
Лидерите на Словенија, Хрватска, Албанија, Црна Гора, Косово, Северна Македонија, Србија и на Босна и Херцеговина присуствуваа на состанокот по повод 10-годишнината од иницијативата.
Заедничката изјава го поздравува усвојувањето на Економскиот и инвестициски план на ЕУ за Западен Балкан од октомври 2020 година, како и фактот дека, како што се наведува, е придружен со значителни финансиски средства.
Документот нагласува дека, како составен дел на Европа, Западен Балкан има права и обврски да го следи развојот на земјите членки на ЕУ што е можно повеќе, со олеснет пристап до Унијата.
Лидерите на Процесот "Брдо – Бриони" истакнаа дека се посветени на заедничката стратешка визија за Европа и ја истакнаа нивната посветеност на мирот и стабилноста, вклучително и добрососедските односи.
"Западен Балкан е дел од Европа и обединувањето на Европа не е целосно без Западен Балкан. Со членството во ЕУ границите меѓу земјите членки стануваат помалку важни, што создава поширок простор за соживот и плуралност на националните интереси", се вели во документот.
"Ја повикуваме ЕУ да го забрза процесот на пристапување многу бргу и да го вклучи целиот Западен Балкан во Унијата имајќи го предвид напредокот што го направи секоја земја", порачаа политичките лидери.
Тие изразија јасен став за отворање на пристапните преговори со Албанија и Северна Македонија, без натамошно одложување.
Во однос на предизвиците на пандемијата на Ковид-19 и нејзините економски и социјални последици, тие ја истакнаа потребата да се искористи закрепнувањето како можност за зелена и дигитална транзиција, што ќе доведе до одржлив развој и ќе им понуди можности на помладите генерации.