(Видео) Индонезија: Поплави во Џакарта, евакуирани илјадници луѓе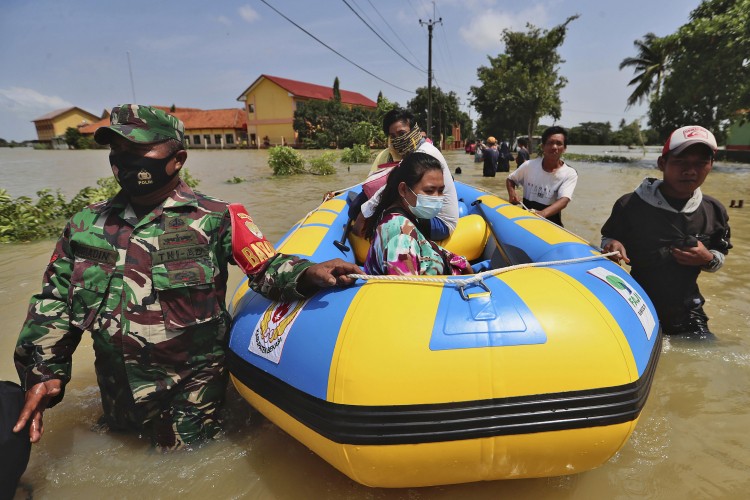 Повеќе од 4.000 луѓе се евакуирани во предградието на Џакарта, главниот град на Индонезија, поради поплавување по пукањето на насипот на реката Цитарум, соопштија властите.
Округот Бекаси во индонезиската провинција Западна Јава е погоден од поплави поради обилните дождови, пренесува АП.
floods drowned the city of Jakarta, Indonesia https://t.co/8iTO6Kejl0

— Zealot (@Ajkwa4) February 20, 2021
Властите соопштија дека се урнати браните не само на реките туку и на каналите за наводнување, а спасувачите велат дека повеќе од 28.000 луѓе биле погодени од поплавите.
Илјадници куќи во областа погодена од поплавите се покриени со вода висока до 2,5 метри и немаат електрична енергија.
Сезонските дождови во последните денови предизвикаа десетици свлечишта и поплави во поголем дел од Индонезија, која опфаќа повеќе од 17.000 острови.
©Makfax.com.mk Доколку преземете содржина од оваа страница, во целост сте се согласиле со нејзините Услови за користење.

(Видео) Мишел и Фон дер Лајен се сретнаа првпат по инцидентот со фотелјата
Претседателот на Европската комисија Урсула фон дер Лајен и претседателот на Европскиот совет Чарлс Мишел се состанаа за прв пат од минатонеделниот протоколарен инцидент во Анкара.
Вон дер Лајен и Мишел одржуваат редовни состаноци еднаш неделно. Најновата средба привлече посебно внимание поради инцидентот што се случи во Анкара минатиот вторник.
За потсетување, тогаш турскиот претседател Реџеп Таип Ердоган ги прими Фон дер Лајен и Мишел, а на состанокот Мишел доби место веднаш до Ердоган, додека Фон дер Лајен мораше да седи на блискиот кауч од страна. Мишел воопшто не реагираше.
Медиумите инцидентот го нарекоа "Софагејт".
За најновата средба портпарол на Комисијата рече дека тоа е нормална неделна средба меѓу претседателот на Комисијата и претседателот на Европскиот совет за да се разговара за низа актуелни теми.
Според извори од Комисијата, Фон дер Лајен изјавила дека нема да дозволи да се повтори слична ситуација. Меѓу двете институции постои несогласување околу тоа кој ја претставува Европската Унија во странство според протоколот. Во Европскиот Совет тие тврдат дека Мишел, како претседател, има предност во протоколот, за која не се согласуваат во Европската Комисија и велат дека и двајцата треба да имаат ист третман.
Според фотографиите од претходните самити на ЕУ и Турција, јасно е дека, на пример, тогашните претседатели на Комисијата и Европскиот совет, Jeanан-Клод Јункер и Доналд Туск беа третирани целосно подеднакво. Сепак, поранешниот претседател на Комисијата Јункер тврди дека претседателот на Европскиот Совет има предност според протоколот и дека се случуваше тој да заврши на каучот, анализираат медиумите.
Многумина му замерија на Мишел што не реагираше веднаш и не се откажаа од местото на Фон дер Лајен.
Тој последните денови во медиумите изјави дека му е жал за она што се случило, но дека не сака да реагира за да не предизвика уште поголем инцидент.
"Оттогаш, не спиев добро, тие сцени постојано ми се вртат во главата", рече Мишел и додаде дека ќе ја поправи ситуацијата ако може да го врати времето.
Заради овој инцидент, содржината и целта на посетата на Анкара целосно паднаа во втор план, пишуваат медиумите.