(Видео) Маж протестира на стаклениот покрив на австралискиот парламент и бараше ослободување на Асанж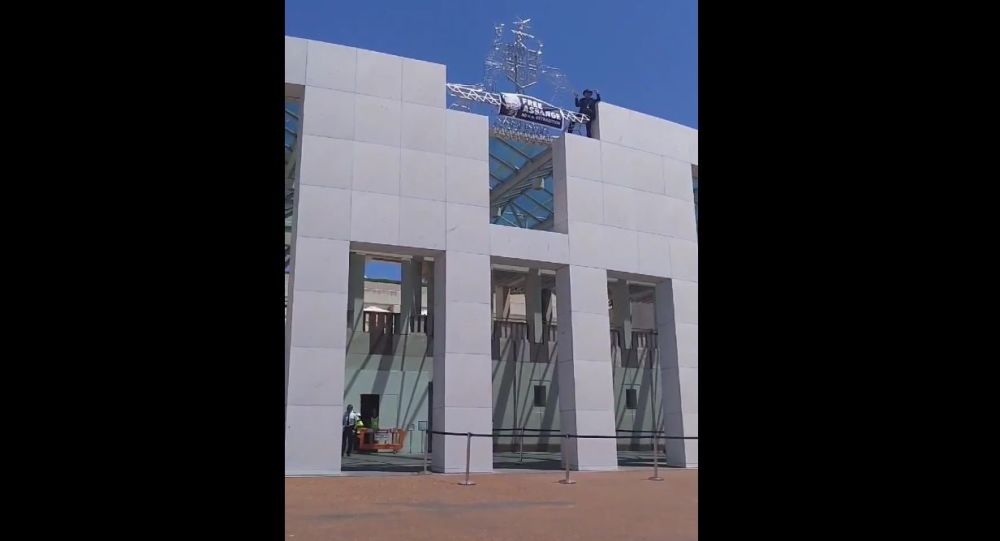 Маж се качи на покривот на зградата на австралискиот парламент во Канбера како знак на протест и бараше ослободување на Џулијан Асанж, пренесува "Спутник".
Демонстрантот, облечен во црна облека и капа, свиреше и викаше, "Ослободете ги свиркачите" и "Ослободете го Џулијан Асанж". Тој се закани дека ќе остане таму сè додека Асанж не биде ослободен од затвор и им рече на минувачите да му донесат вреќа за спиење.
Демонстрантот постави транспарент на кој пишуваше: "Ослободете го Асанж. 'Не' за екстрадицијата во САД" и шеташе врз стаклениот покрив на парламентот пред полицијата да го уапси.
Нема информации за тоа дали демонстрантот се соочува со обвиненија.
The protestor on the roof of Parliament House: "I'll only come down when Julian Assange returns to Australia. Send me up a sleeping bag." pic.twitter.com/HspCD0FScP

— Katie Burgess (@katie_b_burgess) November 11, 2019
Џулијан Асанж, кој е австралиски државјанин, во моментот издржува затворска казна од 50 недели за прекршување на условите за кауција во 2012 година за да избегне екстрадиција во Шведска, каде беше баран за сексуален напад, што тој го отфрли како политички мотивирано обвинение.
Асанж, основачот на "Викиликс", побара прибежиште во Амбасадата на Еквадор во Лондон и таму остана речиси седум години до април годинава кога Еквадор му го одзеде статусот на азилант. Тој сега се соочува со екстрадиција во САД под обвинение за објавување дипломатски телеграми и обелоденување обвинувачки докази против воените кампањи на САД во Авганистан и во Ирак. 17-те точки од обвинението му носат максимална казна затвор од 175 години. Рочиштето за екстрадиција е предвидено да почне на 25 февруари.
Минатиот месец 11 австралиски пратеници формираа меѓупартиска група со која се залагаат за враќање на Асанж дома.
"Што и да мислат луѓето за него, Џулијан Асанж е Австралиец и заслужува конзуларна помош и поддршка од австралиската влада", рече пратеникот од лабуристите, Џулијан Хил.
Премиерот Скот Морисон јасно стави до знаење дека неговата влада ќе дозволи законските процеси во Велика Британија да одат по својот тек и рече дека Асанж треба да се соочи со своите дела.
©Makfax.com.mk Доколку преземете содржина од оваа страница, во целост сте се согласиле со нејзините Услови за користење.

Објавен мачен извештај за малтретирање деца во домовите во Лондон
Британски социјални работници "изложиле ранливи деца" на сексуални престапници кои се инфилтрирале во домови за деца и во згрижувачки семејства со "катастрофални, доживотни последици врз жртвите", покажа извештајот за децениското малтретирање деца.
Работниците во лондонскиот кварт Ламбет "се однесуваа кон децата како да се безвредни" и, како што изгледа, покажаа "бесчувствителност кон ранливите деца, а беа платени да се грижат за нив", посочуваат наодите на независната истрага за сексуална злоупотреба на деца.
Авторите на извештајот имале докази дека децата биле силувани, изложени на недолично однесување и сексуално малтретирање, но навеле дека дисциплинска мерка, според жалбите на 705 корисници во три институции за социјална заштита, е изречена само на еден вработен во раководните служби.
Кога децата се жалеле, никој не верувал во нивните изјави.
Извештајот проценува дека бројот на оние што малтретираат, веројатно, ќе биде многу поголем и се препорачува на полицијата да разгледа дали постојат основи за поведување кривична истрага за случајот со момче што починало во домот во 1977 година откога претходно се пожалило на малтретирање од страна на висок вработен.
Џон О'Брајан, секретар на независната истрага за сексуална злоупотреба на деца, рече дека извештајот е најлош од сите 15 што досега ги составиле.
"Каде и да погледнете, ќе пронајдете пропусти. Тоа е единствениот извештај што морав редовно да прекинувам да го читам поради содржината", рече О'Брајан.
Клер Холанд, членка на Советот на округот Ламбет, рече дека "Советот бил одговорен за таа грижа и заштита, но не успеал, со далекосежни последици".
"Советот длабоко жали поради нивните искуства", рече Холанд.