(Видео) Очајни мајки фрлаат бебиња преку жичена ограда за да ги спасат од талибанците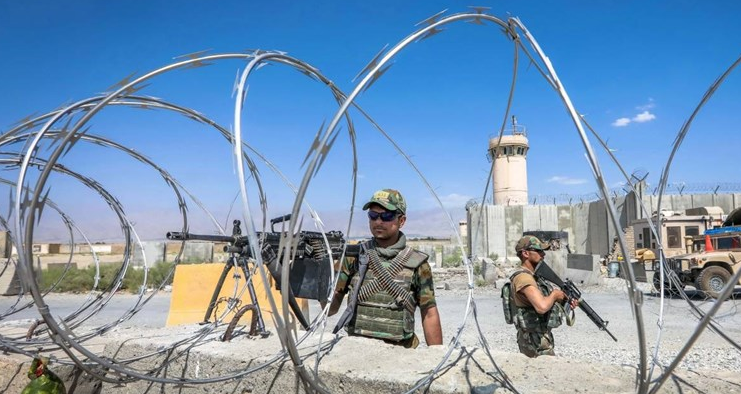 Илјадници луѓе се туркаат кон високите жичени огради, кои се единствениот начин за влез во британскиот авио-комплекс, центарот на излезот од Авганистан.
Ова место, за многумина, е порта кон слободата и крај на сонот за бегство од талибанците.
People are so desperate to escape the #Taliban that they're passing babies and kids forward to the gate at #Kabul airport. #kabulairport #AfghanEvac pic.twitter.com/6NSlIffrD1

— Matt Zeller (@mattczeller) August 18, 2021
Импровизираната барикада што ја одделува британската армија од талибанците се чувствува како воена зона. Но, ова не ги спречува семејствата со деца да ги ризикуваат своите животи, и покрај пукањето во комплексот.
" Беше страшно, жените ги фрлаа своите бебиња преку жицата, барајќи од војниците да ги земат, некои се фатија во жицата …" рекле високи офицери.
©Makfax.com.mk Доколку преземете содржина од оваа страница, во целост сте се согласиле со нејзините Услови за користење.

Koронавирусот до пролет ќе биде како настинка во Велика Британија, велат некои експерти
Генетичарот и имунолог Џон Бел од Универзитетот "Оксфорд" рече дека до пролетта в година коронавирусот може да изгледа како настинка бидејќи нашиот имунитет станува посилен поради вакцините и изложеноста на вирусот.
Тој додаде дека најлошото е зад Велика Британија и работите треба да бидат во ред кога ќе помине зимата.
Слична изјава даде извршниот директор на компанијата "Модерена", Стефан Бансел, кој во понеделникот рече дека пандемијата на коронавирусот може да заврши за една година, со оглед на тоа што зголеменото производство на вакцини обезбедува глобални резерви.
"Ако го видиме проширувањето на производствениот капацитет во индустријата во текот на последните шест месеци, до средината на следната година треба да има доволно дози за да може да се вакцинираат сите на овој свет. Засилувачите исто така би требало да бидат овозможени до потребниот степен", им рече тој на новинарите.
"Оние што не се вакцинираат, ќе бидат имунизирани природно бидејќи варијантата на делта е доста заразна. На тој начин ќе дојдеме во ситуација слична на грипот. Можете или да се вакцинирате и добро да ја поминете зимата или, пак, да не го направите тоа и ризикувате да се разболите, а можеби дури и да завршите во болница", додаде тој.
На прашањето дали тоа значи дека се враќаме во нормалното во втората половина на следната година, тој рече дека тоа може да се случи за една година.
Научникот Сара Гилберт, која работеше на развојот на вакцината на "Астра зенека", исто така рече дека вирусите стануваат послаби. Џон Бел ја коментира нејзината изјава и рече дека "сега ни е многу подобро отколку пред шест месеци".
"Притисокот врз британскиот здравствен систем е значително намален. Ако ги видите смртните случаи предизвикани од Ковид-19, обично се постарите лица и не е целосно јасно дали Ковид-19 е причината за тие смртни случаи", рече Бел.
"Мислам дека сега го поминавме најлошото. Мислам дека одиме кон позицијата што ја опишува Сара и веројатно ќе стигнеме таму следната пролет. Мора да ја поминеме зимата, но мислам дека ќе биде добро тогаш", додаде тој.