(Видео) Пожарот во Колорадо продолжува да се шири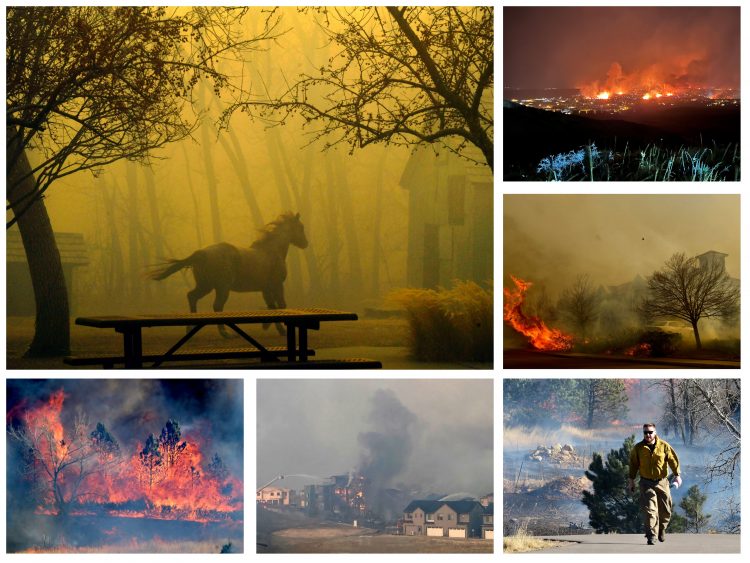 Пожарите се шират во округот Болдер, северно од Денвер, а властите велат дека е многу веројатно да има мртви бидејќи пожарот продолжува да се шири. Во меѓувреме, гувернерот Џаред Полис прогласи вонредна состојба.
Ветровите од Колорадо се движат со брзина од 169 километри на час и го шират пламенот во целиот регион по историската суша.
Додека претходните пожари во Колорадо беа главно во руралните области, најновите ги зафатија предградијата.
На социјалните мрежи кружат снимки што покажуваат колку се драматични случувањата на теренот. На едно видео се гледа како гори цела населба. Во описот пишува дека ветровите не престануваат. Куќите се целосно зафатени од пламен, а над нив се издигнува густ црн чад.
The winds will not stop.
Entire neighborhoods up in flames. #marshallfire#Colorado #BoulderCounty

— NEWS ALL TIME (@NEWS_ALL_TIME) December 31, 2021
На друга снимка се гледа густ чад како се шири по автопатот. Се чини дека паднала магла, а видливоста е слаба.
Big fire in Boulder on the prairies alongside Marshall road and Highway 93. @ABC@CNN #boulder #colorado #breaking pic.twitter.com/EGrH2fgWfH

— Anjan Sapkota (@asp321) December 30, 2021
Една од снимките покажува како изгледа пожарот од воздух. Една жена сподели видео што го снимил нејзиниот син додека патувал со авион до Сиетл. Може да се види како гори пожарот на разни делови и како чадот се шири.
My son flew back to Seattle this evening. Here is a video he took of the Superior / Louisville fires from the plane at 5 pm. Our hearts go out to our neighbors in the fire's path and the first responders working to save their homes and businesses. #MarshallFire pic.twitter.com/O6LXrOKCXT

— Gretchen Rosenberg (@GRDenver) December 31, 2021
Видеото што се појави на "Твитер" покажува како пламенот и чадот се приближувале до ресторан додека таму биле родители со деца. Низ прозорецот се гледа како огнот почнува да гори веднаш до ресторанот, а чадот ја намалил видливоста.
Close up view of the Boulder County fire and reaction from inside the Chuck E. Cheese off Marshall Rd in Superior, CO with wind gusts of 110mph. pic.twitter.com/OkBUnl8E9c

— Jason Fletcher (@SoFarFletched) December 30, 2021
Фотографијата што трогна многумина беше кога лекарите од една болница низ прозорецот гледаа како дивее пламенот во нивната непосредна близина. Може да се забележи полиција, како и пожарникари, но и возила на брзата помош додека огнот гори.
Once in a lifetime events are becoming common place.

I don't know who took this photo, but it speaks to a lot happening in our world right now.

Loosely quoting @GhostTrainPhoto; I'm tired of experiencing once in a life time events.#Marshallfire #Colorado #coloradostrong pic.twitter.com/v781tObnM5

— Tim Slane (@EvilBill_wx) December 31, 2021
©Makfax.com.mk Доколку преземете содржина од оваа страница, во целост сте се согласиле со нејзините Услови за користење.

Поради зимската бура откажани над 2.700 летови во САД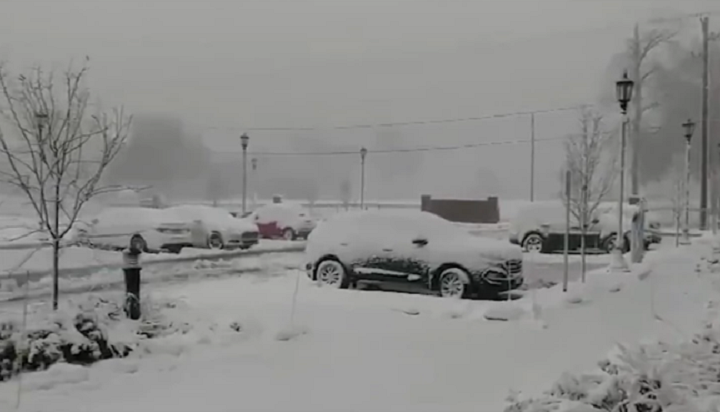 Авиокомпаниите денеска откажаа повеќе од 2.700 летови во САД, поради зимската бура што го погоди источниот брег.
Според сајтот за мониторинг на летови "flightavare.com", денеска до 12:30 часот по локално време биле откажани над 2.700 влегувања и полетувања од САД, пренесува "Ројтерс".
Според објавените податоци, повеќе од 1.500 летови се одложени.
"Американ ерлајнс" има над 600 откажани летови.
Најтешко погоден аеродром во земјата е меѓународниот аеродром во Шарлот, Шарлот Даглас, кој останал отворен до зори, соопштија на брифинг аеродромските власти.
Сепак, повеќе од 1.000 летови до Шарлот денес се откажани, според веб-страницата flightavare.com.
Шарлот е главен воздушен центар во јужниот дел на Соединетите американски држави.
Голема зимска бура со комбинација од силен ветер и мраз го погоди источниот брег на САД, соопшти Националната метеоролошка служба.
Гувернерот на Џорџија, Брајан Кемп, на "Твитер" напиша дека луѓето треба да избегнуваат патувања кои не се неопходни во областите погодени од невремето.
Гувернерите на Џорџија, Вирџинија, Северна Каролина и Јужна Каролина прогласија вонредна состојба поради снежното невреме.
Десетици илјади корисници останаа без струја во Џорџија, Северна Каролина, Јужна Каролина и на Флорида, објави агенцијата АП.