(Видео) По пеколните жештини, во Канада беснеат пожари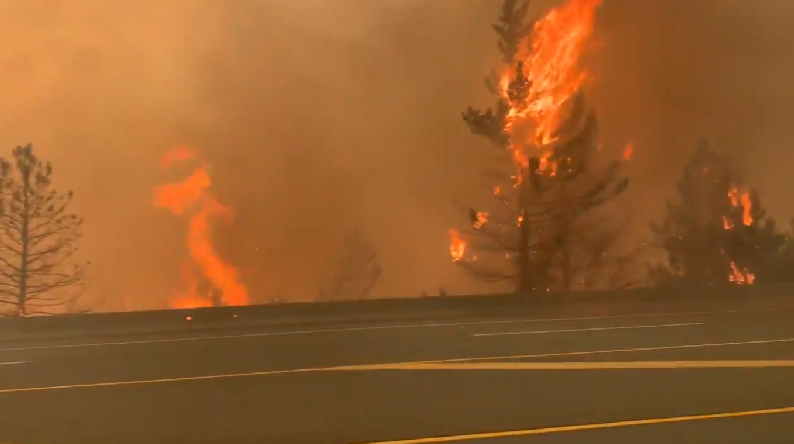 На западот од Канада избувнаа пожари среде бранот од рекордни горештини, принудувајќи ги властите да наложат евакуација на жителите на Литон, мало гратче во провинцијата Британска Колумбија, каде што во текот на неделава три дена по ред беше уриван канадскиот рекорд за највисока температура.
Canada has broken its all-time heat record for the 3rd day in a row, with Lytton B.C. hitting 121°F.

233 deaths were reported in B.C. in 4 days, 100 more than average. "It is expected that extreme heat has been contributory."https://t.co/8JQrqzpHg3 pic.twitter.com/mr8vKBU3GS

— Alec Luhn (@ASLuhn) June 30, 2021
Градоначалникот на Литон, Јан Полдерман, издаде наредба за евакуација и на "Твитер" предупреди дека пожарот ја загрозува безбедноста на жителите и објектите во ова гратче со 250 жители, на 153 километри североисточно од Ванкувер, пренесува агенцијата АП.
Lytton broke the record: hottest temperature ever recorded in Canada for 3rd day in row June 29: 49.6 C (121 F) Tuesday. With hundreds of millions of fireworks going off in the next few days, the tinder box that is the U.S. west coast is likely to see insane fires. https://t.co/AGPuk0BcLz

— Daniel John "Dijon" Carey (@JohnDijonCarey) July 1, 2021
На сите жители на Литон им се препорачува да ги напуштат своите домови и да одат на безбедно место.
"Само 15 минути откако чадот одеднаш се појави, имаше пожар насекаде", рече Полдерман, а подоцна во интервју за мрежата Си-би-ес тој повтори дека ситуацијата е тешка.
Патиштата што водат северно и јужно од Литон се затворени, додека пожарникарите продолжуваат да се борат со огнот.
©Makfax.com.mk Доколку преземете содржина од оваа страница, во целост сте се согласиле со нејзините Услови за користење.

Објавен мачен извештај за малтретирање деца во домовите во Лондон
Британски социјални работници "изложиле ранливи деца" на сексуални престапници кои се инфилтрирале во домови за деца и во згрижувачки семејства со "катастрофални, доживотни последици врз жртвите", покажа извештајот за децениското малтретирање деца.
Работниците во лондонскиот кварт Ламбет "се однесуваа кон децата како да се безвредни" и, како што изгледа, покажаа "бесчувствителност кон ранливите деца, а беа платени да се грижат за нив", посочуваат наодите на независната истрага за сексуална злоупотреба на деца.
Авторите на извештајот имале докази дека децата биле силувани, изложени на недолично однесување и сексуално малтретирање, но навеле дека дисциплинска мерка, според жалбите на 705 корисници во три институции за социјална заштита, е изречена само на еден вработен во раководните служби.
Кога децата се жалеле, никој не верувал во нивните изјави.
Извештајот проценува дека бројот на оние што малтретираат, веројатно, ќе биде многу поголем и се препорачува на полицијата да разгледа дали постојат основи за поведување кривична истрага за случајот со момче што починало во домот во 1977 година откога претходно се пожалило на малтретирање од страна на висок вработен.
Џон О'Брајан, секретар на независната истрага за сексуална злоупотреба на деца, рече дека извештајот е најлош од сите 15 што досега ги составиле.
"Каде и да погледнете, ќе пронајдете пропусти. Тоа е единствениот извештај што морав редовно да прекинувам да го читам поради содржината", рече О'Брајан.
Клер Холанд, членка на Советот на округот Ламбет, рече дека "Советот бил одговорен за таа грижа и заштита, но не успеал, со далекосежни последици".
"Советот длабоко жали поради нивните искуства", рече Холанд.