(Видео) Првомајски протести во светот – полицијата интервенираше во Турција и Франција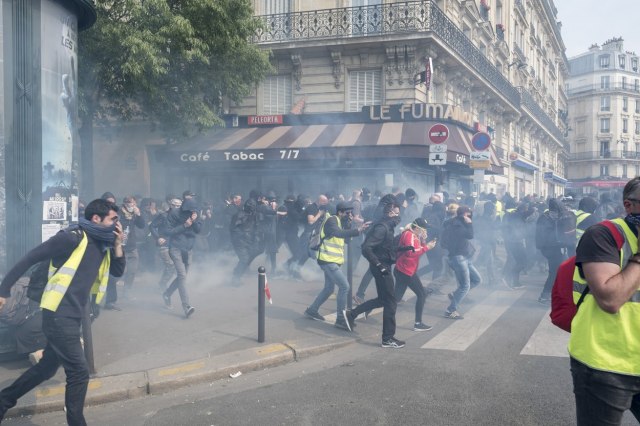 Меѓународниот ден на трудот во градовите ширум светот воглавно помина во знак на протест.
Годинава посебно се издвоија протестите во Истанбул и Париз, каде демонстрантите се судрија со полицијата.
Турската полиција приведе 212 демонстранти по избувнувањето на немири на првомајските маршови за време на полициски час, соопшти кабинетот на гувернерот во Истанбул.
Riot police arrest dozens during #LabourDay protest in #Istanbul 🇹🇷 today. #MayDay #InternationalWorkersDay #Turkeypic.twitter.com/x9lOL2Cu70

— حسن سجواني 🇦🇪 Hassan Sajwani (@HSajwanization) May 1, 2021
Полицијата се судри со синдикалните лидери и другите демонстранти и фрли некои на земја пред да приведе десетици од нив во близина на истанбулскиот плоштад Таксим, пренесува Ројтерс.
Scenes from Istanbul, Turkey, where riot police are repressing and arresting hundreds of people trying to hold a May Day demonstration and protest against Erdogan's right-wing government. #MayDay2021 pic.twitter.com/w0zQlWxTia

— redfish (@redfishstream) May 1, 2021
Кабинетот на гувернерот соопшти дека на некои синдикати им било дозволено да го одбележат празникот, додека други, кои "нелегално се собрале" кршејќи ги мерките за заклучување и игнорирајќи ги повиците да заминат, биле уапсени.
🇹🇷204 people detained in #1May protests in #Turkey/#Istanbul pic.twitter.com/xBpELGEuPQ

— Dailyaz (@dailyaz1) May 1, 2021
Државната агенција Анадолија објави дека 20 демонстранти се исто така приведени во Измир, на западот на земјата.
Турција оваа недела усвои 17-дневно делумно заклучување за да се спречи бранот на зараза со коронавирусот.
🇹🇷Turkish Police intervenes in the 'May 1' protests in #Turkey/#Istanbul#LabourDay https://t.co/lVB5tKDP8S pic.twitter.com/1SGsZZQaoe

— Dailyaz (@dailyaz1) May 1, 2021
Франција: Судири со полицијата, фрлање камења и корпи за отпадоци, уапсени 17 лица
Илјадници луѓе се приклучија на традиционалните протести на 1-ви Мај низ цела Франција, и покрај анти-ковид ограничувањата. Побараа социјална и економска правда и изразија незадоволство за плановите на владата за промена на надоместоците за невработеност.
Околу 300 протести по повод 1 Мај, Меѓународниот ден на трудот, беа организирани во Париз и во други градови, вклучувајќи ги Лион, Нант, Лил и Тулуз, јави Ројтерс.
🚨🇫🇷 | NEW: Police officer attacked at the labour day protest in France today

📹 @ConflitsFrance pic.twitter.com/dIFPmBfXxd

— Politics For All (@PoliticsForAlI) May 1, 2021
Во главниот град на Франција, на синдикалците им се придружија и членовите на движењето "Жолти елеци", кое започна бран антивладини протести пред три години, и работници од сектори кои беа силно погодени од ограничувањата како што е културата.
Повеќето од демонстрациите беа мирни, иако полицијата во Лион растера група од околу 200 лица кои фрлаа со пиротехнички средства.
Hundreds of protesters in Paris marched in opposition to authoritarianism and the far-right, decrying the rise of Islamophobia in France and increased police powers to carry out surveillance against political and religious minorities in the country.https://t.co/FTs0tAeHsh pic.twitter.com/HUeNcQeUb4

— Protests.media (@ProtestsMedia) April 29, 2021
17 лица беа уапсени во Париз, а 5.000 полицајци беа распоредени на улиците.
Неколку демонстранти со качулка се судрија со полицијата и фрлија камења и корпи за отпадоци.
Полицијата соопшти дека ги спречила анархистите на "Црниот блок" да формираат група.
Paris, France: Happening Now — Riots during 1st May protest. Thousands of police and demonstrators have squared off on the streets of Paris amid huge MayDay protests in the French capital.

🔵 WATCH LIVE on YouTube pic.twitter.com/F2p354l0Zf

— Mr. Wolf (@mole_cola) May 1, 2021
Arrests in Paris as thousands join May Day protests across France – Reuters https://t.co/WdsYa6jqNo pic.twitter.com/fMs936HGAI

— Noah Ross (@drnoahross) May 1, 2021
France chaos as protests erupt across nation – police charge crowds and launch tear gas https://t.co/V2o2G0khbn pic.twitter.com/pf5QdOMeBi

— Daily Express (@Daily_Express) May 1, 2021
Лидерите на опозицијата присуствуваа на протестите.
Протести во Германија, Шпанија и Филипините
Демонстрантите се собраа и во Германија. Германската полиција интервенираше во Берлин за време на демонстрациите против владините мерки на Меѓународниот ден на работниците.
#COVID sceptics rally in #Berlin on May Day, counter-protests expected

LIVE: https://t.co/hXjYIhvfUK#coronavirus #Querdenken #Germany pic.twitter.com/nbtFYmKx8C

— Ruptly (@Ruptly) May 1, 2021
Шпанскиот вицепремиер Кармен Калво маршираше во Мадрид со членови на Шпанската социјалистичка работничка партија.
LOOK: People march during a protest to mark the International #LaborDay in Madrid, Spain on Saturday, May 1.

📸 Sergio Perez/Reutershttps://t.co/zcta6yYg5U pic.twitter.com/YkFV1sk8pj

— Rappler (@rapplerdotcom) May 1, 2021
Во филипинската престолнина Манила, каде едномесечното заклучување на коронавирусот беше продолжено за две недели, поради избувнувањето на заразата, интервенираше и полицијата, спречувајќи стотици работници да демонстрираат на јавниот плоштад, рече водачот на протестот, пренесува АП.
Демонстрантите накратко се собраа на фреквентниот булевар во Манила, барајќи финансиска помош за пандемијата, субвенции за плати и вакцини против ковид-19.
©Makfax.com.mk Доколку преземете содржина од оваа страница, во целост сте се согласиле со нејзините Услови за користење.

Унгарија усвои закон за забрана на содржини за деца во кои се спомнува ЛГБТ-заедницата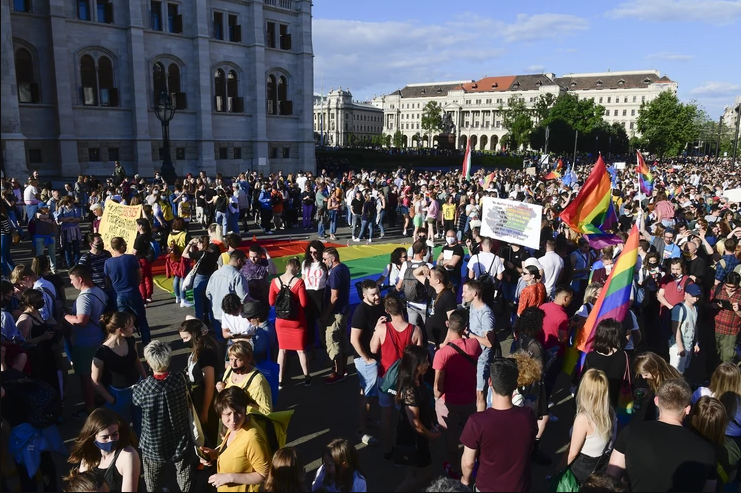 Унгарските пратеници усвоија предлог-закон со кој се забранува каква било содржина за малолетници ако таа укажува или промовира хомосексуалност кај млади под 18 години.
Предлог-законот беше усвоен со 157 гласа "за" и еден "против".
Владејачката партија Фидеш има парламентарно мнозинство, а пратениците од екстремно десничарската партија Јобик исто така ја поддржаа регулативата.
Сите други опозициски партии ја бојкотираа седницата во знак на протест против дискриминацијата на ЛГБТ-популацијата.
Активистите на ЛГБТ-движењето во Унгарија и меѓународните организации остро го критикуваа нацрт-законот и го споредуваат со законот во Русија од 2013 година, со кој се забранува геј-пропаганда.
Критичарите исто така истакнуваат дека серии, како "Пријатели", и филмови, како "Бриџит Џонс", "Хари Потер" и "Били Елиот", кои зборуваат за хомосексуалноста, може да бидат забранети за малолетни лица.
Илјадници луѓе организирани од невладините организации излегоа на улиците во Будимпешта во понеделникот вечерта во знак на протест против, како што посочија, континуираната пропаганда на владата против ЛГБТ-заедницата.