(Видео) Приврзаниците на Трамп ги пробија полициските барикади и влегоа во зградата на Конгресот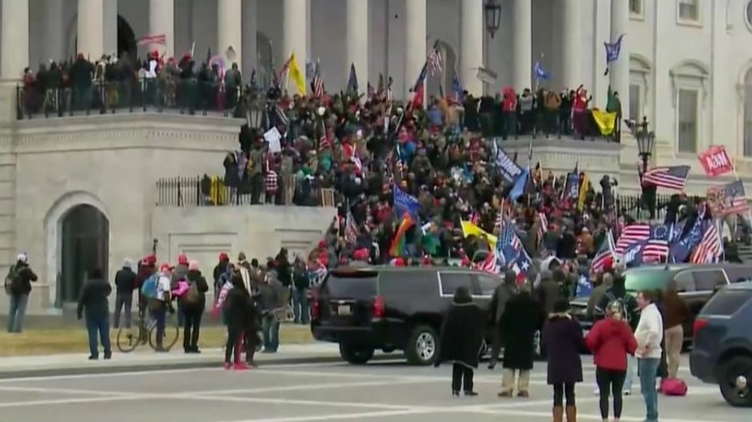 Во Конгресот на САД денеска започна седницата на која треба да се потврди Џо Бајден за претседател, последниот чин пред неговата инаугурација на 20 јануари.
Но, илјадници приврзаници на актуелниот американскиот претседател Доналд Трамп, кој денеска пред своите симпатизери изјави дека никогаш нема да го признае поразот, се собраа во Вашингтон и започна жесток протест.
BREAKING: Trump supporters have breached the Capitol building, tearing down 4 layers of security fencing and are attempting to occupy the building — fighting federal police who are overrun

This is the craziest thing I've ever seen in my life. Thousands, police can't stop them pic.twitter.com/VVdTUwV5YN

— ELIJAH SCHAFFER (@ElijahSchaffer) January 6, 2021
Ситуацијата на Капитол Хил ескалираше. Заедничката седница на двата дома на Конгресот беше прекината откако демонстрантите упаднаа во зградата на Конгресот.
Pro-Trump protesters have breached the police lines around the East Front of the Capitol and are now crowded on the steps outside. pic.twitter.com/mjG2AKedCf

— Steven Portnoy (@stevenportnoy) January 6, 2021
На снимки се гледа како демонстрантите ја пробиваат привремената бариера поставена пред денешните настани.
"Фокс њуз" објави дека се евакуирани двете згради на Конгресот поради извештаи за бомби. Забележани се и неколку сомнителни пакети.
Трамп кој според резултатите е губитник на изборите, денеска им се обрати на демонстрантите во парк во близина на Белата куќа, која Бајден треба да ја преземе за две недели, истакнувајќи дека никогаш нема да го признае поразот.
"Никогаш нема да се предадеме. Никогаш нема да признаеме пораз", рече Трамп на митингот на неговите приврзаници пред Белата куќа.
"Ние победивме на тие избори и тоа убедливо", нагласи тој.
Неговиот син Ерик ја загреа толпата, веејќи знамиња.
"Дали има некој што навистина мисли дека Џо Бајден победи на изборите?", прашуваше Ерик, а демонстрантите извикуваа: "Не!"
Сите држави потврдија дека демократот Бајден е победник на изборите со 306 избирачки гласови, а обидите на Трамп да ја оспори неговата победа пред судовите низ целата земја пропаднаа. Бајден исто така доби седум милиони гласови повеќе, но Трамп одбива да ги признае резултатите од изборите за кои упорно тврди дека се наместени.
По немирите кои избувнаа, вработен во Си-ен-ен се обидел да ја напушти зградата, каде во моментов се одржува седница на Конгресот за да се потврди победата на Џо Бајден на претседателските, но не можел бидејќи полицијата соопштила дека зградата е под"блокада".
Доналд Трамп се огласи на "Твитер", но не го осуди хаосот создаден од неговите приврзаници. Тој сепак ги замоли да останат смирени.
"Ве молам, поддржете ја нашата полиција во Капитол и нашите сили за спроведување на законот. Тие се навистина на страната на нашата земја. Останете смирени", напиша Трамп.
Последните информации се дека потпретседателот на САД, Мајк Пенс, кој претходно одби да го поддржи Трамп во неговите тврдења, е префрлен на тајна локација поради безбедносни прични.
©Makfax.com.mk Доколку преземете содржина од оваа страница, во целост сте се согласиле со нејзините Услови за користење.

Путин: Може да се соочиме со борба сите против сите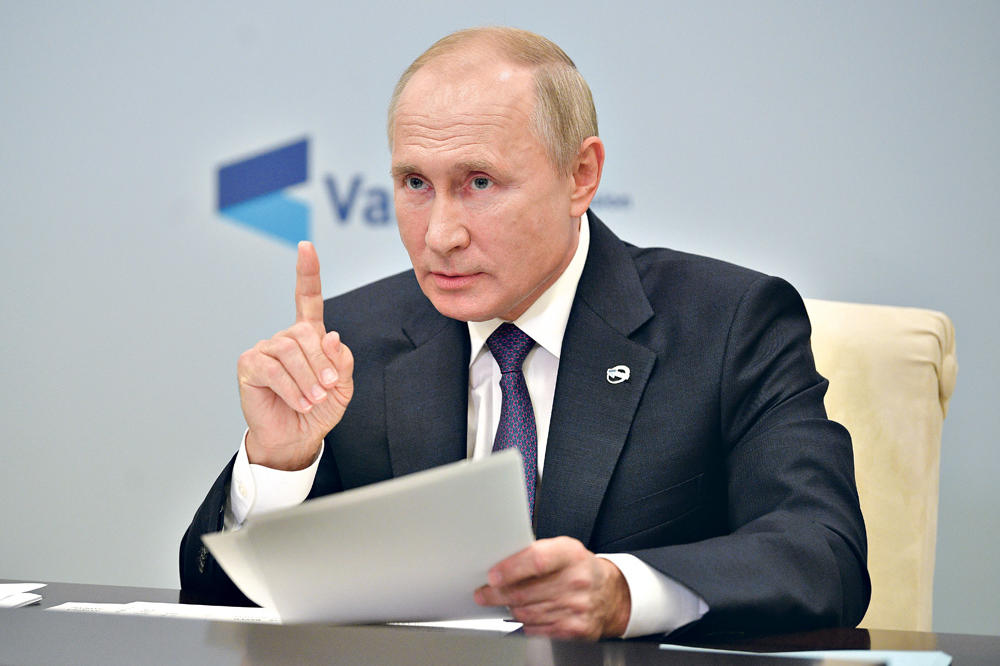 Постои можност да се соочиме со колапс на светскиот развој и борба на сите против сите, изјави рускиот претседател Владимир Путин на Меѓународниот економски форум во Давос.
"Ситуацијата може да се развие непредвидливо и неконтролирано, доколку, се разбира, ништо не се стори за да се спречи тоа да се случи. Покрај тоа, постои можност да се соочиме со вистински колапс во развојот на светот што може да доведе до тоа секој да се бори против секого", рече руски лидер.
Според него, глобалниот безбедносен систем во моментот се деградира – регионалните конфликти се размножуваат во светот, а меѓународните институции слабеат.
"Како што е познато, неможноста и неподготвеноста суштински да се решат ваквите проблеми во 20 век резултираа со катастрофа во Втората светска војна", додаде Путин.
Сепак, претседателот се надева дека конфликт како Втората светска војна не е можен во сегашните услови.
"Се разбира, сега таков глобален конфликт, се надевам, во суштина не е можен. Навистина се надевам дека е така. Тоа би значело крај на цивилизацијата", прецизира Путин.
Тој исто така рече дека се зголемува степенот на агресивна реторика во надворешната политика на одредени земји.
" Може да се очекува дека природата на практичните активности ќе стане поагресивна", изјави рускиот претседател.