(Видео) Три лица загинаа, десетици се повредени во големиот пожар кај Анталија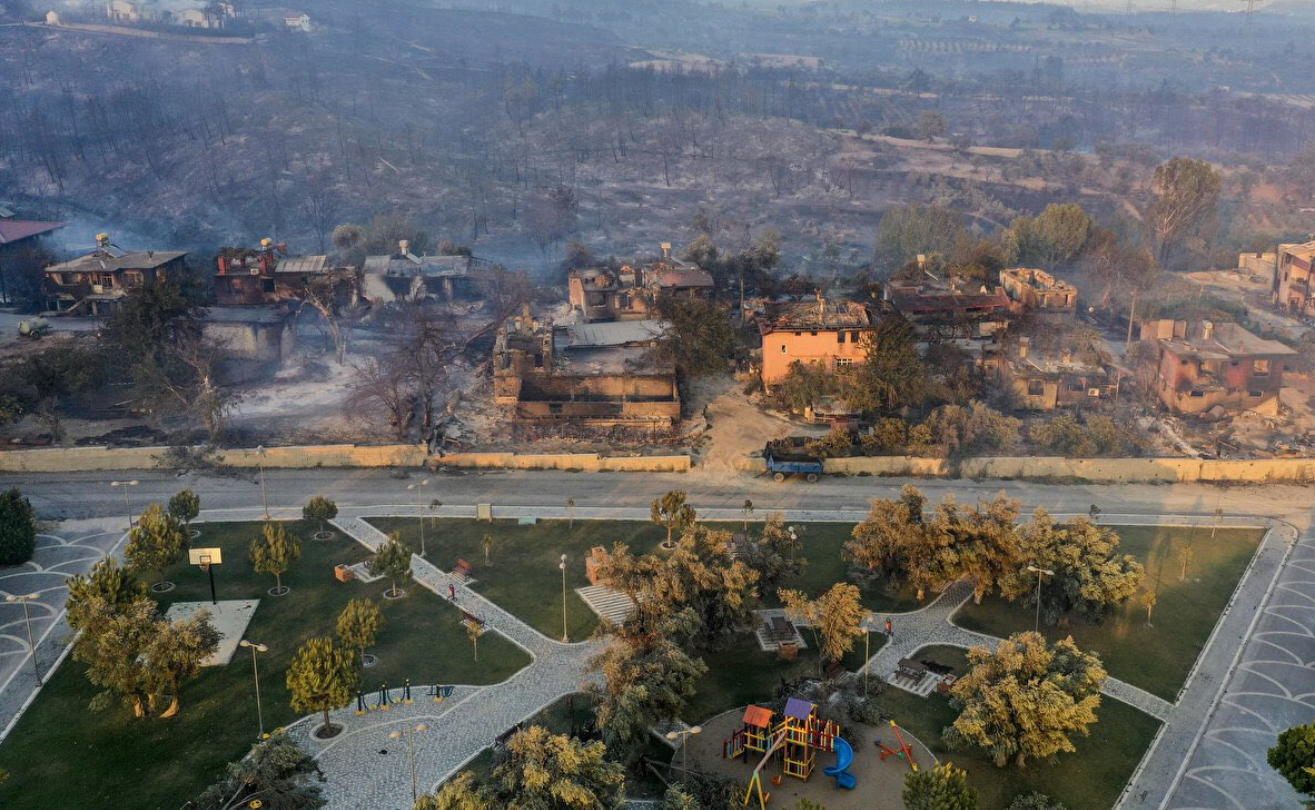 Три лица загинаа, а повеќе десетици се во болница во шумскиот пожар што се прошири во одморалиштето Манагвата, во близина на Анталија, на југот на Турција.
Евакуирани се 20 градски области и соседните села, 112 лица се повредени, од кои 58 се хоспитализирани, главно поради труење со чад.
Osmaniye, Adana, Mersin, Muğla, Antalya ve Kayseri GEÇMİŞ OLSUN!

İÇİMİZ YANIYOR 🔥 #yangın pic.twitter.com/asN7fK2Ew1

— AK Parti Erdemli Kadın Kolları (@akparti_erdemli) July 29, 2021
Министерот за земјоделство и шумарство, Бекир Пакдемирли, рече дека пожарот што избувна вчера е ставен под контрола и дека денеска не се загрозени имоти и луѓе.
Српската пејачка Јелена Карлеуша е една од туристите што се најдоа во Турција за време на оваа голема катастрофа. Таа објави видео од брод со кој се евакураиле гостите од хотелот над кој се гледаат пламени јазици.
View this post on Instagram
Еден противпожарен авион, 19 хеликоптери, околу 250 возила и 960 лица биле дел од гаснењето на пожарот. Властите евакуираа 18 села во одморалиштето Анталија, а уште 16 села беа евакуирани во соседните провинции Адана и Мерсин.
Телевизиските снимки во Турција пренесуваат слики од опожарени станбени згради и луѓе што бегаат од полињата додека пожарникарите се борат со огнот.
WATCH: Massive forest fires destroyed at least one village in southern Turkey and forced four other neighbourhoods to evacuate, as residents banded together to try and save their properties and belongings. pic.twitter.com/1vCRzB0pyX

— Middle East Eye (@MiddleEastEye) July 29, 2021
Официјалните лица изјавија дека пожарите биле најголеми досега. Пакдемирли рече дека од вторникот се пријавени 41 пожар во 13 од 81 покраина во Турција, од кои 31 се ставени под контрола.
At least three people were killed and hundreds have been evacuated as a forest fire rages through southern Turkey. pic.twitter.com/uY8dRRdhBa

— DW News (@dwnews) July 29, 2021
Турција се бори со серија катастрофи предизвикани од екстремните временски услови ова лето вклучувајќи ги и поплавите минатиот викенд, во кои загинаа шест лица.
©Makfax.com.mk Доколку преземете содржина од оваа страница, во целост сте се согласиле со нејзините Услови за користење.

Koронавирусот до пролет ќе биде како настинка во Велика Британија, велат некои експерти
Генетичарот и имунолог Џон Бел од Универзитетот "Оксфорд" рече дека до пролетта в година коронавирусот може да изгледа како настинка бидејќи нашиот имунитет станува посилен поради вакцините и изложеноста на вирусот.
Тој додаде дека најлошото е зад Велика Британија и работите треба да бидат во ред кога ќе помине зимата.
Слична изјава даде извршниот директор на компанијата "Модерена", Стефан Бансел, кој во понеделникот рече дека пандемијата на коронавирусот може да заврши за една година, со оглед на тоа што зголеменото производство на вакцини обезбедува глобални резерви.
"Ако го видиме проширувањето на производствениот капацитет во индустријата во текот на последните шест месеци, до средината на следната година треба да има доволно дози за да може да се вакцинираат сите на овој свет. Засилувачите исто така би требало да бидат овозможени до потребниот степен", им рече тој на новинарите.
"Оние што не се вакцинираат, ќе бидат имунизирани природно бидејќи варијантата на делта е доста заразна. На тој начин ќе дојдеме во ситуација слична на грипот. Можете или да се вакцинирате и добро да ја поминете зимата или, пак, да не го направите тоа и ризикувате да се разболите, а можеби дури и да завршите во болница", додаде тој.
На прашањето дали тоа значи дека се враќаме во нормалното во втората половина на следната година, тој рече дека тоа може да се случи за една година.
Научникот Сара Гилберт, која работеше на развојот на вакцината на "Астра зенека", исто така рече дека вирусите стануваат послаби. Џон Бел ја коментира нејзината изјава и рече дека "сега ни е многу подобро отколку пред шест месеци".
"Притисокот врз британскиот здравствен систем е значително намален. Ако ги видите смртните случаи предизвикани од Ковид-19, обично се постарите лица и не е целосно јасно дали Ковид-19 е причината за тие смртни случаи", рече Бел.
"Мислам дека сега го поминавме најлошото. Мислам дека одиме кон позицијата што ја опишува Сара и веројатно ќе стигнеме таму следната пролет. Мора да ја поминеме зимата, но мислам дека ќе биде добро тогаш", додаде тој.