(Видео) Хаос на протест во САД – се судрија десничарски и левичарски групи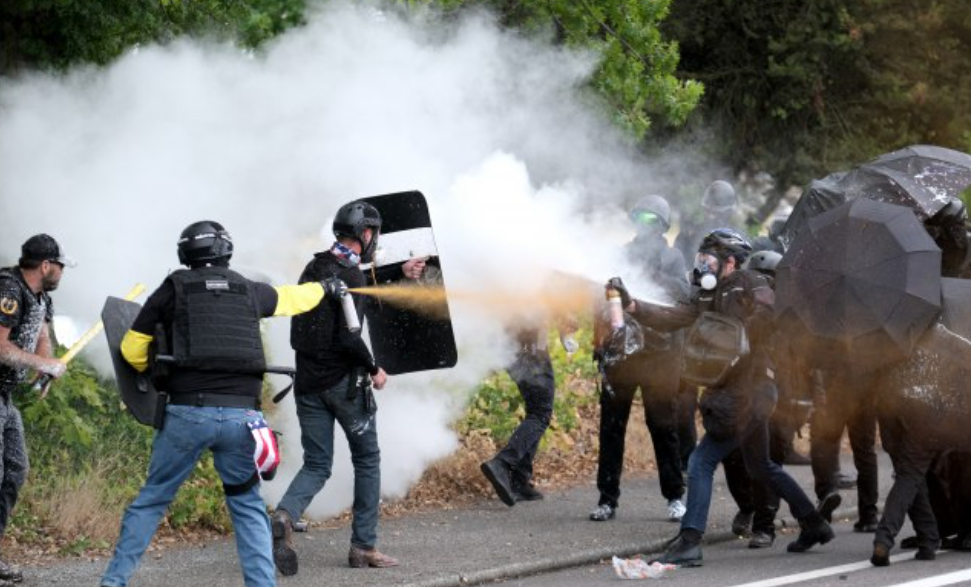 Протестите на десничарските и левичарските групи во американскиот град Портланд во неделата станаа насилни.
Двете страни се судрија, а еден маж беше уапсен за пукање кон демонстрантите.
Никој не е повреден при размената на оган.
I guess the Federals will have to step in since the police is not responding to actual assaults committed by the Proud Boys. Police departments in Portland will have to be disbanded and police trained properly and imported into Portland is how I see it. Yeah, it can happen. https://t.co/rnbFvrja36

— 𝕋𝕒ℕ𝕒𝕖'𝚜 𝚜𝚙𝚊𝚛𝚎 𝚝𝚒𝚖𝚎 (@NotYourDarling2) August 23, 2021
Демонстрантите кршеа прозорци на автомобили.
I am so sick of people in power making excuses for this, saying "they have a right to FrEee sPeAch!" Sorry, organized street violence is not constitutionally protected activity. This is organized crime. It's shameful that the city of Portland and state of Oregon is allowing this. https://t.co/1fSkj3VUl6

— "Habitable Earth Enthusiast" Doyle Canning (@Canning4Oregon) August 23, 2021
Шефот на полицијата, Чак Ловел, на прес -конференција рече дека полицајците не мора итно да интервенираат за да го прекинат судирот помеѓу групите, но истакна дека "само затоа што не се уапсени на лице место, не значи дека луѓето нема да бидат обвинети за кривични дела", пренесе агенцијата "АП".
Портланд стана "магнет" за судири меѓу политичките екстремисти од минатата година.
Вчерашните протести се одржаа по повод годишнината од насилниот конфликт помеѓу десничарските и левичарските групи во центарот на Портланд, како дел од серијата улични демонстрации по убиството на Џорџ Флојд на 25 мај минатата година од Минеаполис од страна на полицаец.
Тие судири резултираа со убиство на десничарскиот демонстрант, 39-годишниот Арон Даниелсон, на 29 август минатата година.
©Makfax.com.mk Доколку преземете содржина од оваа страница, во целост сте се согласиле со нејзините Услови за користење.

Во Вашингтон протест и контрапротест во врска со насилниот упад во Конгресот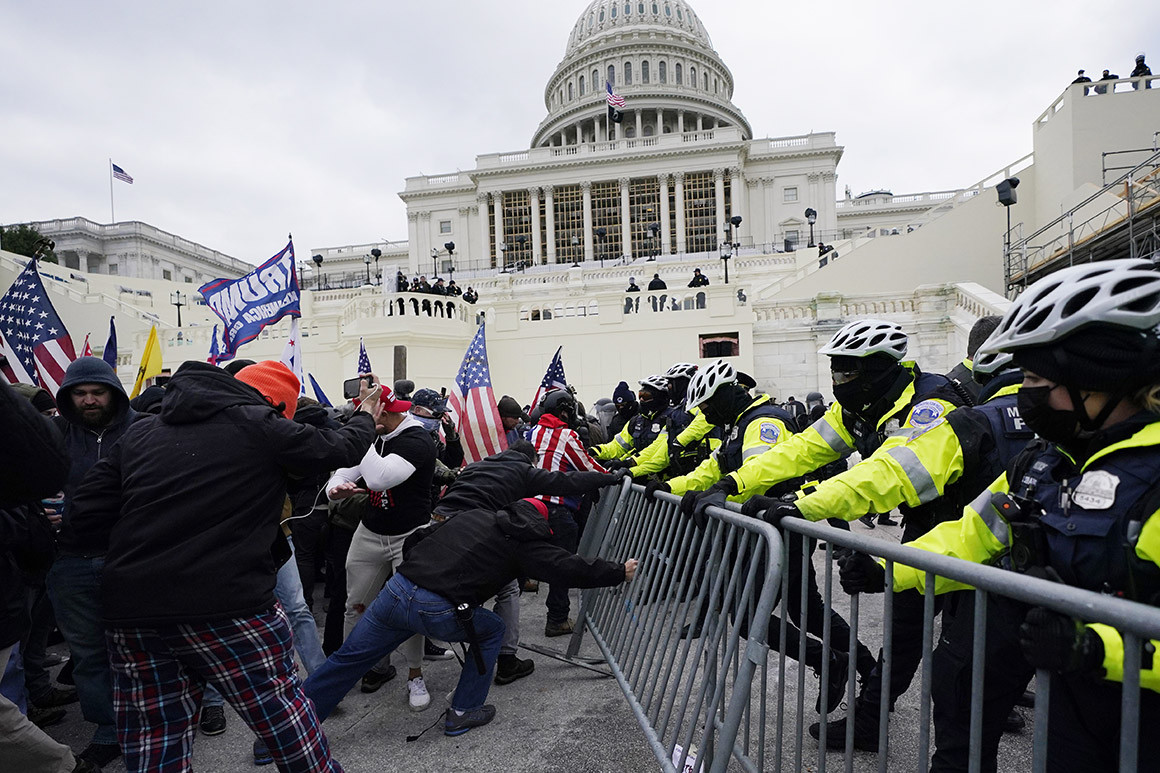 Вашингтон денеска е во состојба на готовност, пред собирот на поддржувачите на поранешниот претседател Доналд Трамп, кои ќе излезат на улица за да ги поддржат демонстрантите кои упаднаа во Капитол на 6 јануари.
Црната ограда, која беше поставена околу комплексот шест месеци по смртоносните настани во срцето на aмериканската демократија, беше вратена на тоа место, заедно со надзорни камери, непосредно пред собирот "Правда за Ј6" (6 јануари) што ќе се одржи в петок во 18 часот по локално време.
Службеници од агенциите за внатрешна безбедност предупредија на можно насилство, се вели во разузнавачкиот извештај објавен од американските медиуми.
Во близина на протестот за поддршка на Трамп ќе се одржи контрасобир, пренесува "Франс прес".
"Свесни сме за малиот број неодамнешни закани преку интернет за можно насилство, а поврзани со планираниот собир, вклучително и за дискусии ден пред протестите кои поттикнуваат насилството", се наведува во документот на Министерството за внатрешна безбедност, кој го пренесе Си-ен-ен.
Американските власти очекуваат околу 700 демонстранти. Во времето на собирот нема да има членови на таа институција во Конгресот, кои главно уште се на летни одмори и нема да се вратат до следната недела.
Организаторот Look Ahead America (Гледај напред, Америко) планира слични настани низ САД во наредните недели, а организацијата вели дека нејзината цел е да ги поддржи луѓето на кои им се суди за ненасилни прекршоци.
Демонстрантите се повикуваат да ги почитуваат безбедносните сили и да се воздржат од носење обележја поврзани со Трамп.
Илјадници поддржувачи на поранешниот претседател од Републиканската партија, многумина од нив поврзани со екстремната десница и расистички групи, упаднаа во Конгресот пред осум месеци, бидејќи институцијата ја потврди победата на Џо Бајден на претседателските избори, кои Трамп ги оспори.
"Нашите срца и умови се со оние што се неправедно гонети за протестите на 6 јануари, поврзани со наместените претседателски избори", рече Трамп во четвртокот.
За настаните беше покренато обвинение против 600 лица, а десетици се изјаснија за виновни.
Повеќето од нив се соочуваат со помали, прекршочни казни, но на некои им се закануваат и подолги затворски казни, пишува "Франс прес".