(Видео) Хеликоптер со невестата се урна на свадба во Бразил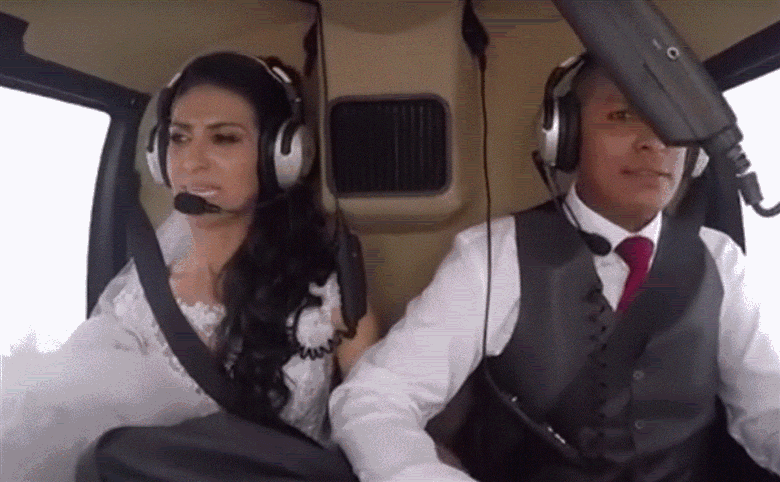 Хеликоптерот во кој се наоѓаше невестата неодамна се урна во Бразил, објави РТ.
Helicopter crashes during a wedding ceremony with the bride on board in #Brazil. One of the chopper's rotor blades clips a nearby tower, causing it to plunge. Fortunately, everyone was able to escape before the helicopter caught fire. pic.twitter.com/Gd8JVBSJ9T

— RT (@RT_com) May 16, 2019
Несреќата се случи за време на свадбената церемонија,  кога пропелерот на хеликоптерот удри во блиската кула.
За среќа, сите успеаја да избегаат пред да се запали хеликоптерот така што немаше повредени.
©Makfax.com.mk Доколку преземете содржина од оваа страница, во целост сте се согласиле со нејзините Услови за користење.

Муслиманска толпа запалила човек кој случајно згазнал на Куран во Бангладеш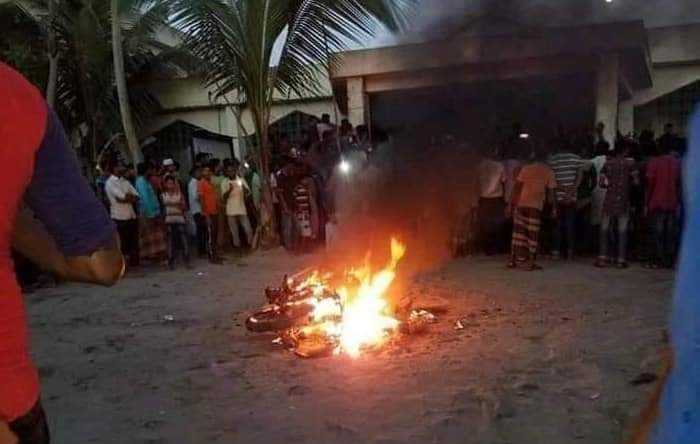 Маж е линчуван од бесна толпа во северен Бангладеш откако е обвинет за богохулење додека бил во локална џамија, пренесува РТ. Жртвата била приведена, но толпата го извлекла човекот надвор, го претепала и запалила. Ужасниот инцидент се случил вчера во градот Буримари во северната област Лалмонирхат.
Нападнатиот, идентификуван како 50-годишен Шахидунаби Џевел, заедно со својот пријател биле во џамијата во Буримари на молитва. За Џевел се вели дека страдал од неутврдена ментална болест. Двајцата некако влегле во спор со другите верници и тврделе дека во џамијата се кријат терористи на Џамат-ул-муџахедин, објавија локалните медиуми.
"Еден од мажите влезе во џамијата… Ја пребаруваше полицата за книги во молитвената сала, тврдејќи дека зад Куранот и Хадисот е скриено огнено оружје. Во еден момент, пет-шест верници, кои беа надвор од џамијата, влегоа и го одвлечкаа човекот кон скалите надвор пред да почнат да го тепаат. Другиот човек чекаше пред салата ", изјави за "Дака трибјун", член на локалниот совет, Зубед Али.
Според некои извештаи во медиумите, Џевел случајно стапнал на Куранот при претресот, кога се обидувал да стигне до горните полици на библиотеката, што предизвикало негодување кај верниците. Двоецот бил приведен од властите непосредно по расправијата и задржан во зградата на локалниот совет.
A Mentally Imbalanced man named Shahudunnabi Juwel has been beaten to death and burnt in the middle of the street at Lalmonirhat for allegedly hurting the sentiment of islam and quran.

Pic: See the islami#t mob around the burning dead body! pic.twitter.com/fyW2B8T8As

— Bangladesh Hindu Jagran Mancha 🇧🇩 (@manchaofHindu) October 29, 2020
Како што се проширила веста за инцидентот, голема толпа од речиси илјада луѓе се собрала пред зградата. Тие на крајот провалиле и грабнале еден од мажите. Жртвата била брутално претепана на улица и запалена.
Екстремно експлицитната снимка која кружи на Интернет го покажува запаленото тело на Џевел и толпата како навива во позадина. Бесните верници го запалиле и моторциклот што го користел починатиот.
Линчувањето преминало во немири. Толпата ја вандализирала локалната канцеларија на Народната банка и ја запалила зградата на Советот, објавија локалните медиуми. По инцидентот, дополнителни полициски, па дури и антитерористички баталјони за брза акција (РАБ) биле распоредени во областа за да ги смират немирите.
Bangladesh today (Thursday) . A man was beaten to death by hundreds of fanatics. The rumor was that the man's foot accidently touched the Quran in a mosque. First they killed, then they burnt the dead body. https://t.co/uf7EwHRawA

— taslima nasreen (@taslimanasreen) October 29, 2020
Властите во моментов се обидуваат да ги идентификуваат лицата вклучени во линчот и подготвуваат повеќе кривични случаи за убиство, палење и напади врз полицијата.
Богохулењето се смета за исклучително сериозен прекршок од многу муслимани. Во Бангладеш, претежно муслиманска земја, обвинувањата за богохулење постојано доведуваат до линч и масовни немири. Во октомври минатата година, на пример, серија пораки на Фејсбук кои, наводно, го оцрниле пророкот Мухамед, предизвикаа насилни масовни протести низ целата земја, при што загинаа најмалку четири лица и десетици беа повредени.