Во амазонската прашума во Бразил регистрирани најголем број пожари во последните 13 години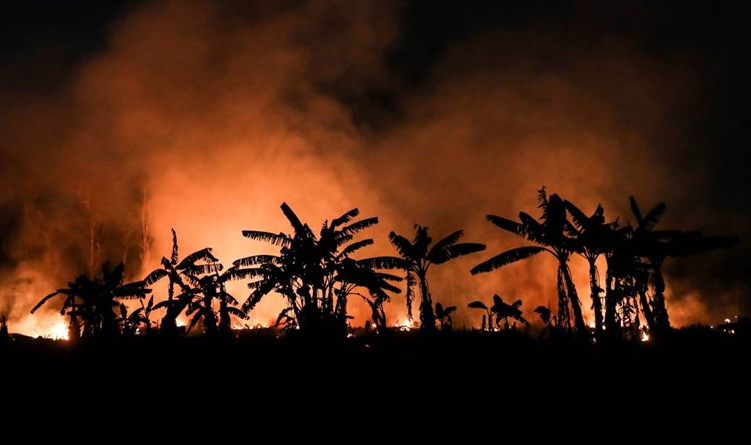 Бразилскиот национален институт за вселенски истражувања (ИНПЕ) во мај регистрираше повеќе од 2.200 пожари за време на прегледот на сателитските снимки од регионот на амазонската прашума.
Според институтот, ова е речиси за 20 проценти повеќе отколку во истиот период минатата година и претставува најголем број пожари забележани од 2007 година.
Повеќе од 2.000 квадратни километри шума се уништени меѓу јануари и мај годинава, покажуваат истражувањата.
Со почетокот на сушната сезона во Амазонија, експертите за животна средина и активисти редовно го огласуваат алармот. Се верува дека годинава, поради пандемијата на коронавирус, надлежните не го следеле овој проблем детално.
Критичарите исто така ја обвинуваат владата на бразилскиот претседател Жир Болсонаро дека дава поддршка за уништувањето на шумите и тактиката за сечење и палење на дрвјата. Болсонаро, десничарски популист, ја поддржува идејата за економска експлоатација на Амазонија, односно ги оправдува земјоделците кои ја сечат шумата со цел зголемување на обработливите површини.
Минатата година тој беше жестоко критикуван за уништувачките пожари во регионот на Амазонија.
©Makfax.com.mk Доколку преземете содржина од оваа страница, во целост сте се согласиле со нејзините Услови за користење.

(Видео) Трамп го одржа својот последен говор како претседател: Ќе се вратиме во некоја форма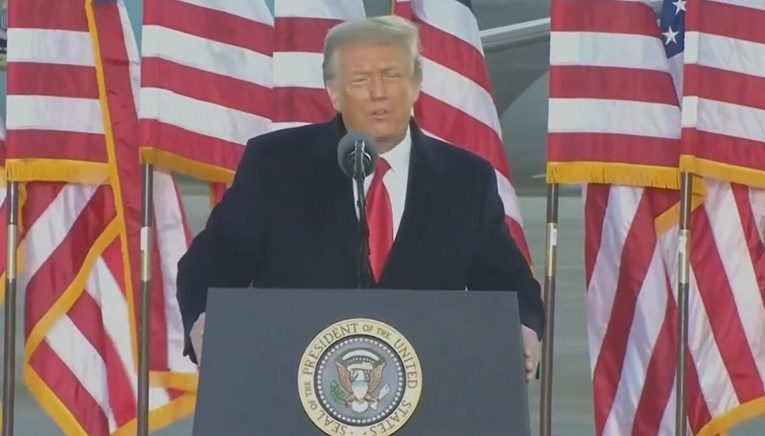 Трамп последен пат ѝ се обрати на јавноста во својство на претседател на САД во воздухопловната база "Ендрус", каде што се прости од нацијата со проштален говор, но таму не го дочека ниту еден од угледните функционери.
Трамп зборуваше пред неколку приврзаници, како што објавија американските медиуми. Тој ги пофали своите достигнувања, не го спомна Џо Бајден, но исто така се воздржа од оспорување на изборните резултати.
LIVE – Trump arrives at Joint Base Andrews and is escorted to stage for a 21-gun-salute https://t.co/IDl2iqjfvc

— PresserWatch (@PresserWatch) January 20, 2021
Таму не беше ни потпретседателот Мајк Пенс, кој се извини поради обврските да замине на инаугурацијата на Бајден, ниту лидерите на републиканците во долниот и горниот Конгрес на САД, Мич Меконел и Кевин Мекарти, кои беа во катедралата на мисата по покана на идниот американски претседател Бајден.
Поканите за испраќање на Трамп беа доставени до неговите поранешни соработници, кои беа со него за време на мандатот, вклучително и оние што го критикуваа, но некои одговорија порачувајќи дека нема да одат затоа што ќе треба да бидат во воздухопловната база до шест наутро или затоа што сметаат дека претседателот во заминување е "политички токсична стока".
"Да не нè погодеше пандемијава, ќе имавме економски бројки како никогаш порано. Берзата е на повисоки нивоа отколку порано. Економијата ја изградивме двапати. Ќе видите неверојатни бројки во иднина", рече тој.
"Ние ги имаме најголемата земја и најдобрата економија во светот. Пандемијата нè погоди силно, исто како и целиот свет. Направивме нешто што се смета за медицинско чудо, а тоа е вакцината против Ковид-19. Ние ја развивме за 9 месеци наместо за пет години. Наскоро доаѓа друга вакцина", рече Трамп.
"Збогум, ве сакаме, ќе се вратиме во некоја форма. Им благодарам на Мајк Пенс и на неговата сопруга Карен. Му благодарам на Конгресот или барем на некои елементи на Конгресот. Благодарност до сите големи луѓе во Вашингтон со кои работевме. Имајте добар живот и ќе се видиме набргу", заклучи тој.