Во Охајо повикана полиција поради статуата "Бездомникот Исус" веднаш по инсталацијата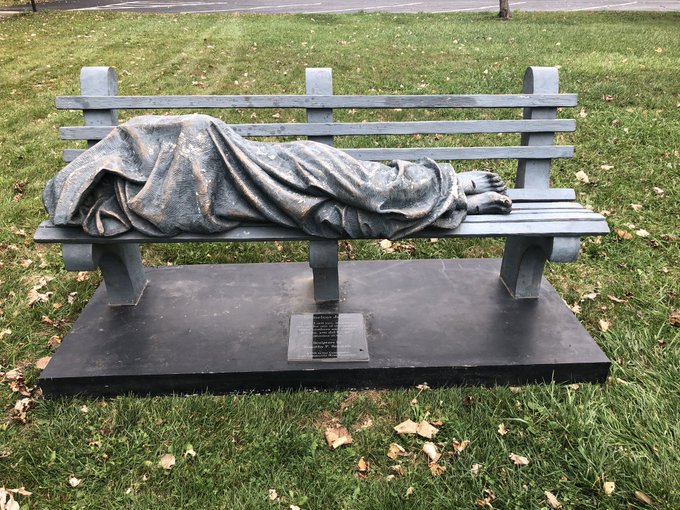 Статуата што го прикажува бездомникот Исус како лежи на клупа, поставена пред една црква во Охајо, предизвика полициска реакција дента кога беше поставена откако некој помислил дека станува збор за вистинска личност, пренесува "Њујорк пост".
Статуата е поставена на теренот на епископалната црква "Свети Барнабас" во Беј Вилиџ во понеделникот, објави црквата на "Твитер". Дваесет минути подоцна биле повикани полицајци, посочива пасторот на црквата, Алекс Мартин.
"Имав разговор со многу љубезен полицаец затоа што некој се јави да пријави бездомник што спие на клупа во парк. Во рок од дваесет минути…", твитна Мартин.
We're glad to temporarily host this statue of Homeless Jesus to raise awareness of homelessness in Cleveland and remind us that all people are created in the image of God. pic.twitter.com/EKClQm7PFG

— St. Barnabas, Bay Village (@StBarnabasBV) October 12, 2020
Скулптурата, дизајнирана од Тимоти Шмалц, беше поставена во разни цркви и верски организации во областа од октомври 2018 година, објави "Кливленд син". "Свети Варнава" ќе биде домаќин на статуата до 1 декември, се вели во извештајот.
Пасторот Мартин го објасни значењето на статуата.
"Можеби статуата ќе ги инспирира оние што ја гледаат да преземат нешто и да помогнат… Гледањето во Исус опишан на овој начин нè потсетува дека Исус се идентификувал со прогонетите и бил маргинализиран во своето време", напиша Мартин. "Поминал многу време со даночници и проститутки поради што бил презиран од учтивото општество".
©Makfax.com.mk Доколку преземете содржина од оваа страница, во целост сте се согласиле со нејзините Услови за користење.

Полскиот вицепремиер ги повика граѓаните да ги бранат црквите од демонстрантите кои се залагаат за абортус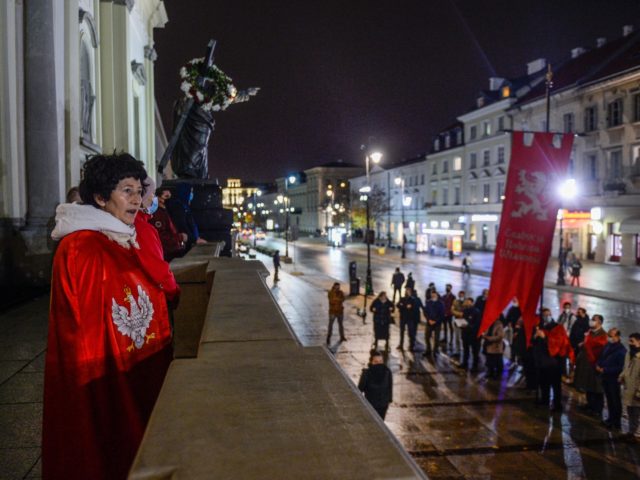 Полскиот вицепремиер задолжен за национална безбедност ги повика своите сонародници да ги "бранат црквите" од вандализам и од демонстрации за абортус.
Како што пренесе агенцијата "Франс прес", "католичките цркви станаа ново бојно поле во борбата за правата на абортусот во Полска" по одлуката на Високиот суд за заштита на неродените деца со попреченост, како што е Дауновиот синдром, од абортус.
Министерот за безбедност, Јарослав Качински, од владејачката партија во Полска, Закон и правда (ПиС), рече дека протестите против црквите, кои вклучуваат вандализам, малтретирање на католички свештеници и прекинати миси, се обид за уништување на Полска.
И папата Фрациско се осврна на прашањето во средата, охрабрувајќи ги Полјаците кои се против абортусот да стојат цврсто во одбраната на животот и спротивставувањето на абортусот. Папата повеќепати го осуди абортусот, споредувајќи го со ангажирање платен убиец да извади дете, а минатата недела рече дека сонува за иднина во Европа каде што абортусот повеќе не е легален.
Полскиот премиер Матеуш Моравјецки ги осуди протестите против црквите како варварство, а претседателот Анджеј Дуда ги нарече навреда за верските чувства.
Познањскиот архиепископ Станислав Гадецки, претседател на полската Бискупска конференција, рече дека Црквата не може да престане да го брани животот, ниту, пак, може да пропушти да нагласи дека секое човечко суштество мора да биде заштитено, од зачнувањето до природната смрт.
"Црквата по ова прашање, како што честопати вели папата Француско, не може да прави компромис затоа што ќе биде виновна за културата на отфрлање што е толку распространета денес, а секогаш ги погодува најсиромашните и најранливите", рече архиепископот, барајќи од верниците да се молат за неродените деца, за родителите што чекаат деца и за преобратување на оние кои користат насилство.
Минатата недела демонстрантите ги прекинаа католичките миси низ Полска во знак на протест против одлуката на судот. Во Познан, Варшава, Вроцлав, Краков и други градови демонстрантите упаднаа во црквите додека се одржуваа службите, соочувајќи се со свештениците со непристојност и чкртајќи по ѕидовите пароли и телефонски броеви на клиники што вршат абортус.
Понатамошни протести се очекуваат подоцна денеска, како и за време на викендот.