Во САД конечна распределба на избирачките гласови, Хилари Клинтон со критики за ваквиот систем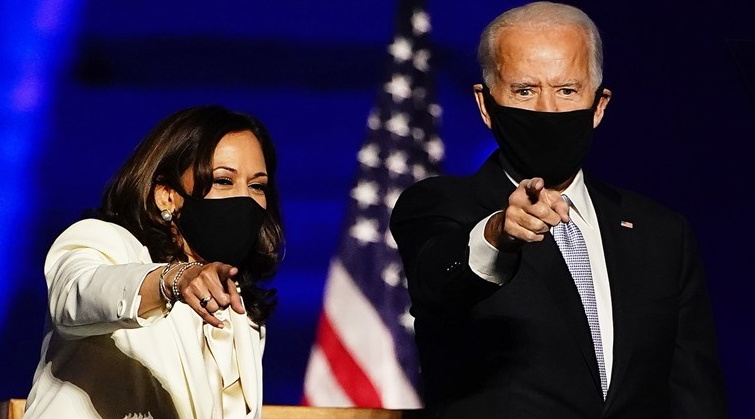 Гласовите на избирачите (електори) од сојузните американски држави треба да ја заверат победата на новоизбраниот претседател Џо Бајден. Преку овој процес денеска треба да минат сите 50 држави, со што би се ставило и крај на обидите на републиканецот Доналд Трамп да ги оспори резултатите од изборите одржани на 3 ноември.
Вермонт, малата американска сојузна држава на североистокот од земјата, денеска беше првата чии електори гласаа во формалната процедура преку која Избирачкиот колеџ ги потврдува резултатите од претседателските избори во САД, на кои победа извојува поранешниот американски потпретседател Бајден.
За Бајден, меѓу другите, веќе гласаа и електорите од државите Џорџија (која носи 16 избирачки гласа), Невада (6), Аризона (11), Пенсилванија (20), Висконсин (10) и Њујорк (29). Токму во таа држава два избирачки гласa дадоа поранешниот претседател Бил Клинтон и поранешната државна секретарка и негова сопруга, Хилари Клинтон, затоа што тие се наоѓаат меѓу 29-те електори со кои располага Њујорк.
Во салата одекнал аплауз кога било објавено дека сите 29 електори гласале за Бајден и сенаторката Камала Харис за потпретседателка, пренесува "Њујорк тајмс".
Гувернерот на Њујорк, демократот Ендрjу М. Куомо, исто така беше еден од електорите и претседаваше со Избирачкиот колеџ.
По гласањето, Хилари Клинтон на "Твитер" го објави својот став дека Избирачкиот колеџ треба да биде укинат и победникот на претседателските избори да биде прогласуван според бројот на собрани гласови од граѓаните.
На претседателските избори во 2016 година републиканецот Трамп ја победи Хилари врз основа на електорските гласови, иако таа вкупно доби повеќе гласови од граѓаните.
"Но, сè додека постои (тој систем) јас сум горда што го дадов својот глас во Њујорк за Џо Бајден и Камала Харис", напиша Клинтон.
Инаку, електорите се партиски лојалисти што републиканците и демократите ги избрале два месеца пред изборите, а во секоја сојузна држава има онолку електори колку што електорски гласови носи таа.
Електорите по закон не се обврзани да гласаат според волјата на мнозинството од гласачите во нивната сојузна држава, но бројот на такви бунтовници секогаш е мал, а некои држави сега воведоа и казни за таквите претставници.
Досега бројот на ваквите пребегнати електори никогаш не влијаел на исходот на претседателските избори.
Според резултатите од изборите на 3 ноември, Бајден освои 306 избирачки гласови, а Трамп 232.
©Makfax.com.mk Доколку преземете содржина од оваа страница, во целост сте се согласиле со нејзините Услови за користење.

"Твитер" ѝ забрани пристап до профилот на Кинеската амбасада во САД поради твитот за Ујгурите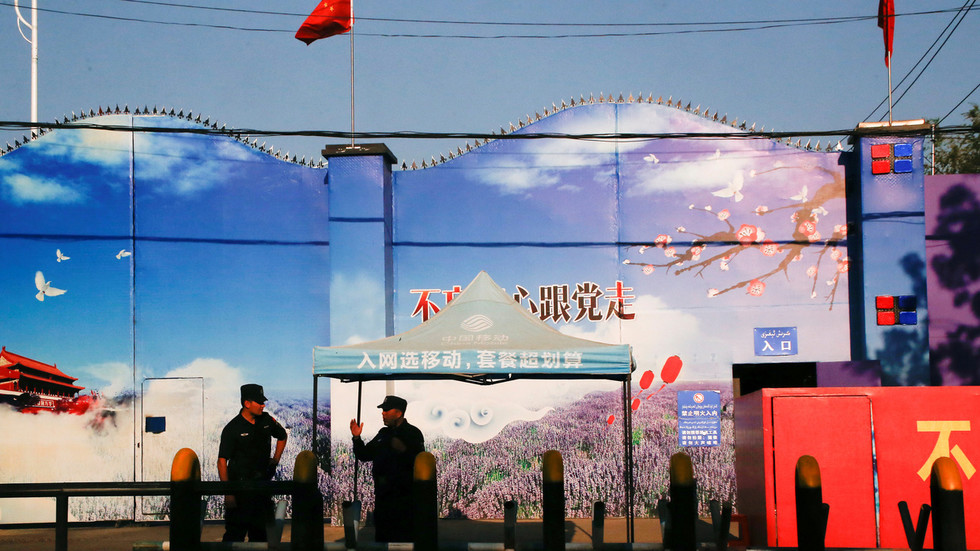 "Твитер" ѝ забрани пристап до профилот на Кинеската амбасада во САД поради наводна повреда на неговата политика против дехуманизација со твит во кој Кина ги брани своите активности во Сјинџијанг, пренесува РТ.
Ова се случува само неколку недели по суспендирањето на американскиот претседател Трамп од платформата. Платформата забранува "дехуманизација на група луѓе врз основа на нивната религија, каста, возраст, попреченост, сериозни болести, национално потекло, раса или етничка припадност".
Технолошкиот гигант го заклучи @ChineseEmbinUS, официјалниот профил на Кинеската амбасада, за наводно кршење на политиките против дехуманизација откако одбила да избрише твит за одбрана на политиките на владата во врска со Ујгурите муслимани во регионот Сјинџијанг. Портпарол на Твитер во средата потврди дека профилот е сè уште е заклучен.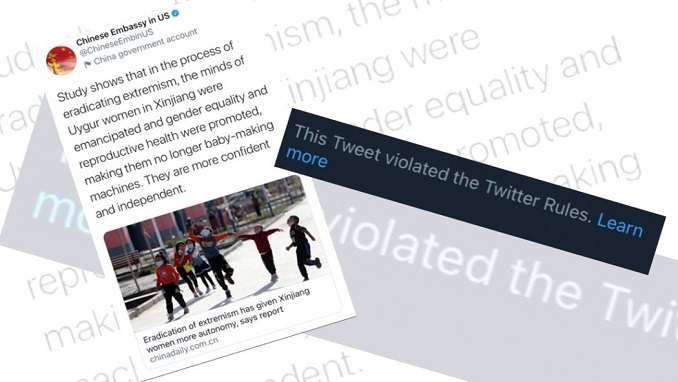 Твитот, во кој се вели дека 'жените Ујгури веќе не се машини за правење бебиња, благодарение на работата на кинеската влада за искоренување на екстремизмот во Сјинџијанг', и наместо тоа станале 'посамоуверени и независни', од 8 јануари беше скриен зад известувањето "овој твит веќе не е достапен".
Сепак, "Твитер" бара амбасадата рачно да го избрише твитот за да ѝ го отклучи профилот. Амбасадата твитна неколку пати по објавувањето на навредливиот пост, кој остана видлив најмалку 24 часа пред да биде цензуриран.
Кинеските медиуми претходно го критикуваа одговорот на "Твитер" на твитот како лицемерие зашто и други твитови, кои остануваат видливи, исто така ја бранат кинеската политика во однос на Ујгурите.
Една објава содржи графикон кој прикажува како се зголемува бројноста на малцинството повеќе од 25 отсто од 2010 до 2018 година, а друг ги објаснува деталите на политиката на Пекинг за планирање на семејството во Ксинџијанг.
Does #Xinjiang really have forced sterilization policy? Find out what real scholars in #Xinjiang have to say:
🔗https://t.co/WbVtkxihr3 pic.twitter.com/cs4ARqeAkD

— Hua Chunying 华春莹 (@SpokespersonCHN) January 8, 2021
Кина ја бранеше својата ујгурска политика како спротивставување на екстремизмот во регионот, а САД во ноември ја тргнаа ознаката "терористичко" од Источното туркистанско исламско движење (ЕТИМ) – милитантна верска организација.
"Твитер" им дозволи на критичарите на Пекинг, вклучувајќи го и поранешниот државен секретар на САД, Мајк Помпео, кого кинеската влада неодамна го санкционираше за мешање во внатрешните работи на Кина, да ја обвинуваат Кина за спроведување геноцид во регионот, наводно со насилна стерилизација на жените Ујгури.
Иако "Твитер" е забранет во Кина, владата одржува профили таму и на другите западни социјални мрежи наменети за странска публика. Платформата нема историја на заклучување на профилите на кинеската влада, предизвикувајќи шпекулации дека тајмингот на овој потег сугерира обид да се покаже фер поради зголемена цензура.