Директорот на "Модерна": Светот ќе мора да живее со Ковид-19 засекогаш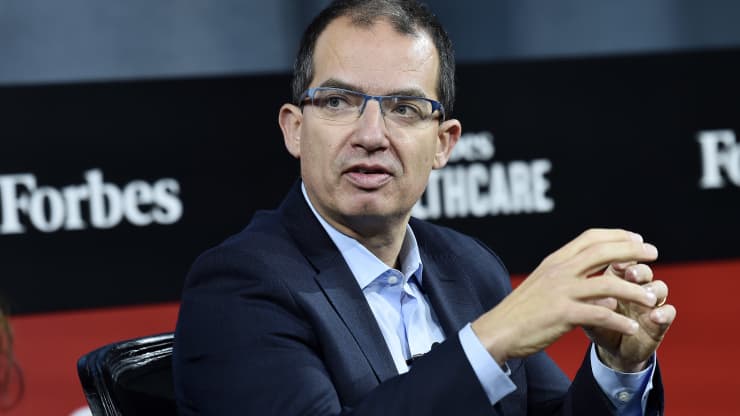 Извршниот директор на компанијата "Модерна", Стефан Бансел, изјави дека коронавирусот ќе биде присутен засекогаш.
Многу водечки здравствени експерти сметаат дека постои голема веројатност дека Ковид-19 ќе стане ендемска болест, односно дека ќе биде трајно присутна, но веројатно во помали нивоа на зараза отколку денес.
Директорот на "Модерна", компанијата која произведува вакцини против коронавирус, вели дека овој вирус не оди никаде.
What?

Moderna CEO says the world will have to live with Covid 'forever'
https://t.co/GpuzNYUjeT

— Daniel Lacalle (@dlacalle_IA) January 13, 2021
"Мислам дека ќе живееме со овој вирус засекогаш", рекол тој за време на конфенреција за здравствена нега во организација на ЏП Морган.
Тој нагласил дека научниците постојано следат дали се појавуваат нови видови на вирусот, за да можат да се произведат вакцини.
Песимистичката прогноза ја даде и СЗО, која објави дека втората година од пандемијата на Ковида-19 може да биде потешка од првата, со оглед на брзината на ширење на вирусот, особено на северната хемисфера каде што циркулира заразен вид.
"Влегуваме во втората година од пандемијата, која може да биде потешка кога ќе видиме колку брзо се шири коронавирусот", рече претставникот на СЗО, Мајк Рајан.
СЗО во најновиот извештај наведува дека минатата недела се регистрирани околу пет милиони нови случаи на коронавирус.
"По празниците, во некои земји ситуацијата ќе биде многу полоша пред да се подобри", рече Марија ван Керхове, технички директор на СЗО за Ковид-19.
©Makfax.com.mk Доколку преземете содржина од оваа страница, во целост сте се согласиле со нејзините Услови за користење.

(Видео) Тајната палата на Путин обезбедена од копно, вода и воздух
Дури и од притвор, опозиционерот Алексеј Навални е "трн во окото" на рускиот претседател Владимир Путин.
Неодамна, неговиот тим ги објави резултатите од големата истрага што се однесуваше на богатството на Путин и и` овозможи на јавноста за првпат да ѕирне во палатата на Путин на Црното Море. Документарецот, објавен заедно со истражувањето, го погледнале 22 милиони луѓе за еден ден.
Истрагата содржи обвинувања за неконтролирана корупциска шема поврзана со, како што велат, имотот на Путин од 1,4 милијарди долари. Руските власти сето тоа го негираат.
"Тоа е повторување на една стара приказна. Ако не се лажам, во 2017 или 2016 година, за првпат се појави приказната за таканаречената палата на Путин во Геленџик. Тоа не е точно. Нема палата, тој не поседува никаква палата", изјави портпаролот на Путин, Дмитриј Песков, пренесува Си-ен-ен.
Приказната за овој имот првпат се појави пред десетина години кога претприемачот Сергеј Колесников објави отворено писмо во кое го повика тогашниот претседател Дмитриј Медведев да престане со корупцијата што ја финансира изградбата на палатата.
Извештајот и двочасовниот документарец објавен од Антикорупциската институција (ФБК) на Навални нудат широк увид во палатата. ФБК тврди дека добиле детални цртежи на зградата од подизведувачите, како и список на купениот мебел и фотографии од примероците на подовите. Со помош на собрани документи и фотографии, тие изградија 3Д-модел на ентериерот.
"Ова е како држава во држава со која управува вечен император", рече Навални во документарниот филм. " Направена е така што никој не може да пристапи до неа од копно, море или воздух. Илјадници луѓе кои работат во палатата имаат забрана да донесат дури и едноставен телефон со камера, но ние ќе ѕирнеме внатре", вели Навални.
Истрагата на Навални тврди дека имотот има површина 39 пати поголема од областа на Монако, пишува Би-би-си.
Според плановите, самиот замок има 17.691 квадратни метри, и се состои од 11 спални соби, неколку дневни соби и сали, приватен театар, кино, казино, два базена, пекарница и "валкани простории" од непозната намена. Собите имаат мермерни подови и столбови, а ѕидовите се раскошно украсени, направени по кралските палати во Санкт Петербург. Тие се опремени со кадифе и богати теписи.
Посебен дел од извештајот е посветен на описите на неверојатно скапиот мебел направен по нарачка на луксузна италијанска марка. Меѓу споменатиот мебел се наоѓа маса во вредност од 56 илјади долари и тросед во вредност од 27 илјади долари.
Просторијата што ја нарекоа "најконтроверзна просторија во палатата на Путин" е салон за наргиле со нешто што потсетува на "шипка за танц".
Тимот на Навални тврди дека трошоците за изградба на палатата се искачија поради непрекинатите реновирања. Веднаш на почетокот имаше проблеми со вентилација и висока влажност, поради што беа оштетени многу делови од луксузниот ентериер на театарот и стаклена градина од 2.500 квадратни метри.