Лани на должност биле убиени 95 новинари
Најмалку 95 новинари загинале на должност во текот на минатата година, соопшти Меѓународната федерација на новинари (ИФЈ), по повод 3 мај, Светскиот ден на слободата на медиумите. Бројот на загинати новинари во 2018 е поголем од 2017 година, но помал во одност на претходните години кога ескалираа конфликтите во Ирак и Сирија. Најголем број новинари загинале на должност во 2016 година – 155.
Минатата година вниманието на светската јавност го привлече убиството на саудискиот новинар и колумнист во "Вашингтон пост", Џамал Кашоги, што се случи на 2 октомври во конзулатот на Саудиска Арабија во Истанбул, што предизвика дипломатска криза меѓу Анкара и Ријад.
Минатиот месец беше убиена новинарката Лајра Меки, додека известуваше за протестите во Северна Ирска, а одговорноста за нејзината смрт ја презеде Паравоена формација.
Авганистан минатата година била најопасната држава за новинари и таму лани загинале 16 репортери. Само во еден напад во Кабул загинаа 9 новинари кои известуваа за бомбашки напад. Во САД беа убиени пет новинари во нападот на "Капитал газета" во Мериленд.
ИФЈ смета дека нетолеранцијата, популизмот, криминалот и корупцијата се фактори кои придонесуваат за атмосферата во која се случува повеќе новинари да загинат известувајќи во своите градови отколку во воени зони.
По бројот на уапсени новинари, Турција е на прво место. Таму лани се притворени 68 новинари. Во Кина се затворени 47 новинари, во Египет 25, во Саудиска Арабија и Еритреја по 16.
Обединетите нации по повод Светскиот ден на слободата на медиумите испрати порака за важноста на слободата на печатот за демократијата, особено за време на избори.
Генералниот секретар на ОН, Антонио Гутереш, рече дека ниту една демократија не е комплетна без пристап до транспарентни и проверени информации.
©Makfax.com.mk Доколку преземете содржина од оваа страница, во целост сте се согласиле со нејзините Услови за користење.

(Видео) Пронајдено телото на магионичарот кој скокна во река врзан со синџири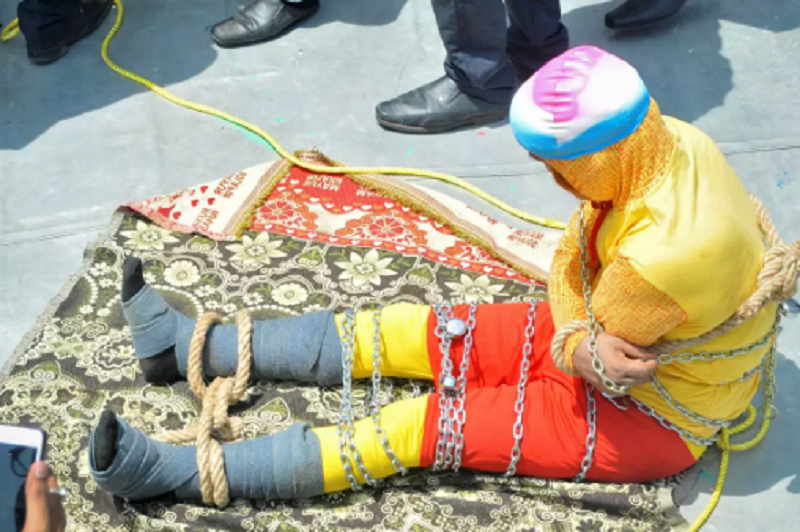 Индиската полиција го пронајде телото на магионичарот кој врзан со синџири беше спуштен во река обидувајќи се да го изведе познатиот трик на Худини. Чанчал Лахири (42) исчезнал во неделата попладне.
Поентата на целата точка била магионичарот да се ослободи од синџирите и да отплива на сигурно. Меѓутоа, тој не испливал од реката.
An Indian stuntman who entered the Ganges river tied up with steel chains and rope went missing, Sunday, June 16, police said. Chanchal Lahiri, also known as "Wizard Mandrake," was lowered into the river with media and police standing by, but the 40-year-old never emerged. pic.twitter.com/qcbK1jqeRP

— The Voice of America (@VOANews) June 17, 2019
Набљудувачите на настанот ја известиле полицијата за исчезнувањето на магионичарот, која веднаш почнала потрага.
"Гардијан" објави дека тој пред насобраната публика рекол:
"Ако можам да се ослободам – тоа ќе биде магија. А ако не успеам – тоа ќе биде трагедија".
Сè уште врзано со челични синџири, неговото тело испливало на брегот на реката на еден километар оддалеченост од местото каде што почнал да го изведува трикот.
Ова не е првпат Лахири да се обиде да изведе трик под вода. Пред 20 години тој се спуштил во река врзан во стаклена кутија. Тогаш трикот го направил успешно.