Рендгенски снимки покажуваат како вакцината ги штити белите дробови од Ковид-19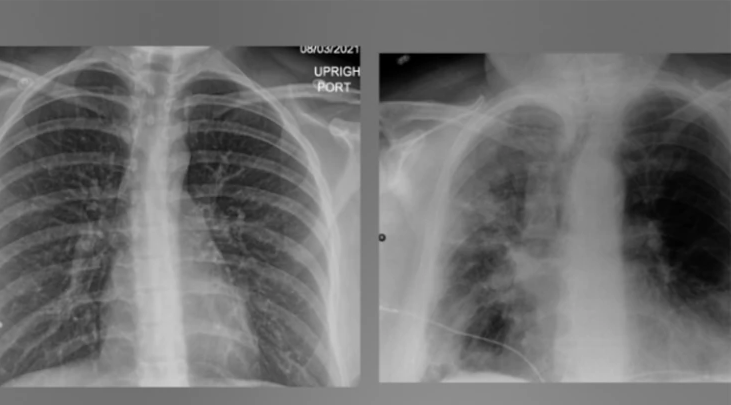 Во целиот свет, бранот на делта варијантата доведе до зголемување на бројот на заразени со коронавирус. Истата ситуација беше забележана и во болница во Сан Диего, каде докторот Алберт Хсијао, радиолог, ги споредува снимките на вакцинирани и невакцинирани лица.
На прашање на американската телевизија Еј-би-си дали има разлики во клиничката слика кај вакцинирани и невакцинирани луѓе, тој наместо класичен одговор испратил две фотографии. Лево е снимка од белите дробови на вакцинирано лице, а десно на невакцинирано лице.
"Како што можете да видите, разликата помеѓу двете снимки е драстична. На првата снимка е забележливо ова црнило, тоа е воздух во белите дробови, тие се полни со воздух и тоа е добро. На втората слика е белина, како магла. Тоа се белите дробови на невакцинирано лице и тука е видливо како ги оштетува инфекцијата, тоа бело се оштетувања од вирусот, а и самиот вирус", вели докоторот.
Преку снимките, всушност, може да се види како функционираат вакцините, тие го препознаваат вирусот како туѓо тело и кога некое лице ќе се зарази, веднаш го мобилизираат имунолошкиот систем да се брани. Вакцината го забавува ширењето на вирусот и спречува да се размножи толку многу што станува смртоносен, всушност купува време за вашиот имунолошки систем да може да се бори против ковид, oбјаснува докторот.
"Ако треба да ви се нацрта како функционираат вакцините преку конкретен пример, токму тоа можете да го видите тука", посочува докторот од Калифорнија.
©Makfax.com.mk Доколку преземете содржина од оваа страница, во целост сте се согласиле со нејзините Услови за користење.

(Видео) Самоубиствен напад на џамија во Кандахар – загинаа над 40 луѓе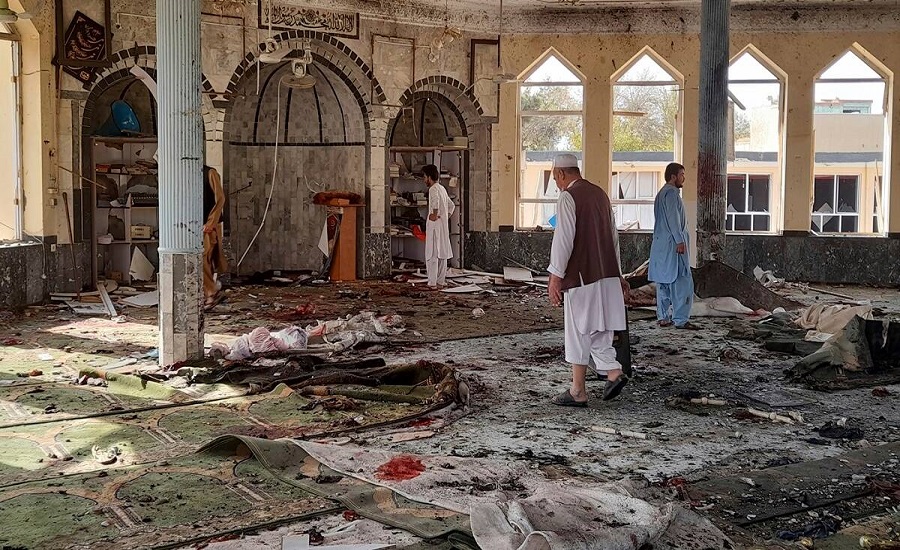 Најмалку 41 човек загина денеска во самоубиствен напад врз шиитска џамија во Кандахар во јужен Авганистан, некогаш големо упориште на талибанците.
Очевидци рекле дека неколку експлозии ја погодиле најголемата џамија во Кандахар, вториот по големина град во земјата, за време на големата петочна молитва.
A blast occurred in PD1 of Kandahar city of #Afghanistan near Imam Bargah mosque, Casualties are feared. pic.twitter.com/OISDTbHf4e

— Malik Ali Raza (@MalikAliiRaza) October 15, 2021
" Се подготвувавме за молитва кога слушнавме истрели. Две лица провалија во џамијата и пукаа во чуварите кои возвратија. Еден од нив се разнесе во џамијата, а потоа и другите двајца", изјави Сајед Рохулах, обезбедување во џамијата.
Претходно денеска, портпаролот на централната болница во Кандахар изјави дека повеќе од 50 луѓе повредени во експлозијата се донесени во болницата.
#BREAKING: Explosion reported at a Shia Mosque in Kandahar, Afghanistan. Many casualties feared. Last week explosion at a Shia mosque in Kunduz had killed over 60 and injured many others. Taliban has clearly failed to provide any security to Afghan civilians and especially Shias. pic.twitter.com/2QAB5pfpCD

— Aditya Raj Kaul (@AdityaRajKaul) October 15, 2021
Слична експлозија се случи пред една недела во напад врз џамија во Кундуз на северот од земјата кога загинаа најмалку 60 луѓе, за што одговорноста ја презеде терористичката организација Исламска држава (ИД).
#Explosion near the largest Shiite mosque in Kandahar which is Famous with the name of Bibi Fatima Mosque or Imam Bargah. Primary reports: 7 killed and 13 other injured. #Afghanishtan #knadahar pic.twitter.com/TqSH4OhVLT

— Yahya Aliyar (@yahya_aliyar) October 15, 2021
Локален талибански претставник потврди за АФП дека станува збор за самоубиствен напад и дека е започната истрага.