Тензии во Ла Манш околу риболовните права по брегзит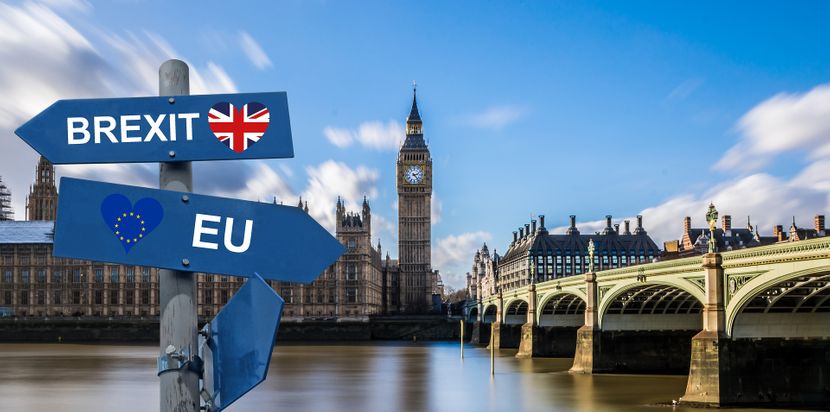 Првиот од двата брода распоредени од британската Кралска морнарица кои патролираат на островот Џерси во Ла Манш поради најавата за блокада на Франција поради спорот за правото на риболов по брегзит, пристигна утринава на својата дестинација, пишува Би-би-си.
Британската влада објави дека испраќа два брода на Кралската морнарица да ја следат ситуацијата, а рано утрово, патролниот брод "Северн" пристигна во близина на Џерси. Министерството за одбрана објави дека и бродот "Тамар" подоцна ќе пристигне во водите околу Џерси.
Франција се закани дека ќе ја прекине електричната енергија на островот, кој не спаѓа во територијата на Велика Британија, но се смета за "кралски посед", односно територија за која е одговорна Велика Британија.
Овој развој се случи откако Џерси минатата недела одлучи да им издаде дозволи за риболов на француските бродови според новиот систем, односно тие имаа право на риболов и пред брегзит, пренесува Би-би-си.
Француски рибари, кои тврдат дека неправедно се ограничени нивните права, најавија протестна блокада на пристаништето Сент Хелиер со бродови.
Синоќа британскиот премиер Борис Џонсон изрази силна поддршка за Џерси, најголемиот остров на Ла Манш, кој се наоѓа на 22 километри од брегот на Франција.
Тој оцени дека секоја блокада ќе биде целосно неоправдана.
Џонсон претходно разговараше со премиерот на Џерси, Џон ле Фондре и со министерот за надворешни работи Ијан Горст, по што ја истакна итната потреба за деескалација на тензиите.
©Makfax.com.mk Доколку преземете содржина од оваа страница, во целост сте се согласиле со нејзините Услови за користење.

(Видео) Апокалиптични снимки по торнадото во Чешка, расте бројот на мртви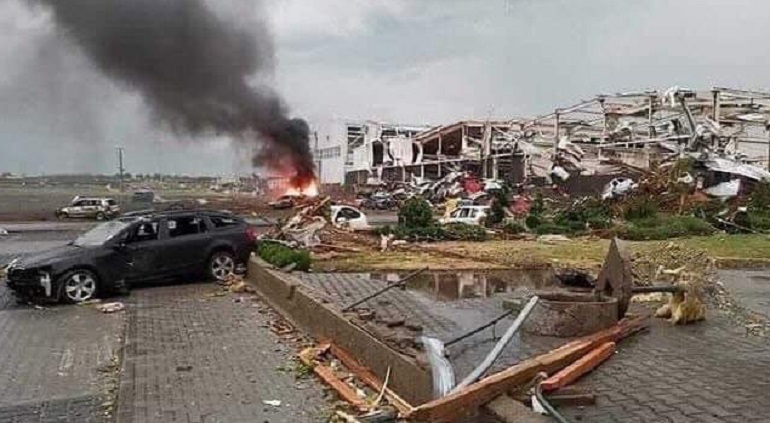 Торнадо и силно невреме проследено со грмотевици, во четвртокот вечерта погоди неколку градови на југоистокот од Чешка, во регионот Јужна Моравска, уривајќи куќи до темел. Седум градови и села претрпеа голема материјална штета, а министерот за внатрешни работи, Јан Хамачек, прогласи вонредна состојба додавајќи дека бројот на жртви може да се зголеми.
Според последните информации, потврдена е смртта на три лица, а повредени се повеќе од 200. Еден автобус се превртел, а сообраќајот на автопатот Д2 е во прекин.
myslim na vsechny lidi z Hodonína a Lužic pic.twitter.com/jAwSB1I8AQ

— lvcas (@LvcasDNR) June 24, 2021
Снимките што се појавија на социјалните мрежи покажуваат вистинска апокалипса што оставила пустош зад себе. Според чешките медиуми, пожарникари од други региони веќе пристигнале на местото на настанот, за да им помогнат на локалните.
Граѓани погодени од катастрофата веќе се хоспитализирани во локалните болници. Голем број повредени пристигнуваат и со приватни возила. Поради последиците од силното невреме, пожарникарите прогласија состојба на опасност од трет степен, соопшти полицијата.
Tornado in Brno, Czech Republic :O pic.twitter.com/KAfQ0AjcEZ

— Oscar 🇵🇸 (@Brophyst) June 24, 2021
"Ни помагаат спасувачи од регионот Злин, Оломоуц, Пардубице и Височина, но и од Словачка, а кон нас летаат и два хеликоптера од Австрија. Планот е да се пренесат пациенти на големиот паркинг на автопатот Д2", изјави портпаролката на службата за спасување, Хедвика Кропачкова.
To everyone who says climate change isn't real – a tornado razed half a town/village in the Czech Republic. That ain't normal… A TORNADO pic.twitter.com/5mFP5GyZ8O

— Nikola || is seeing Må in 50 days 💃🏻 (@ByNikith) June 24, 2021
Според изјавите на очевидци, по невремето, силниот ветер кој достигнал брзина од 322 километри на час, одеднаш се претворил во воздушен вртлог кој уништил голем број куќи. Пожарникарите соопштија дека биле пријавени рекордни 300 интервенции за помалку од еден час.
JUST IN – Rare tornado devastates a town in the Czech Republic.pic.twitter.com/6XQQ12e4zm

— Disclose.tv 🚨 (@disclosetv) June 24, 2021
Најлошо во ова невреме поминало селото Хрушки во регионот Бжецлав, кое буквално било срамнето со земја откако поминало торнадото. Автомобили паѓале врз куќите, а локалната црква останала без покрив.
"Селото од црквата надолу практично не постои. Училиштето нема фасада, нема покрив, не успеав да стигнам до градинката. Вековни липи и смреки се искорнати од земјата", опиша заменик-градоначалникот на Хрушки, наведувајќи дека има повредени.
Големи штети се потврдени и во Моравска Нова Вес, каде според градоначалникот, уништени се повеќе куќи во селото низ кое торнадото поминало по разурнувањето во Хрушки.