"Трамп, дали некогаш си видел вакво море од луѓе во животот?", милион луѓе излегоа на улиците во Техеран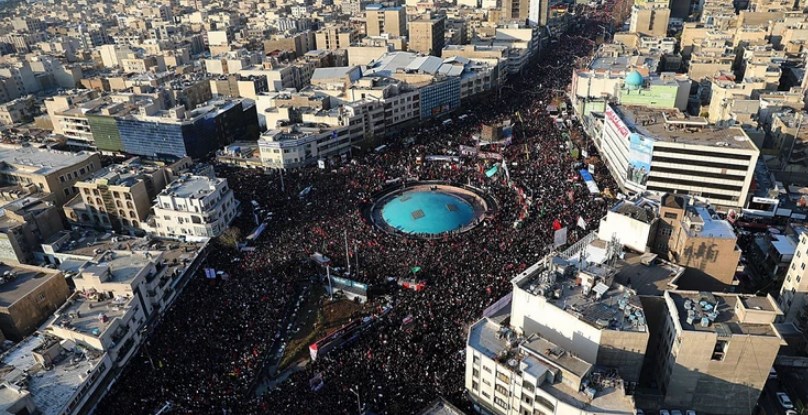 Државните медиуми и градската полиција објавија дека милион луѓе излегле на улиците во Техеран, а "Ројтерс" соопшти дека тоа е најголемиот собир од 1989 година, од погребот на основачот на Исламската Република, Ајатолах Хомеини.
Fascination with Death in #Tehran vs. Lust of Life in #cologne #soleimani #Iranattack pic.twitter.com/wciGZfoobm

— Mohamad Farhoodi (@MFarhoodi) January 6, 2020
Фотографиите на голем број луѓе кои жалат на смртта на генералот веќе трет ден ги споделува иранскиот министер за надворешни работи Џавид Зариф, а денеска на "Твитер", директно се обрати до претседателот на САД, Доналд Трамп.
Have you EVER seen such a sea of humanity in your life, @realdonaldtrump?

Do you still want to listen to the clowns advising you on our region?

And do you still imagine you can break the will of this great nation & its people?

End of malign US presence in West Asia has begun. pic.twitter.com/5WzYM9OBuQ

— Javad Zarif (@JZarif) January 6, 2020
"Дали некогаш си видел вакво море од луѓе во својот живот, Трамп? Дали сè уште сакаш да ги слушаш кловновите што те советуваат? Дали сè уште мислиш дека можеш да ја срушиш волјата на овој голем народ? Започна крајот на малигното присуство на Америка во западна Азија, напиша Зариф.
Millions Pack Tehran's Streets to Bid Farewell to Gen. Soleimanihttps://t.co/iNaJjn789s pic.twitter.com/ssvSArJ7Ab

— Fars News Agency (@EnglishFars) January 6, 2020
Властите планираат денеска да го пренесат ковчегот со телото на Сулејмани во градот Ком, каде ќе биде организирана и проштална парада, а од таму ќе биде префрлен во Керман-родниот град на Сулејмани , каде ќе биде погребан во вторник.
Apparently, coffin of Qasim #Soleimani should have been in Qom by now, but overwhelmed by crowds is still in #Tehran. I expect that they will have to airlift the coffins at some point to move them on. Certainly millions of people in the capital today. #Iran

— Nargess Moballeghi (@JournoNargess) January 6, 2020
На лицата на големата поворка има различни чувства, од тага и неверување до лутина иако поминаа неколку дена од убиството на Сулејмани.
Врховниот лидер на Иран, ајатолахот Али Хамнеи претходно ја предводеше молитвата пред ковчегот. Покрај него беа иранскиот претседател Хасан Рохани, како и лидерот на Револуционерната гарда, генерал Хусеин Салам.
Многу Иранци го сметаа Сулејмани за национален херој, па толпата извикуваше "Смрт за Америка". Неименуван говорник на парадата претходно денеска понуди 80 милиони долари на оној што ќе ја донесе главата на, како што рече, "оној лудак со жолта коса", мислејќи на Трам.
©Makfax.com.mk Доколку преземете содржина од оваа страница, во целост сте се согласиле со нејзините Услови за користење.

Фатах: Палестинските движења нема да го користат Либан за напади врз Израел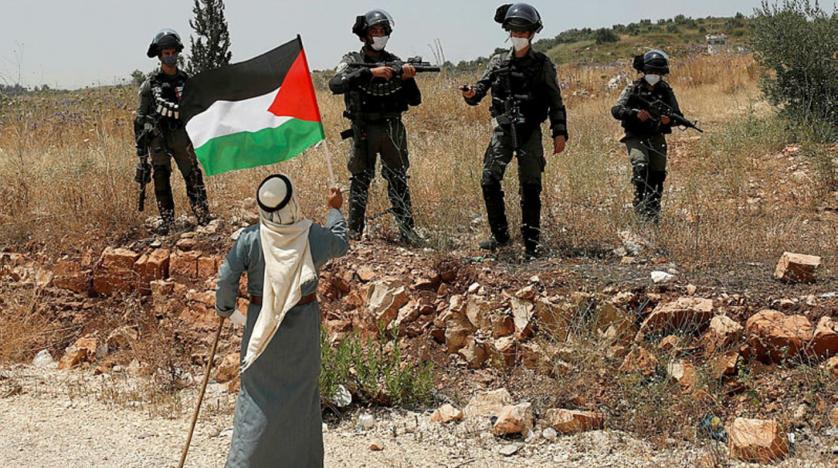 Движењата на Палестинските национални власти (ПНА) немаат намера да ја користат либанската територија за извршување воени операции против Израел, изјави Махмуд Саид, портпарол на политичкото биро на движењето Фатах во Либан.
"Нашиот судир со израелскиот непријател е долгорочен и во одреден момент се случи на територијата на Либан. Но, дојдовме до заедничко палестинско решение, според кое конфронтацијата треба да се случува во рамките на Палестина ", рече Саид.
Претходно, либанските медиуми објавија дека движењата на ПНА забрануваат вооружени единици во палестинските логори да вршат какви било нападо против Израел од либанско тло како одговор на барањето на либански Хезболах до движењата на ПНА по ова прашање.
Судирите меѓу верниците на Израел и Палестинците во џамијата Ал-Акса и населбата Шеик Џара во Ерусалим почнаа за време на муслиманскиот свет месец Рамазан, а потоа предизвикаа интензивна воена конфронтација на границата меѓу Израел и Газа.