Фараж предупредува: Инвазијата продолжува, рекордни 1.450 илегалци во август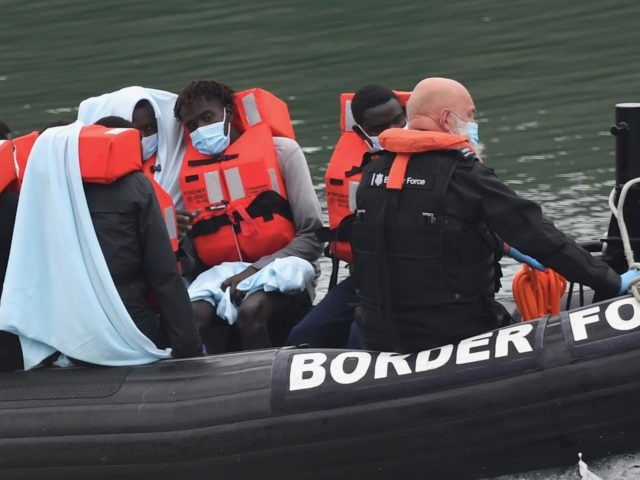 Повеќе од 1.450 илегални мигранти го преминале Ла Манш и стигнале на британските брегови во август.
Анализата на британската новинска агенција " Прес асосиејшн" откри дека минатиот месец дека бројот илегални пристигнувања биле речиси колку колку во јуни и јули заедно, речиси 1.500. Извештајот исто така открива дека на 6 август, рекордни 235 илегални мигранти преминале од Франција кон Велика Британија.
Од јануари досега во Велика Британија пристигнаа повеќе 5.000 илегалци, претежно од Блискиот исток, Азија и Африка. Овој број не ги вклучува оние кои пристигнале без да бидат откриени.
Пристанишниот град Довер во источен Кент во вторникот забележа нови пристигнувања, а некои мигранти беа донесени на брегот со британскиот патролен брод "Хантер".
Најџел Фараж сподели ексклузивни снимки од мигранти во мал моторизиран брод, кои пристигнале на брегот и се распрснале, па веројатно ќе исчезнат во црната економија на Велика Британија и нема да бидат регистрирани во Министерството за внатрешни работи, а камоли да бидат испратени назад во Франција.
Chaos in Kent today.

The media have stopped talking about the migrant crisis but the invasion continues.

See this exclusive footage, many on the run. pic.twitter.com/elObL4r9Yc

— Nigel Farage (@Nigel_Farage) September 1, 2020
"Хаос во Кент денес", посочи Фараж, пред да ги критикува мејнстрим медиумите за неуспехот да зборуваат за мигрантската криза додека инвазијата продолжува.
Британскиот секретар за внатрешни работи, Прити Пател, се најде на удар на критиките  последните неколку месеци за тоа што не успеа да се справи со мигрантската криза на Ла Манш. Неодамна, повеќе од 40 пратеници од ториевците ја повикаа владата да ги смени законите за азил и да одбие давање статус на бегалец на мигранти кои нелегално влегле во Велика Британија откако поминале низ безбедни земји.
Министерството за внатрешни работи минатиот месец во твит отворено ги обвини активистите-адвокати за искористување на регулативите, кои се крути и отворени за злоупотреба, за одложување и спречување на враќањето на илегалци во последната земја на престој во ЕУ. Сепак, по притисокот од правните тела, владиниот оддел подоцна го избриша твитот.
Британската влада се бори да врати дури и мал број мигранти во земјите како Франција и Германија – безбедни, развиени нации каде мигрантите требало да ги поднесат своите барања за азил. Минатата недела активисти-адвокати од три адвокатски канцеларии успешно ги сите 23 закажани депортации во Шпанија на еден лет.
Портпарол на владата забележа дека напорите за олеснување на целосно легитимните и законски депортации се премногу често спречени во последен момент. Тој рече дека поднесените жалби се многу често неосновани и целосно без покритие, но бидејќи добиваат целосно правно разгледување, тоа честопати значи дека депортациите се презакажуваат.
"Ова може ефективно да резултира со истекување на времето за враќање поради строгите Даблински регулативи ", рече тој.
©Makfax.com.mk Доколку преземете содржина од оваа страница, во целост сте се согласиле со нејзините Услови за користење.

Разговор на ерменскиот премиер и Путин: Русија засега нема да интервенира во Нагорно Карабах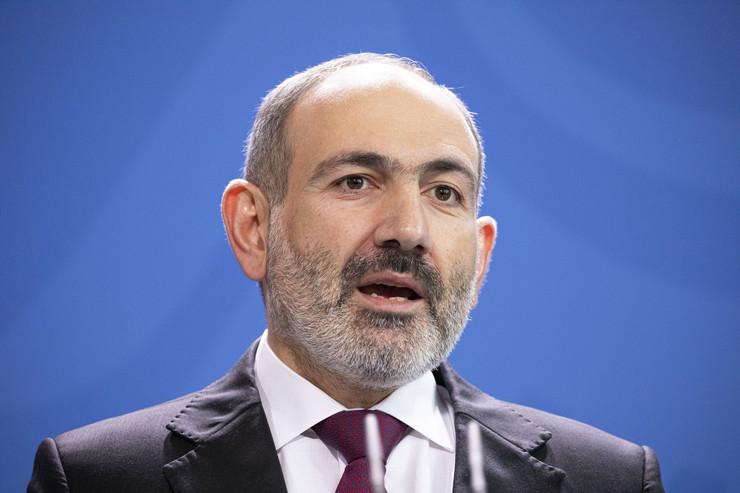 Ерменскиот премиер Никол Пашинијан и рускиот претседател Владимир Путин телефонски разговараа за ситуацијата во Нагорно Карабах.
ТАСС пренесува дека не се зборувало за можноста Русија воено да интервенира во тековниот вооружен конфликт меѓу Ерменија и Азербејџан.
#BREAKING Armenia not ready for Russia-mediated peace talks with Azerbaijan: PM pic.twitter.com/rnxuxqscy3

— AFP news agency (@AFP) September 30, 2020
"Претседателот Путин и јас не разговаравме за можна руска воена интервенција во Нагорно Карабах. Покрај тоа, во моментов не ни е неопходно користењето на потенцијалот на 102. руска база, иако, доколку е потребно, тоа може да се случи затоа што има законска основа за тоа", рече премиерот Пашинијан, пренесе ТАСС.
Азербејџан и Ерменија прогласија воена состојба и општа мобилизација и обете страни соопштија дека има многу цивилни жртви меѓу жртвите на четиридневниот вооружен конфликт.