Хаос на аеродромот во Брисел, поради штрајк откажани речиси 150 летови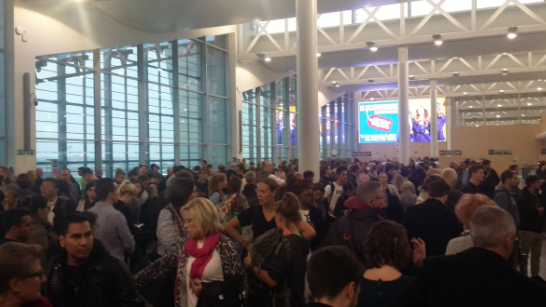 Аеродромот во Брисел обезбеди легла за околу 300-та лица кои биле принудени да ја поминат ноќта на аеродромот откако беа откажани 150 летови поради штрајкот на носачите на багаж.
Вработените протестираа бидејќи се незадоволни од условите за работа.
WTF #brusselsairport ??!!. Long queues. People missing their flights. Only half of security gates open.. @BrusselsAirport pic.twitter.com/KxE7TYSQp1

— Piotr Barczak ♲ (@PBarczak) October 25, 2018
Штрајкот, кој синдикатите не го најавија однапред, почна во четвртокот вечерта, кога беа откажани 50 летови, додека во текот на наредните неколку часа постојано се откажуваа и другите летови.
Аеродромот во Брисел обезбеди легла за околу 300 лица, кои беа принудени да ја поминат ноќта на аеродромот, изјави заменик на аеродромот.
Chaos at #BrusselsAirport with the #strike that causes the cancellation of at least 60 flights ! #Zaventem #Brussels #Belgium pic.twitter.com/JPJZJWQcJo

— DRIVER4YOU® (@Driver4youu) October 26, 2018
Штрајкот на белгиската компанија "Авиапартнер" погоди 29 авиокомпании, меѓу кои и "Рајан" и "КЛМ", но не и белгискиот авиопревозник "Брисел ерлајнс", кој користи друг оператор за носачи на багаж.
©Makfax.com.mk Доколку преземете содржина од оваа страница, во целост сте се согласиле со нејзините Услови за користење.

Во Италија наскоро можеби и граѓаните ќе предлагаат закони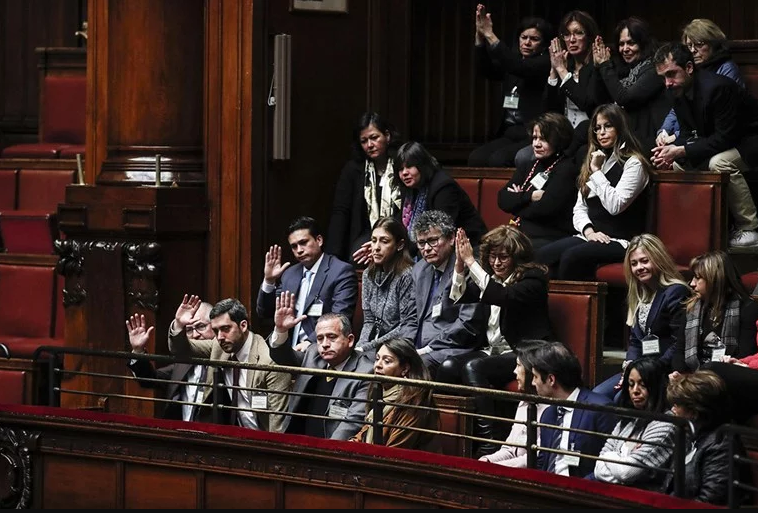 Претставничкиот дом на италијанскиот парламент, во кој доминираат популистите од Движењето 5 ѕвезди (M5S) и десно ориентираната Лига усвои предлог-закон кој им овозможува на граѓаните да предлагаат закони, можност што досега не постоеше во оваа европска земја.
Усвоениот предлог-закон предвидува дека предлозите на граѓански иницијативи кој имаат собрано најмалку 500 000 потписи мора во рок од 18 месеци да бидат прифатени од страна на парламентот, без притоа во нив да се внесуваат значајни измени.
Доколку парламентот не го усвои предлогот во овој рок или доколку истиот е значително променет, ќе се организира референдум.
Законот ќе се смета за усвоен во изворна форма ако повеќе од 25 проценти од избирачите се изјаснат и доколку опцијата за поддршка победи на референдумот.
Во моментов, италијанскиот Устав предвидува само поништувачки референдум, се кои законите се бришат целосно или делимно, со кворум од 50 отсто плус еден глас.
Новиот нацрт-закон на претставничкиот дом, со кој се менуваат два члена од Уставот, мора да мине преку Сенатот, а потоа се враќа во Претставничкиот дом, по што повторно во финална верзија се праќа до Сенатот.
Сите измени на италијанскиот Устав бараат двојно одобрување од страна на двата дома на парламентот.