Њујорк нема да биде ставен во карантин, одлучи Трамп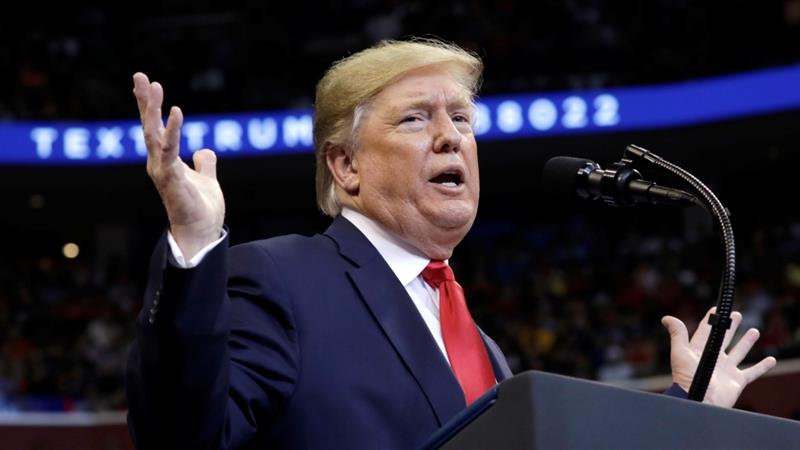 Американскиот претседател Доналд Трамп, сепак, ја отфрли идејата за воведување на карантин во Њујорк заради пандемијата на коронавирусот, откако доби критики во јавноста.
"Карантинот нема да биде потребен", рече Трамп преку "Твитер".
On the recommendation of the White House CoronaVirus Task Force, and upon consultation with the Governor's of New York, New Jersey and Connecticut, I have asked the @CDCgov to issue a strong Travel Advisory, to be administered by the Governors, in consultation with the….

— Donald J. Trump (@realDonaldTrump) March 29, 2020
Бројот на починати од коронавирус во САД се зголемува со голема стапка. Сега се потврдени повеќе од 2.100 смртни случаи.
Претходно вчера, Трамп ја објави можноста за воведување на карантин за Њујорк, Њу Џерси и Конектикат, но критичарите веднаш ја прогласија идејата за невозможна, бидејќи тоа би предизвикало економски хаос.
©Makfax.com.mk Доколку преземете содржина од оваа страница, во целост сте се согласиле со нејзините Услови за користење.

Над 6,5 милиони заболени во светот – бројот на излекувани го надмина бројот на заболени
Бројот на заразени од коронавирус во светот денес надмина 6,5 милиони, но речиси половина од нив, поточно 3,1 милиони луѓе, се излекувани.
Според податоците на веб-страницата Worldometers, 6.414.023 луѓе во светот се заразени од коронавирусот, а 3.100.971 пациент се излекувани.
Бројот на активни случаи е 3.028.410, а од нив 54.243, што е околу два процента, се во сериозна состојба.
Најтешка е состојбата во САД, каде што се разболеле повеќе од 1,8 милион луѓе, а починале 108.567. На второ место по бројот на заразени е Бразил, со повеќе од половина милион пациенти, поточно 560.737, а Русија е на третото место со 432.227 случаи. Следуваат Шпанија со 287.012 заболени, Велика Британија со 279.856 заразени, Италија со 233.836 пациенти и Индија со 216.429 заразени.
Во другите земји има помалку од 200.000 заразени.
По САД, Велика Британија има најголем број смртни случаи – 39.728, а Италија е на третото место со 33.601 жртва. Бразил има 31.417 починати, а другите земји имаат помалку од 30.000 смртни случаи.
Кина, каде што беше откриен коронавирусот на крајот на минатата година, сега е на 17. место по бројот на заразени лица – 83.021, а 4.634 лица починаа.