Израел би можел да продолжи со подигнување на населбите и покрај резолуцијата на ОН
Израел наскоро би можел да продолжи со подигнувањето на доселеничките населби и покрај резолуцијата на Обединетите нации усвоена во петокот со која од оваа земја се бара да го прекине населувањето на териториите коишто ги смета за палестински окупирани во војната од 1967 година, објави во вторникот израелски функционер.
Комисијата за планирање на градењето во среда ќе расправа за издавањето дозволи за градење 618 станови во источен Ерусалим, кој меѓународната заедница го смета за палестинска територија од светиот град окупирана и анектирана од Израел, соопшти невладината организација која се противи на подигнувањето населби , Ир Амим.
Заменикот градоначалник на Ерусалим, Меир Туржеман за AFP изјави дека изгласувањето на резолуцијата во Советот за безбедност на ОН во петокот, со којашто од израелската држава се бара "веднаш и целосно да го прекине населувањето на палестинските окупирани територии, меѓу кои и источен Ерусалим", во ниеден случај не го доведува во прашање одамна предводениот повторен состанок.
"Имаме намера сериозно да расправаме за она што е на масата", вели вториот човек на Ерусалим, додавајќи дека спорниот план се однесува на населбите Писгат Зеев каде се предвидени 140 станови, Рамат Шломо – 262 станови и Рамот – 2016 станови.
Ова е првата резолуција од 1979 година со којашто се осудува израелското населување на палестинските територии во Советот за безбедност, која е усвоена откако традиционалниот израелски сојузника САД сосема неочекувано и првпат не го искористија правото на вето, и со воздржаноста всушност го овозможија носењето на резолуцијата.
Тоа предизвика нов излив на гнев во Израел кон Вашингтон и повторно затегнување на односите со кои беше исполнет особено вториот мандат на американскиот претседател на заминување Барак Обама./крај/мф/сн
.
©Makfax.com.mk Доколку преземете содржина од оваа страница, во целост сте се согласиле со нејзините Услови за користење.

Чешкиот амбасадор во Кувајт се извини што објавил фотографија на израелското знаме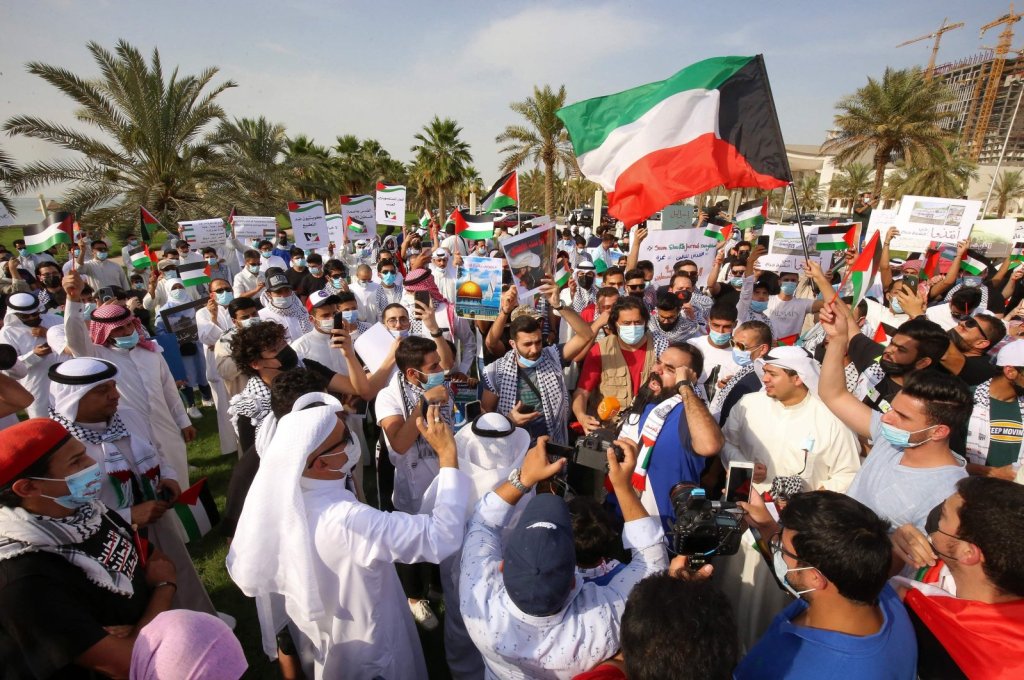 Чешкиот амбасадор во Кувајт, Мартин Дворак, се извини вчера за објавувањето на израелското знаме на неговиот официјален профил на Инстаграм како израз на солидарност со Израел, пренесува "Мидл Ист монитор".
Чешката амбасада во Кувајт го објави извинувањето на амбасадорот на Твитер.
"Длабоко се каам што го објавив израелското знаме на мојот приватен профил и, со тоа, поттикнав разбирлив бес и негодување кај многу луѓе во врска со моменталната, длабоко драматична ситуација во Појасот Газа", се вели во објавата на Дворак на Твитер.
By no means did he want to change the embassy's view of the current deplorable situation in Palestine,where innocent people are dying.The Czech Republic has repeatedly called on both parties of the conflict to start negotiations on a peaceful solution for their people.

— CzechEmbKuwait (@CzechEmbKuwait) May 17, 2021
Објавата на израелското знаме на профилот на Дворак предизвика негодување кај народот во Кувајт и на социјалните мрежи беше започна кампања со повик за негово протерување.
"Апсолутно не ми беше намерата да изразам какво било непочитување кон невините палестински жртви", рече тој.
Неодамнешните тензии што започнаа во Источен Ерусалим за време на светиот муслимански месец Рамазан се проширија во Појасот Газа како резултат на израелскиот напад врз верниците во џамијата Ал-Акса и населбата Шеик Џара.
Израел го окупираше Источен Ерусалим, каде што се наоѓа Ал-Акса, за време на Арапско-израелската војна во 1967 година. Тој го анектираше целиот град во 1980 година меѓународната заедница никогаш не го призна тој чекор.