Вечерва продолжува дијалогот помеѓу Белград и Приштина во Брисел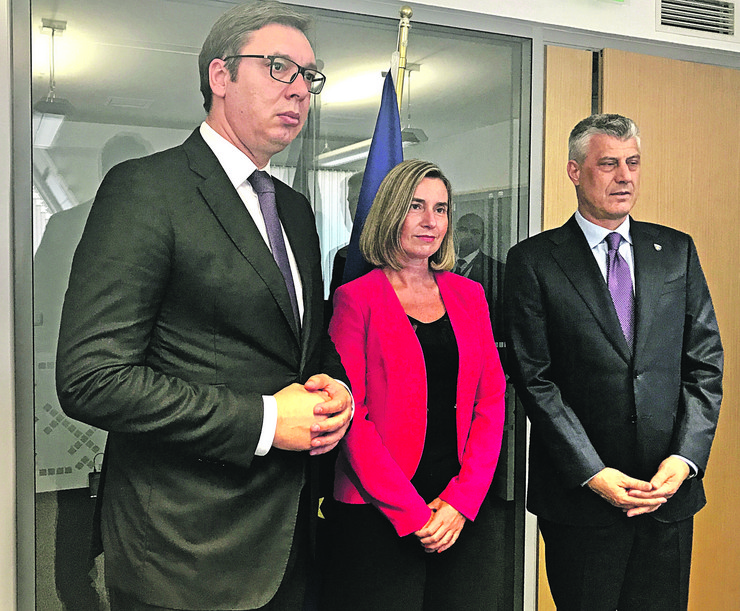 Во Брисел вечерва под посредништво на Европската Унија ќе продолжат разговорите помеѓу Белград и Приштина, а претседателите на Србија и Косово, Александар Вучиќ и Хашим Тачи, пред состанокот ќе остварат одвоени средби со шефицата на дипломатијата, Федерика Могерини.
Според вчерашното соопштение од ЕУ со кое е најавен состанокот во Брисел, членките на Унијата очекуваат Вучиќ и Тачи да ја потврдат подготвеноста да ги интензивираат напорите за постигнување правно обврзувачки договор за нормализација на односите, што Брисел го смета за суштински важно за понатамочниот европски пат на Србија и Косово.
©Makfax.com.mk Доколку преземете содржина од оваа страница, во целост сте се согласиле со нејзините Услови за користење.

Повредени новинари на протестите во Атина: Нападот беше испланиран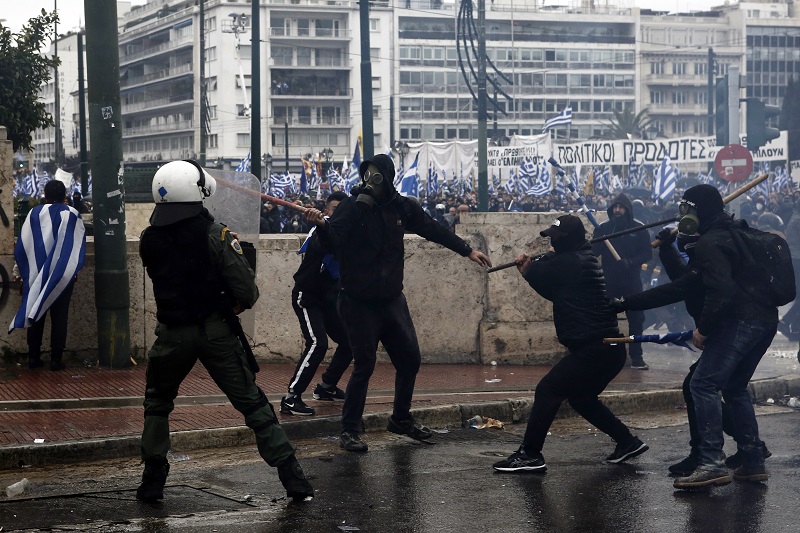 Грчката државна телевизија ЕРТ соопшти дека непознати лица за време на вчерашните протеsти во Атина ја нападнале нејзината екипа, а снимателот добил сериозни повреди.
Во Атина веќе неколку дена повторно има протести против договорот од Преспа, кој се однесува на промена на името на Македонија и кој треба да се ратификува во грчкиот парламент.
Грчката агенција АНА-МПА објави дека за време на демонстрациите нападнат и повреден бил и еден фоторепортер.
Грчката полиција, во меѓувреме, соопшти дека за инцидентите на плоштадот Синтагма одговорни биле членовите на крајната десница.
"Членовите на ЕРТ не се заплашени. Напротив, овие инциденти во нив создаваат уште посилна желба на грчките граѓани да им пружат посигурни информации", се вели во соопштението на грчката телевизија, која ги осудува насилните напади на нивниот тим, со заклучок дека ова е директен напад на демократијата и слободата на медиумите, објави АНА-МПА.
Грчката агенција, исто така, објави дека за време на протестот нападнат бил и фоторепортерот Костис Дадамис. Тој, според агенцијата, бил нападнат од група неидентификувани лица и се здобил со повреди на главата.
Kostas Ntantamis the greek photographer and amazing colleague was beaten up by the fascists of the Golden Dawn.
He will be transferred to the hospital #Athens #Greece pic.twitter.com/00GGW05Vuv

— Liana Spyropoulou (@LSpyropoulou) January 20, 2019
Дадамис, кој работи како фоторепортер на Спутник, веднаш бил префрлен во болница. Тој вели дека двајца или тројца демонстранти му се приближиле и побарале од него да има ја даде камерата. Кога тој одбил, тие почнале, според неговите зборови, да го удираат и да го клоцаат, а потоа ја украле неговата опрема. Медиумите пишуваат дека нападите биле испланирани.
Се очекува во грчкиот парламент денеска да почне расправата за ратификација на преспанскиот договор и најдоцна до петок тој да се гласа.