(Видео) Гори најголемиот мигрантски камп во Грција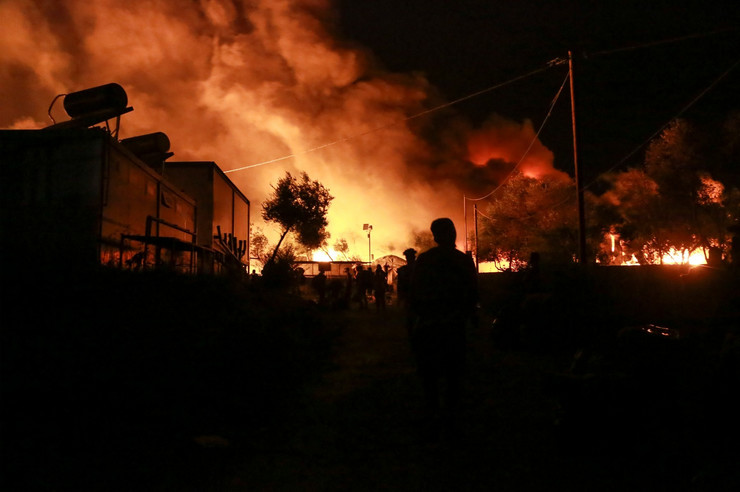 Во кампот за мигранти на грчкиот остров Лезбос во раните утрински часови избувна пожар, соопшти грчката противпожарна служба.
Засега нема податоци за штетата, ниту за причините за пожарот во кој изгореа шатори и контејнери за сместување нмигранти, пренесува "Ројтерс".
Полицијата соопшти дека мигрантите биле пренесени на безбедно место, а во гаснењето на пожарот учествувале 25 пожарникари со 10 возила.
Breaking: There is a major fire at Greece's migrant camp of Moria on the island of Lesbos. The camp holds over 12,000 people. pic.twitter.com/hwvs6OT2X5

— PM Breaking News (@PMBreakingNews) September 9, 2020
Според градоначалникот на Мајлинен, главниот град на Лезбос, Стратос Кителис, пожарот се проширил внатре и надвор од кампот и го уништил, а ситуацијата ја влошува и фактот што меѓу мигрантите во кампот има позитивни на коронавирус, пренесува АП.
Absolute destruction at #Moria camp visible with the first ray of light this morning. Approx 12,000 people will have nowhere to sleep tonight, not even the frail tents they used to call home.
Video by @moutafis77 #greece #lesvos #lesbos #migrants #refugeesgr pic.twitter.com/9XUkS1cSk2

— 𝙺𝚘𝚜𝚝𝚊𝚜 𝙺𝚊𝚕𝚕𝚎𝚛𝚐𝚒𝚜 (@KallergisK) September 9, 2020
Локалните медиуми пишуваат дека пожарот бил намерно подметнат во знак на протест против карантинот на кампот, а за време на гаснењето, пожарникарите се соочиле и со отпорот на некои мигранти да се евакуираат. Тој камп беше ставен во карантин минатата недела поради појава на еден случај на вирусот Ковид-19, а до вчера бројот на заразени мигранти се искачи на 35 лица.
Околу 12.500 мигранти се сместени во кампот Морија, иако капацитетот за сместување на таа установа е четири пати помал.
©Makfax.com.mk Доколку преземете содржина од оваа страница, во целост сте се согласиле со нејзините Услови за користење.

Трамп: Лидерите на Србија и Косово се прегрнаа во Белата куќа, прекрасно беше да се види тоа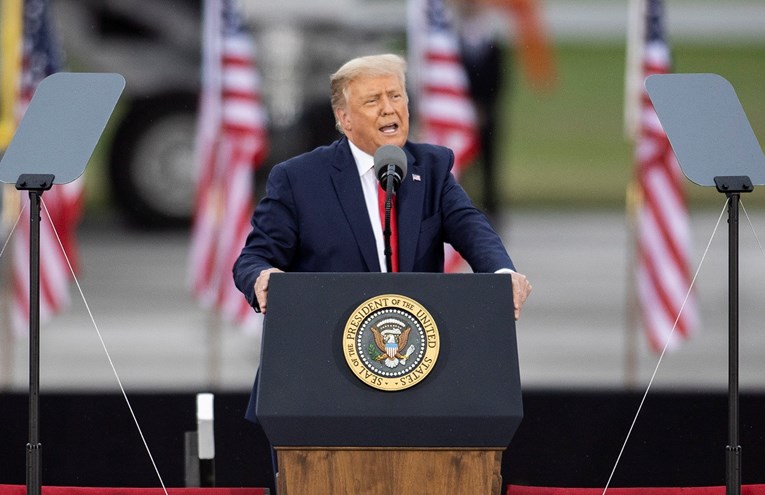 На предизборен митинг во сојузната држава Пенсилванија, Трамп повторно зборуваше за неговото посредување меѓу Србија и Косово, како и меѓу Израел и арапските земји, претставувајќи се пред гласачите дека воспоставува мир и критикувајќи ги водечките американски медиуми дека не известуваат за тоа.
"Косово и Србија се убиваа многу години, тие едноставно се убиваа, не се сакаат, како Израелците и Палестинците. Ние тргуваме со двете страни, така што имаме одредена моќ. Им реков, ајде да склучиме договор и да создадеме економски мир и мир воопшто. Дојдоа во мојата канцеларија да потпишат. Тие се прегрнаа, беше прекрасно да се видат. Спасивме многу животи", рече синоќа Трамп.
Минатата недела, на предизборен митинг во Северна Каролина, Трамп исто така рече дека ја заслужува Нобеловата награда за мир затоа што успеал да запре "масовни убиства меѓу Србија и Косово".
"Ги сопревме масовните убиства меѓу Косово и Србија. Тие се убиваа толку многу години. Ќе престанат да убиваат. Знаете, тоа го правеа стотици години, иако под различни имиња", рече Трамп.
Претседателот на Србија, Александар Вучиќ и премиерот на Косово, Авдулах Хоти, се обврзаа да ги нормализираат економските односи на 4 септември во Белата куќа.
За постигнување на тој договор, шведскиот пратеник Магнус Јакобсон ги номинираше владите на САД, Србија и Косово за Нобеловата награда за мир следната година.
За Нобеловата награда за мир во 2021 година, Трамп ѓбеше номиниран од норвешкиот десничар Кристијан Тибринг-daеда, за посредување во воспоставувањето на односите меѓу Израел и Обединетите Арапски Емирати.