(Видео) Проблеми со струјата и телефоните по земјотресот во близина на Атина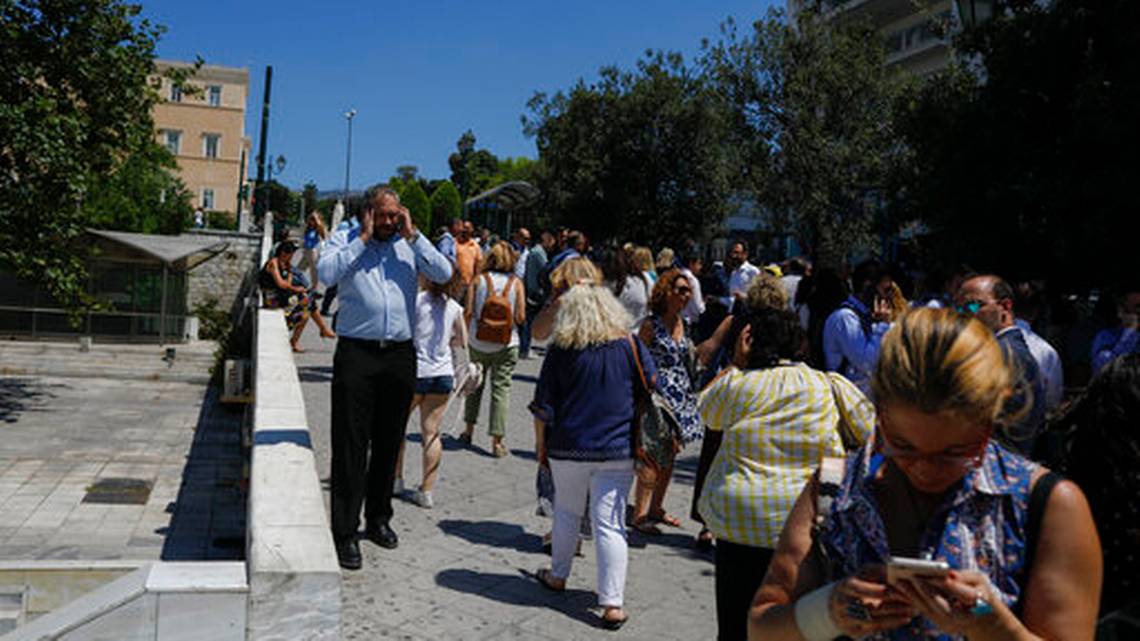 Во подрачјето што беше погодено од земјотресот во Грција во моментот има проблеми со електричната енергија и телефоните, јавуваат локалните медиуми.
Засега нема информации за повредени лица и материјална штета, но потврдено е дека во некои делови од централна Атина нема струја, а проблеми постојат и со мобилните телефони и фиксните линии.
Компаниите апелираат до корисниците да ги употребат интернет-сервисите како што се "Вибер" и "Скајп" бидејќи линиите се презафатени.
Έδωσε πόνο! #Seismos #σεισμος #earthquakes pic.twitter.com/nGKZfYOV2i

— Louis Kachiouteas (@lokahiou) 19 July 2019
I'm in Athens for my first work as an artist with @conflictandart. Athens is abuzz but it seems safe in our corner, with folks spilling out of the buildings after an earthquake shook the city moments ago, cracks on the walls here at the Serafio space pic.twitter.com/6CSVCi9icm

— Asra Q. Nomani, PI (@AsraNomani) 19 July 2019
Локалните медиуми пренесоа дека жителите на Атина во паника истрчале од зградите.
Според податоците, земјотресот со јачина од 5,3 степени според Рихтеровата скала се случил околу 14 часот. Епицентарот е на 23 километри од Атина на длабочина од 13 километри.
©Makfax.com.mk Доколку преземете содржина од оваа страница, во целост сте се согласиле со нејзините Услови за користење.

Три жени од Косово осудени за членување во Исламската држава
Основниот суд во Приштина казни мајка и нејзините две ќерки на две години условна затворска казна поради учество во активностите на терористичката Исламска држава, пренесува "Косев". Сите три се вратиле од Сирија во Косово лани во април со уште 29 жени и 74 деца.
Шухрете Тафај и нејзините две ќерки Меке Тафај и Ваљдете Тафај Дачај од Сува Река, централно Косово, ја признале вината, но се појавиле на рочиштето за изрекување на казната.
"Судот при изрекувањето на казната постапи во согласност со одредбите за ублажување на казната зашто како олеснителна околност ги зел признавањето на вината, нивното однесување пред и по извршените кривични дела, и фактот дека ниедна претходно немала проблеми со законот, како и нивната состојба, каењето и ветувањето дека никогаш во иднина нема да сторат кривични дела", посочил судијата.
Според нивните адвокати, овие жени биле принудени од своите сопрузи да заминат на боиштата во Сирија.
Јустина Фрокај од Косовскиот институт за правосудство, кој врши мониторинг врз работата на судовите, вели дека сите жени што биле предмет на судска обработка велат дека се покајале за она што го сториле. Таа додава и дека речиси сите пресуди против тие жени што биле во Сирија се сведуваат на условни казни.
Шухрета со своите ќерки отишла во Сирија во 2014 година. Првин заминале ќерките, а потоа им се придружила и мајката со уште два сина, од кои едниот бил убиен, а другиот се вратил во Косово. Се смета дека во борбите во Сирија и Ирак учествувале повеќе од 400 лица од Косово, а повеќе од 100 од нив биле убиени. Во април 2019 година Косово врати 110 свои граѓани од Сирија, меѓу кои има 34 жени, 74 деца и четворица поранешни милитанти.