Шешељ повторно ги запали знамињата на ЕУ и НАТО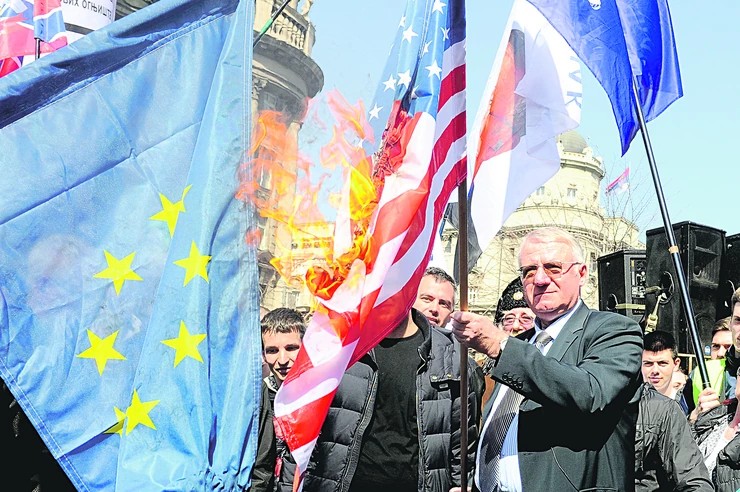 Лидерот на српските радикали, Воислав Шешељ, на денешното одбележување на 20-годишнината од бомбардирањето на поранешната Сојузна Република Југославија, ги запали знамињата на ЕУ и НАТО.
Со тоа симболично испрати порака за односот на српските радикали кон тие организации, соопшти неговата Српска радикална партија. Тој во 2016 година пред зградата на Специјалниот суд во Белград ги запали знамињата на ЕУ и НАТО, пред да биде сослушан во Специјалниот суд во врска со барањето на Хашкиот суд за неговото предавање на Трибуналот, каде на 31 март 2016 му беше изречена првостепена пресуда, но сослушувањето беше откажано поради процедурални причини.
SRS is also comparing European Union and NATO to Nazism and protesting against Serbia's plans to join the EU. Seselj burns an EU and a NATO flag. pic.twitter.com/EySIcLkCY1

— Stefano Giantin (@stefanogiantin) March 24, 2019
На денешниот собир Шешељ порача дека српскиот народ никогаш нема да го заборави злосторничкото бомбардирање на Србија, како и дека никогаш нема да се помирисо идејата дека Србија треба да стане членка на НАТО.
Шешељ истакна дека Србија нема што да бара во ЕУ, каде, како што рече, се сконцентрирани сите најлоши непријатели на српскиот народ.
За радикалите, порача Шешељ, постои само еден пат, а тоа е патот кон истокот, интегрирање со Русија и членство во Организацијата за договор за колективна безбедност.
Шешељ, кого Хашкиот суд во 2018 година го осуди поради прогон на Хрватите од Војводина, оцени дека неодамнешната пресуда на судот за поранешниот лидер на босанските Срби, Радован Караџиќ, е целосно противправна и политички мотивирана.
Неколку стотици радикали тргнаа во протестна прошетка до канцеларијата на претседателот, носејќи транспаренти со натпис: "ЕУ и НАТО – непријатели на Србија" и извикуваа "Србија, Србија – Не ни треба Унија".
©Makfax.com.mk Доколку преземете содржина од оваа страница, во целост сте се согласиле со нејзините Услови за користење.

Хакери украле податоци на милиони Бугари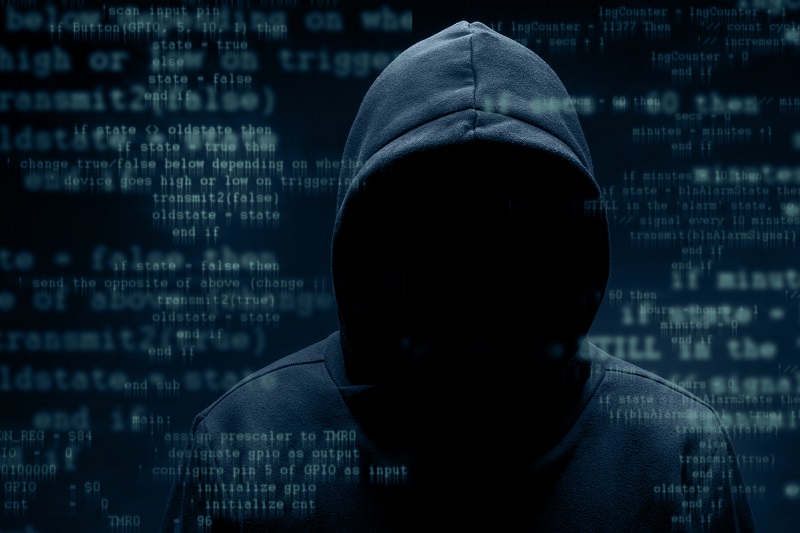 Хакери украле лични и финансиски податоци на милиони бугарски граѓани. Тие насилно влегле во системот на државната даночна управа, соопшти бугарската влада.
Сајбер-нападот на бугарската Национална агенција за приходи (НРА) се случил кон крајот на јуни, а е откриен откако едно лице, кое тврди дека е руски хакер, ги контактирало бугарските медиуми доцна синоќа нудејќи им пристап до украдените податоци.
"Споредивме 30 отсто од податоците кои се објавени и потврдуваме дека тоа се информации од НРА", изјавил Росен Бачваров, портпарол на НРА.
Бугарскиот министер за финансии, Владислав Горанов, изјави дека информациите кои се украдени немаат ознака "доверливо" и не ја загрозуваат финансиската стабилност.
Дневниот весник "24часа" објави дека еден фајл кој го испратил наводниот хакер по електронска пошта содржел повеќе од 1,1 милиони идентификациони броеви со податоци за приходи и за социјално и здравствено осигурување.