Шешељ повторно ги запали знамињата на ЕУ и НАТО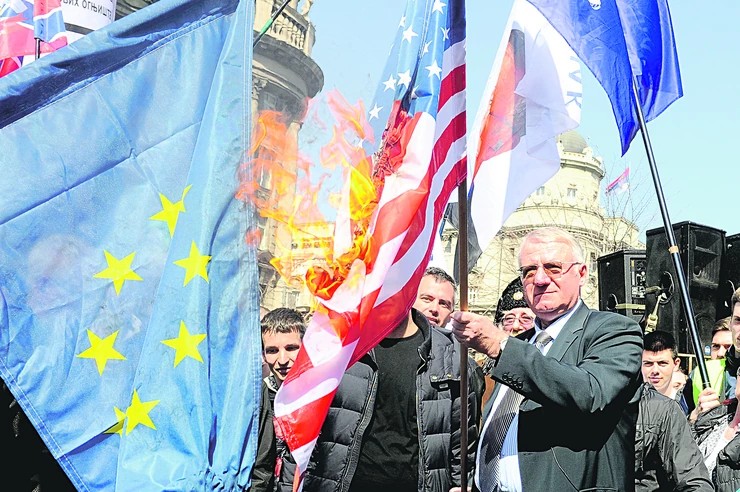 Лидерот на српските радикали, Воислав Шешељ, на денешното одбележување на 20-годишнината од бомбардирањето на поранешната Сојузна Република Југославија, ги запали знамињата на ЕУ и НАТО.
Со тоа симболично испрати порака за односот на српските радикали кон тие организации, соопшти неговата Српска радикална партија. Тој во 2016 година пред зградата на Специјалниот суд во Белград ги запали знамињата на ЕУ и НАТО, пред да биде сослушан во Специјалниот суд во врска со барањето на Хашкиот суд за неговото предавање на Трибуналот, каде на 31 март 2016 му беше изречена првостепена пресуда, но сослушувањето беше откажано поради процедурални причини.
SRS is also comparing European Union and NATO to Nazism and protesting against Serbia's plans to join the EU. Seselj burns an EU and a NATO flag. pic.twitter.com/EySIcLkCY1

— Stefano Giantin (@stefanogiantin) March 24, 2019
На денешниот собир Шешељ порача дека српскиот народ никогаш нема да го заборави злосторничкото бомбардирање на Србија, како и дека никогаш нема да се помирисо идејата дека Србија треба да стане членка на НАТО.
Шешељ истакна дека Србија нема што да бара во ЕУ, каде, како што рече, се сконцентрирани сите најлоши непријатели на српскиот народ.
За радикалите, порача Шешељ, постои само еден пат, а тоа е патот кон истокот, интегрирање со Русија и членство во Организацијата за договор за колективна безбедност.
Шешељ, кого Хашкиот суд во 2018 година го осуди поради прогон на Хрватите од Војводина, оцени дека неодамнешната пресуда на судот за поранешниот лидер на босанските Срби, Радован Караџиќ, е целосно противправна и политички мотивирана.
Неколку стотици радикали тргнаа во протестна прошетка до канцеларијата на претседателот, носејќи транспаренти со натпис: "ЕУ и НАТО – непријатели на Србија" и извикуваа "Србија, Србија – Не ни треба Унија".
©Makfax.com.mk Доколку преземете содржина од оваа страница, во целост сте се согласиле со нејзините Услови за користење.

Херцеговка стана првата жена на чело на полицијата во Австралија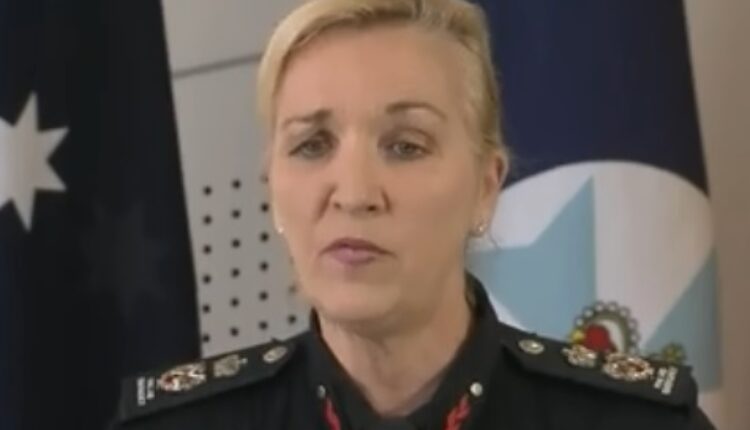 Катарина Керол, со девојчинско презиме Бошњак, чии родители се од Љубушко во Босна и Херцеговина, стана првата жена на чело на полицијата во Австралија.
Катарина Керол беше избрана за полициски комесар на една од шесте австралиски држави, Квинсленд. Тоа е највисоката полициска позиција во земјата.
Queensland's new Police Commissioner

Queensland Fire and Emergency Services Commissioner Katarina Carroll will return to the police service become the first woman to lead the organisation. Story: 7news.link/5fr2sM #7NEWS

Gepostet von 7NEWS Brisbane am Dienstag, 23. April 2019
"Привилегија и чест е да се биде избран за комесар. Јас ќе дадам сè од себе во следните пет години за да ја зачувам безбедноста на оваа прекрасна земја", рече Катарина Керол, која е во полицијата уште од 1983 година.
Таа е првата жена во 155-годишната историја што ќе биде на чело на државната полиција. Во моментот е комесарка на пожарникарската и на итната служба на Квинсленд, а новата функција официјално ќе ја преземе во август 2019 година, според порталот "Кликс".