(Видео) Борбите околу Нагорно-Карабах траат со часови, има мртви и ранети војници и цивили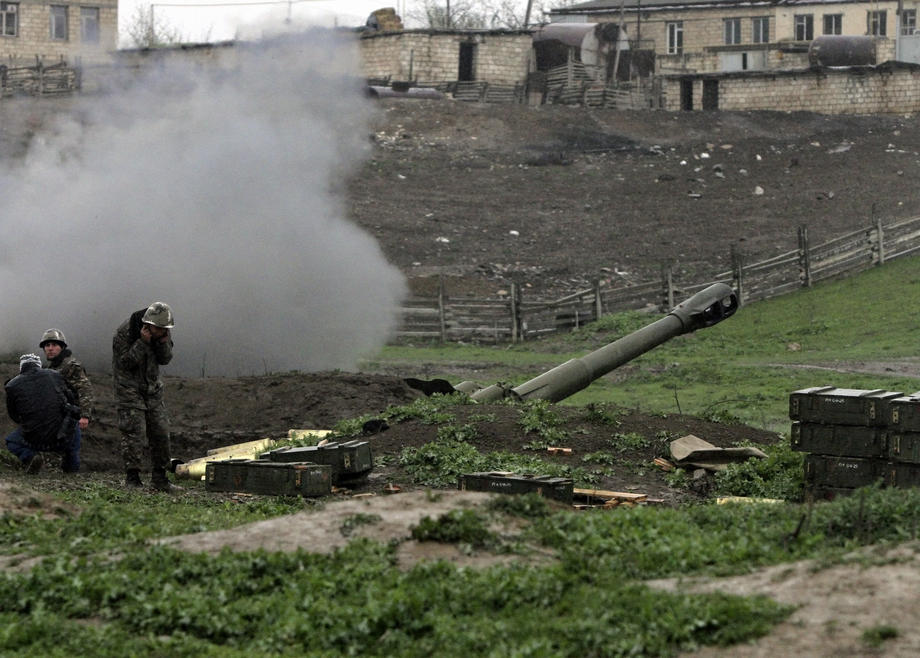 Парламентот на Азербејџан прогласи воена состојба и полициски час во неколку региони по вооружениот конфликт со Ерменија околу Нагорно-Карабах, јавува Ројтерс. Азербејџанскиот претседател Илхам Алиев рече дека има мртви и ранети меѓу цивилното население и меѓу војниците, откако ерменските сили отворија оган по линијата на раздвојување.
Огнот беше отворен од разни оружја, вклучително и од голем калибар, рече Алиев, наведувајќи дека "ова е уште една воена провокација од Ерменија". Тој посочи дека Азербејџан нема да молчи за постапките на Ерменија.
Azerbaijan Air Force drone destroying Armenian air defences #Azerbaijan #Armenia pic.twitter.com/EySJEMJo1n

— CNW (@ConflictsW) September 27, 2020
Лидерот на Нагорно-Карабах, Араик Артјунјан, рече дека започна мобилизацијата на сите граѓани над 18 години и дека е прогласена воена состојба во земјата.
И во Ерменија премиерот Никол Пашинијан прогласи воена состојба и општа мобилизација.
Регионот Нагорно-Карабах објави дека 16 војници биле убиени, а над 100 се ранети во утринските судири со азербејџанските сили.
Утрово избувнаа судири меѓу ерменските и азербејџанските сили околу Нагорно-Карабах, област со мнозинство Ерменци, која прогласи отцепување од Азербејџан во 90-тите години на минатиот век. Во текот на денот, ерменската влада прогласи воена состојба и општа мобилизација поради ескалацијата на конфликтот во Нагорно- Карабах, а истото го стори и Азербејџан, пренесува Ројтерс.
Ерменија и Азербејџан се во конфликт подолго време поради одвоениот азербејџански мнозински ерменски регион Нагорно-Карабах, а граничните конфликти се интензивираат во последните месеци.
Единиците на одбраната на Карабах му нанесуваат штета на непријателот во однос на опремата и персоналот.
Видеото прикажува серија артилериски напади врз колона непријателски тенкови и борбени возила на пешадија. Одбраната на Нагорно-Карабах им нанесува моќни и прецизни удари на азербејџанските позиции и оклопните возила. Видеото за нападот го објави прес-службата на Министерството за одбрана.
🇦🇿🇦🇲 At dawn, Azerbaijani troops launched a counter-offensive operation along the entire front line, in order to prevent the Armenian armed forces from fighting in the area of unrecognized Nagorno-Karabakh@serious_war_eng pic.twitter.com/LXDqVkmeI0

— Serious War (@serious_war_eng) September 27, 2020
Како што пишува портпаролот на ерменскиот министер за одбрана, Шушан Степанјан, на својот Фејсбук, претходницата на АО Карабах извршува успешни казнени дејства, нанесувајќи му човечки и технички штети на непријателот.
Clashes have broken out between #Armenia and #Azerbaijan in the disputed Nagorno-Karabakh region, with at least one Azerbaijani helicopter shot down. https://t.co/4H9o80qodT

— Jake Hanrahan (@Jake_Hanrahan) September 27, 2020
Министерството за одбрана на Ерменија преку соопштение тврди дека Азербејџан изгубил 4 хеликоптери, 15 дронови и 10 тенкови и борбени возила во конфликтите во Нагорно-Карбах, пренесува РИА Новости. Министерството за одбрана на Ерменија објави и снимки од уништување на тенкови.
©Makfax.com.mk Доколку преземете содржина од оваа страница, во целост сте се согласиле со нејзините Услови за користење.

Турција размислува за воведување нови рестриктивни мерки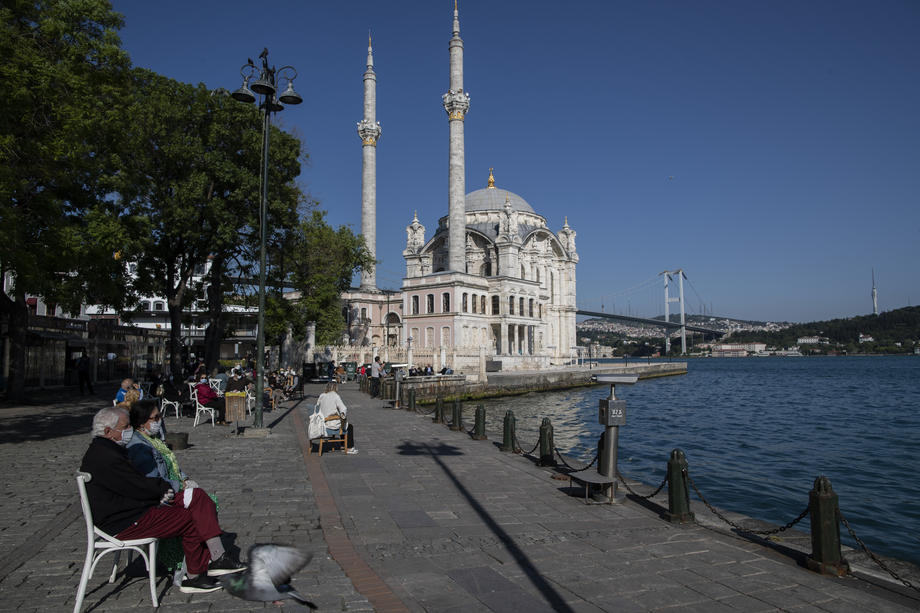 Турција размислува повторно да воведе некои мерки за да се запре ширењето на коронавирусот.
Некои од тие мерки би можеле да бидат наредба за помлади и постари луѓе да останат дома или дури заклучување за време на викендот, но ќе го избегнат оштетувањето на економското закрепнување, рече висок официјален претставник.
"Новите мерки може да се спроведат по набљудувањето на процесот неколку недели", изјави висок официјален претставник за "Ројтерс", додавајќи дека сликата ќе стане појасна откако ќе се процени влијанието на делумното повторно отворање на училиштата на почетокот на овој месец.
Друг официјален претставник рече дека иако неодамнешниот брз пораст на случаите во главниот град Анкара донекаде е забавен, скоковите во градовите како Истанбул претставуваат ризик за земјата во овој "тежок период".
Но, драконските мерки како целосно заклучување не се во план, рече тој.
Какви и да се новите мерки ќе имаат потесен опсег и ќе ја штитат економијата, рече првиот службеник.
"Мерки на дневен ред се: затворање ресторани и објекти во одредено време; одредено време за кое можат да излезат млади луѓе и луѓе над 65 години; или како последен чекор, заклучување за време на викендите", рече тој, додавајќи дека кабинетот работи на тоа.