(Видео) "Помош, помогнете ми" – дете плаче и моли да го извадат од урнатините во Албанија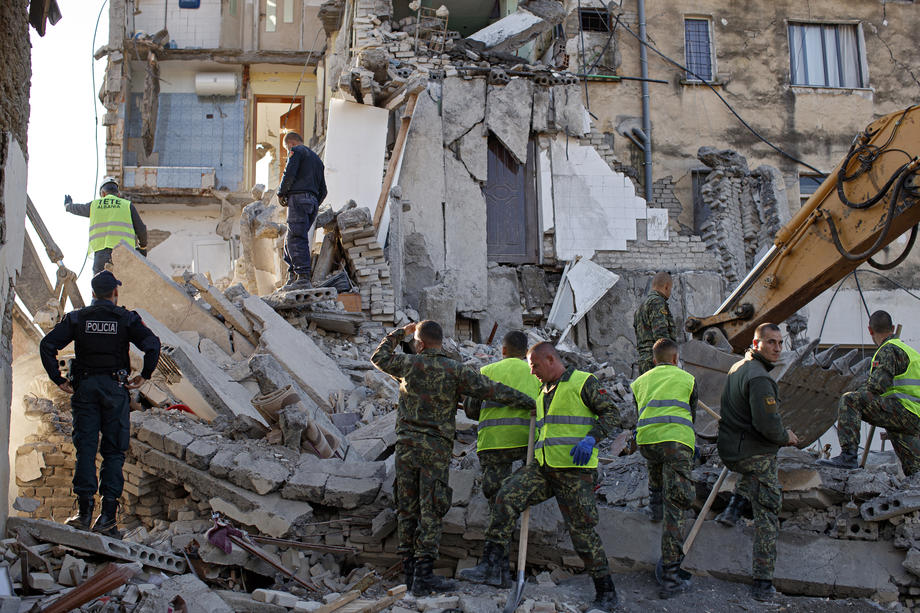 Локалните телевизиски станици во Албанија покажаа снимки по земјотресот кој ја погоди земјата во раните утрински часови, на едно младо момче кое беше спасено од под урната  зграда во крајбрежниот град Драч, на 33 километри западно од главниот град Тирана. Од под скршената бетонска плоча се слуша повикот за помош на 17-годишното момче, кое моли за малку вода, со надеж дека спасувачите ќе успеат да го извлечат од под урнатините на четирикатницата.
Момчето плаче и вика од болка додека спасувачите со помош на шипки се обидуваат да ја ослободат неговата приклештена нога од под урнатините.
Trigger Warning – graphic footage

This little boy's cries of "Help me! Help me!" just pierce the heart.#Albania #Earthquakepic.twitter.com/8CotonDMGo

— Admirim (@admirim) November 26, 2019
Неколку часови подоцна, спасувачите успеаја да пронајдат друго дете под урната зграда во  Драч, каде претходно било пронајдено тело. Вкупно 43 лица беа спасени од урнатините на зградите.
Повеќе од 600 лица биле примени во болница со повреди, а деветмна се хоспитализирани и се борат за живот.
Terremoto in Albania: scossa di 6.5, 5 morti e centinaia di feriti, persone sotto le macerie. Scosse avvertite in Puglia, Campania e Abruzzo https://t.co/kcRm4gw7yu

— Landi Dario (@LandiDario) November 26, 2019
"Ова е драматичен момент кога треба да го сочуваме мирот и да останеме еден до друг за да се справиме со овој шок", рече премиерот Еди Рама.
Покрај првичниот земјотрес околу 4 часот изутрината кој имал епицентар 30 километри  северозападно од главниот град Тирана, на длабочина од 20 километри, забележани се голем број потреси, вклучувајќи три со јачина од  5,1 до 5,4 степени.
Најтешко погодени  области се Драч, каде 11 од загинатите беа пронајдени под урнатите згради, и северниот град Тумане, каде што беа извлечени уште пет тела од урнатините, соопшти Министерството за одбрана. Вкупно најмалку три хотели, станбена вила и станбена зграда пропаднаа во Драч и една станбена зграда во Туман.
Hotel collapses after 6.4-magnitude #earthquake hits #Durres #Albania pic.twitter.com/cr9p8Zakpw

— Ruptly (@Ruptly) November 26, 2019
Едно лице почина откако скокна од својот дом за да избега во Курбин, на 50 километри северно од главниот град, додека друго лице загина на патот што се сруши во северниот град Лежа.
#Earthquake #moment #children #Albania 😭😭 pic.twitter.com/hmgjUXMv4M

— Endri (@endriarizi) November 26, 2019
"Работата за пребарување и спасување продолжува на сите места каде што се урнаа зградите", рече министерката за одбрана Олта Џачка. "Но, овие се екстремно тешки операции, каде што треба да работите бавно, бидејќи постои голем ризик од натамошен колапс, загрозувајќи ги не само жителите, туку и оние кои се заробени и самите спасувачи".
Сеизмологот Рапо Ормени од албанскиот Институт за геолошки науки, енергија, вода и животна средина, рече дека потресот од 6,4 се смета за силен.
H3:30 forte scossa 6.5 vicino Durazzo diverse repliche forti di cui una da 5.3.
Il Salento trema di riflesso.

— PastalCapitano 🤹‍♀️🍝 🐟🐟🐟🐟🐟🐟🐟🐟🐟🐟🐟🐟🐟 (@PCapitano2) November 26, 2019
"Штетата во епицентарот ќе биде значителна заради неговата голема енергија, големината што ја има", рече Ормени. "Ваквите земјотреси се чувствуваат на пошироко подрачје заради (нивната) голема длабочина и големината. Тој е почувствуван низ целата територија на нашата земја, но и во странство, до Бугарија, Босна, Италија и други земји".
Земјотресот беше почувствуван и во Косово, Црна Гора, Северна Македонија, Грција и делови од јужна Србија.
Многу жители пријавија пукнатини во нивните домови. Околу 400 војници поставија шатори во Драч и во Фуше Крује во близина на Тумане на северот, за сместување на оние кои што останаа без своите домови во земјотресот.
Рама рече дека соседните земји, Европската Унија и Соединетите држави понудиле помош. До вторникот вечерта пристигнаа спасувачки екипи од Северна Македонија, Косово, Црна Гора, Италија, Грција и Романија. Србија, Хрватска, Унгарија, Германија, Франција, Естонија, Турција и Чешката Република исто така понудија помош, додека делегацијата на ЕУ во Албанија соопшти дека дополнителните средства на ЕУ ќе им бидат понудени доколку им се потребни.
©Makfax.com.mk Доколку преземете содржина од оваа страница, во целост сте се согласиле со нејзините Услови за користење.

Отворен нов граничен премин меѓу Црна Гора и Албанија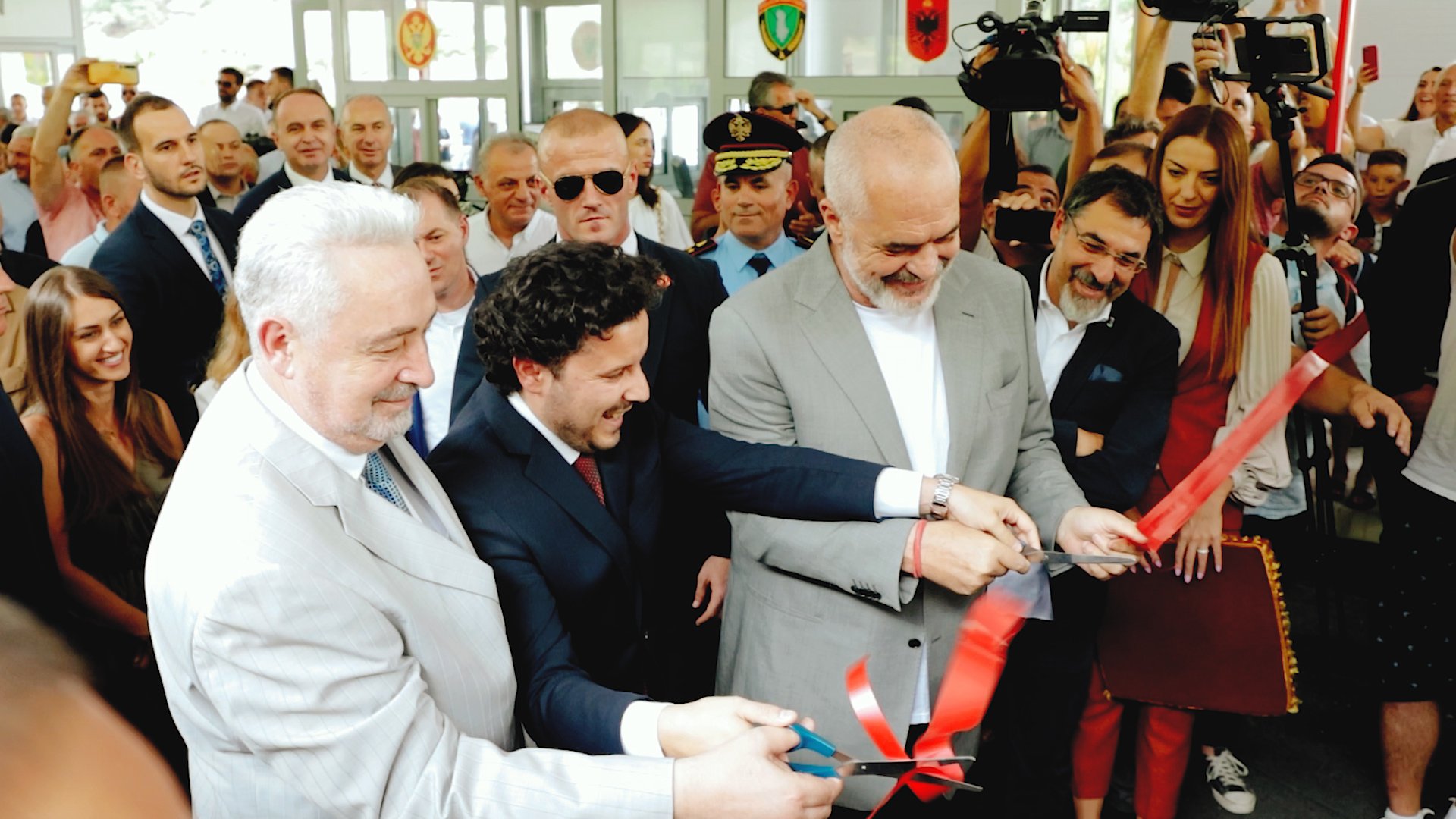 Црна Гора и Албанија денеска официјално го отворија новиот заеднички граничен премин Затријебачка Цијевна – Грабон.
На отворањето присуствуваа премиерите на Црна Гора и Албанија, Здравко Кривокапиќ и Еди Рама, работодавецот на Делегацијата на Европската Унија во Црна Гора, Херман Шпиц, и вицепремиерот на Црна Гора, Дритан Абазовиќ.
Spojili smo Podgoricu sa Gusinjem i Plavom na 90km i 90 min. vožnje.

Nova šansa za razvoj sjevera Crne Gore i bolje povezivanje ljudi.

Otvoren novi granični prelaz sa Albanijom u Cijevni Zatrijebačkoj.

Može Crna Gora, može region! 🇲🇪 🇪🇺 🇦🇱@profKrivokapic @ediramaal pic.twitter.com/QvizY8DvxV

— Dr Dritan Abazovic (@DritanAbazovic) August 3, 2021
"Подгорица ја поврзавме со Гусиње и Плава на 90 километри и 90 минути возење. Нова шанса за развој на северот на Црна Гора и подобра поврзаност на луѓето", напиша Абазовиќ на "Твитер".