(Видео) Огромна пајакова мрежа прекри брег во Грција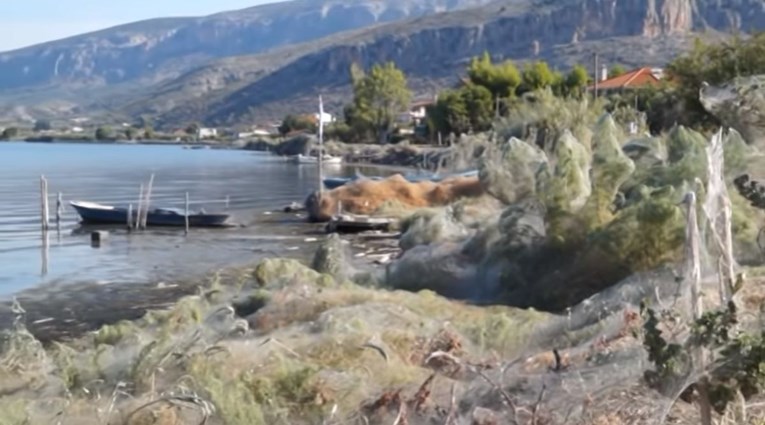 Топлите временски услови во западна Грција создадоа спектакуларна и малку страшна глетка: пајакова мрежа долга околу 300 метри.
Огромна површина со тревна вегетација и палми во лагуната во местото Аитолико е покриена со пајажина, пренесува порталот Daily Hellas. Жителите велат дека ваков феномен досега не виделе.
Експертите објаснуваат дека станува збор за сезонски феномен кој го предизвикуваат пајаците од видот тетрагната, кои можат да изградат големи гнезда за парење.
the giant spiderweb across a lagoon in the Greek town of Aitoliko is really really really *really* whoa pic.twitter.com/mYwvFnBPHZ

— Alex MacDonald (@Selected_Poems) September 19, 2018
Се верува дека драстичното зголемување на популацијата на пајаци придонело и за брзо зголемување на бројот на комарци. Професорката по биологија и генетика на Универзитетот Демокрит, Марија Цацаки, изјавила за грчките медиуми дека високите температури, влагата и изобилството на храна создаваат идеални услови за размножување на овој вид пајаци.
The warmer climate conditions in western #Greece have led to a spectacular 300-metre-long spiderweb covering an entire shoreline in Aitoliko built by Tetragnatha #spiders for #mating pic.twitter.com/WMeHLm3U5N

— Noorani Tejani (@NooraniTejani) September 19, 2018
"Се чини дека пајаците ги користат поволните услови и се забавуваат. Тие се парат, размножуваат и создаваат нова генерација", рече таа.
"Овие пајаци не се опасни за луѓето и не предизвикуваат штета на растенијата. Сепак, како што температурата опаѓа тие ќе исчезнуваат", заклучила професорката.
©Makfax.com.mk Доколку преземете содржина од оваа страница, во целост сте се согласиле со нејзините Услови за користење.

Дерматолозите предупредуваат: Немојте да заспивате на плажа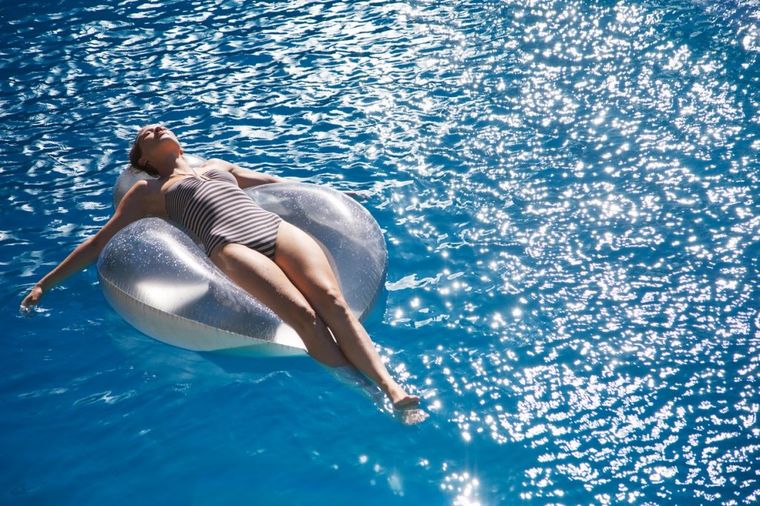 Често се случува да задремеме несвесно на плажа, опиени од сончевите зраци и пријатната топлина. Иако звучи безопасно, спиењето директно на сонце не е добра идеја бидејќи може да има сериозни здравствени последици.
"Дремнувањето на сонце всушност може да предизвика оштетувања на кожата. Да се ​​наслоните на кремот за сончање, како единствена одбрана е погрешна тактика. Тоа нема да ве заштити, а особено ќе изгорите во области каде што сте го пропуштиле местото или сте нанесле многу тенок слој од кремата за сончање", тврди Хариет Далвуд од британското здружение за дерматолози.
"Кремата за сончање може да се отстрани и со потење, и треба да се нанесува најмалку на секои два часа. Исто така, кремата со заштитен фактор треба да биде една од заштитниците од сонце, но не и единствена. Затоа, ги охрабруваме луѓето да користат заштитна облека. Најважно од се', ако сте на плажа и се чувствувате уморни, засолнете се од сонцето под сенка", објасни таа.
Предупредува дека многу луѓе сега уживаат да ставаат креми за сончање благодарение на современите формулации кои не се густи и не оставаат бел белег. Но, веројатно немаме навика да ги применуваме толку често колку што треба. Дури и да имаме, тешко дека ќе посветиме подеднакво внимание на секој дел од кожата.
Оштетувањата на кожата, естетски и здравствени, лесно се добиваат додека дремете во вашата градина, на плажа или во парк. Д-р Тиви Марутапу вели дека спиењето на сонце е "дерматолошки кошмар".
"Вие ризикувате изгореници затоа што не сте свесни колку е силно сонцето и веројатно нема да ставате крема за сончање толку често колку што треба. Ако сепак сакате да спиете, најдете место под сенка, нанесете крем со заштитен фактор и покријте се со некоја заштитна облека.
"Добро е да поставите аларм на вашиот телефон за да не дремнувате премногу долго, и задолжително ставете многу крем со заштитен фактор", советува Марутапу.
Освен кожата, постојат и други ризици.
Имено, д-р Клаудија Пастидес предупредува дека може да се појави и дехидрираност.
"Телото треба да ја регулира својата внатрешна температура за внатрешните органи да работат правилно. Тоа го прави на неколку различни начини, а еден од нив е потењето. Тоа може да предизвика дехидрираност, а дехидрираноста може да предизвика слабост, замор, главоболки и вртоглавица. Тешката дехидратација може да биде фатална, затоа проверете дали пиете доволно вода кога е топло надвор и избегнувајте да спиете под директна сончева светлина", објаснува таа.
Други сериозни проблеми што треба да се земат предвид се топлотен удар и зголемена шанса за развој на рак на кожата. Краткиот сон на сонце може да доведе до изгореници кои тешко ќе ги залечите со денови. Затоа, следниот пат, изберете место во сенка или поставете аларм за 20 минути. Вашето тело ќе ви биде благодарно, пишува Гламур.